2016 NFL MVP: 5 non-quarterback candidates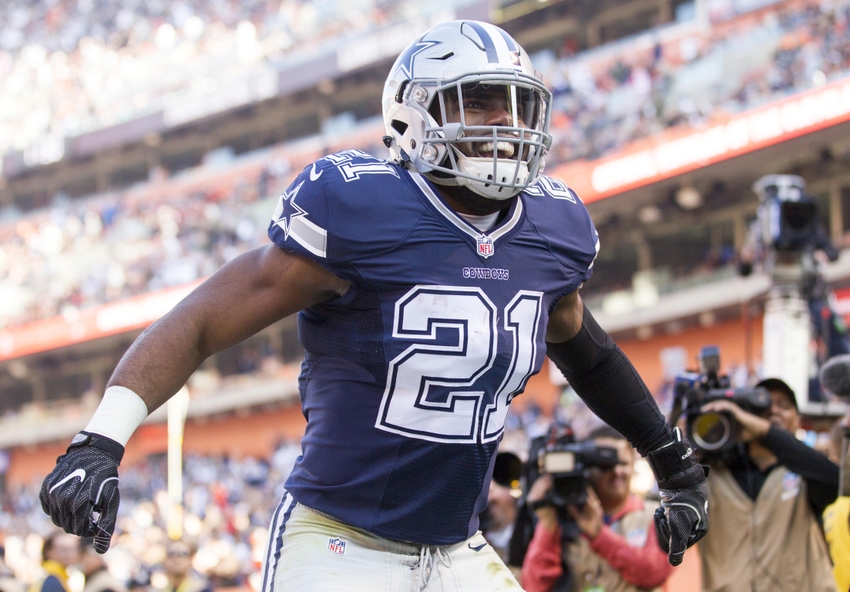 It may be a quarterback-driven league. But at the halfway point of this NFL season, here are five players from other positions worthy of MVP consideration.
The Associated Press' version of the NFL's Most Valuable Player award is the one recognized by the league itself. It began in 1957 as the "NFL Most Outstanding Player" and in 1961 the honor was renamed to MVP.
It's been given out 57 times (including a few ties) and on 38 occasions the quarterback has walked away with the award. That's happened the last three years via Denver's Peyton Manning (a five-time winner with the Broncos and Colts), Green Bay's Aaron Rodgers and Carolina's Cam Newton.
Back in 2012, Minnesota Vikings running back Adrian Peterson took home the gold. So it's indeed possible for a player other than a quarterback to win the honor in this day and age of fancy passing.
Here are two running backs, one wide receiver, a boisterous tight end and an outside linebacker capable of challenging for the award as well.
5. RB David Johnson, Arizona Cardinals
Yes, the defending NFC West champion Arizona Cardinals have gotten off to a disappointing 3-4-1 start this season. But it's hard to fault the performance of second-year running back David Johnson. He's a big reason that Bruce Arians' inconsistent squad is still within shouting distance of the 5-2-1 Seattle Seahawks in the NFC West.
Thanks to 705 yards on the ground and an additional 407 yards on 35 receptions, Johnson leads the league with 1,112 total yards from scrimmage. His eight rushing touchdowns is also among the best totals in the NFL this season.
With quarterback Carson Palmer having his ups and downs, the former Northern Iowa product has been very steady this year. Johnson is quite a long shot to grab MVP honors, but he's certainly in the mix at the moment.
4. OLB Von Miller, Denver Broncos
We are well aware of the fact that the odds of a defensive player capturing the award are slim. But it has happened twice.
In 1971, Minnesota Vikings defensive tackle Alan Page became the first non-offensive player to be named NFL Most Valuable Player. A mere 15 years later, New York Giants outside linebacker Lawrence Taylor came away with the honor. Led by the future Pro Football Hall of Famer, the Giants would win Super Bowl XXI that year.
Back in February, Broncos linebacker Von Miller captured Super Bowl 50 MVP honors as his club went onto defeat the Carolina Panthers, 24-10, in Santa Clara. During the 2015 regular season, he led Gary Kubiak's team with 11 sacks. He took his own game to a new level during Denver's three-game postseason run.
Nine weeks into 2016 and guess who's now second in the NFL with 9.5 sacks? Yes, Buffalo's Lorenzo Alexander (10.0) is just ahead of Miller in this department. But you can't deny that this is a Denver team very dependent on its defense and the six-year defender is the unit's best performer.
Yes, the Broncos were humbled on Sunday night at Oakland by the Raiders ground attack. Miller finished the night with two stops and one sack. For the season, he's totaled 35 stops (7 for losses), 15 quarterback hits, two passes defensed and a forced fumble.
Let's be frank. If Denver is going to get back to the Super Bowl, it will be Miller's play-making ability that will be the difference. He's already enjoyed a solid year and the very best may be yet to come.
3. TE Rob Gronkowski, New England Patriots
Nope. We are not insinuating that the "Gronk" is more important than that Brady guy who wears No. 12.
And to date, New England Patriots quarterback Rob Gronkowski has not put up mind-blowing numbers. But remember, we are talking most valuable player and not offensive player of the year. And the stats don't always tell the entire story.
For different reasons than Tom Brady (four-game suspension), we didn't see a lot of the perennial Pro Bowl tight end the first four games of the season. He was inactive for the first two games, played in Week 3 against the Houston Texans for a smidge and finally caught his first pass of the season in the 16-0 home loss to the Buffalo Bills.
With Brady and Gronkowski now back on the field together, it has been quite the four-game stretch. The tight end has 100-plus receiving yards in three of those outings. "Gronk" has caught a touchdown pass in three consecutive games. Over those last four games, the talented pass-catcher has totaled 21 receptions for an amazing 473 yards (22.5 yards per catch) and three scores. Amazing.
While it all works better with Brady, Gronkowski does things that other players at his position haven't found a way to do. He aids the running attack and helps stretch the middle of the field. Yes, in this attack it's the tight end that makes life easier for the team's wide receivers to thrive.
"Gronk" is unique in a lot of ways. Could he become the first tight end ever to walk away with league MVP honors? It would be an intriguing choice, to say the least.
2. WR Julio Jones, Atlanta Falcons
There are six players in the league with more receptions this season than the sixth overall pick in the 2011 NFL draft. But Julio Jones is currently the league's most dangerous wide receiver. And his big-play capabilities and talent for stretching the field is one reason the Atlanta Falcons offense has improved leaps and bounds from a year ago.
No, we're not taking anything away from offensive coordinator Kyle Shanahan's play-calling, an effective ground attack or a bolstered front led by center Alex Mack. However, it's the threat of Jones that opens up a lot of holes and creates opportunities for the rest of the skill people in general. We got a real glimpse of what the wideout was capable of a year ago when he tied for the NFL lead with 136 catches and led all players with 1,871 receiving yards.
This season, the sixth-year wideout leads his team with 51 catches for a league-high 970 yards. Five of those receptions have gone for scores. Jones has played one more game than the likes of A.J. Green, Larry Fitzgerald and Antonio Brown. But his 19.0 yards per grab is hard to overlook. The critics may point to the fact that 300 or those yards came in the team's demolition of the Carolina Panthers this season. That only makes the case that Jones is capable of such a performance.
Since the Associated Press began giving out their version of the award, no wide receiver has walked away with the honors. Could the Falcons' flyer make history?
1. RB Ezekiel Elliott, Dallas Cowboys
Take your pick. The fourth overall pick in April's draft could be the NFL's Offensive Rookie of the Year or Offensive Player of the Year.
And you can make one helluva case as to why he should be the league's most valuable player. The Dallas Cowboys are currently on a seven-game winning streak and running back Ezekiel Elliott has been one of the catalysts. Supported by a formidable offensive line and efficient play from fellow rookie Dak Prescott, Jason Garrett's club owns a two-game lead in the NFC East and is riding a seven-game winning streak.
Elliott leads the NFL with 891 yards on the ground, to go along with seven touchdowns. He's averaging a solid 5.0 yards per carry and already has four 100-yard rushing performances to his credit.
Of course, it's easy to say that Dallas' success is strictly based on the play of the guys up front. And you wouldn't necessarily be wrong. Then again, you also wouldn't be totally accurate. Some say that running back DeMarco Murray was merely a product of the Cowboys' five-man wall. So why is the 2014 NFL Offensive Player of the Year currently second in the NFL with 807 yards rushing?
That's the point. Elliott has shown all season that he is not only a big-play threat but a punishing runner once he's in the open field. That physicality has added up to added yards and more first downs.
There is no one-man team in the game of football. Then again, this former Ohio State Buckeye has been a tone-setter for the NFC East leaders this season. And regardless of the numbers put up by Tom Brady, Derek Carr and Matt Ryan (to name a few), Elliott as well as the others are in this MVP race as the season heads into its second half.
This article originally appeared on