2016 NFL Midseason Awards: Los Angeles Rams Edition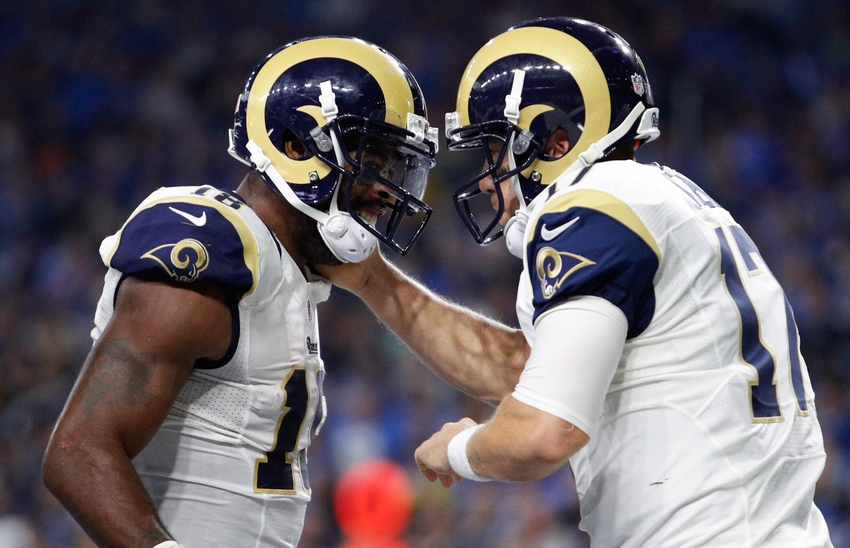 With half of a season left to play, it's time for the 2016 NFL midseason awards to be handed out to the Los Angeles Rams' roster.
The Los Angeles Rams are 3-5 and that means we're at the midway point of the 2016 campaign. Now is as good a time as ever to hand out the 2016 NFL midseason awards to the Rams that deserve them the most.
In a downward spiral following four straight losses that have come in different forms, the Rams are a team on the brink. While there have been some players to be happy about, the majority of the team has not performed at the level necessary to win football games.
We're not going to focus just on the negative, though. There are players on both sides of the rock putting up good numbers that are deserving of 2016 NFL midseason awards, with one of them on pace to break a certain drought that has been in existence since 2007.
Let's take a look at some of the Rams' award-winning players in this team edition of 2016 NFL midseason awards.
Most Valuable: Aaron Donald
One positive for the Rams this season has been its defense that ranks ninth against the pass and 11th against the run. A big reason for the team's success has been Donald, who has earned the right to be a candidate for Defensive Player of the Year despite being on a losing team.
Donald has been dominant from the jump and has become arguably the best defensive lineman in the game. A total of 47 pressures from the interior is remarkable and his five sacks leads the team. Things are bad in Los Angeles, but just imagine how much worse it would be if Donald wasn't helping to keep offenses in check.
Most Disappointing: Todd Gurley
Gurley's problems were evident at the end of last season when he hit 100 yards or more on the ground just once over his last eight games. Continuing that trend in 2016, Gurley has yet to reach the century mark through eight games and is 18th in rushing yards despite being eighth in carries.
With 3.1 yards per carry and three touchdowns, Gurley is performing well below expectations. Whether it's a result of lackluster vision, a bad offensive line, or a quarterback who can't keep defenses honest – or all of the above – we all expected better from the sophomore back. It also doesn't help that the Rams aren't giving him the ball as much anymore,
Honorable Mention: You can't talk about disappointing with talking about Jared Goff. We all expected the No. 1 overall pick to get in a game once Case Keenum starting tanking, but alas, a season-killing, four-game losing streak hasn't been enough. Goff isn't ready and that's a major letdown with all that is invested in him.
Most Surprising: Kenny Britt
When you consider the problems the Rams are having behind center, Britt's season becomes even more impressive. The veteran wideout has 584 receiving yards, just 191 yards away from his career-high 775. His 37 receptions are just 11 shy of a career-best 48 back in 2014.
With eight games left to play, Britt is on his way to 1,000 yards and is easily Los Angeles' best receiver. The reason that yardage total is so important is because of the nearly decade-long drought of Rams receivers not getting there. Torry Holt was the last to do so in 2007, another lifetime ago.
Most Improved: Lance Kendricks
In a season that's given little to be excited about through the air thanks to Keenum, Kendricks has been a reliable target and is getting better week-to-week. Kendricks earned a season-high 90 receiving yards in Week 9 and is on pace to break his career-highs in receptions and yards.
You can point to his awful drop against the Carolina Panthers and get sick over it, or you can be happy with Kendricks being one of the team's best offensive players.
With that being said, we're not sure what to feel more upset about: the fact that Kendricks could be having an even better season if not for quarterback issues or the fact that a pass-catcher with 331 receiving yards is one of the team's best offensive assets.
Honorable Mention: We already knew Trumaine Johnson was important, but we're getting a better understanding of that this season. Johnson has become the kind of corner who can solidify a secondary and make it better when he's on the field. Los Angeles can only hope he stays healthy, as Johnson has now missed 11 games since 2014.
Biggest Villain: Jeff Fisher
There is no head coach in the NFL who is more detested by his fanbase right now than Fisher. The only people saying anything good about Fisher are those who agree with his holding Goff back – and even those people think he should be fired for incompetent coaching.
He's built an offense that doesn't work, mortgaged the future for a franchise quarterback who remains behind a career backup, and the Rams' record through eight games looks very similar to those playoff-less seasons of years past.
All that's left for Fisher is Goff. Barring a fantastic showing from the rookie signal-caller at some point this season to give this organization hope, Fisher should be out of a job after 2016.
Honorable Mention: The hate for Case Keenum has been rivaled by only Fisher. Yes, he hasn't been good, but consider the position he's in. Nobody has ever pegged him as a starting quarterback and the team around him isn't very good. Keenum is badly overexposed.
Not to mention, people feel he's a roadblock to the future of the franchise, even though it simply might be the case that he's a better option than an overmatched Goff. Keenum seems more and more like a guy who is in the wrong place, at the wrong time, and that's why the winner of this award is the man who put him there in the first place.
Do you agree with our 2016 NFL midseason awards for the Rams? Let us know in the comment section below.
This article originally appeared on