2016 NFL Injury Report: Ranking The 5 Most Devastating Losses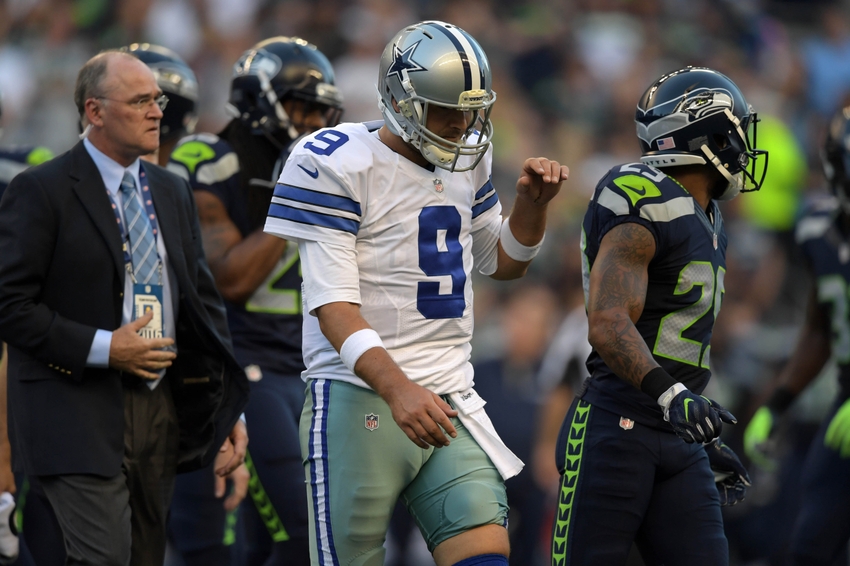 The regular season hasn't even started yet and already the 2016 NFL injury report is filling up with some pretty prominent players who could tip the balance for their teams.
There's still a long way to go this year, but based on what has happened over the past month, it's fair to ask the question. Which major injury suffered is potentially the worst in terms of impact on the respective team? That is what this top five rankings will cover. A list of players who might not always be the superstar of the roster, but did occupy a particularly important role that could send the entire machine into meltdown.
#5:  Hroniss Grasu (ACL)
Sometimes it's not always the star player being lost that can really throw a team into chaos. The Chicago Bears made the puzzling decision to release veteran lineman Matt Slauson in the off-season. Their hopes were pinned on the immediate success of 2nd round pick Cody Whitehair and the improvement of second-year man Hroniss Grasu. It looked like their gamble was paying off in training camp, until the young center felt his knee give way during practice at Soldier Field.
In essence the loss threw the entire Bears offensive line into disarray. Backup Ted Larsen has not looked good as a replacement and the quarterbacks have been suffering from additional punishment. Unless Larsen can correct his problems soon or the team can find a serviceable replacement, this injury is going to weigh down their offensive potential all season. It will be impossible to know how good the combination of Alshon Jeffery and Kevin White is.
#4:  Sebastian Vollmer (hip)
It was offensive line issues that sank the New England Patriots in the AFC championship last season, and Sebastian Vollmer was one of the few dependable blockers they had. So for him to go down with a hip injury that most believe will end his 2016 season, it's a grievous loss for a team that couldn't afford it. The Patriots have always found ways to adjust but even Tom Brady has his limits when he's not getting the adequate protection required. To say nothing of the still struggling ground attack.
What makes it worse is knowing Brady won't be in there for the first four games of the season. It will be Jimmy Garoppolo, a young and talented kid but totally untried in playing experience. That makes quality protection even more crucial, magnifying the loss of Vollmer even further than it would've been. Maybe Marcus Cannon will be able to hold down the fort, but he has never shown the same consistency or dependability Vollmer has. The Patriots will adjust. They just won't be quite themselves.
#3:  Justin Houston (ACL)
The Kansas City Chiefs know they have a good defense with playmakers at every level. Still there comes a time when even the best defenses need their aces to step up and deliver a big play. For the Chiefs, Justin Houston was that guy. He's one of the three best pass rushers in the NFL and had 22 sacks in 2014. Unfortunately he was slowed by a "non-functioning" ACL last season and was forced to undergo surgery after 11 games. Kansas City has since placed him on the PUP list, ensuring he misses the first six games.
They don't seem overly panicked by the development, but should they be? Tamba Hali is back in the fold but he's not the same player he was a couple years ago and former 1st round pick Dee Ford still has shown he's prepared to be a full-time starter. Throw in the exit of veteran corner Sean Smith to free agency and this pass defense is looking less formidable than in years past. Not the best development in such a loaded division.
#2:  Tony Romo (back)
Everybody knows what happened the last time the Dallas Cowboys lost Tony Romo for the majority of a season. They finished 4-12, killing what they had thought was a sure Super Bowl season. Now here they are again. The 36-year old quarterback out for half the season due to a broken back. To say nothing of the suspensions that have all but devastated their pass rush. Not having Romo to direct the action has left the Cowboys out to dry numerous times in the past.
Will 2016 be any different? They're trying to make everybody think so thanks to the solid preseason that rookie 4th round pick Dak Prescott is having. No doubt the former Mississippi State quarterback is enjoying himself of late, but is he really prepared for what awaits him now that he's the starter? Preseason speed is nowhere close to regular season speed. At some point Dallas will ask him to make a play to win the games. The blocking can't always be perfect.
#1:  Teddy Bridgewater (knee)
Dallas could be considered a playoff contender with Romo but their roster isn't anywhere near what the Minnesota Vikings have going. Their defense is one of the best, young units in the NFL. They still have Adrian Peterson looking like a Pro Bowler and now have an assortment of quality weapons led by Kyle Rudolph, Stefon Diggs and rookie Laquon Treadwell. At the focal point of everything though was Teddy Bridgewater. His efficiency, leadership and calm knack for making a play when needed made it work.
This team wasn't thinking playoffs. They were thinking Super Bowl. Now those dreams appear shattered. Bridgewater tore his ACL and badly dislocated his knee. He's out for the rest of the season and there's no telling what long-term effects this will have. Meanwhile the Vikings have gone from possible repeat NFC North champions to a 50/50 chance of even making the playoffs at all. Bridgewater may not have been their best asset, but he was their most important.
This article originally appeared on