2016 NFL Draft Midseason Grades For Every 1st Round Pick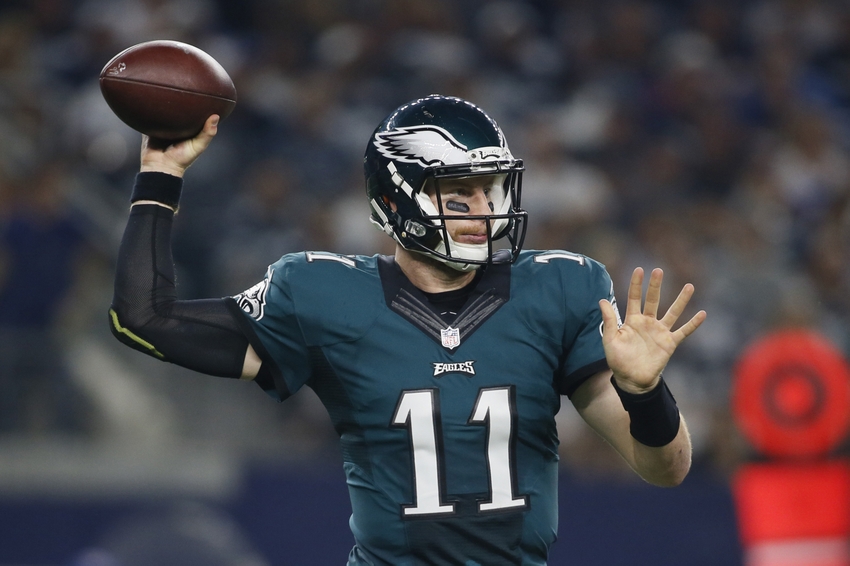 The first half the season is in the books. Needless to say there's been plenty of good, bad and ugly. Particularly from the 2016 NFL draft class.
So it's evaluation time. Every top draft choice of every team will be evaluated for their progress thus far and receive a letter grade accordingly. Fans will also be informed of certain sleeper players who went in later rounds that has surprised the experts thus far.
Arizona Cardinals
Top Pick:  Robert Nkemdiche, DL, Ole Miss
It's really hard to judge a draft pick who isn't playing much. Thus far the Cardinals have refused to put Nkemdiche in the defensive lineup for longer than a couple snaps. It's unclear if he's battling injury or just being held out. That wouldn't be a surprise. Bruce Arians has avoided starting rookies whenever possible. Nevertheless it's hard not to reach certain conclusions. The longer he goes without getting on the field, the more of bust he's going to look like. Until then don't expect a higher grade.
Grade:  D
Hidden Gem:  Brandon Williams, CB, Texas A&M
Pretty much the entire 2016 draft class hasn't contributed much beyond special teams work for the Cardinals. The only notable player to have an impact at this actual position is cornerback Brandon Williams. He has five tackles on defense in limited action. Not a huge impression but hopes are high he and others will contribute eventually. Until then they must rely on their veteran core to see them through this current crisis.
Atlanta Falcons
Top Pick:  Keanu Neal, S, Florida
Head coach Dan Quinn and the Falcons staff wanted a safety on the back end of their defense who could be a tone-setter. Somebody who functioned in coverage but really became a physical force around the line of scrimmage. Keanu Neal is living up to that reputation he brought from Florida. He's already at 41 tackles on the season and forced two fumbles as well. Teams have tested him through the air but he generally hasn't allowed much.
Grade:  B
Hidden Gem:  Deion Jones, LB, LSU
Sure, 2nd round picks are still high but the fact of the matter is Deion Jones is playing like he should've been a 1st rounder. The Falcons defense has really started to play well this season and he's a big factor in that improvement. He has 47 tackles, showing great range and toughness, while also delivering two interceptions and a defensive touchdown. That is tremendous production given how little help he gets at times from the front four.
Baltimore Ravens
Top Pick:  Ronnie Stanley, OT, Notre Dame
It was a mild surprise when the Ravens decided to make Ronnie Stanley their 1st round pick considering Laremy Tunsil was graded higher by most experts. It was an even bigger surprise when they elected to start him from day one as a rookie. Thus far he's shown plenty of glimpses why. Stanley is an athletic pass protector who does his job keeping Joe Flacco clean. He's also a steady run blocker too. He'll have to show he can stay healthy moving forward though.
Grade:  B+
Hidden Gem:  Matt Judon, DT, Grand Valley St.
Ozzie Newsome always has a knack for finding quality contributes in small places. Matt Judon could end up being his latest gem. Very few people took notice of him for obvious reasons, coming out of Grand Valley St. Yet his play speaks for itself. As a rotational linebacker he has 10 tackles and two sacks. It looks like he's performing at a high level each week. A welcome sign for a defense in need of young playmakers.
Buffalo Bills
Top Pick:  Shaq Lawson, DE, Clemson
Players who weren't able to play so far this year because of injury get an incomplete. The difference between not playing and being hurt are different. One is because of not making a good impression, the other is more about luck. Shaq Lawson has missed several weeks with a recovering shoulder problem. Buffalo is about ready to get him going though. That they did as he announced his arrival by sacking Tom Brady in his first game.
Grade:  INC
Hidden Gem:  Adolphus Washington, DL, Ohio State
Rex Ryan needed the proper bodies in order to turn his defense into the type of unit he wanted. Adolphus Washington had the mix of size, length and athleticism the Bills were looking for. So far he's become a nice member of their defensive line rotations with 13 tackles and two sacks. It's clear he's still learning how to play his position, which is different from what he did in college. The improvements should come quickly at this pace though.
Carolina Panthers
Top Pick:  Vernon Butler, DL, Louisiana Tech
After a great start to his NFL career with a sack of Cam Newton in the opener, Vernon Butler disappeared off the map. After just two more games he hasn't seen the field since due to healthy problems. This more than many things has contributed to how poorly the Panthers defense has played through the first half of the season. He'll have to get back on track in order to prove their investment in his was worth it. First round picks who can't stay on the field get low grades.
Grade:  C-
Hidden Gem:  James Bradberry, CB, Samford
Nothing is going to make up for the Panthers' decision to let Josh Norman walk. That was a bad decision, regardless of whether they thought it was "best for the team." His absence is a big reason they're 2-5. The only silver lining in this situation is they seem to have found a quality young corner in the draft. Out of Samford of all places. James Bradberry can play coverage well and is a sturdy tackler. A good fit for what the Panthers like to do.
Chicago Bears
Top Pick:  Leonard Floyd, OLB, Georgia
The start of the season was a frustrating one for the Bears' 1st round pick. Nagging injuries set him back constantly and it showed in his uneven play. For every decent moment he had a few forgettable ones. Some were starting to think he was a bust after missing two games with a calf problem. Then he sacked Aaron Rodgers twice, forced a fumble and scored a touchdown on Thursday Night Football. Then he delivered another sack against Minnesota the next week So it's clear the talent is validated. Now he must find the consistency.
Grade:  B-
Hidden Gem:  Jordan Howard, RB, Indiana
The running game for Chicago was in shambles during the first few games of the season. Injuries and poor player were rampant. Somebody was desperately needed to help balance the offense. In came Jordan Howard, the teams' 5th round pick. He immediately rushes for 100 yards in back-to-back games and was instrumental in both of their wins season. No doubt he has a promising future as the primary bell cow in that backfield.
Cincinnati Bengals
Top Pick:  William Jackson III, CB, Houston
It was such a shame when cornerback William Jackson suffered his season-ending injury. Anybody who watched his game film saw a young man with loads of talent and instinct for the position. Thankfully the Bengals are relatively deep in the secondary. Even so this is not what they were hoping for from their 1st round pick. Not in a season that could be make-or-break for the head coach. Hopefully he'll be able to return and show everybody what he can do.
Grade:  INC
Hidden Gem:  Tyler Boyd, WR, Pitt
It's really not fair to expect a rookie to make up for what the Bengals lost in Marvin Jones and Mohamed Sanu. Cincinnati no doubt misses them as each thrive in their new homes. Tyler Boyd is not at their level yet, but he's played pretty well regardless. He has 25 catches for 283 yards and at least done enough to each the blanket coverages on A.J. Green, who is dominating. Given his work ethic and route running ability, Boyd should be much better by seasons' end.
Cleveland Browns
Top Pick:  Corey Coleman, WR, Baylor
For brief stretches this season, the Browns have seen exactly why they drafted Coleman so early. His speed is deadly and he can be a nightmare for defenses with the ball in his hands. The problem is his undersized body isn't holding up well thus far. Injuries have continued to set back his progresss. He has played just two games to date, but had 173 yards on just seven catches. So there is plenty of promise but still lots for him to prove.
Grade:  C+
Hidden Gem:  Cody Kessler, QB, USC
It's hard to imagine that a 6th round pick has the Browns thinking they might not have to get a quarterback early in 2017. Yet Cody Kessler has played pretty well so far when he's gotten opportunities. In five games he has 947 yards, four touchdowns and an interceptions. Not bad numbers considering where he was drafted and the fact he's a third string quarterback. If he can find way to stay healthy perhaps Cleveland has something there.
Dallas Cowboys
Top Pick:  Ezekiel Elliott, RB, Ohio State
Sometimes the best 1st round picks are the ones that are the safest and most obvious. The Cowboys desperately needed a running back. Elliott was by far the best in the draft class. Often the worst thing a team can do is overthink a pick. Put him behind the top offensive line in football and let him run. In six games he already has over 700 yards and five touchdowns. To think he's just 21-years old. Many great years could be ahead for this young man.
Grade:  A
Hidden Gem:  Dak Prescott, QB, Mississippi State
This is by far the biggest steal of the draft. Most people had severe reservations about Dak Prescott being a viable starting quarterback in the NFL. He's answered those critics by leading the team to a 6-1 record. He's over 1,700 yards already with nine touchdowns to just two interceptions. A 4th round rookie should not be playing this well. Granted he's had a lot of help from great protection and scheming but much of the success is well-earned.
Denver Broncos
Top Pick:  Paxton Lynch, QB, Memphis
The Broncos traded up for Paxton Lynch in the 1st round. So John Elways must have a lot of confidence in the 6'7″ kid. He hasn't started much this year though, sharing time with Trevor Siemian. Thus far the results have been modest but not terrible. Lynch definitely has a major skill set but hasn't yet learned to operate with the efficiency, accuracy and urgency needed of NFL QBs. He'll need more experience before true results can be expected.
Grade:  C
Hidden Gem:  Andy Janovich, FB, Nebraska
The media keep trying to kill it but the fact is the fullback position is alive and well in the NFL. It's just used differently. Andy Janovich was quite a find for the Broncos in the 6th round. Not only has he become a dependable run blocker in that Kubiak scheme, he's also an underrated runner and receiver out of the backfield. As he gains experience don't be surprised if the coaches open up the playbook to get him the ball more often.
Detroit Lions
Top Pick:  Taylor Decker, OT, Ohio State
Matthew Stafford is playing some of the best football of his career up in Detroit. Much of that success can be credited to the Lions taking Taylor Decker in the 1st round. His ability to step in right away and play some solid football at tackle for them was huge. Pass protection has really stood out. Defender have struggled to get past him most of the year. Him being able to do that without much pro experience makes the pick look even better. Hopefully the success continues.
Grade:  B+
Hidden Gem:  Dwayne Washington, RB, Washington
Teams usually need a little bit of luck in the 7th round of a draft. Seems the Lions got some with this kid. Though he's not getting regular opportunities, he's making the most of the ones that come his way. He's averaging 4.2 yards per carry (18 carries for 78 yards) and has a touchdown. If the running game continues to falter for them, don't be surprised if he starts to get more action in the offense. The guy just understands how to run.
Green Bay Packers
Top Pick:  Kenny Clark, DE, UCLA
It was a bit of a head scratcher when the Packers took Clark so early. By that point most experts had him graded as more of a 2nd rounder given his size limitations. Nevertheless Ted Thompson felt the young defender had some. His hunch hasn't looked good so far. Clark didn't produce much through the first half of the season with just 10 tackles and no sacks. He's been solid depth on that defensive line but not much else. More is and should be expected.
Grade:  C-
Hidden Gem:  Blake Martinez, LB, Stanford
There were a lot of question marks surrounding Blake Martinez in the draft. Most of them having to do with his overall athleticism and speed. So far those problems haven't shown up to much. He's becoming one of the better tacklers for Green Bay with 40 already. He also has an interception and three passes defended, showcasing his prowess in coverage. Good stuff for a kid who didn't go until the 4th round.
Houston Texans
Top Pick:  Will Fuller, WR, Notre Dame
Fittingly, it was a fast start to 2016 for Will Fuller. After all, speed was the reason he got drafted by Houston and it showed with back-to-back 100-yard games. However, some of the problems listed about him also appeared. Namely his inability to consistently catch the football. Drops became a serious issue. On top of that teams have figured out ways to defend him and the numbers have fallen by a steep margin. Perhaps this reinforces the fears that he's a one-trick pony.
Grade:  C
Hidden Gem:  Braxton Miller, WR, Ohio State
By and large the 2016 class hasn't produced much for Houston due to a variety of reasons. Still, there is plenty of promise. Young receiver Braxton Miller, a former QB, looks like he'll end up being good once the game slows down for him. He has eight catches for 52 yards so far this season along with three kickoff returns for 41. Bit by bit he should start to see more action in the offense. It's question of when Brock Osweiler will start trusting him.
Indianapolis Colts
Top Pick:  Ryan Kelly, C, Alabama
Andrew Luck is back to his old ways again, slicing up defenses almost at will. A big reason for this has been the slight improvement of his pass protection, at least along the interior. The main man responsible for that is Kelly. He was the best, most polished prospect at center in the draft and it's showing. He's settled things down in the middle for Indianapolis, giving Luck cleaner pockets to step up. Barring a setback, he should be a fixture for them moving forward.
Grade:  B+
Hidden Gem:  Hassan Ridgeway, DL, Texas
The Colts desperately need options on defense to start stepping up. They can't keep relying on Luck to do everything. Scheming isn't going to beat good teams. Young defensive lineman Hassan Ridgeway looks like he can be promising. So far he has nine tackles and half a sack in limited action. He's an exciting athlete for a man his size. The big question with him will be can he stay healthy and can the coaches keep him motivated?
Jacksonville Jaguars
Top Pick:  Jalen Ramsey, CB, Florida State
He was considered by many to be the best overall prospect in the entire class. Despite some seriously questionable coaching from the Jacksonville staff, Ramsey hasn't let that stop him. The young cornerback is emerging at a rapid pace to become one of the best defenders that team has. His stats don't tell the whole story yet with no interceptions, but the tape reflects a player whose confidence grows with every game and every snap. If he gets any kind of help, he'll live up to the hype.
Grade:  A
Hidden Gem:  Yannick Ngakoue, DE, Maryland
From a stat point of view, Yannick Ngakoue was one of the best pass rushers in the draft. Yet he was passed over for several rounds because they felt he wasn't athletic enough. Sometime that is a bad reason not to take a productive player. Ngakoue is proving that. He has four sacks already this season along with three forced fumbles. He's the most consistent pass rusher the Jaguars have and a real nightmare to deal with on long down situations.
Kansas City Chiefs
Top Pick:  Chris Jones, DL, Mississippi State
Given the depth the Chiefs currently enjoy on defense, they've been able to take things slow with young 2nd round pick Chris Jones. Scouts were high on him due to his considerable mix of size and athleticism, making him the poster child for 3-4 defensive end. It's taken some time but he's showing sign of emerging from his shell. In seven games (two starts) he has 10 tackles and a sack. Not bad for the limited snaps he's seen but more will be expected in the future.
Grade:  B-
Hidden Gem:  Tyreek Hill, WR, West Alabama
Andy Reid has always loved gadget receivers who can play offense and special teams. Tyreek Hill is that new option for the Chiefs. He has 19 catches for 223 yards and four touchdowns. That's pretty solid for late round rookie. Add in over 400 kick and punt return yards on top of it and this young man has become a quiet weapon in Kansas City. He should continue to impact games down the stretch.
Los Angeles Rams
Top Pick:  Jared Goff, QB, Cal
It's difficult to tell how much Jared Goff not playing so far this season is because of his lack of preparedness and how much is Jeff Fisher. The head coach has a reputation for holding quarterbacks out until he feels their read. At the same time there were rumors that Goff didn't look ready. Either way a #1 overall pick who is healthy but not playing can't get anything but a low grade. It won't change until he gets his shot, whenever that ends up being.
Grade:  D
Hidden Gem:  Josh Forrest, LB, Kentucky
Pretty much the entire 2016 class for the Rams was centered around the acquisition of Goff. Most of their other picks weren't expected to contribute much. Nevertheless young linebacker Josh Forrest has found ways onto the field from time to time. He has five tackles thus far and is helping out on special teams. There is promise with his game. It's a matter of him earning his stripes to get a shot at a full-time job.
Miami Dolphins
Top Pick:  Laremy Tunsil, OT, Ole Miss
From a talent standpoint, there is no way Laremy Tunsil should've fallen out of the top 10 in the draft. Such are the consequences of getting in trouble at the worst possible time, as his famous gas mask bong video proves. He fell to the Dolphins and came with questions of whether he could stay out of trouble. Thus far he has, and his addition to their offensive line has really begun to show up in a big way. Particularly in their ground attack as he's plowing open running lanes for Jay Ajayi.
Grade:  B+
Hidden Gem:  Xavien Howard, CB, Baylor
Improving the pass defense was a top priority for the Dolphins from the moment the new coaching staff took over. They tried several different ways to find help in the secondary including a trade for Byron Maxwell. On top of that they spent a 2nd round pick on Xavien Howard, a late riser in the draft. Though he's dealt with injury problems so far this year but he's contributed well with 28 tackles and a forced fumble.
Minnesota Vikings
Top Pick:  Laquon Treadwell, WR, Ole Miss
Most of the Vikings rookie class hasn't seen much action thus far in 2016. The sideffect of having a fairly strong and deep roster. At the same time, the passing game hasn't been on point. Laquon Treadwell was hailed as an answer to those problems when he was taken. Instead its been a disappointment. He's barely played and dealt with injuries. Thus far he has yet to register a single catch in the NFL. That does not reflect well on how prepared he was to make the leap.
Grade:  D
Hidden Gem:  Mackensie Alexander, CB, Clemson
Even though he's appeared in seven games, the Vikings have not gotten Alexander on the field very much. He only has one tackle, though his coverage has been solid. This speaks to how little the 2016 draft class is contributing this year. Problem is Alexander is stuck on a loaded depth chart at cornerback. It's going to take a number of changes for him to finally get a shot.
New England Patriots
Top Pick:  Cyrus Jones, CB, Alabama
Bill Belichick is notorious for being good with cornerbacks since his days as a defensive coordinator. So it wasn't a surprise the Patriots made Cyrus Jones their top pick this year. He showed at Alabama he could be a sticky nuisance in coverage who makes plays. So far though he's been making too many mistakes whenever he's seen the field. He has just three tackles in five games. He'll have to earn his way back into the teams' good graces.
Grade:  C
Hidden Gem:  Joe Thuney, OG, N.C. State
The other part of the Chandler Jones trade. This was the pick New England got from Arizona and they made good use of it. Joe Thuney is quickly developing into a dependable blocker for the Patriots offensive line. He's stout in pass protection and moves well as a road create to create lanes for the running backs. Like any rookie he has some bad moments but far fewer than normal. As usual this team makes the most of a trade they were forced to make.
New Orleans Saints
Top Pick:  Sheldon Rankins, DL, Louisville
The logic behind taking Rankins in the 1st round was obvious. He was among the best interior pass rushers in the class. A perfect potential compliment to star edge man Cameron Jordan. That might finally give the Saints defense the core defensive front they've lacked for years. Sadly things were thrown out of whack when the rookie broke his leg. Odds are he can still return before the end of the season, but until he actually plays there is no way to grade him.
Grade:  INC
Hidden Gem:  Vonn Bell, S, Ohio State
There are also plenty of issues with the back end of the Saints defense. It's been a revolving door at both cornerback and safety for the team. Hopes are high that rookie Vonn Bell can give them some sorely needed stability at free safety. He's not at the point yet where he's impacting coverage, but the young man is a steady run defender with 32 tackles and a forced fumble. Presuming this team eventually finds some help, he'll fulfill their hopes for him.
New York Giants
Top Pick:  Eli Apple, CB, Ohio State
The Giants really did go all out to improve their defense this off-season. They spent an incredible amount of money in free agency to bring in guys like Olivier Vernon and Janoris Jenkins. If that weren't enough, their 1st rounder brought in Apple to fortify their new secondary. So far he's given them 15 tackles and a forced fumble. His pass coverage needs work as he only has three passes defended and no interceptions. Hopefully an improved pass rush will eventually help with that.
Grade:  C+
Hidden Gem:  Sterling Shepard, WR, Oklahoma
The frustration for the Giants offense is centered around their lack of explosion and points production. That does not include the steady improvement of rookie receiver Sterling Shepard. Coaches were wild about him in preseason and he's living up to the billing with 31 catches for 334 yards and two touchdowns. Not bad production considering Odell Beckham and Victor Cruz are ahead of him on the depth chart.
New York Jets
Top Pick:  Darron Lee, LB, Ohio State
The Jets knew they needed linebacker help if they wanted to keep the defense on track for success in 2016. Darron Lee was among the most athletic in the class and represented a dimension they didn't have. That's why he was chosen. Results have varied but aren't too bad for a rookie. Lee has 30 tackles and half a sack in six games thus far. Injuries have slowed his progress to this point but in truth the entire defense is struggling. With good health improvement should come.
Grade:  B-
Hidden Gem:  Charone Peake, WR, Clemson
Most of the reasoning behind drafting Charone Peake was pure athletic upside. He wasn't overly productive at Clemson but his sheer physical promise made him worth the risk. As expected he hasn't seen a ton of action with several veterans on the roster. Still, he's making an occasional impact already with 11 catches for 100 yards. Bit by bit it's clear the game is slowing down for him. If the light ever goes on? He can do so much for whoever his QB ends up being.
Oakland Raiders
Top Pick:  Karl Joseph, S, West Virginia
The secondary was an utter mess for the Raiders last season and a good part of this season. That was why the team made such a concerted effort to improve it. One of their key moves was grabbing Karl Joseph. When healthy this young safety showed two-way ability. It's showing at times this year. Not only does he have 36 tackles but also an interception and three pass deflections. Improvement has been steady, and should increase with time and experience.
Grade:  B
Hidden Gem:  DeAndre Washington, RB, Texas Tech
Every offense loves to have that short, shifty running back who is a great change of pace to the starter. It seems the Raiders found their guys with DeAndre Washington. He's become a nice compliment to Latavius Murray. So far he's averaging 5.1 yards per carry (267 yards) and has 12 catches for 72 yards. The mark of a good rotational back is being able to make the most of limited opportunities. Washington is proving adept at that.
Philadelphia Eagles
Top Pick:  Carson Wentz, QB, North Dakota State
Quite the story. A kid from an FCS school rises from nowhere to become the #2 overall pick in the draft. The Philadelphia Eagles gave up a lot to get Wentz and so far they have no reason to regret it. The young man has lots of talent, is very smart and takes good care of the football. His 92.7 quarterback rating through six games despite limited targets to work with showcases how good he is and can be. Like with most rookies though it will take time for him to really take off.
Grade:  A
Hidden Gem:  Jalen Mills, S, LSU
Most of the time when a defensive back makes a position switch from college to the pros, it's almost always cornerback to safety. Jalen Mills is one of those rare exceptions. The LSU safety was moved to corner by the Eagles upon arrival as a 7th round pick and he's paying immediate dividends. He's a steady tackler and gets his hand on the football in coverage at least once per game. Learning jump on some opportunities is his biggest hurdle.
Pittsburgh Steelers
Top Pick:  Artie Burns, CB, Miami (Fl.)
The Steelers really weren't given much choice with this pick. They were in sore need of help in the secondary. Artie Burns was a tremendous athlete boasting tons of potential at cornerback. If they could get his fundamentals sorted out, he might end up being really good for them. So far the results are mixed. He's had some decent games but the playmaking hasn't been there. The pass defense still ranks an abysmal 26th in the league. Not what they were hoping for.
Grade:  C
Hidden Gem:  Sean Davis, CB, Maryland
Finding help at cornerback was the theme of the 2016 draft for the Steelers. Not only was their 1st round pick at that position, but their 2nd rounder as well. Sean Davis was a convert from safety. An impressive athlete with range and ball skills. In spot duty including two starts he has 18 tackles. Maybe not the most productive stat line for a rookie but he's contributing and the Pittsburgh defense will benefit down the line as he gains experience.
San Diego Chargers
Top Pick:  Joey Bosa, DE, Ohio State
It's hard to tell who is at fault for the confusing contract standoff at the start of the season. One that caused Bosa to miss a number of games. That and persistent hamstring problems. Some were wondering if he'd ever suit up for the Chargers. Thankfully he has and San Diego is being validated for taking him. Bosa has four sacks already in just three games. He's getting consistent pressure on the pocket and it's become an enormous help for the defense.
Grade:  B
Hidden Gem:  Jatavis Brown, LB, Akron
A lot of draft experts were banging the table for Jatavis Brown. They ensured that his undersized body meant nothing. This kid is a playmaker. Safe to say he's proving them all correct. The Akron product has gotten off to a fantastic start in 2016. In eight games he already had 54 tackles, three sacks and two forced fumbles. He's had a direct impact on the outcome of games. That's more than a team can ask for from a 5th round pick.
San Francisco 49ers
Top Pick:  DeForest Buckner, DE, Oregon
Not much is going right for the 49ers this season. Surprising given the young talent they seem to have in place. Then again there are plenty of holes that need plugging. DeForest Buckner looks like he's well on his way to locking down a defensive end spot. After a quiet start to the year he's begun to up the intensity. He has 36 tackles and two sacks in six games thus far. Given his impressive physical potential, it should only get better with time.
Grade:  B
Hidden Gem:  Rashard Robinson, CB, Florida
The common line regarding cornerback Rashard Robinson was his somewhat slender frame and a number of question marks off the field. Teams weren't sure they could trust him enough. In such cases a talented player falls. San Francisco was in a good position to give him an opportunity. He fit their scheme and what they wanted to do. They were right. He has 18 tackles and is better in coverage than people thought he'd be at this point.
Seattle Seahawks
Top Pick:  Germain Ifedi, OT, Texas A&M
His early injury was a slight setback but the Seahawks never lost faith that Ifedi could become a key cog in their remodeled offensive line. Though athletic enough for tackle it was felt he'd be a better fit at guard. The results are promising. After some ugly performances at the beginning of the year, the Seattle front has begun to stabilize. In seven games they've allowed just 12 sacks on Russell Wilson. That is the improvement the team was looking for.
Grade:  B-
Hidden Gem:  Alex Collins, RB, Arkansas
Seattle has problems. A big one has been their running game. It's not what it was two years ago. Losing Marshawn Lynch is looking like a bigger and bigger blow every week. The coaches remain confident that given enough time their stable of young backs can step up to carry the load. Rookie Alex Collins is among that number. He's only gotten nine carries so far, but he has a touchdown and could become a big help for them in short yardage as the season gets later.
Tampa Bay Buccaneers
Top Pick:  Vernon Hargreaves III, CB, Florida
It's difficult to tell how the addition of Vernon Hargreaves has impacted the Tampa Bay defense. They rank 23rd in the league against the pass and just allowed over 500 yards passing to Derek Carr and the Raiders. In that sense the rookie cornerback hasn't helped their problems in the air. Then again he's also one of their leading tacklers. It's a mixed bag at this point for Hargreaves. About the standard for players in their first year. Needs time to learn the NFL speed.
Grade:  C+
Hidden Gem:  Noah Spence, DE, Eastern Kentucky
The general consensus regarding defensive end Noah Spence was two things:  really good pass rusher with questionable off-the-field concerns. Could he stay out of trouble and commit to honing his craft? Tampa Bay can at least say so far so good. Spence has three sacks and a forced fumble for them through the first half. He's getting decent pressure despite only starting one game. Presuming he sees more snaps, the production should get better.
Tennessee Titans
Top Pick:  Jack Conklin, OT, Michigan State
Last year the Titans had one of the worst offensive lines in football and Marcus Mariota paid for it. This year they made it their mission to fix that problem by grabbing Conklin in the 1st round. Some wondered about his athleticism other nitpicks, overlooking his experience and success at Michigan State. The results speak for themselves. Conklin has yet to allow a sack this year and is also a big reason the Tennessee rushing attack is beginning to stampede defenses.
Grade:  A+
Hidden Gem:  Tajae Sharpe, WR, Massachusetts
One of the bigger surprises of the pre-draft process back in April was Tajae Sharpe. He had an outstanding scouting combine, showcasing his natural hands and ability to run routes. Perhaps not a go-to guy, but one defenses would learn to hate for his knacks at getting open. Sharpe has become a steady contributor in the Titans offense with 23 catches for 259 yards. Health is something he'll need to get right in order to take off.
Washington Redskins
Top Pick:  Josh Doctson, WR, TCU
Scot McCloughan was rumored to have injured his hand punching a wall when he found out wide receiver Josh Doctson injured his Achilles earlier this year. Since then the rookie has tried so hard to get on the field. It just hasn't happened. He made it through two games before ending up back on sideline, making two catches for 66 yards. The ability was on display for that short time. It just remains a big question of whether he can stay healthy enough.
Grade:  D+
Hidden Gem:  Su'a Cravens, LB, USC
What an unexpected gem this guy is turning out to be. The Redskins knew their defense lacked playmakers and Su'a Cravens represented somebody who could give them versatility on that side of the ball. Fast enough to play safety but big enough to play linebacker. His production reflects that capability with 17 tackles, a sack and an interception. Considering he's started just one game, it's safe to imagine what will happen when he becomes their main guy.
This article originally appeared on