2016 Miami Dolphins Midseason Awards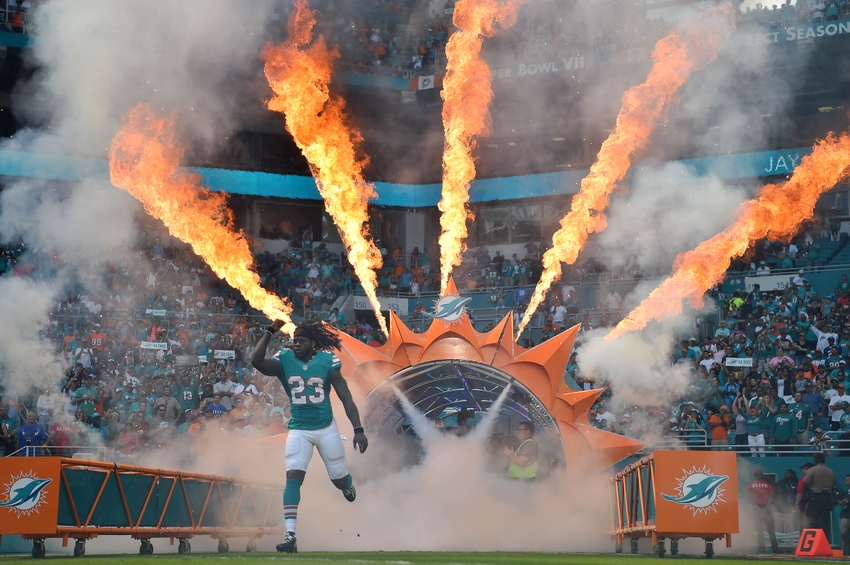 The Miami Dolphins have now completed half their 2016 season.  Now is the perfect time to look back on the first half of the season.
Team/Offensive MVP
Who is the "most valuable player" so far for the Dolphins?  It would easy to give this award to RB Jay Ajayi.  After all, he's averaging 6 yards per carry and was only the 4th player in history to rush for 200 yards in back to back games.
A good case could even be made for DE Cameron Wake (5 sacks) or DT Ndamakong Suh (4.5 sacks).  Wake has been especially impactful when you consider he was on a "snap count" for the first four games of the season.
With all that said, the true MVP of the season goes to LT Branden Albert.  In the six games that Albert has played, Miami's offense has averaged 144 yards rushing per game and 8 sacks compared to only 56.5 yards/game and 11 sacks in the two games Albert has missed.
Winner:  LT Branden Albert 
Defensive MVP
Suh's 4.5 sacks and constant presence on the defensive line put him in the conversation.  FS Reshad Jones also garnered some consideration mainly due to his ability to come up and play the run.
In the end, the clear choice was Wake.  When he was used on less than 50% of the Dolphins defensive stats (which occurred the first five games of the season), he was only able to contribute only one sack total.
The last three games, Wake has been used on 75%, 56% and 67% of the defensive snaps.  In those games, Wake has turned in 4 sacks.  His pass rushing has totally transformed the Dolphins defensive front.
Winner:  DE Cameron Wake
Offensive Rookie of the Year
WR Jakeem Grant and RB Kenyan Drake have both made a case as of late to be worthy of attention/consideration for this award.  Grant is averaging 25.2 yards per kick return and returned a punt 74 yards for a TD in the Dolphins loss to Tennessee.
Drake, meanwhile, has seen a little more action on offense than Grant (15 rushes for 68 yards and 1TD) but also provided the game-winning 96 yard kick return TD in last week's victory versus the New York Jets.
Although both deserve to be mentioned for their accomplishments, the clear/only choice for Offensive ROY is LG Laremy Tunsil.  He has started 7 of Miami's 8 games ('Tub-gate causing him to miss week 5) and is a major reason for the emergence/success of Ajayi the last three weeks.
Winner:  LG Laremey Tunsil
Defensive ROY
With the Dolphins going offense-heavy in the draft, there are only two names worth mentioning.  SS Jordan Lucas has played in the most games (5) but he has only seen the field on special teams.
CB Xavien Howard was hampered in the offseason with a knee injury and suffered another one during practice in week 5.  In between, Howard started four games and has looked like the best CB when he has been on the field.
Winner:  CB Xavien Howard
Comeback POY
At the beginning of the season, there seemed to be several promising candidates for this award.  RB Arian Foster was signed in late August to be the 'jolt' needed to boost the Dolphins run game.  He rarely saw the field and looked sluggish when he did play.  He retired on October 25th due to the mounting injuries.
After struggling in 2015 to make an impact on offense, TE Jordan Cameron came into the season earning praise from HC Adam Gase.  Cameron caught 7 passes in the first two weeks of this season.  He suffered a concussion in Week 3 vs Cleveland and never made it back.  He was put on season-ending IR November 5th and his career in Miami is probably over.
LB Kiko Alonso came in second for the award.  After missing the entire 2014 season in Buffalo with a torn ACL, Alonso injured his other knee in week 2 of 2015 with the Eagles and played sparingly for the rest of the year.  (One start and 11 games played.)  This year, in Miami, he has been a steady force in a shaky linebacking corp.  He leads Miami with 39 tackles and 27 assists while being pretty good in coverage as well.
In the end, Cameron Wake picks up his second mid-season award for 2016.  After tearing his Achilles last year versus New England, many experts and fans believed Wake's odds for a comeback were slim.
Considering his age (34) and the fact his game relies heavily on speed, it was easy to count Wake out.  However, those people forget that Wake (UDFA and former CFL player) has been defying odds his entire career.  All he has done is accumulate 5 sacks which accounts for over a quarter of the team's 19 sacks.
Winner:  DE Cameron Wake
Other Awards
Surprise Of The Year:  RB Jay Ajayi 
Disappointment of the Year:  RT JuWuan James
Best Offseason Acquisition:  DE/DT Jason Jones
Worst Offseason Acquisition:  DE Mario Williams
Best In Season Acquisition:  TE Dominique Jones
Best 300-LB Hurdler:  DT Jordan Phillips 
More from Phin Phanatic
This article originally appeared on