2016 Cleveland Browns roster analysis: The running backs
Eric Szczepinski/FanSided via Dawg Pound Daily

Fansided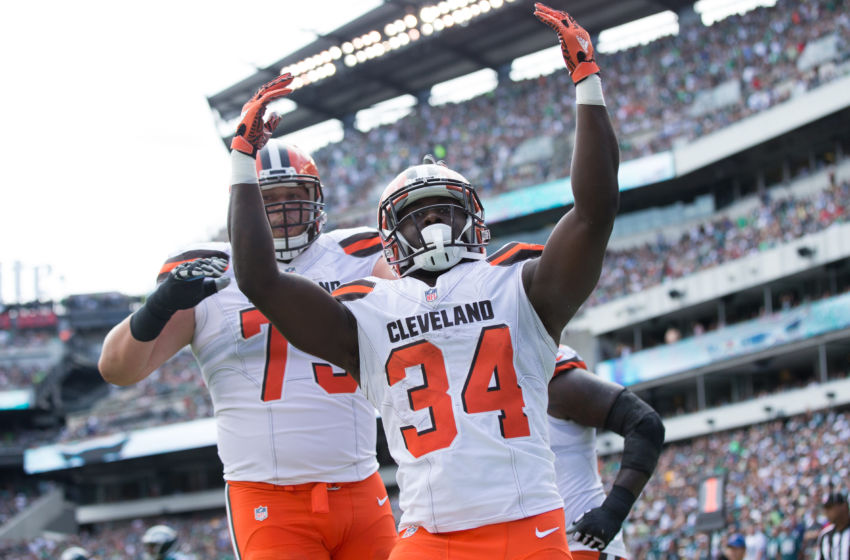 Our look back at the 2016 Cleveland Browns season continues with a look at how the running backs performed in what was a tough year overall for the offense.
The Cleveland Browns rushing attack found success under offensive-minded coach Hue Jackson in 2016. Cleveland lacks talent at almost every position on the field, yet the running back position should be the least of the front office's worries entering into the 2017 offseason. The Browns backfield averaged 4.9 yards per attempt which was ranked second in the entire league.
However, with the success of the running game the Browns did not run the ball enough and often failed to establish the run in many games throughout 2016. With such a high yard-per-attempt average the team only ranked 19th in total rushing yards (1,712). The good news is that the Browns have young athletic backs on the roster that have tons of playmaking ability.
Moving forward within Hue Jackson's offense, I expect Jackson to incorporate more of his run game featuring Isaiah Crowell and Duke Johnson as his lead guys. As the team enters its second season under Coach Jackson, expect Jackson to revamp the offensive line and expand upon his play book to bring out the strengths of his dynamic and versatile running backs.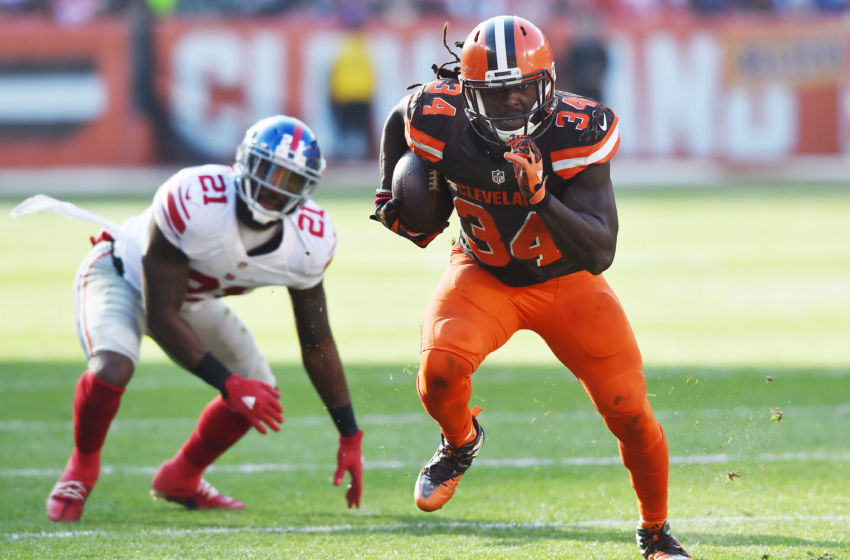 Isaiah Crowell
Age: 24
Experience: 3 years
Contract Status: Restricted Free Agent
In his third season out of Alabama State, Crowell posted career highs in rushing attempts, rushing yards and touchdowns. His 4.8 yards per attempt ranked him eighth amongst NFL running backs. He led a Browns rushing attack that ranked second in the league in yards per attempt, averaging 4.9. As a team the Browns averaged 107 yards a game on the ground and a large part of the run game's success falls on Crowell.
However, despite having a solid season to lead the Browns backfield, the utilization of the running back was baffling at times. Not once in 2016 did Crowell receive over 20 carries in a game. Head coach and play caller Hue Jackson often abandoned the run in the second half of games. Yes, the Browns often trailed in games but Crowell was producing solid numbers despite receiving less volume than other NFL backs.
The Browns as a team only had 350 rushing attempts which was tied for fewest in the entire league. He finished with 952 rushing yards in the season. But there were five games this season in which he failed to get over 10 carries. If the Browns stuck to the run more and fed Crowell, he would have easily surpassed the 1,000 yard mark, a feat only 12 running backs accomplished this year.
Not giving him the ball enough is an issue Jackson and his offensive staff will have to address in 2017. But when given the rock, Crowell rebounded from a sub par 2015 season and proved he is capable of being a reliable starting running back. In Hue Jackson's run scheme, Crowell raised his averaged from 3.8 yards per attempt to 4.8. It was evident Jackson brought forward the strengths of his running backs to make them successful.
Crowell is limited in the fact that on film at times it looks like he misses open holes and often stutter steps behind the line of scrimmage. He lacks the ability to create his own yards and improvise. But what makes him successful is that he has a quick burst when hitting the hole, getting him into the next level of the defense. Another positive about his run style is that he is always fighting for extra yards and gains tough yards after contact. Additionally, he has great ball security as he has only fumbled twice in the last two seasons.
Crowell is a free agent this offseason and it would be wise for the Browns to re-sign their young running back. Crowell is a building block for the offense and with so many other needs the Browns must make it a priority to retain their own playmakers.
2016 Stats:
Att Yds Y/A TD
198 952 4.8 7
2017 Outlook:
Crowell had a bounceback season in Hue Jackson's offensive scheme. The third-year back displayed bursts and toughness to produce a solid season totaling over 1,000 combined yards rushing and receiving. The Browns must re-sign him this offseason as he gives the team a solid and reliable starting option. Coach Jackson must rely on his running back to carry a larger portion of the offensive workload in 2017 as the team still seeks answers at the quarterback position.
Isaiah Crowell
RB, Cleveland Browns
B
Crowell turned in his best season as a pro, finding his role within Hue Jackson's offense. He doesn't have an elite skill set but has proven he is capable of handling a starting running back's workload. At 23 years old, Crowell is still developing and will improve with experience in Jackson's run scheme. There are faster and dynamic backs in the league than him but running back production is the least of the team's worries. Crowell is the starter entering 2017 with Duke Johnson as a great complementary back.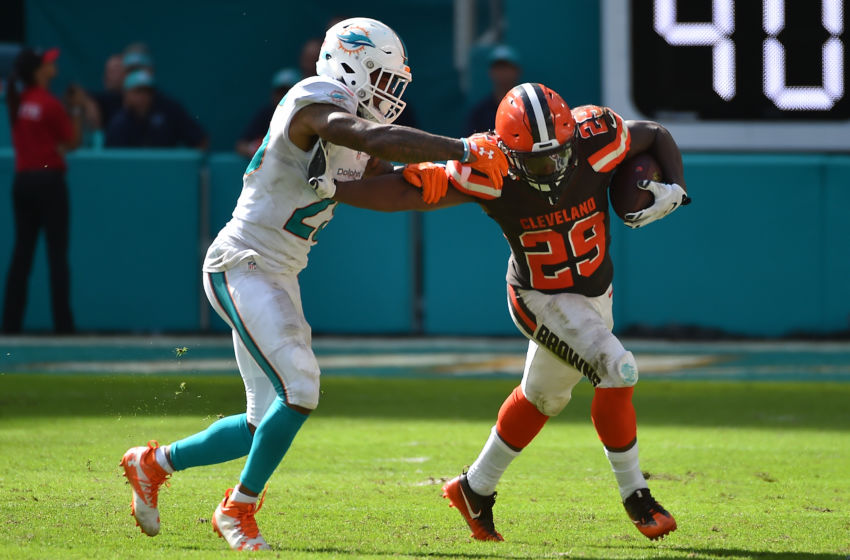 Duke Johnson Jr.
Age: 23
Experience: 2 years
Contract Status: Free agent in 2019
The second-year running back was the primary receiving back in Hue Jackson's offense. Johnson played a similar role to Jackson that Giovanni Bernard did in Cincinnati. However, Johnson struggled to find consistency in the new offensive scheme. Johnson received 31 fewer carries than a season ago and often could not get in a solid rhythm as pieces were ever-changing on the offense.
Johnson is one of the best athletes and playmakers on the Browns offense. Hue Jackson must find ways to give him a larger role in both the passing game and running game next season. Johnson is a versatile player that is best when used in multiple roles. He is a shifty playmaker who excels when he has the ball in space and can create yards for himself.
Using screens and designed pass plays out of the backfield for Johnson will utilize his strengths and improve the offense. As a running back, Johnson is the perfect change of pace back to pair with Crowell. Johnson is an explosive one-cut runner who does his best work outside the tackles.
Johnson has playmaking ability to create in space and find daylight. Duke has a great combination of speed, quickness and explosiveness and the Browns must create more opportunities for him to make plays moving forward.
2016 Stats:
Rushing: Att Yds Y/A TD
73 358 4.9 1
Receiving: Rec Yds TD
53 514 0
2017 Outlook:
Johnson is more of a home run threat than Crowell and gives them game-changing speed and playmaking ability. Johnson posted similar numbers to his rookie season. With another offseason in Hue Jackson's offense, expect Johnson to have an expanded role in 2017 as a do it all running back creating a 1A and 1B option between Crowell and himself.
Duke Johnson Jr.
RB, Cleveland Browns
C+
The Browns offense struggled to gain traction this past season and it affected Johnson's role. Crowell was used as the team's primary rusher while Johnson was the change of pace back. With many different changes at the quarterback position it was hard for the offense to create opportunities for the speedster Johnson. Despite this Johnson still totaled 872 total yards, showcasing his natural playmaking ability.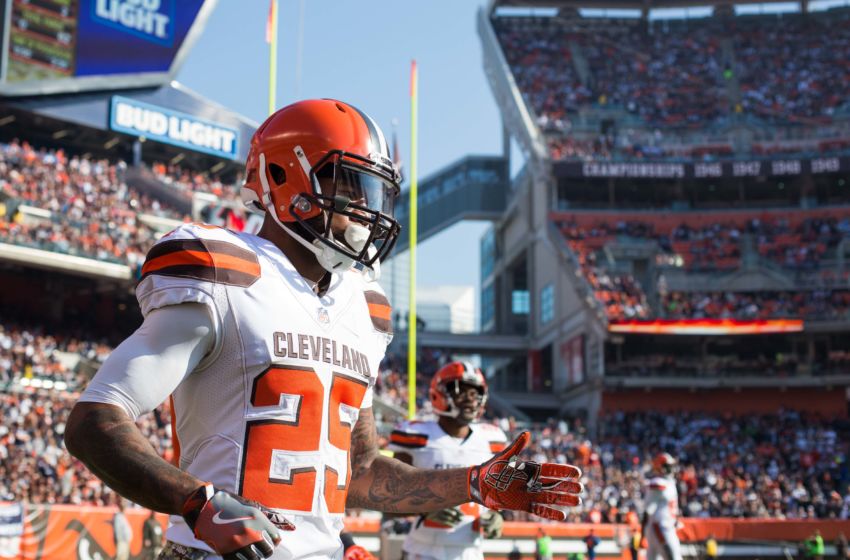 George Atkinson III
Age: 24
Experience: 1 year
Contract Status: Exclusive Rights Free Agent 2017
Atkinson was claimed by the Browns after he failed to make the Oakland Raiders final cuts this past season. He was signed by the Raiders in 2014 as an undrafted free agent out of Notre Dame. He had bounced back and forth between the Raiders practice squad and active roster.
With the Browns, Atkinson was active for all 16 games and received minimal action. He primarily served on special teams and returned some kicks. Atkinson didn't receive touches until Week 17 in Pittsburgh where he scored a touchdown.
As a free agent this offseason I expect the Browns to extend a one-year offer to Atkinson. He was on the roster the entire season and showed some potential in the season finale.
2016 Stats:
Att Yds Y/A TD
7 34 4.9 1
2017 Outlook:
With a full offseason with the Browns, Atkinson will fight in training camp to be the team's third string running back. The Browns also need an upgrade at kick returner and he could improve on the limited number of kicks he returned this season and compete for the kick returner job.
George Atkinson III
RB, Cleveland Browns
INC
When Atkinson finally got an opportunity at the end of the season, he ran hard and produced. The only question becomes, in this rebuilding season why didn't he get a chance much sooner in the year?
Danny Vitale, Fullback
Vitale was drafted in the sixth round, 197th overall by the Tampa Bay Buccaneers in the 2016 Draft. The Northwestern product failed to make the final 53-man roster and was released by Tampa Bay. Buffalo claimed him the following day but he failed his physical.
Vitale then rejoined Tampa Bay as a member of their practice squad. The Browns signed Vitale to the active roster in October after releasing fullback Malcolm Johnson.
Vitale is considered to be a hybrid fullback. In his college he flashed the ability to catch the ball out of the backfield. In his four-year career at Northwestern he caught 135 passes for 1,427 yards and 11 touchdowns. His college production indicates he can develop into a solid H-back and receiving role.
With the Browns, Vitale was primarily used as a blocker in short yardage situations. In nine games he caught four passes for 27 yards. Browns fans will remember he dropped a wide open touchdown at the goal line against Cincinnati.
Darius Jackson
Jackson was drafted in the sixth round, 216th overall by the Dallas Cowboys out of Eastern Michigan this past April. Jackson was a camp standout for the Cowboys. Jackson was on the active roster but was inactive for games until the Cowboys cut him in December.
The Browns immediately claimed him the following day via waivers. Jackson was inactive for the Browns' final three games but the move was made looking toward the future. Jackson is an athletic freak who had a record-breaking pro day. At his pro day, Jackson ran 4.35 and 4.38 in the 40-yard dash. Those numbers are quite impressive for a back who weighs in at 6-foot-1, 220 pounds.
Jackson has elite size and speed which makes him an early candidate to make the Browns roster next season. With a strong offseason, Jackson can push for carries and contribute in some capacity with his raw athletic ability.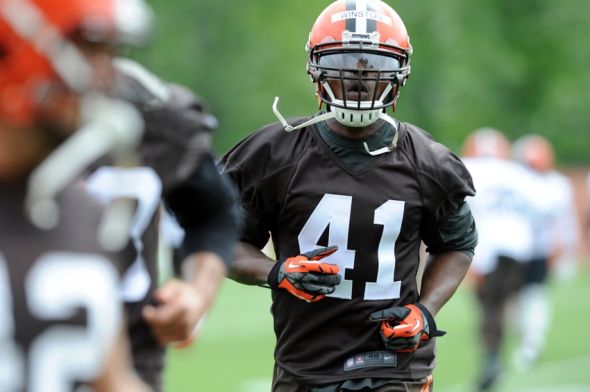 Glenn Winston
Winston has been a member of the Browns since 2014 when they claimed him off waivers from the San Francisco 49ers.
In his three seasons in Cleveland the running back has failed to stay healthy. In 2014 Winston was only active for five games and logged zero carries. In 2015 he battled a knee injury throughout training camp and was not activated until Week 10. He received one carry for -8 yards and fumbled.
In 2016 he was fighting for a roster spot before hurting his shoulder in training camp. Instead of releasing him, the Browns placed him on IR in hopes he is healthy to compete for a job in 2017
Rajion Neal
Neal was signed during training camp to provide another running back body for the dog days of camp. Neal was not in line to make the final 53-man roster and was placed on IR with a knee injury.
Like Glenn Winston, the team liked what Neal showed in his brief time with the team and will be entering training camp at the bottom of the depth chart.
More from Dawg Pound Daily
This article originally appeared on