2014 preview: Will Foles become the Eagles' franchise quarterback?
With football season around the corner, FOXSports.com provides a thorough analysis of all 32 teams heading into training camp. The offseason may have lacked some hard-hitting action, but franchise-altering moves have been made. Parity is excessive as ever. Every team looks great on paper in July. But it's the development and seasoning of a team that will matter in January and, yes … even February. Goodbye, offseason!
Today, we continue the series with the Philadelphia Eagles.
2013: 10-6, won the NFC East. Lost in the NFC Wild Card round.
Head coach: Chip Kelly (second season)
Key departures: WR DeSean Jackson, QB Michael Vick, DE Clifton Geathers, RB Bryce Brown
Key arrivals: RB Darren Sproles, S Malcolm Jenkins, QB Mark Sanchez, S Chris Maragos, rookie LB Marcus Smith, rookie WR Jordan Matthews
THREE QUESTIONS
1. Do the Eagles have a franchise quarterback?
When Chip Kelly first assumed the role of head coach last year, he opened just about every position up to a training camp battle. Seasoned veteran quarterback Michael Vick was staged in a competition with Nick Foles and Matt Barkley. Vick's leadership and experience earned him the starting role, but injuries plagued him later in the season. This year, there is no such controversy.
Foles, who had 10 starts in 2013, is the unquestioned leader of the offense. Piloting the Eagles to an 8-2 record in his starts, Foles showed accuracy, command of the huddle and precision executing the offense. Now he looks to cement himself as the team's long-term answer in Year 3.
While former QB coach Bill Lazor has been jettisoned to Miami, the 6-foot-6, 243-pound quarterback has the comfort and knowledge to rely on Kelly and offensive coordinator Pat Shurmur. At first glance, Foles' touchdown-to-interception ratio (27:2) is spectacular. A league-leading quarterback rating of 119.2 is impeccable. But is Foles a product of the quarterback-friendly system, which opens wide passing lanes? Or is the prototypical passer's efficiency and moxie capable of making him one of the league's premier players?
"Nick Foles has really taken a jump, to really being a star," running back LeSean McCoy said, per CSN Philly. "He showed us a glimpse of him being a great player with his stats, and being in a tough situation he had to take over, but he's really turned it on, I think it's more confidence: 'No matter if I throw 20 interceptions, I'm the starting quarterback.' And that plays a big role, because you can play confident. You can be real confident and make plays. Not scared to use his talent to make an extra play."
The Eagles, who led the league in chunk pass plays in 2013, aren't just beneficiaries of receivers gaining yards after the catch. Aside from public perception, Foles wasn't afraid to challenge a defense vertically. According to Pro Football focus, Foles led the league with 17.4 percent of his passes traveling 20 yards or more. The Eagles passer must accept the thought of being a franchise quarterback. If he proves to do so in 2014, he may earn himself a contract extension comparable to 49ers third-year quarterback Colin Kaepernick.
2. Will LeSean McCoy win another rushing title?
With an eye-popping season in 2013, McCoy established himself as one of the best running backs in the entire league.
His versatility in the screen game allows him to take short passes for big gains. What's more, Kelly has found unique ways to get the ball to McCoy in the running game. Philly's running game isn't traditional because Kelly employs a "See Coast Offense," which he jokingly coined last season, meaning if the Eagles see something they like, they'll take it. A majority of last season's running game was the zone-read, where Foles would either keep it or give it to the running back while he runs across the formation. With athletic linemen in guard Evan Mathis and center Jason Kelce, McCoy is able to follow his blockers and make plays in space. McCoy's shiftiness allows him to navigate in traffic and find pockets of space to break big gains.
It's no secret that Philly rode McCoy into the ground last season. With 314 rushes for 1,607 yards and 52 receptions for 539 yards, McCoy led the league in touches last season. He showed an ability to stay fresh, though, as he averaged 5.9 yards a carry in December.
The offseason acquisition of running back Darren Sproles could mean a lighter workload for McCoy. In fact, Sproles' role in the Eagles offense is one of the more intriguing storylines of training camp.
"Sproles has the quickest feet I've ever seen out of any player," McCoy said on The Rich Eisen Podcast. "He'll help us out tremendously. I think the best thing about him, what he brings to this team is not only leadership and experience, but also just another big playmaker on the team. You talk about losing DeSean (Jackson), but I think Howie (Roseman, general manager) and Chip did a great job of bringing another playmaker to our team."
During Sproles' time in New Orleans, he was utilized as a pass catcher out of the backfield. When he was in San Diego, he was electric as a change-of-pace running back to LaDainian Tomlinson and fantastic in the return game. His role in Philly's offense is anybody's guess. What is clear is that Sproles is a luxury. Kelly has been adamant that he will be used as a running back, not just a receiver lined up alongside the quarterback.
His presence will allow McCoy to stay fresh longer in games, but might prevent him from winning back-to-back rushing titles. That's not something he's necessarily concerned with as it will limit the hits he takes and likely expand his longevity in the system.
3. How will the defense perform?
The Eagles should be much more stout in Bill Davis' second season as defensive coordinator. Davis, who employs a 3-4 system, dealt with some adversity as he had to install and maximize a system last season that wasn't exactly suited for his scheme. With a year under his belt, the team was selective in free agency, adding a Pro Bowl-caliber safety in Malcolm Jenkins and a versatile playmaker in safety Chris Maragos. Furthermore, the team has high hopes for some young talents to emerge like rookie linebacker Marcus Smith, linebacker Mychal Kendricks and nickel cornerback Brandon Boykin.
BREAKOUT PLAYER
Linebacker Mychal Kendricks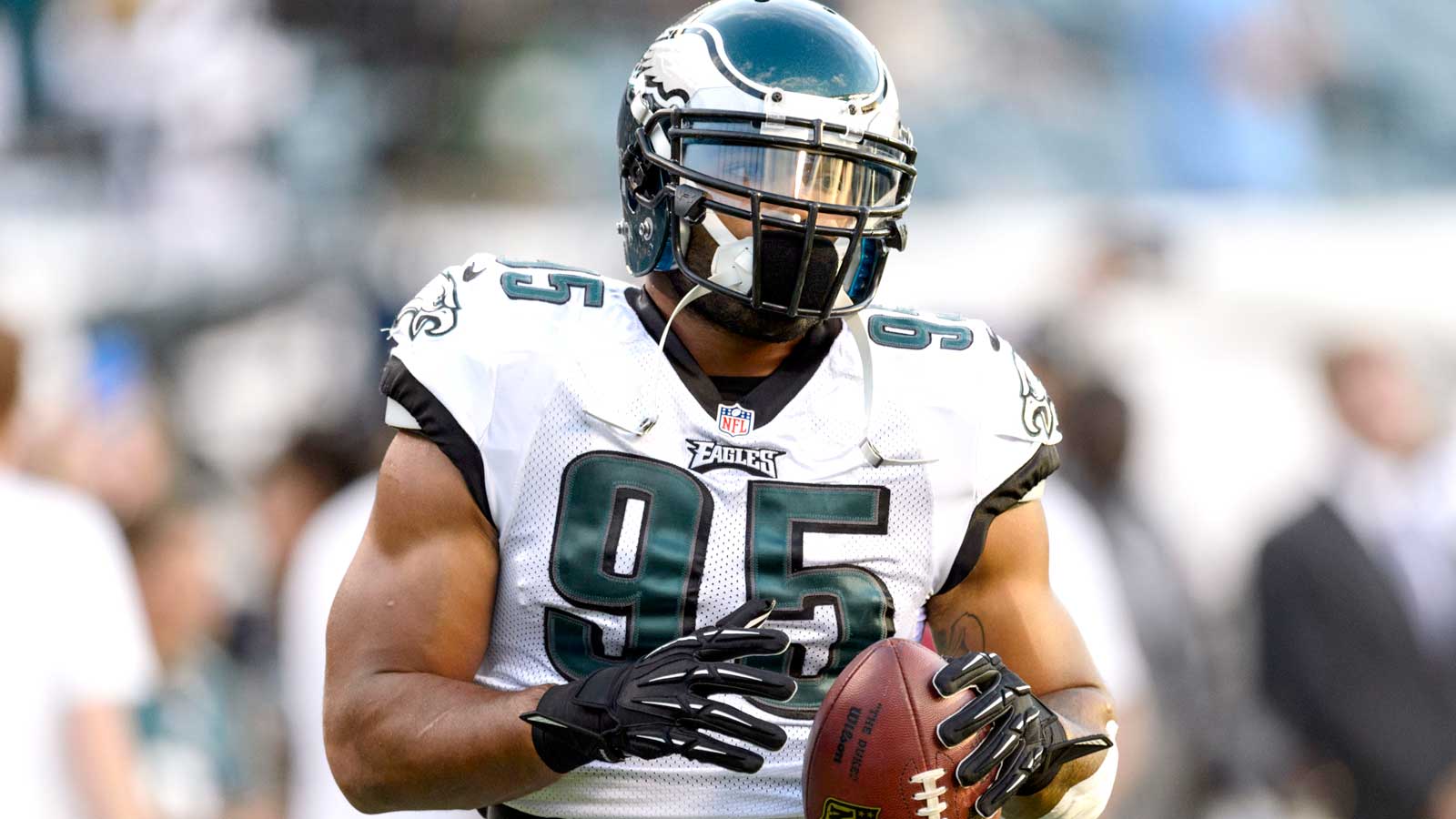 The third-year linebacker has already said that he expects Davis' unit to be "100 times better" this season. Kendricks, 23, will likely have a lot to do with that.
After registering an impressive 106 tackles, four sacks and three interceptions, Kendricks saved his best game for when it mattered most: a "win and you're in" Week 17 matchup against the Cowboys. Racking up 12 tackles, forcing a fumble and intercepting a pass, Kendricks announced himself as one of the most up-and-coming young talents in the division.
Playing alongside veteran linebacker DeMeco Ryans, Kendricks has taken a bigger responsibility during the team's OTAs and minicamps this offseason. Some even believe he is essentially being groomed to replace Ryans as the check-with-me linebacker.
"If for some reason DeMeco is not here, gets an injury, rolls an ankle, he's sick, Mychal can step in," head coach Chip Kelly said last month. "That's just part of everybody getting outside of their comfort zone and expanding their role. Instead of waiting for someone to tell him what we are going to call he's going to make the call himself.
"… I think sometimes Mychal leaned on DeMeco and didn't make the decisions himself."
REASON FOR OPTIMISM
Aren't you looking forward to Chip Kelly's second season?
Kelly has been tabbed as the "Mad Scientist" when it comes to offensive innovations. He led Nike coaching clinics during his time in Eugene, Oregon, and has been at the cutting edge of the zone-read offense. He keeps it simple in the offensive running game with inside zone, outside zone, counter and draw plays. Players are able to just play and not think about confusing assignments. But what Kelly does better than just about any other coach is recognizing unique talent and being able to maximize it in a system. He values special players who are good in the classroom, have integrity away from the facility and most important know the fundamentals of the game.
Looking at this year's draft, it's easy to see how Kelly has reinvented football in Philly. By adding players with strong character and a relentless work ethic, coaching becomes easy.
"I want to be the first guy up, the first guy in the building, the last to leave," rookie wide receiver Jordan Matthews said. "I like to compete in everything I do. I'm going to try to eat healthier than you. I'm going to try to practice harder than you. I'm going to try to stretch longer."
Greatness is often found in the details. And Kelly is hyper-aware of perfecting the details. His player-friendly, college-like atmosphere works. One hundred percent attendance during the Eagles' offseason program is living proof of that.
"We got a bunch of guys that love playing football," Kelly said in June, referencing that stat.
Expect Kelly's second season to be even more fruitful. With a year of experience, Kelly has gotten the right types of players in the facility and has been able to crunch the data to find which plays work and which don't.
REASON FOR PANIC
Is there a home-run hitter on this offense?
There aren't too many glaring holes on the roster. Right tackle Lane Johnson's four-game suspension for violating the league's policy on PEDs is unfortunate, but the Eagles have a capable backup in Allen Barbre.
If there is a reason to worry, it's the lack of a deep threat. Eagles brass parted ways with DeSean Jackson this offseason for "football reasons," amid a report that he had alleged gang ties. The cupboard isn't bare, though. Wide receiver Jeremy Maclin is returning from ACL surgery but has always been valued as a possession receiver. The team gave 6-foot-4, 230-pound wide receiver Riley Cooper a five-year extension this offseason. Maybe the team doesn't have a singular threat who can take the top off a defense, but it has a wealth of talented pass catchers, including tight ends Brent Celek and Zach Ertz.
ALEX MARVEZ'S 2014 PREDICTION
If the surprising offseason release of wide receiver DeSean Jackson doesn't come back to haunt coach Chip Kelly, Philadelphia is in prime position to become the first team to defend the NFC East title since the 2004 Eagles. Replacing the offensive threat that Jackson provided won't be easy. But the Eagles have a multitude of other receiving targets, the NFL's reigning rushing leader in LeSean McCoy and a rock-solid line even with right tackle Lane Johnson suspended the first four games. The defense also has more depth and a better grasp of coordinator Billy Davis' 3-4 system. Prediction: 11-5.