2014 preview: Will the Giants' offseason spending spree pay off?
With football season around the corner, FOXSports.com provides a thorough analysis of all 32 teams heading into training camp. The offseason may have lacked some hard-hitting action, but franchise-altering moves have been made. Parity is excessive as ever. Every team looks great on paper in July. But it's the development and seasoning of a team that will matter in January and, yes … even February. Goodbye, offseason!
Today, we continue the series with the New York Giants.
2013 record: 7-9 (third place in the NFC East)
Head coach: Tom Coughlin (11th season, 90-70 overall record)
Key departures: G Kevin Boothe, RB Andre Brown, DT Linval Joseph, SS Ryan Mundy, WR Louis Murphy, TE Brandon Myers, WR Hakeem Nicks, TE Bear Pascoe, LB Keith Rivers, DE Justin Tuck
Key arrivals: G John Jerry, LB Jameel McClain, DE Robert Ayers, CB Dominique Rodgers-Cromartie, SS Quintin Demps, G Geoff Schwartz, RB Rashad Jennings, C J.D. Walton, CB Zack Bowman, T Charles Brown, CB Walter Thurmond, WR Mario Manningham
THREE QUESTIONS
1. Will Eli Manning rebound after an abysmal 2013 season?
Peyton's little brother has two Super Bowl rings on his fingers, but he looked like a rookie just trying to learn the NFL ropes at times last season. By now, the stats have been stated and repeated: A career-high 27 interceptions along with a stomach-churning 0-6 record to start the season. What will have to change for things to improve this year?
Most people will point to Big Blue's offensive line woes last season as the primary reason for Manning's struggles. That's a fair point, and will be talked about more in a bit. But it goes beyond that. Manning too often forced passes to receivers he wasn't on the same page with and it led to easy turnovers.
What can fix that? Maybe a change in scheme. For the first time in his NFL career, Manning is learning a new system as longtime Giants offensive coordinator Kevin Gilbride stepped down at the end of last season. Enter Ben McAdoo and his West Coast offense. Manning has acknowledged the challenges he's faced this offseason.
"You have to rely on listening to your feet to tell you when to go to your next progression, when to run, when to extend the play," Manning said to FOX Sports NFL Insider Mike Garafolo. "It's really listening to your feet to tell you what to do with the ball and where to go. … I think it times up better on certain things. That's been a little bit of an adjustment."
But don't think Manning is having misgivings about his team's new direction.
"I'm all in for this system with Ben McAdoo. I think he's a bright mind with a great system and I'm interested in learning about it," Manning told Newsday. "I have questions and we're getting on the same page with what plays I like and what things I'm used to, and I'm excited about the opportunity that we have working together."
McAdoo agrees, but has pinpointed what the Giants need to do to be successful this season.
"I'm not someone to go out and shock the world. I think that football is a simple game," McAdoo said to the New York Daily News. "If you take care of the football, if you're a fundamental team and you're sound and you're smart, then you have a chance to win on Sunday."
Take care of the football. That's a mantra Manning should repeat to himself multiple times a day. Because this offense and this team will go only as far as Eli can carry it.
2. Will the offensive line get its act together?
As bad as Eli Manning was last season, the men blocking up front for him were decidedly worse. They allowed their quarterback to be sacked a career-high 29 times in 2013. That can't happen at this level. And it wasn't just in the pass game where the offensive line struggled.
The Giants averaged just 3.5 yards per carry on the ground, which was ranked 30th in the league. That's the team's worst number since 1945. They had just four runs of 20 yards or more. Four all season. When Giants owner John Mara spoke of his team's "broken offense" after last season, he probably had one eye focused squarely on his underperforming and injury-ravaged line.
After a season like that, changes were due to come down the pike. Kevin Boothe, David Baas and David Diehl are all gone. The team just recently took another hit when veteran guard Chris Snee decided to retire on Monday due to a lingering elbow injury.
The Giants went out and addressed some needs in free agency, signing the versatile Geoff Schwartz away from Kansas City and immediately plugging him in next to left tackle Will Beatty at guard. Then, they signed JD Walton to take over duties at center and added depth behind him by taking Weston Richburg in the second round of May's NFL Draft.
Speaking of depth, tackles Charles Brown and John Jerry –€" while not game-changing acquisitions –€" can serve valuable roles as backups in case Big Blue is hit by the injury bug. In fact, one of them just might have to switch to guard to make up for the loss of Snee, who was a leader up front for the past decade.
Beatty is also recovering from a broken leg he suffered late last year, but should be ready in time for training camp. It's a new start for the big man after he slogged through a down season in 2013. If he can get himself together and take ownership of his position, this unit might be able to turn the page and get it together.
And nobody will be happier than Eli Manning.
3. Will the Giants' big offseason spending pay dividends?
The Giants have never been known to be loose with the wallet as they prefer to build a team through bargain shopping and the NFL Draft. But this offseason provided something rarely seen: huge amount of cap space. The front office committed more than $100 million in free agency this year. Here are the men who are expected to step in and immediately make a difference.
RB Rashad Jennings: He's been a backup for most of his four years in the NFL, but with the competition thin at the position in New York, he could step right in and become a workhorse back. He definitely has the talent as he racked up 733 yards rushing last season for a struggling Raiders team in eight starts. He's also a threat out of the backfield and has decent breakaway speed.
DE Robert Ayers: The Giants lost a franchise mainstay and team leader this offseason when they let Justin Tuck depart in free agency. They're hoping Ayers can fill that void, at least on the field. He'll have to battle second-year man Damontre Moore for the job, but even in a reserve role he can provide quality depth as another able body who can rush the passer.
CB Dominique Rodgers-Cromartie: This was a home-run signing for the Giants as the team brought him on with a five-year deal after coming off a Super Bowl appearance with the Broncos. In fact, he was rated by Pro Football Focus as the sixth-rated cornerback in 2013. He's a ballhawk who has a knack for sniffing out interceptions and making plays on receivers in man coverage.
Are these signings a sign of things to come in Giants Nation? Mara is pumping the brakes on that.
"It's not going to happen every year," Mara told the Daily News. "We're not going to have that kind of cap room every year. And listen: If you're that aggressive every year, there's something wrong with your organization. But you have to do it every once in a while."
Fair enough.
BREAKOUT PLAYER
Wide receiver Rueben Randle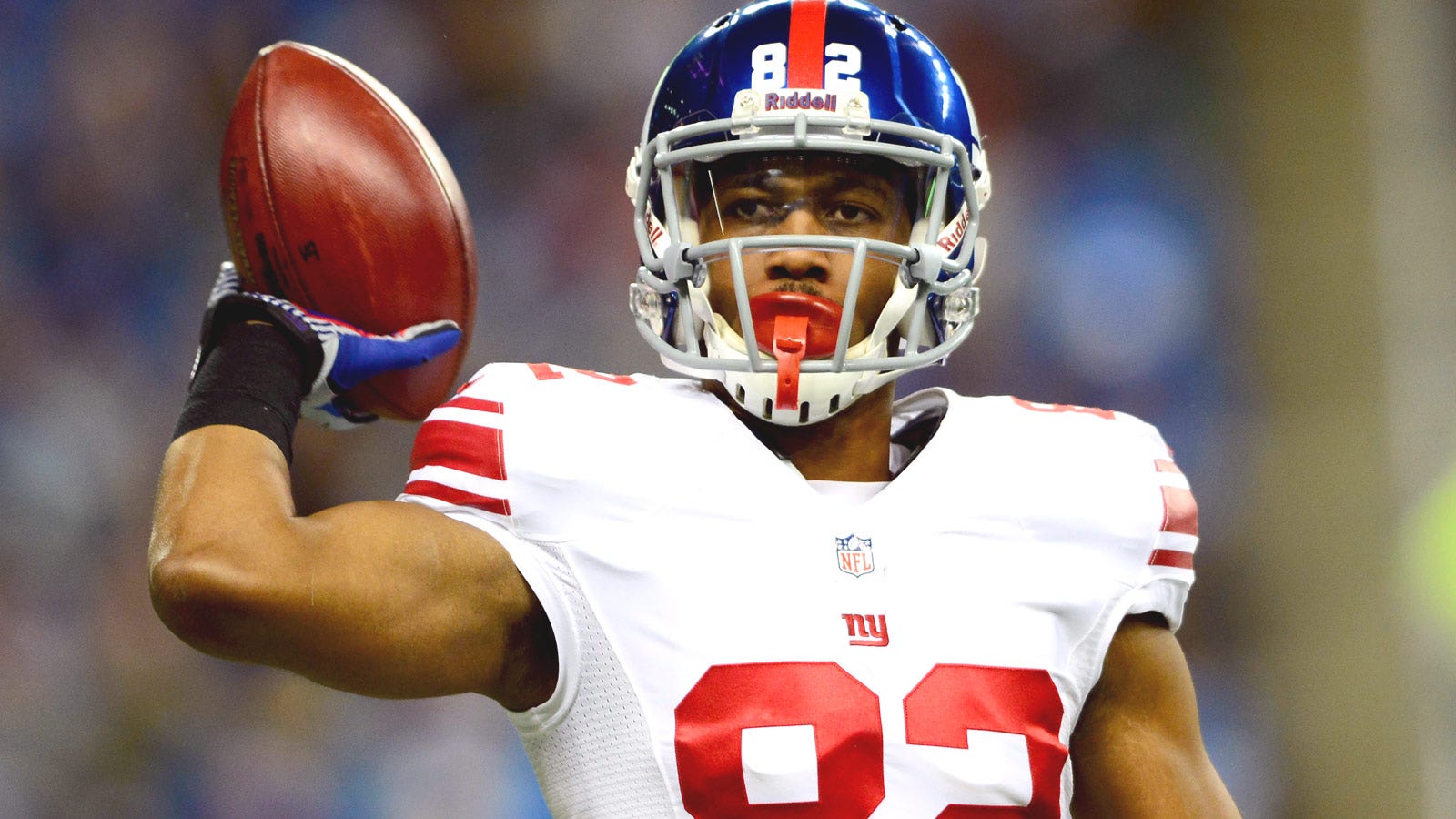 Nobody has ever questioned Randle's measurable. The second-round draft pick from 2012 has nice size (6-3) for a wideout and has the physicality to win battles in man coverage on the outside. He even led the Giants in touchdown catches in 2013 with six.
However, he was held back from a starting job thanks to Hakeem Nicks manning the outside receiver spot opposite Victor Cruz. Well, Nicks is gone to Indianapolis via free agency and the job is Randle's to grab. He's taking full advantage.
"I've seen a difference in his seriousness towards his work," Giants receivers coach Sean Ryan said to ESPN. "This spring, I thought he was locked in. I thought he did a good job learning the new offense … he's got some football intelligence to him."
Randle's size is what sets him apart from the rest of the wideouts on the roster and he can play a huge role in the red zone, where his length and leaping ability present a tantalizing option for Manning.
"That's a big target running down the middle of the field," Ryan said. "And that's something that we've certainly talked about and talked to him about, so it's possible.
Randle has all the tools. Now he just needs to make an impact from Day 1 of training camp and prove that the job belongs to him. If he does, the sky is the limit for this young talent.
REASON FOR OPTIMISM
The Giants released safety Will Hill this offseason after he drew a six-game suspension for a substance abuse violation. And yet, the Giants secondary is still considered by most to be one of the top units in the league.
Part of Big Blue's offseason spending spree was used on beefing up their defensive backs as they handed out deals to Rodgers-Cromartie and fellow cornerbacks Zack Bowman and Walter Thurmond. The trio will join talented Prince Amukamara to form a group of that can match up with anyone in the league.
Antrel Rolle and new arrival Quintin Demps are penciled in as the starting safeties, but there is also considerable depth behind them. Fifth-round draft Nat Berhe is making a push for playing time as his versatility is making scouts compare him to the departed Hill. Stevie Brown, who is coming off a torn ACL suffered last preseason, is looking to get back to his 2012 form, when he came up with eight interceptions.
Thurmond, in particular, is raving about his new team's personnel. If you remember, Thurmond played last season for the Super Bowl winning Seahawks, a team known for its fearsome "Legion of Boom" secondary.
"I'm learning a little more stuff than we did in Seattle," Thurmond said. "We were very simple. Here, we're mixing coverages and having exotic defenses. I like it, because it gives me a lot more freedom."
Are we looking at the birth of the Legion of Blue? You betcha.
REASON FOR PANIC
While the Giants' secondary is progressing nicely, their defensive front seven is still a mess.
And it got worse during OTAs when prized middle linebacker Jon Beason suffered a broken bone and a torn ligament in his foot. And although he insists he feels fine and is getting close to getting back on the field, the team put him on the PUP list for the start of training camp. He's hoping to see some action during the preseason before the Giants' regular-season opener, but isn't worried if he doesn't.
"… I've had seasons where I didn't have any training camp and I went out there and I got busy right away," Beason said to Newsday.
Beason might be confident, but if for some reason he's not ready to go when the season starts, the onus will fall on Jameel McClain (another free-agent arrival) to hold down the fort until he returns.
Another big question mark is the health of defensive end Jason Pierre-Paul. Once a first tier star, JPP has struggled the past two seasons with back and shoulder injuries and has registered just 8.5 sacks during that time. Make no mistake: The Giants need Pierre-Paul to be 100 percent healthy and in top form if they're going to mount any type of pass rush in 2014. And while he's seems determined and has "something to prove this year," forgive most of us if we won't believe it until we see it.
ALEX MARVEZ'S 2014 PREDICTION
Having failed to reach the playoffs since their Super Bowl XVI victory, the Giants uncharacteristically went bonkers in free agency trying to fix their deficiencies. The biggest upgrades came in the secondary with the signings of cornerbacks Dominique Rodgers-Cromartie (Denver) and Walter Thurmond (Seattle). New York also hopes it bolstered its ground attack by adding running back Rashad Jennings (Oakland), left guard Geoff Schwartz (Kansas City) and center J.D. Walton (Denver). But these moves will be for naught if new offensive coordinator Ben McAdoo can't help quarterback Eli Manning rebound from a 27-interception season. Prediction: 7-9.