2014 preview: Colts loaded with weapons to take the next step
2013 Record: 11-5, first place in AFC South. Lost in AFC Divisional Round
Head coach: Chuck Pagano
Key departures: RB Donald Brown, FS Antoine Bethea, OT Jeff Linkenbach, LB Kavell Conner, G Mike McGlynn, WR Darrius Heyward-Bey, CB Cassius Vaughn
Key arrivals: DL Arthur Jones, WR Hakeem Nicks, LB D'Qwell Jackson
THREE QUESTIONS
1. Will Trent Richardson take control of the running game?
It seems like so long ago that Richardson was nabbed with the No. 3 overall pick in the 2012 NFL Draft. After a decent rookie year, he was suddenly packaged in a trade that took him from Cleveland to Indianapolis early last season. He was brought in to be "the guy," but quickly turned into "the afterthought." Richardson failed to reach 100 yards in a game once all season (in fact, he never reached 65), averaged just 2.9 yards per carry and eventually lost his starting job to Donald Brown.
But this is a new season and with it comes new pressure. It's now-or-never time for Richardson and he needs to take ownership of the position. Brown is gone — via free agency to San Diego –€" but there's still competition as Ahmad Bradshaw, who has recovered from a neck injury that ended his season in Week 3, and Vick Ballard return. Bradshaw has considerable experience being a bell-cow running back, but the team would prefer if T-Rich made the role his own since they gave up a first-round pick to land him.
Things seem to be looking up as Colts coaches told ESPN's Jim Trotter that Richardson is relying more on his instincts while running instead of hesitating trying to hit a home run with every run.
"It's human," Richardson told the Indianapolis Star earlier this year. "But you can't hit the home run. You have to set up your runs. That's one thing, (because of) not having as much success as I've always had, you catch yourself saying, 'I gotta score, I gotta score.' "
Well, he has to do something to prove his worth. And with an offseason to digest offensive coordinator Pep Hamilton's playbook, Richardson just might do that. Might.
2. What will the Colts do without Robert Mathis in the early going?
The team's most reliable pass-rusher gave birth to quite a controversy when he drew a suspension for testing positive for performance-enhancing drugs. (In case you didn't know, it was a fertility drug). So, the Colts can kiss goodbye to Mathis — who was a first-team All-Pro and a Pro Bowler after racking up 19.5 sacks in 2013 — for the first four games of the regular season.
"I shouldn't have (done it)," Mathis said to the Indy Star. "My bad. There's no question I'd like a re-do, but I can't take it back."
It's nice to have the apology, but the team has other issues to deal with. Specifically, the Colts' first two games of the regular season are at the Broncos and at home against the Eagles — only the NFL's No. 1 and No. 2 offenses in 2013. Two high-powered offenses that rely on precision and timing. Offenses that could be disrupted against a decent pass rush. Indy will need a stopgap.
And that's second-year linebacker Bjoern Werner. He appeared in 13 games in 2013 and had 2.5 sacks. Despite his 6-foot-3 size, he had problems and got pushed around on the field due to a lack of strength. So the Colts coaching staff challenged him to beef up this offseason and he responded.
"(Werner has) done a really good job," said Colts linebackers coach Jeff FitzGerald. "He went to Germany, I think, for a week. He was not gone long.
"So, he made a commitment to stay put and he looks a lot better. He just moves better and he's carrying his weight better. He's stronger."
That's a positive sign, for sure. The Colts will need Werner at his strongest during the first month of the season and Mathis to return in top physical condition as the team will face the Ravens, Bengals and Steelers within a four-week span starting in Week 5.
3. How will the Colts' thin secondary take shape?
Defensive backs are still a question mark in Indianapolis, despite the unit moving into the top half of the NFL in passing yards allowed in 2013. While Vontae Davis is a clear starter at one cornerback spot (as evidenced by the $36 million deal the team gave him this offseason), Indy hasn't been able to find a consistent option on the other side. Greg Toler has talent, but dealt with injuries all season and was only able to play in nine games.
What's more, the team didn't address the position in this year's NFL Draft. So, the onus will be on nickel corner Darius Butler to continue to contribute. The team also might have found a hidden gem after the draft, when they signed cornerback Loucheiz Purifoy out of Florida. Purifoy has nice size for a cornerback at 6-1 and is a physical defender. He also can play a role on special teams. He was listed as a first-round talent by some scouts, but he fell out of the draft thanks to off-the-field issues and a poor showing during the draft process.
The Colts could have had someone there to help rein in Purifoy, but the team let veteran safety Antoine Bethea sign with the 49ers this offseason. Bethea, who hasn't missed a game in six seasons and has racked up 651 combined tackles over that time, will be a huge loss to the Colts' secondary. He was the unquestioned leader of the unit and his absence will really be felt if second-year player Delano Howell doesn't continue to develop into a reliable option alongside starting safety LaRon Landry.
But in case Howell isn't the guy they need him to be, the Colts went out and grabbed some insurance by signing veteran Mike Adams, who spent the last two seasons with the Broncos. Despite Adams' experience, the team has refused to guarantee the 33-year-old a roster spot. That's not a problem for him.
"I want to earn these guys' respect. It's a different locker room, it's a new regime, a new system I have to learn and I want to earn that. I don't want it to be given to me," Adams said to FOX59 in an interview.
That's a good attitude to have. The Colts are going to need Adams to be at least a reliable option if they want to prevent teams from raining bombs on them come the fall.
BREAKOUT PLAYER
Quarterback Andrew Luck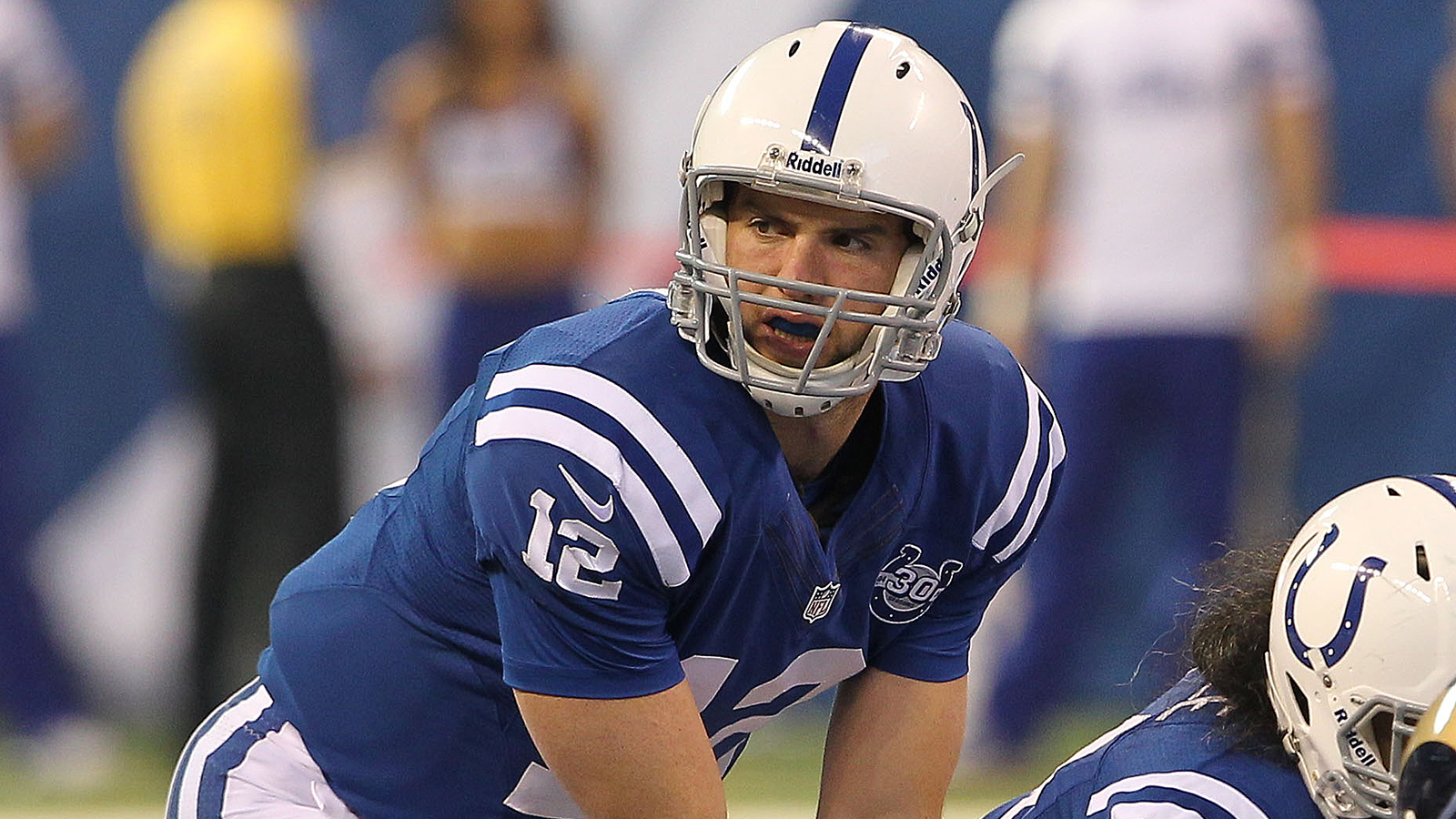 It's true that Luck has already made great strides in his career. He's been to the postseason in each of his first two seasons, cut down on interceptions and increased his completion percentage from Year 1 to Year 2. NFL Network ranked him No. 30 in their Top 100 player rankings and, heck, even head coach Chuck Pagano said he'd let No. 12 marry his daughter.
Life can't get better, right? Wrong.
Andrew Luck is good, but he hasn't reached his full potential. And that needs to happen if the Colts are going to go from a nice story to a serious Super Bowl contender. One way to do that is for offensive coordinator Pep Hamilton to open up the playbook. While Hamilton has used a run-first approach since his days with Luck at Stanford, this Colts team has a vast array of weapons.
Veteran receiver Reggie Wayne and young tight end Dwayne Allen return from injury. Speedster T.Y. Hilton can stretch the field and the team went out and added Hakeem Nicks via free agency. It's time for Indy to start throwing the ball deep and testing secondaries.
However, this isn't just about talent, but also about mental discipline. Last season's embarrassing 43-22 playoff defeat to the New England Patriots proved that this team needs to grow mentally tougher in order to consistently hang with the big boys come January.
"We look at this with a cold, hard analytical mindset and say this is the learning experience. Take the emotion out of it. You look at the mistakes and say, 'Why?' We watch every play from last season multiple times and we review regular third down and red zone and everything," Luck said to ESPN.
That's what it will take. Luck needs to continue to carry this offense on his shoulders and join the ranks of Tom Brady, Peyton Manning, Aaron Rodgers and Drew Brees. He must be elite, not just very good, if the Colts are going to take that next step. And everything Luck has shown with his attention to detail and desire to improve makes it seem that he will be able to take a giant leap in 2014.
REASON FOR OPTIMISM
How good are the Colts' receivers? Well, LaVon Brazill was just suspended for the entire 2014 season for a second violation of the NFL's substance abuse policy and this team won't miss a beat. Andrew Luck is probably drooling at the possibilities for 2014 when he sees who will line up on the outside for him. Let's run down the list.
T.Y. Hilton: Possesses blazing speed and really came into his own in 2013, pulling down 82 catches for 1,083 yards and five touchdowns. Hilton can stretch defenses seemingly at will and is a big play waiting to happen.
Hakeem Nicks: The Colts' splash free-agent signing is getting a new start after back-to-back seasons in New York when he failed to reach 60 receptions. But here's an encouraging sign: Nicks has been reunited with his college position coach Charlie Williams, who now has the same job with the Colts. The results during OTAs have been impressive.
"Every time you line up against (Nicks), you know you're going to get his best," cornerback Greg Toler told the Colts team website.
And what's even better news for Colts fans: Nicks is rapidly developing a rapport with Luck.
"To be a great receiver you have to have a great quarterback and you've got to be able to fit in well in the system and I think I do that perfectly here," Nicks said.
If the Colts can get the Nicks from 2010-11, look out.
Reggie Wayne: Oh, no big deal. The Colts are just getting a perennial winner with eight 1,000-yard receiving seasons under his belt back in the mix. Wayne is still working his way back from a torn ACL in his right knee, but he says he's never been more ready to go. What's more, he feels he owes something to the team.
"I feel like I kind of left them hanging a bit, last year, so it's the team, I want to be back out there with the team," said Wayne, who also says he's "healthiest I've been, probably since '02."
Young bucks: The Colts have a trio of young receivers who are fighting for deserved playing time. Da'Rick Rogers came through with a huge catch in last season's epic playoff comeback win over the Chiefs, Griff Whalen continues to scrap as he pulled down 24 catches with two touchdowns and also contributed on special teams. But the real key here could be rookie Donte Moncrief, the Ole Miss receiver who the Colts grabbed with a third-round draft pick.
"In my opinion, the Colts got a steal," said Grant Heard, Moncrief's position coach at Ole Miss, to the Indy Star. "I think they got a first-round talent for a third-round draft pick."
Tight ends: Rounding out the weapons are two emerging big bodies. Coby Fleener continues to be a target for Luck, as the two have been teammates since college. He needs to fix a troubling penchant for drops in key situations but that can come with experience. The key is getting Dwayne Allen, who missed all of 2013 with an injury, back at full strength. Allen's soft hands and natural ability can put him in the conversation with the league's elite at the position if he can stay healthy.
That's a lot of options for Luck. The only negative here is finding roster spots for all of this talent. But whoever stays can really produce fireworks for this team and push this offense into one of the league's better units.
REASON FOR PANIC
Now, everything that was just said about Andrew Luck and all of his sexy weapons will be completely derailed if the Colts' offensive line can't keep its quarterback off the turf. According to Pro Football Focus, Indy had one of the worst units in the NFL in 2013 and things need to improve immediately.
The good news is that center Samson Satele and guard Mike McGlynn are gone, which brings a little addition by subtraction. The bad news is that there are still some questions remaining.
Second-year player Khaled Holmes will take over the center position and while he has a great set of skills, he's still an unproven product. The Colts did address the line in the NFL Draft, bringing in Jack Mewhort from Ohio State. The plan is to move Mewhort from tackle to guard, where he will compete for a starting spot with Donald Thomas — who is working his way back from an injury. The other guard spot is also an issue as Hugh Thornton was thrown into the mix as a rookie in 2013 and still has some growing to do, as he allowed 39 pressures in pass protection.
Both tackle spots are in good hands with Anthony Castonzo (left) and Gosder Cherilus (right), but if the interior of the offensive line doesn't hold up, Luck could spend a big part of 2014 running for his life again. Or worse, he could get hurt, which will throw everything the Colts hope for this season into the blender.
For what it's worth, Colts general manager Ryan Grigson says he's "sleeping better at night" because he feels the line is in good hands. Well, for his sake, we hope he's right.
ALEX MARVEZ'S 2014 PREDICTION
An offseason tainted by five arrests — including of owner Jim Irsay — and the four-game performance-enhancing drug suspension of reigning NFL sacks leader Robert Mathis will soon be in the rear-view mirror. Quarterback Andrew Luck is accompanied by the best skill-position players of his three-year NFL career and what the team hopes will be an upgraded rushing attack led by 2013 disappointment Trent Richardson. The defense may struggle early without Mathis, but did upgrade an undermanned front seven with the offseason additions of defensive end Arthur Jones (Baltimore) and linebacker D'Qwell Jackson (Cleveland). Even with the off-field drama, Indianapolis is still far and away the division's best team. Prediction: 11-5.