Wild-Card Awards: Best and worst from Saturday's games
Best way to stay warm/most disturbing image of this season: This group of Eagles fans. Who says the elderly aren't resourceful? With the temperature at a chilly 25 degrees in Philadelphia on Saturday, this crew dragged a hot tub to the stadium. By the way, look closely and you'll see a can of Natty Light and a bottle of Wild Turkey sitting there. Outstanding. I'll give $200 to the first person to drink the water when they get out.
Most accurate description of Andrew Luck: Rainn Wilson. Check out this tweet from the well-known actor who is also a big NFL fan. By the way, I'll include a photo of Luck so the joke makes sense. And if you haven't seen this movie, drop what you're doing and watch it right now.
Andrew Luck was great in Kingpin.

— RainnWilson (@rainnwilson) January 5, 2014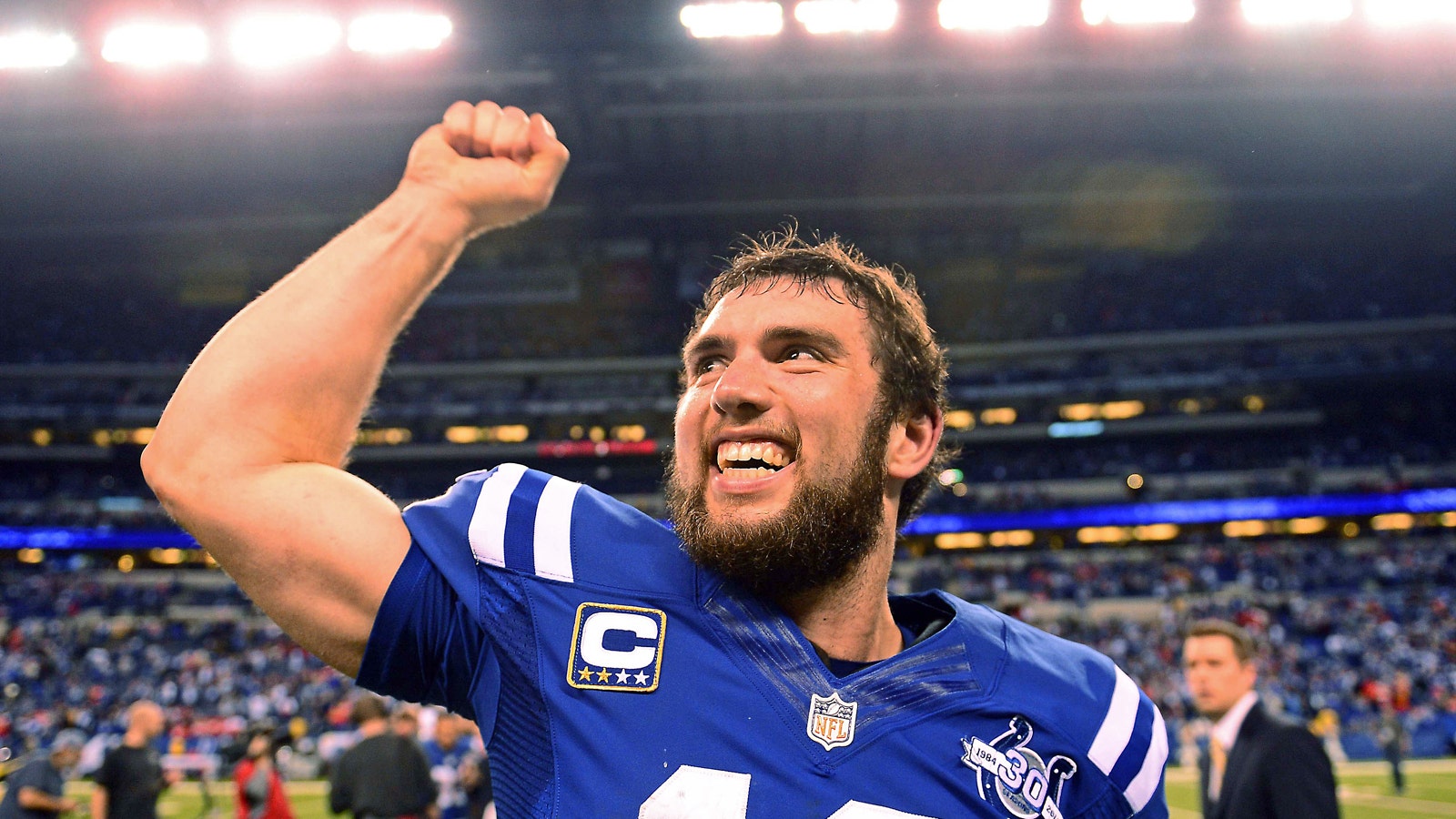 Creepiest Saints fan in recorded history: This guy. OK, let's break this down. He's wearing a luchador mask and holding up a sign that says, "If it flies, it dies," which is a shot at the Eagles. Then it seems that he rethinks his sign-holding ways and folds it up before starting to do disgusting things with his tongue. Dude … awful.
This week's evidence that the Browns did the right thing: Trent Richardson, Indianapolis Colts. The running back, whom the Browns traded to Indy early in the season, got one carry on Saturday. This was it. He fumbled without anyone touching the ball. Keep smiling, Cleveland. Enjoy that extra draft pick.
Best display of fans showing up to a road game: Kansas City Chiefs fans. Check these guys out. Not only did several members of KC Nation show up to Lucas Oil Stadium, but they were decked out as well. Take a peek at them.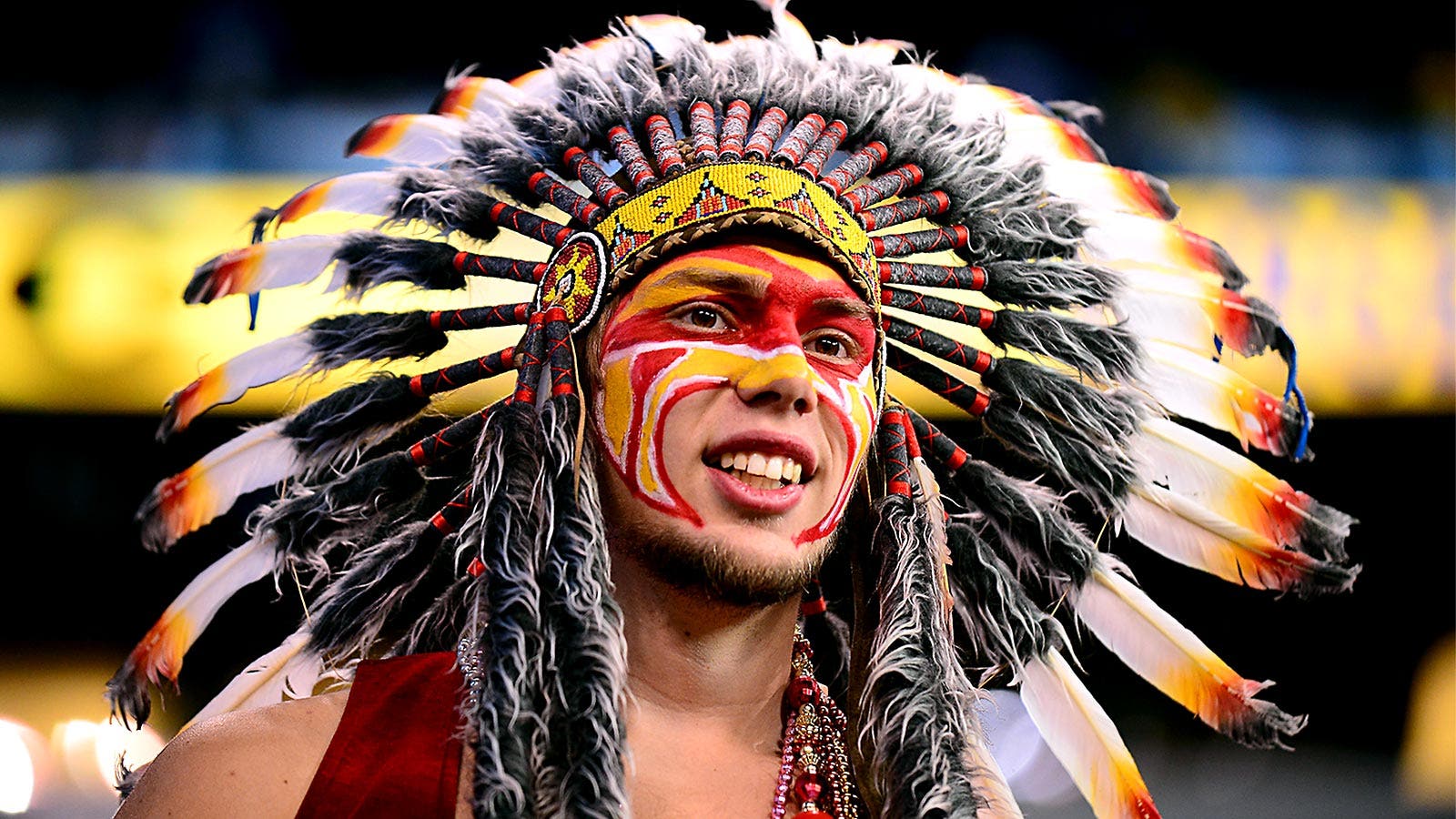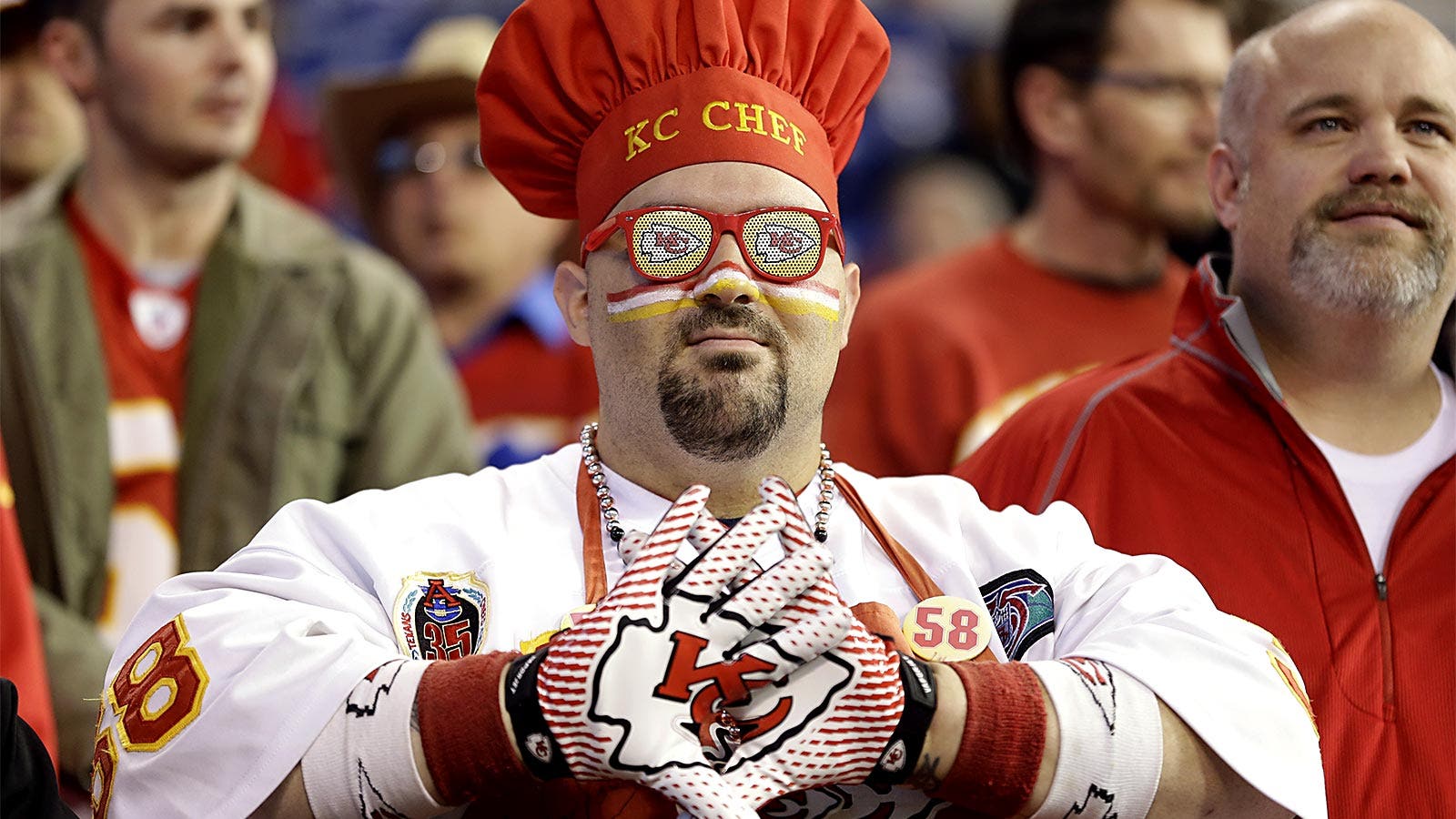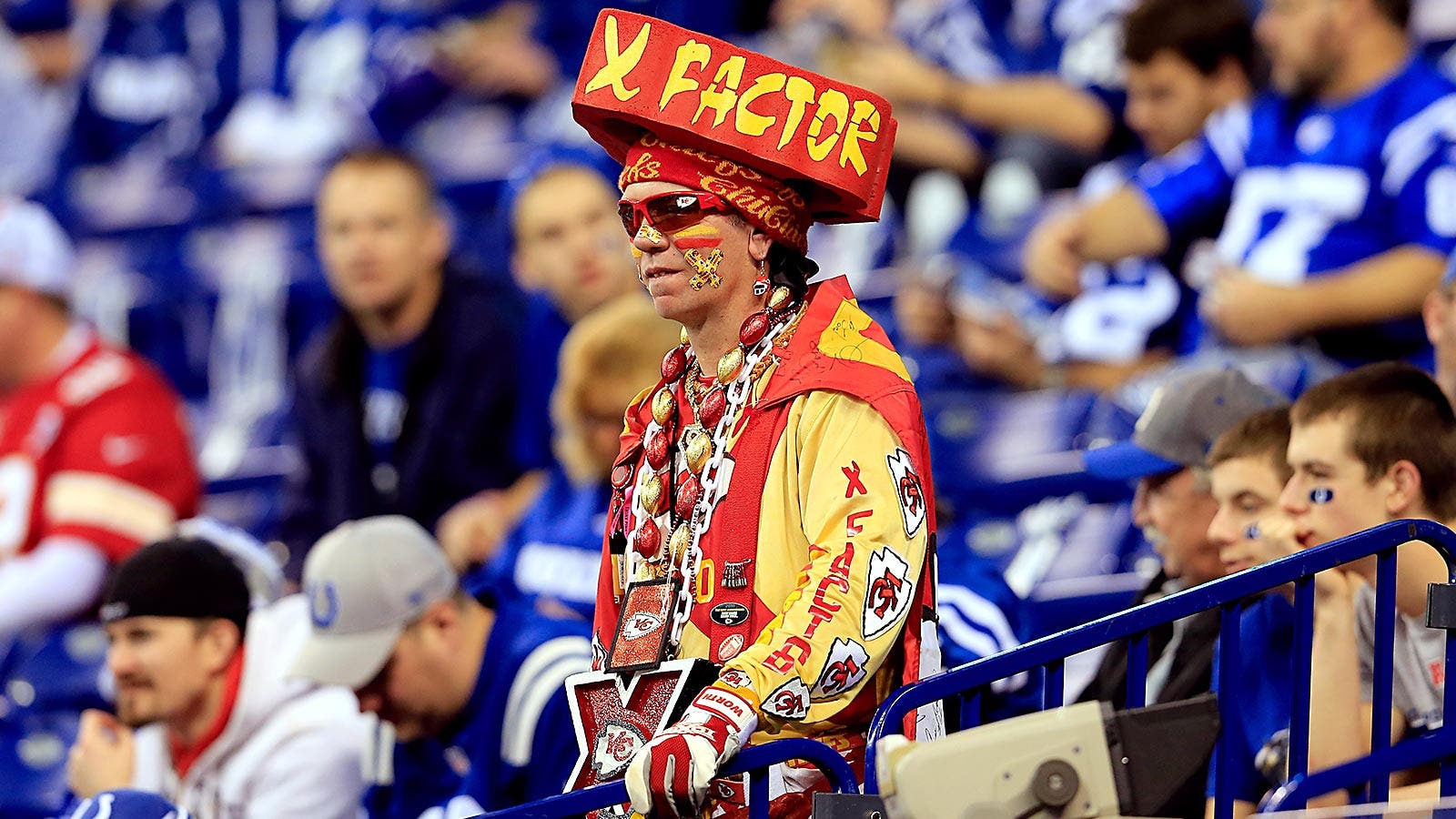 Saturday's We Feel Your Pain Award: Tracy Porter, Oakland Raiders. The cornerback has been to the playoffs several times, but unfortunately, he now plays for the Raiders. Yeah, they didn't go anywhere this season.
I'm not used to NOT playing in January/February. This sucks😒.

— Tracy Porter (@TracyPorter) January 4, 2014
Saturday's You Just Blew My Mind Award: Chrissy Teigen. The model dropped some serious knowledge on us. By the way, I always thought "Duff McKagan" was a better name for a linebacker than a musician. Just sayin'.
i feel like football players are named to play football. griff? samson? colt? have you met people of these names that don't play?

— christine teigen (@chrissyteigen) January 4, 2014
Coolest bald eagle in Indianapolis: Challenger. That's the name of the proud bird that flapped its wings and brought the patriotism out in Indiana. Why do bald eagles always look angry? And why are they called bald? I can clearly see feathers on his head. Whatever, the world doesn't make sense to me.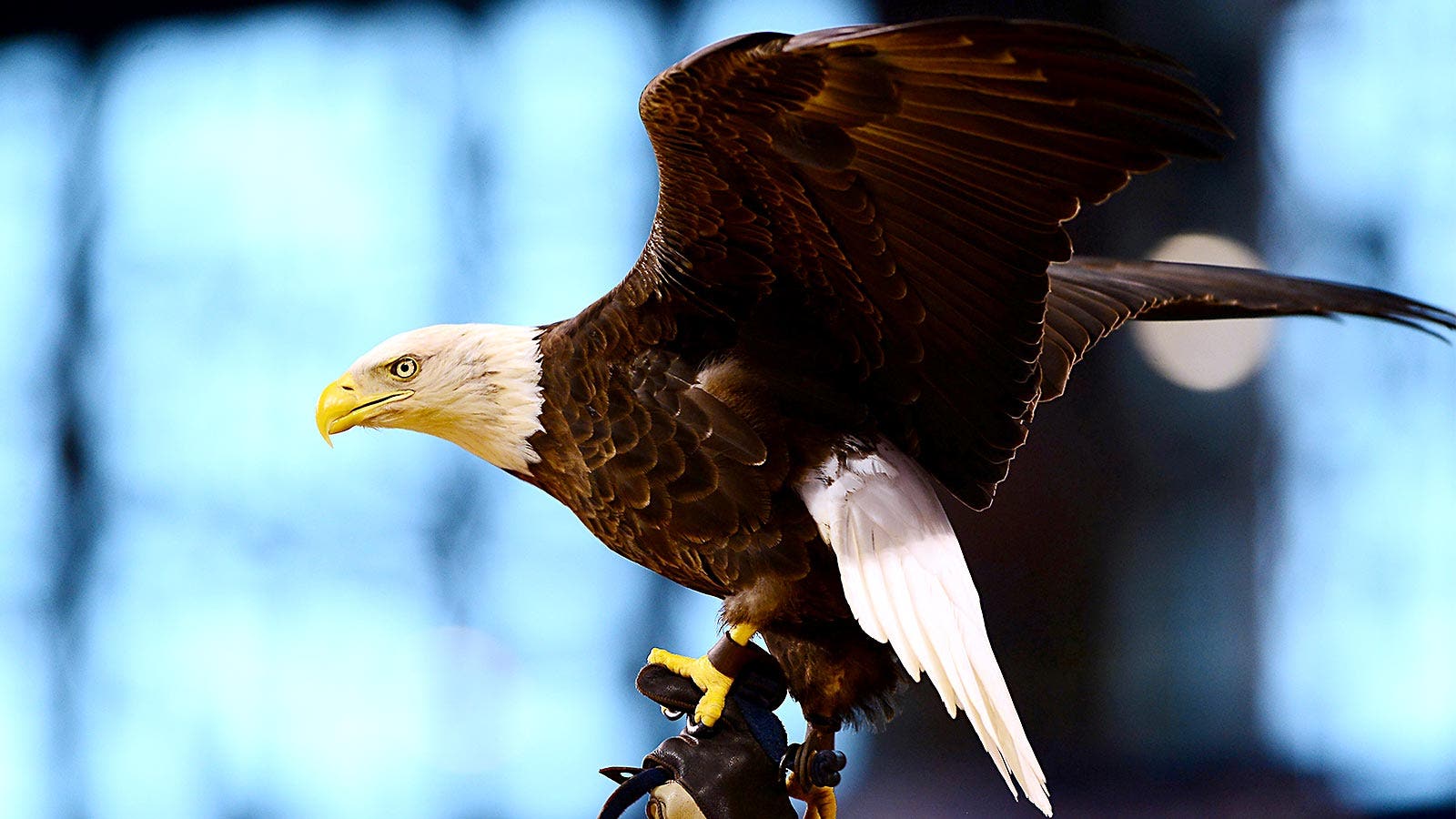 Best job of protecting Andrew Luck's private parts: Andrew Luck's towel. Indy punter Pat McAfee tweeted out this photo of the Colts locker room after his team's thrilling victory. If you look in the corner, you'll see the star quarterback getting ready for a shower. All I'll say is thank God for that towel. I don't want to know that much about Mr. Luck.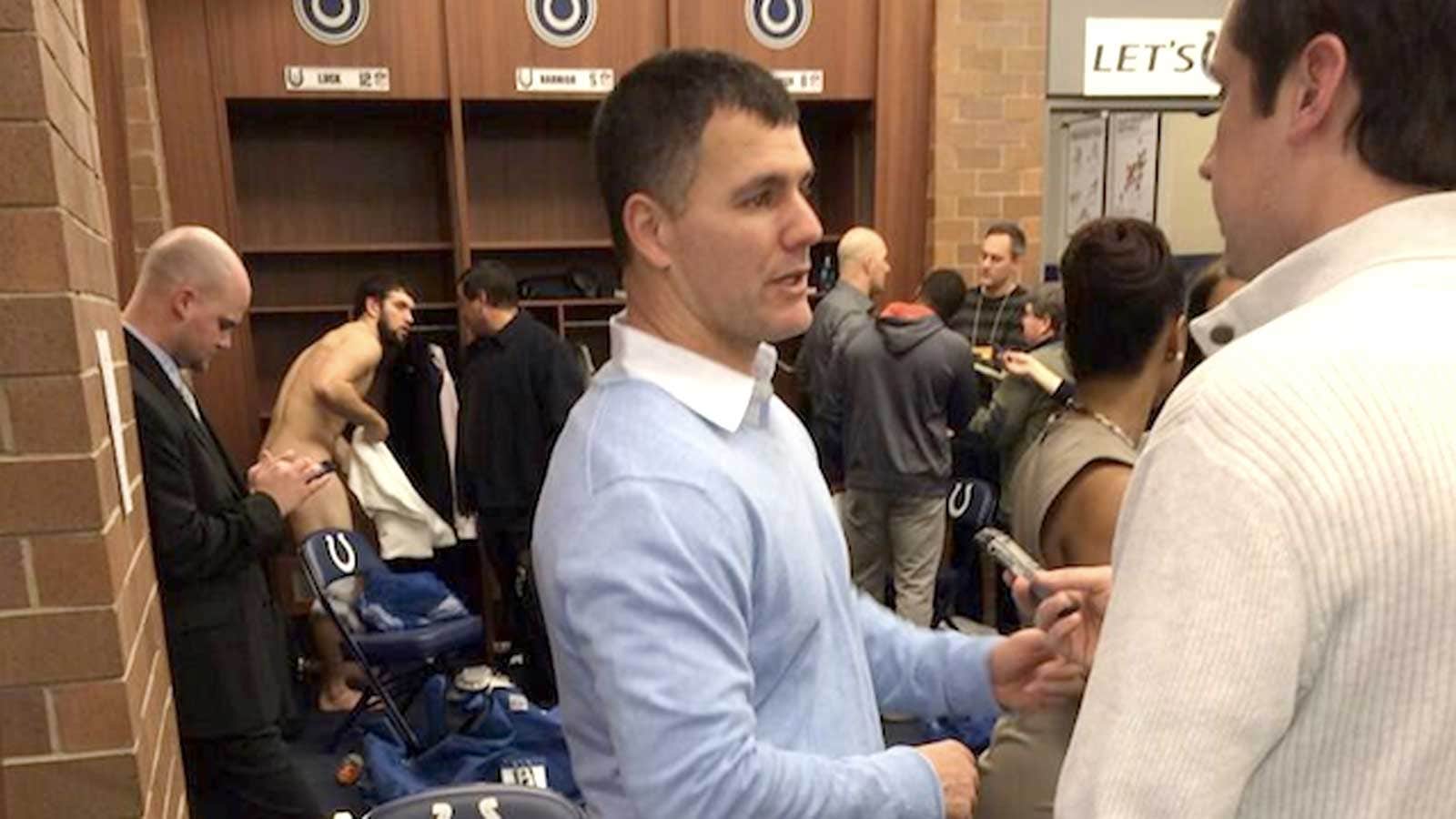 Best dental hygiene tip of the week: Metta World Peace, New York Knicks. While my Twitter feed was dominated by anything and everything NFL on Saturday, this gem suddenly dropped in the middle of all the pigskin chaos. Thank you, Metta! I'll try that tonight!
oh yea , brush your gums , tongue and top of mouth

— Metta World Peace (@MettaWorldPeace) January 4, 2014
Worst job of covering a punt: Philadelphia Eagles. It looks like Philly had a nice chance at downing this kick near the Saints' goal line, but it all fell apart. Come on guys, you're better than that.
Best job of desecrating the founding fathers: National Constitution Center. Philadelphia is the birthplace of our great nation, and there are statues of our daddies at the facility. Well, why not throw an Eagles jersey on good, ole Ben Franklin? Some people might be upset, but I think Big Ben looks good in green and white. And yes, he would be an Eagles fan were he around today.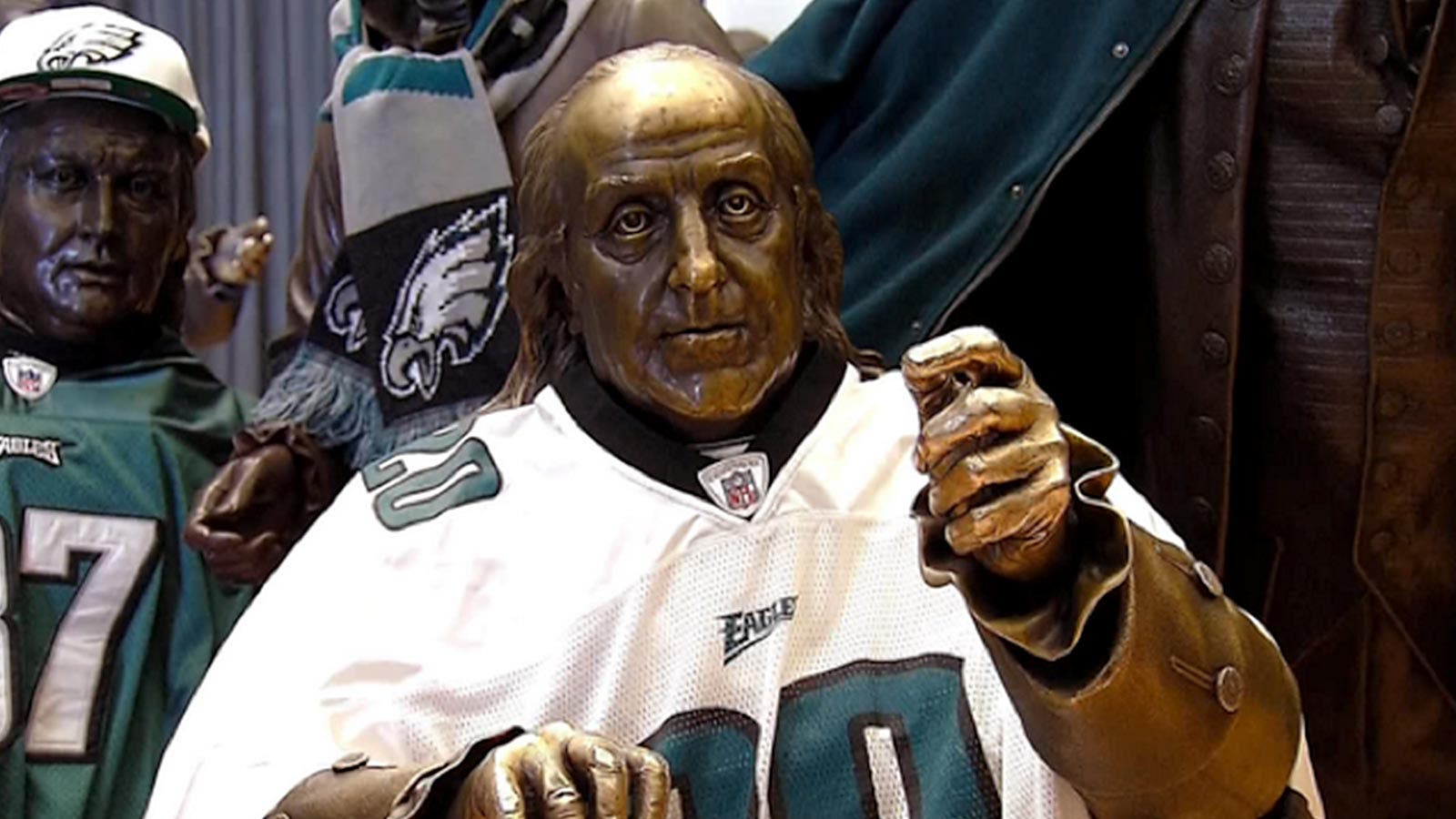 Most accurate prediction of Andy Reid's postgame mourning: JD Harmeyer. The producer for "The Howard Stern Show" and well-known spoon afficionado (just kidding, JD!) said it best after the Chiefs' epic collapse:
Hope there's a Golden Corral in Indy that can deal with the emotional eating Andy Reid is gonna do after this game.

— JD Harmeyer (@jdharm) January 5, 2014
Best job of never losing faith: This Colts cheerleader. I've always found it amusing when cheerleaders keep at it, even when the home team is getting its doors blown off. But I'm the stupid one in this case. Even though the Colts were getting their butts handed to them, her optimism was relentless. Who knows, maybe she's the reason the Colts won (she wasn't)!
Most questionable tweet from an NFL player: Phillip Buchanon. The veteran cornerback, currently a free agent, had this to say. I'm taking umbrage with this. Using this logic, I'm going to tell my fiancee that when I smoke cigarettes, I'm not ruining my lungs. I'm just building character.
Habits build character….

— Phillip Buchanon (@PhillipBuchanon) January 4, 2014
Best way to get pneumonia: Keenan Lewis, New Orleans Saints. The cornerback came out to the field for pregame warmups in frigid Philadelphia without a shirt on. I don't know what he's trying to prove, but I'll tell you one thing: Someone going out in that weather without a jacket would cause my mother to have a fit.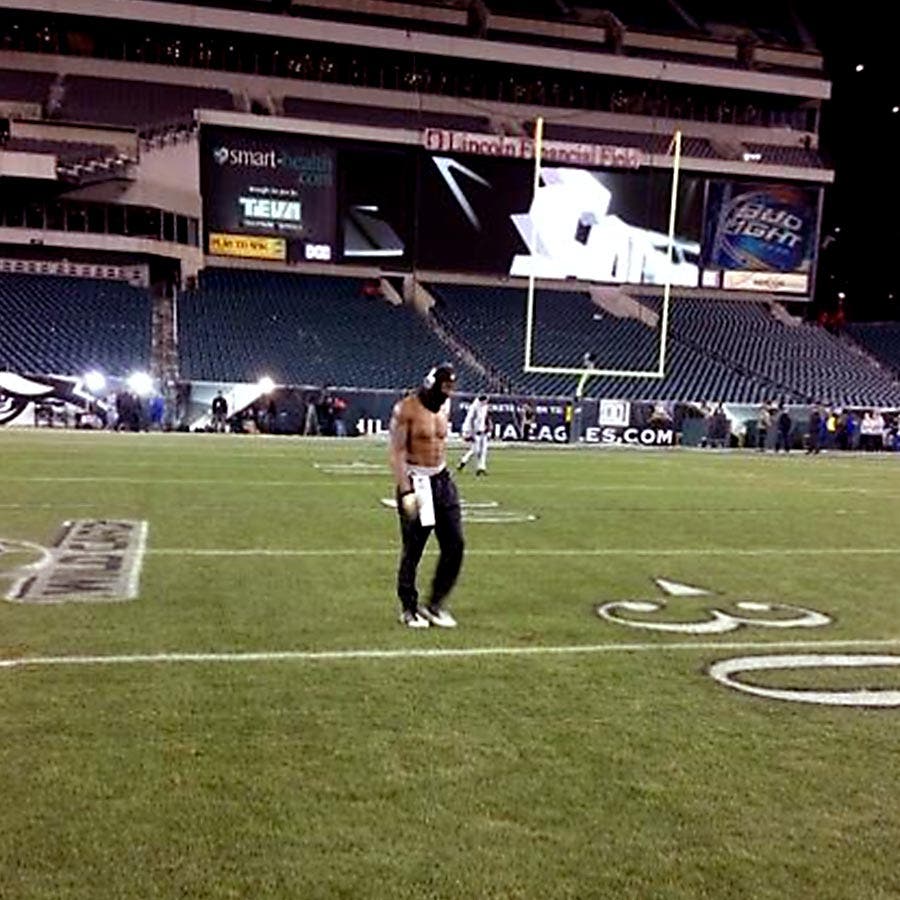 Coolest shovel pass: Alex Smith, Kansas City Chiefs. I love shovel passes. They're awesome. They're sneaky, cool-looking and I can't get enough of them. Watch Mr. Smith make the Colts looks foolish on this touchdown. Love it.
Let's Go @KCChiefs Whaaaaaaaammmy!!!!

— David Koechner (@DavidKoechner) January 5, 2014