What we know after Week 11
The cream is rising to the top. The Bengals, Seahawks, Saints and Colts (on Thursday) earned wins to tighten their grasps on their respective divisions. Contenders such as the Eagles and Bears are beginning to emerge while teams like the Jets are falling off. Comeback wins, gritty road victories and wild finishes capped a thrilling Week 11. OK, let's get into what we know after Sunday's games.
Broncos 27, Chiefs 17 – The last unbeaten team falls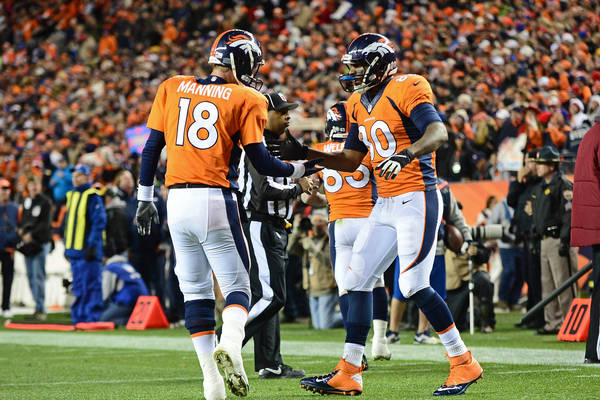 It's not like the 1972 Dolphins were really worried, but they can pop their annual bottle of champagne. The Broncos proved to be the better team Sunday night in Denver by way of their passing attack, stifling defense and . . . running game (you read that right).
Much was made of Manning missing Wednesday's practice because of his ankle injuries, but he looked as mobile as ever and avoided pressure in throwing for 323 yards and a score on 60-percent passing. Hats off to the offensive line as the Broncos ran for 104 yards and a pair of TDs and Manning wasn't sacked once.
Saints 23, 49ers 20 – Time to panic in San Francisco?
Before you wonder what's wrong with the 49ers, realize that they've played two great teams the last two weeks — and lost by a total of four points. Nonetheless, the 49ers are now 6-4, three games behind Seattle in the NFC West and tied with Arizona. San Francisco's passing game has looked out of whack this season and the trend continued Sunday in New Orleans as Colin Kaepernick only mustered 127 yards through the air in another subpar effort.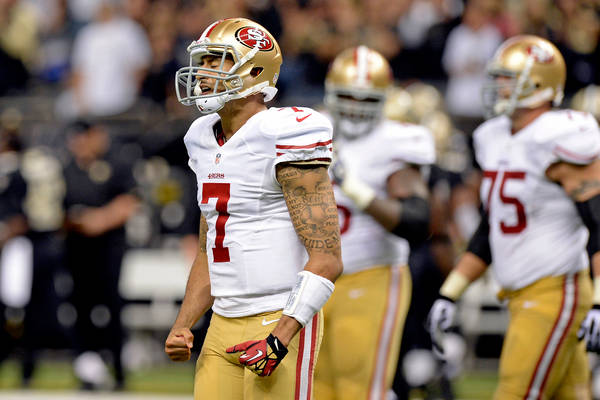 While the 49ers had the lead for much of the second half, it was the Saints who left victorious after Garrett Hartley nailed three field goals in the fourth quarter, including the game-winning 31-yarder as time expired.
The 49ers' identity on offense under Jim Harbaugh has been to move the chains and possess the ball for as long as possible. They rely on the power-running game and need some weapons to emerge. Dropped passes allowed opportunities to let this game slip through their fingertips. Fortunately for San Francisco, the schedule lightens the next couple weeks as it contends for a wild-card spot, and receiver Michael Crabtree is reportedly close to returing after missing all of this season to date with an Achilles injury.
"The greater the challenge, the greater the glory," Harbaugh said. "That's the way I look at it. I'm proud of our guys for the way they fight, and if we continue to do that, we're going to win a lot of games."
Bears 23, Ravens 20 (OT) – Rain or shine, the Bears will keep fighting
Chicago already didn't have its starting quarterback (Jay Cutler) coming into Sunday's game. The Bears also had to put up with a two-hour delay when inclement weather stopped the action with less than five minutes left in the first quarter.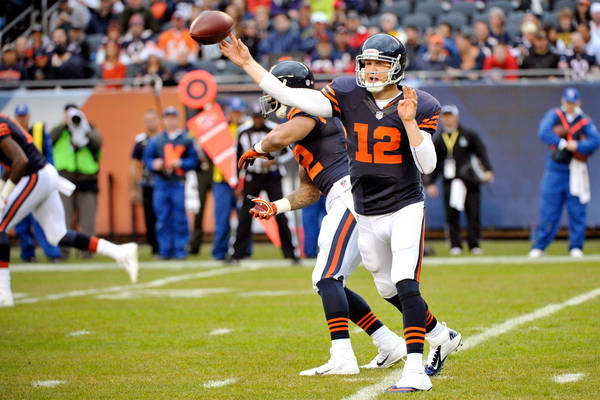 And through it all, they emerged victorious.
Backup QB Josh McCown did an admirable job leading the offense, as his huge 43-yard completion to Martellus Bennett in overtime set up Robbie Gould's game-winning field goal.
With the win, the 6-4 Bears move into a tie for first place in the NFC North with the Lions. With the Packers just a game behind them both, this division race is wide open and will most likely come down to the wire. The Lions host the Packers on Thanksgiving and the Bears close out the season at home against the Packers.
Eagles 24, Redskins 16 – Philly controls its own destiny
The Eagles offense is humming under Nick Foles and doesn't look to be slowing down any time soon.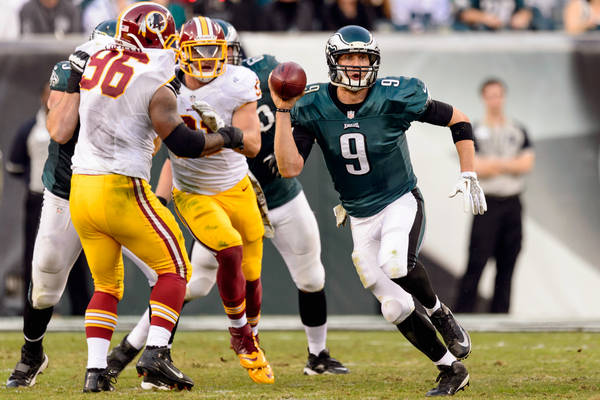 Several people wondered if Chip Kelly's blur offense could work at the NFL level, but he has proven that his players can execute the plays. Philadelphia is now sitting atop the NFC East, a half-game ahead of Dallas and getting hot at the right time.
It also helps that the defense has been playing much better over the past three weeks, allowing an average of 16.3 points per game. Trent Cole sacked Robert Griffin III twice, and the Eagles racked up a total of four sacks.
Dolphins 20, Chargers 16 – At least we can talk about football for a change
After a couple of weeks of dealing with the Richie Incognito-Jonathan Martin mess, the Dolphins were able to shake that off and get a win on Sunday.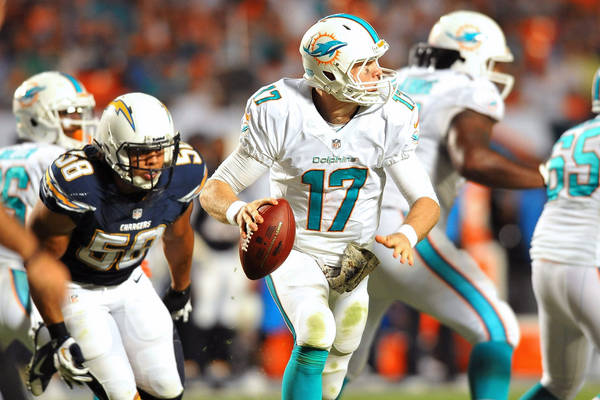 "There's a lot going on, but we're not focused on that," QB Ryan Tannehill said to The Associated Press. "We're focused on football."
The win not only got Miami back to .500 at 5-5, but it also kept the team in the hunt for an AFC playoff spot. The Dolphins are currently tied with the Jets for the final spot in the AFC playoff field.
"We're fighting through this," offensive lineman Tyson Clabo said. "Someone's got to get that last wild-card spot. Why not us?"
And that's true. The next four weeks are crucial, as the Dolphins face matchups against the Panthers, Jets, Steelers and Patriots. This is the time to buckle down and put all the distractions aside and focus on getting stronger down the stretch.
Seahawks 41, Vikings 20 – Seattle is right where it wants to be
What else can be said after the Seahawks pounded out their franchise-record 13th consecutive home victory? Now at 10-1, they have a nice cushion over the 49ers and Cardinals, who are tied for second place in the NFC West at 6-4.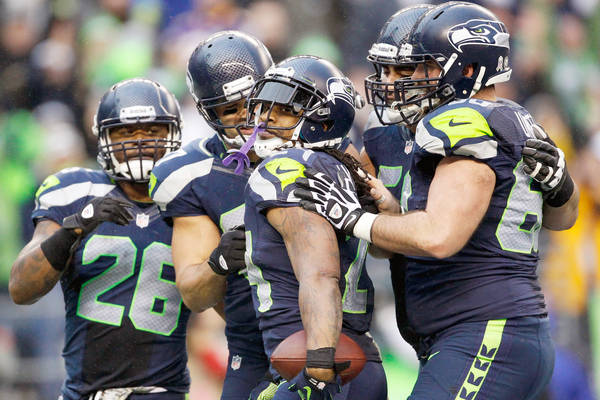 And things just keep getting better for the current top seed in the NFC. First, Percy Harvin made his 2013 debut, making an outstanding catch in the first half and coming up with a 58-yard kickoff return that set up a Wilson TD pass just before halftime.
And now Seattle gets a week to rest up — and study up — before hosting New Orleans in Week 13. The Saints have just one more loss than the Seahawks and, if Seattle can take care of business, it will hold at least a three-game lead in the race for home-field advantage (a two-game lead and the tiebreaker) with four game to play.
Could there be worse news for the conference? Does anyone want to play a playoff game in front of the 12th man?
Speaking of the 12th man, they had plenty to cheer about as Marshawn Lynch scored three touchdowns, Wilson threw for 230 yards and the Seahawks defense scored a touchdown off an interception.
Cardinals 27, Jaguars 14 – Look what happens when you don't throw picks
Carson Palmer, we're talking to you.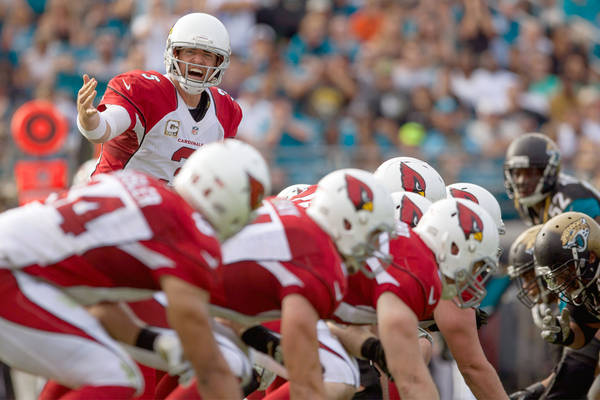 The veteran quarterback didn't throw an interception and wow, all he did was throw for 419 yards and the Cardinals moved into a tie for second place in the NFC West with the win. What's more, they are on the cusp of a playoff spot, as Arizona and Chicago are the first two teams out.
The big winner from Palmer's offensive explosion was WR Michael Floyd, who pulled down six catches for 193 yards, including an amazing 91-yard scoring grab in the third quarter that effectively put the game out of reach.
Now, will this team make the playoffs? That's hard to say, but it deserves credit for hanging in there.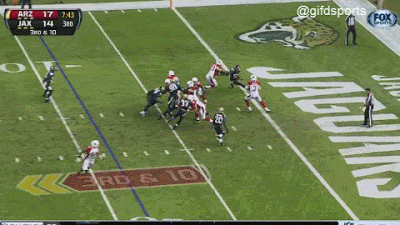 Giants 27, Packers 13 – G-Men not rolling over
The Giants' four-game winning streak has been admirable.
Led by a Jason Pierre-Paul pick-six, the Giants sealed the deal against Scott Tolzien — a practice-squadder just two weeks ago — in the fourth quarter. Eli Manning was sharp and hooked up with Victor Cruz eight times for 110 yards. He also found Rueben Randle in the first quarter for a 26-yard touchdown pass.
The Giants play the Cowboys in Week 12 and will need steady play from Manning to keep the Dallas D honest. For Green Bay, its postseason hopes took a devastating blow. While the Packers are just one game out of first place, the injuries have mounted and it's dramatically affecting the play on the field.
"It's not good," linebacker Clay Matthews said. " It's definitely new territory. It's tough, because you go 10-5, 10-6, 15-1. You lose three, it doesn't feel good. But right now we're just not playing very good ball. We're 5-5 right now, so we've just got to move forward with the guys we have and play better."
Bills 37, Jets 14 – This was one of those bad weeks for Gang Green
We should have seen this coming. With the loss, the Jets became the first team in NFL history to alternate wins and losses through the first 10 games of the season.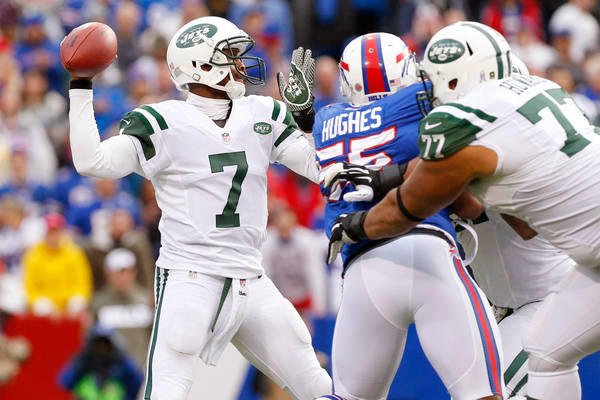 And what a loss it was.
Jets QB Geno Smith completed just 8 of 23 throws with three interceptions, one of which was returned for a touchdown by safety Da'Norris Searcy. Smith also fumbled as his four turnovers were turned into 17 points for the Bills.
The Jets fell to 5-5 but are still in the hunt for an AFC playoff spot in this season of parity in the NFL. However, this team must find a way to be consistent, because ultimately, this win-loss thing won't do at all.
Steelers 37, Lions 27 – Big Ben still has it
It's not that we doubted him at all. But the Steelers offense has been spotty in 2013, so it was nice to see Ben Roethlisberger come up with a big game.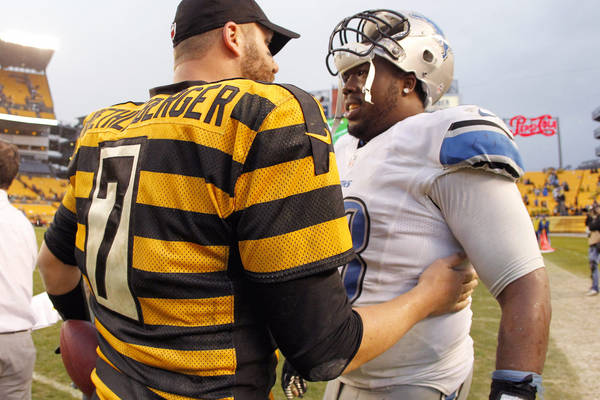 Big Ben threw for 367 yards and four touchdowns as Pittsburgh survived a 27-point second quarter by Detroit by shutting the Lions out the other three quarters. Roethlisberger was at his best in the last five minutes of the game, throwing two touchdown passes and putting his team ahead for good.
The Steelers (4-6) may not make the playoffs this season, but the way they've battled back from an 0-4 start is commendable.
Bengals 41, Browns 20 – Cincy could have AFC North wrapped up sooner than you think
A 13-point deficit didn't discourage the Bengals. In fact, it galvanized them as they ripped off a 31-0 second quarter (setting a team record for points in a quarter).
While Andy Dalton had a pedestrian performance, completing less than 50 percent of his passes for 93 yards and a pair of interceptions, he hooked up with Jermaine Gresham, Mohamed Sanu and Alex Smith for scores.
A blocked punt returned for a touchdown by Tony Dye and a pick-six from Vontaze Burfict allowed the Bengals to take a big lead by halftime.
Browns quarterback Jason Campbell had a rough outing with three interceptions, but hooked up with Josh Gordon for a 74-yard touchdown in the third quarter.
But this was all about the Bengals, who are up three games in the win column as they head into the bye week.
Raiders 28, Texans 23 – Matt McGloin, ladies and gentlemen
Starting quarterback Terrelle Pryor wasn't active, so it was next man up for Oakland. That man would be Matt McGloin, an undrafted free agent from Penn State.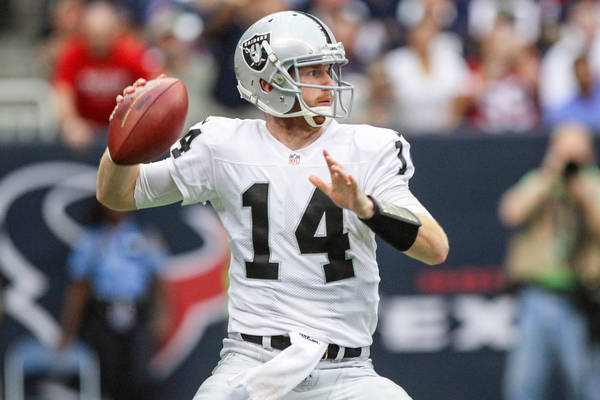 McGloin has never been given anything on the football field. Coming out of high school, he didn't receive any offers and decided to walk on for Joe Paterno's club in Happy Valley. Now he's making the most of his opportunity, throwing three touchdowns in his first NFL start.
Rashad Jennings was a big factor for Oakland, running for 150 yards on 22 carries and a score.
It only gets uglier for the Texans. After QB Case Keenum was benched, starter-turned-backup-turned-starter-again Matt Schaub had a heated discussion with veteran wide receiver Andre Johnson in the waning moments of Sunday's action as Houston failed to get the final score to get the win and end the Texans' 8-game losing streak.
Buccaneers 41, Falcons 28 – Glennon and Rainey lead the way
So, this is why Greg Schiano opted for Mike Glennon over Josh Freeman. The rookie quarterback completed 20 of 23 passes for 231 yards and two touchdowns. Glennon targeted Vincent Jackson 12 times and the veteran receiver had 10 receptions for 165 yards and a score.
What's even better is Bobby Rainey – the second-year running back from Western Kentucky!. Rainey had 30 carries for 163 yards and two touchdowns, and added a TD grab to become the first Bucs player to ever run for two TDs and catch one in a game. What did the man who replaced the man who replaced the starting RB have to say after the game?
Well put, Mr. Rainey. Questions? Comments? Send them to lacesoutmail@gmail.com and we might respond in our weekly mailbag!
"That's my motivation – to prove people wrong. No man can tell another man what he can and cannot do" – Bucs RB @BobbyRainey #ATLvsTB

— JennaLaineBucs (@JennaLaineBucs) November 17, 2013