NFL Week 7 Awards: Nothing like a double-dose of punishment (VIDEO)
Any given Sunday.
It's a well-worn phrase, but for good reason. Week 7 of the 2014 NFL season brought another truckload of memorable plays, big-time hits and some serious comedy. So, in the interest of time, let's not waste any chit-chatting. It's time to hand out some hardware.
1. Picking on the Little Guy Award: Indianapolis Colts
Bengals running back Giovani Bernard isn't a big man, but he's strong and definitely tough. But even strength and toughness have their limits and on Sunday, Bernard got whacked. Hard. First, it was Vontae Davis bringing down some punishment:
And if that wasn't enough, safety Mike Adam came through with another hellacious hit: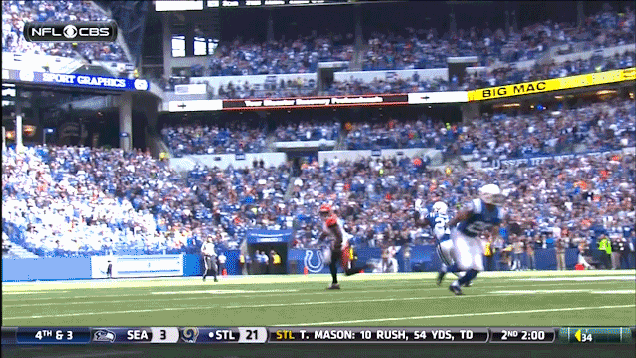 2. It's Not Me! Award: Jameel McClain, Giants
One of my favorite things during an NFL game is watching quarterbacks identify the defense's middle linebacker, or "mike," before the snap. We've all heard it before. "57's the mike!" or "64 is the mike!" Dallas' Tony Romo thought he had found the mike before a first-half snap, but McClain begged to differ. In fact, you can hear him disagree with Romo on this video:
3. Putting a Teammate on Blast Award: Chris Long, Rams
Now, the talented defensive end is still out with an injury, but he was there to watch his team knock off the Seahawks in thrilling fashion. His teammate, and starting linebacker, James Laurinaitis was happy and took to social media to share his evening plans with the world. And there was Long to rain on James' parade.
4. Creeper McCreeperstein Award: This guy at the Redskins game
First, we had a Panthers' ballboy snapping a cell phone pic of a cheerleader last week. Now, it appears the trend has spread to our nation's capital:
Alcoholic pic.twitter.com/NYa5TTr31v

— Chris Long (@JOEL9ONE) October 19, 2014
5. Proper Response From a Franchise Quarterback: Russell Wilson, Seahawks
Hey, Russell Wilson! You just threw for more than 300 yards and ran another 100 yards! What do you think about your impressive performance?
Damn right. Good answer.
Another creeper taking pics of a cheerleader's ass #Redskins pic.twitter.com/y2icbVe5JL

— JuanElway™ (@JuanElway) October 19, 2014
6. Failure to Throw a Flag Like a Cool Guy: Referee at Panthers-Packers game
Panthers linebacker Luke Kuechly got himself ejected on Sunday for making contact with a referee. It really wasn't his fault as he more than likely confused the man grabbing him from behind with another player. But nonetheless, the decision was made and the zebra reached to his belt to grab his flag. Now, it seems he wanted to launch his laundry into the sky with a flick of the wrist. Something with real panache. However, the flag got stuck and instead, we got this weak sauce effort:
Good, I'm glad your sassy flag throw didn't work out as planned.
Wilson on being 1st w/ 300 yd pass, 100 yd rush: "Doesn't mean anything unless you win. .. The only thing I care about is winning" #SEAvsSTL

— Seattle Seahawks (@Seahawks) October 19, 2014
7. Whiff Award for Week 7: Redskins D
Charlie Whitehurst drops back … he finds Kendall Wright over the middle!
Wright somehow makes three defenders who were practically standing on top of him come up with nothing but air! Touchdown, Titans! Seriously, how in God's name did that happen?
8. Best Impression of a Helmet Decal: Ryan Tannehill, Dolphins
The quarterback was solid in Week 7 as he led his team to an impressive win in Chicago. But it was this fall that stood out:
Nice dolphin pose!
9. Obligatory Mashup of Tannehill and Dolphins Logo Award
Come on, you had to figure this was coming:
Good times, good times.
Ryan Tannehill thinks he's a real dolphin pic.twitter.com/MjcxsRhZ9x

— Tre Rogers (@TreRogerss) October 19, 2014
10. THE JAGUARS WON A GAME AWARD!!!: Gus Bradley, Jaguars
All hail! The Jaguars are no longer winless! That calls for a dance party!
Go, Gus! Go, Gus! It's your birthday! (Well …. not really)
@TreRogerss @Lauzin pic.twitter.com/ll1ihi0Eap

— Dade County Lou (@GenzerOfDade) October 19, 2014
11. Burt Reynolds Awards for Excellence in Scents: Ron Jaworski
You know how I know that Ron Jaworski is a great man? Check this out:
I knew it. I just … knew it. Just because the former QB great spends most of his day breaking down tape, don't think he doesn't take a minute to smell amazing.
12. Best Attempt to Start a Thing: Andy Nesbitt, FOXSports.com
There's nothing better than Kyle Orton. And magic. And the Bills. All three converged for a magical ending in Orchard Park as Orton unleashed his magic and led the Bills to victory!
That being said, Twitter, you screwed up.
I've got to tell you guys… I'm sitting next to the great Ron Jaworski in the press box, and the man smells just fantastic. Heck of a musk.

— Jeff Darlington (@JeffDarlington) October 19, 2014
13. Tip it Good Award: Antonio Gates, Chargers
Technically, the tight end — and future Hall of Famer — didn't tip the ball, but he did stay with the play and bring down this touchdown catch after the defender tipped it.
That's greatness, folks.
14. Bridge Troll Award for Week 7: Darnell Dockett, Cardinals
How is #OrtonMagic not trending yet? #OrtonMagic #America

— andy nesbitt (@anezbitt) October 19, 2014
Nobody knows how to stir the pot like the talented defensive tackle. Although he's currently cooling his jets with an injury, Dockett made the trip with his team to Oakland. And of course, made sure to have some fun with the Raiders fans.
It would be mean if it wasn't true.
15. It's Getting Ugly Fast Award: Cam Newton, Panthers
Newton should be credited for managing to get his team this far. However, Sunday's game in Green Bay was an embarrassment. And all Cam could do was this:
The score just got worse after that. On to next week!
16. Spelling Out Cincy's Ineptitude Award: Chuck Pagano, Colts
Darnell Docket got no chill😂😂😂 pic.twitter.com/1hEyGBpTwB

— NBA RETWEET (@RTNBA) October 19, 2014
The head coach had a great time watching his team dismantle the Bengals at home on Sunday and he presented his defense with a game ball. Why? Well, let him explain it:
That's straight domination.
17. Laundry Detergent Award: Randall Cobb, Packers
Mr. Cobb got into the end zone for one of many touchdowns Green Bay scored against Carolina. But, what he didn't plan on was getting doused:
Great. Ketchup stains. That stuff smells and really ruins a shirt.
18. Best Way To Mess With a Legend After a Milestone: Denver Broncos
Coach Pagano gives the Defense a game ball…listen why #cinvsind
Congratulations to Peyton Manning, who surpassed Brett Favre to capture the record for career passing touchdowns! After the great one completed that fateful pass to Demaryius Thomas in the second quarter, his Broncos teammates decided to have a little fun.
Mainly, by playing keep away with the prized game ball: