Week 17 Awards: Best and worst from Sunday's games
Best job of picking a nose during an important game: Ryan Tannehill, Miami Dolphins. As you can see by this image, the game was still very much in doubt. However, that didn't stop Tannehill from going almost knuckle-deep in his quest to find some nasal gold. Good lord, dude. If you go any further, you'll touch your brain. Remember, when you're on TV, people can see what you're doing!
The most hated man in Pittsburgh: Ryan Succop, Kansas City Chiefs. Why is the Steel City fuming? Because Succop had a chance to kick a field goal with less than a minute remaining that would have beaten the Chargers and sent the Steelers to the playoffs. Welp, the kick went wide right, the Chargers ended up winning in overtime and the Steelers started making golf plans. Sucks to be you, Pittsburgh.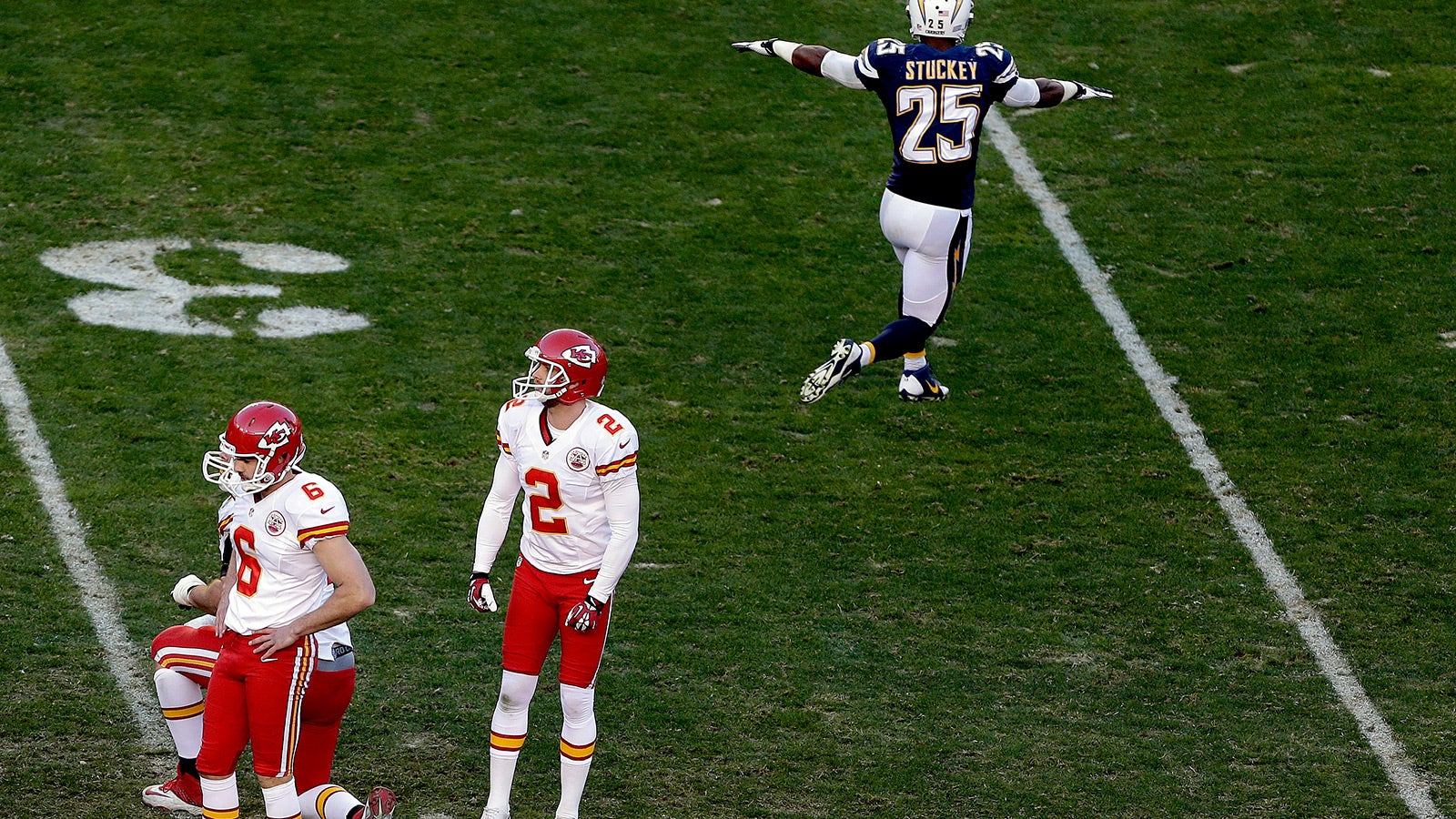 Best consolation prize for Pittsburgh: Antonio Brown, Pittsburgh Steelers. Sure, I just got done saying how heartbroken Black and Gold Nation is after Sunday's madness. However, at least they have a wide receiver who really knows how to adorn his hairdo with serious follicle swag. I'm seriously impressed.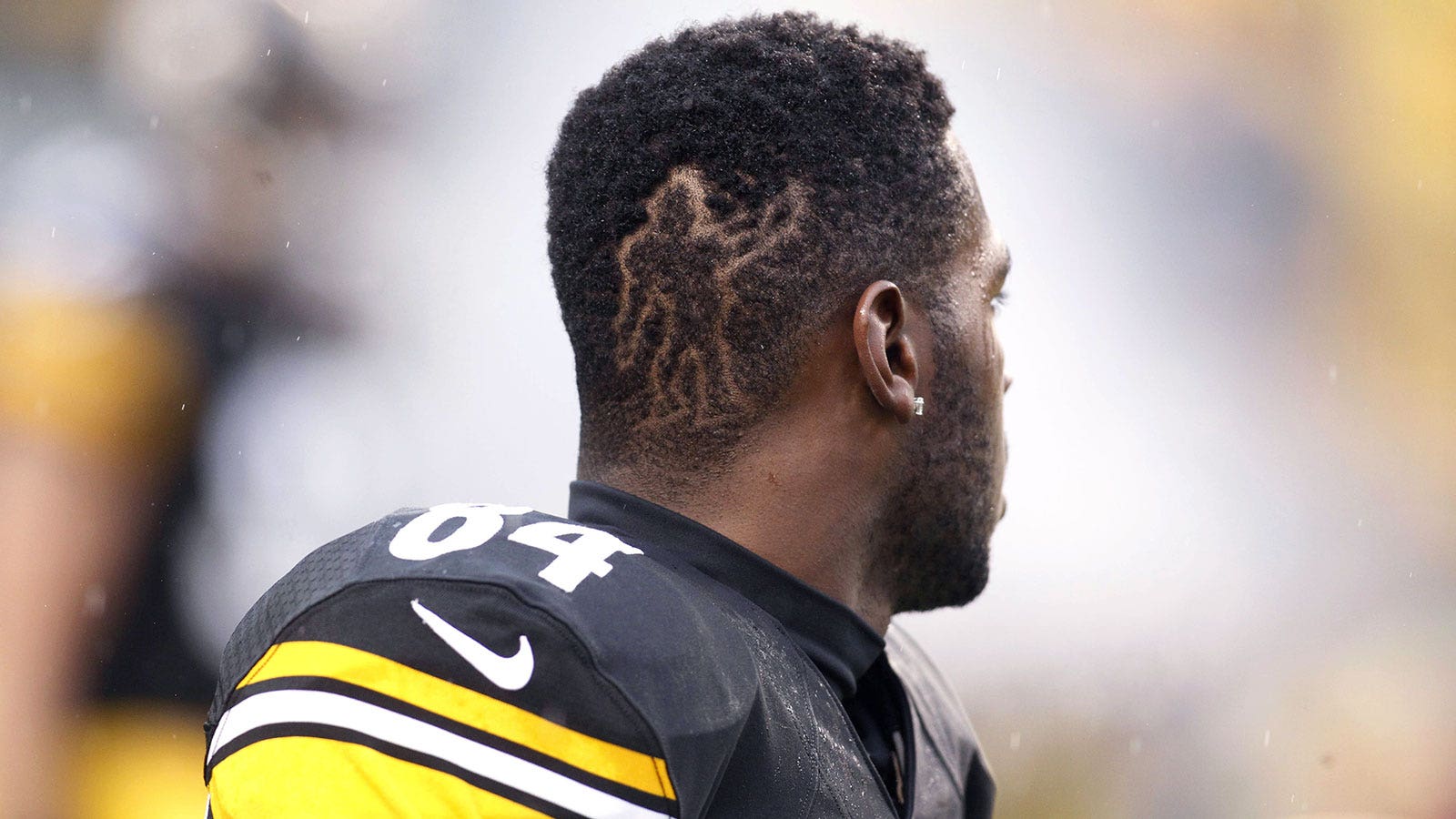 Best way for a heavy metal legend to watch a game: Dave Mustaine, Megadeth. The rocker is the creator and leader of one of the greatest bands in history, so it makes sense that he would watch his Raiders play in style. Only the best for Dave.
#NFL @RAIDERS vs. @Broncos @OdotCoCOLISEUM #RaiderNation pic.twitter.com/hjhwXMnywt

— Dave Mustaine (@DaveMustaine) December 29, 2013
Creepiest wave that perfectly illustrates a failed season: Robert Griffin III, Washington Redskins. Maybe he's saying goodbye to a miserable 2013. Maybe he's saying sayonara to head coach Mike Shanahan, who is expected to be fired on Monday. Either way, there's not a whole lot of good in D.C. right now.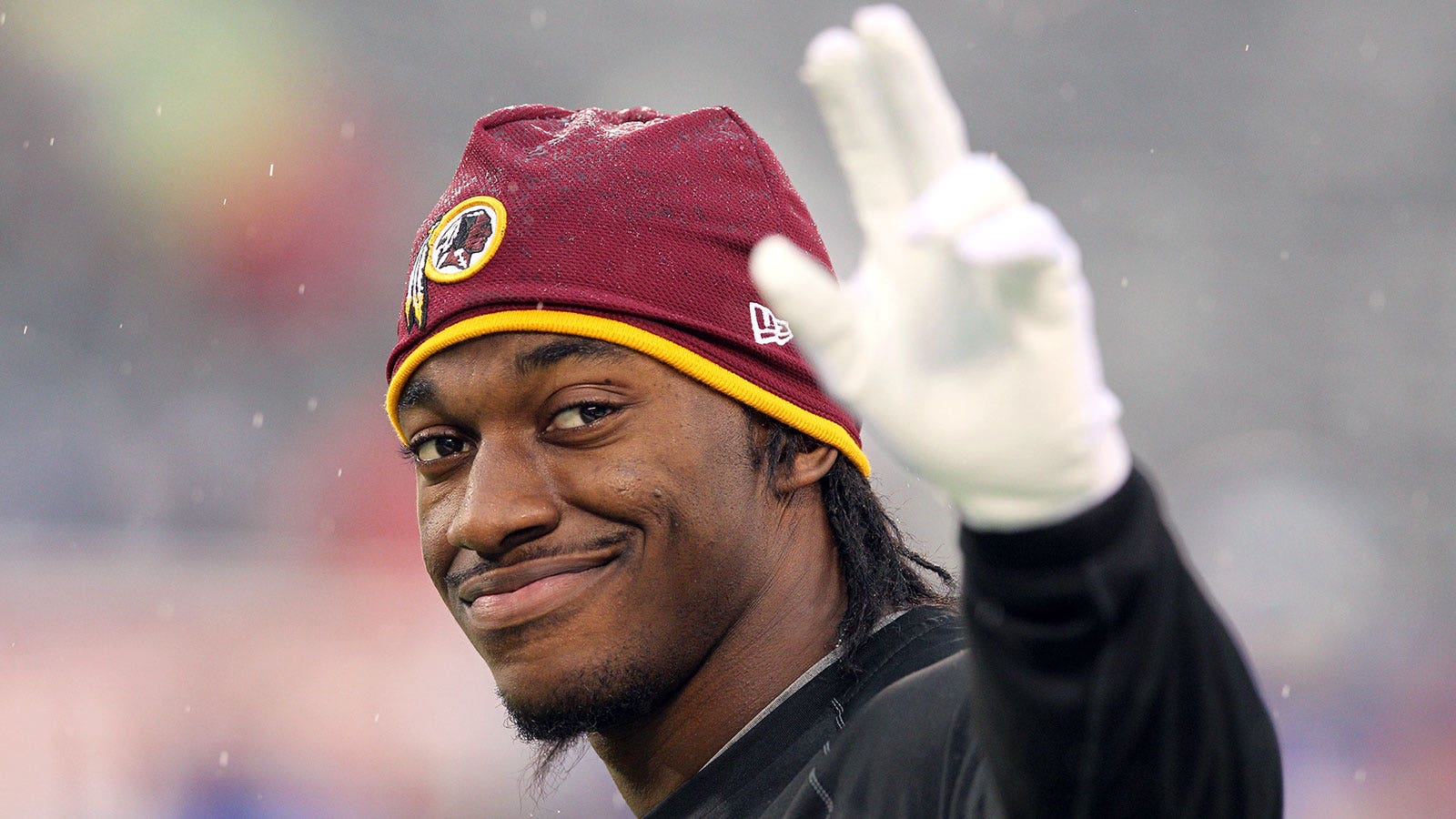 First annual Sid Saraf Citizen of the Year Award: Cam Newton, Carolina Panthers. Watch the electrifying quarterback score a touchdown, hand the ball to a little fan in the crowd and then give him a fist-bump for good measure. What a leader he has become. This man can run for office someday if he keeps it up.
First annual Sid Saraf Great Teammate of the Year Award: Cam Newton, Carolina Panthers. Check out the quarterback hanging with his teammates after locking up the NFC South crown. Seriously, he's going to be a mayor, or a governor, or maybe …a president?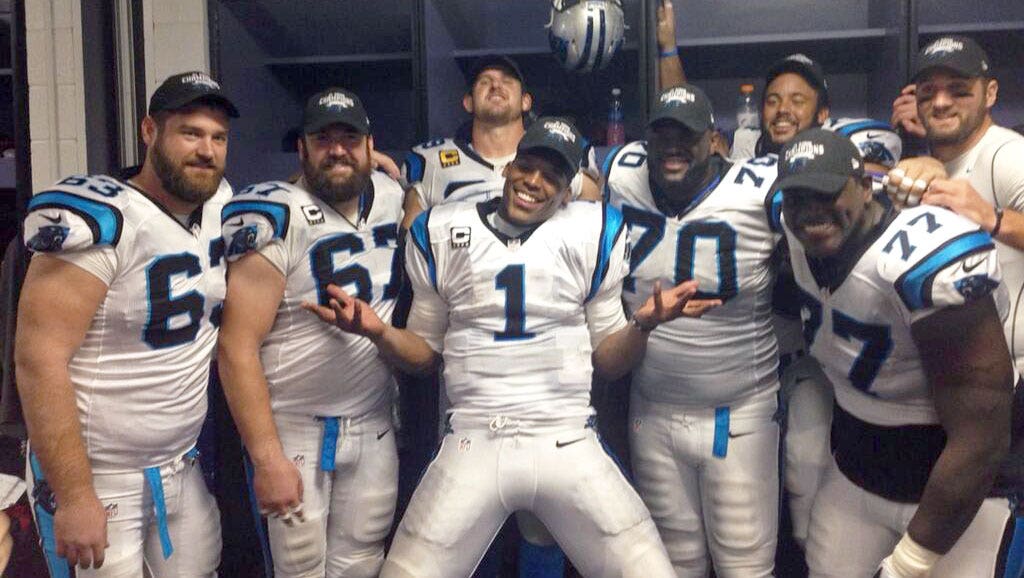 Best way to be an insane fan on the last day of the Metrodome: Yeah, before you start sending emails, I know it's called "Mall of America Field" or whatever. It will always be the Metrodome to me. Anyway, fans decided to rip out seats and take them home to commemorate the home of the Vikings for the past 31 years. I have to give them props, because how the hell did they get those seats out? Did they bring tools with them?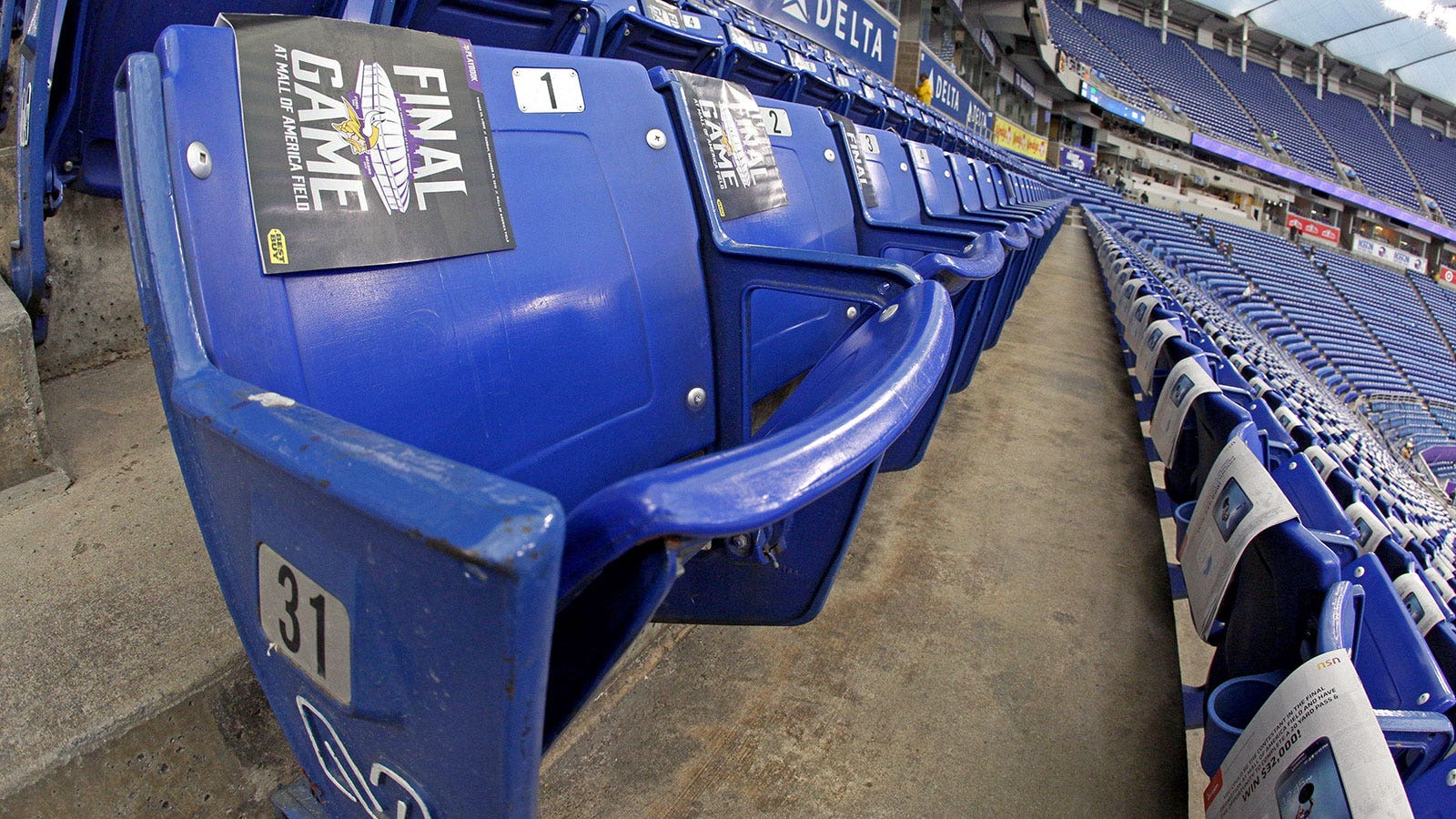 Weak sauce fan taunts of the week: The 12th Man. I normally give them all kinds of credit, but this was subpar. "Rams haven't even had a winning season since 2003"? "We've won 15 of the last 17 – thats funny"? Guys, think pithy when it comes to signs. The young Rams fan in the corner is mocking you.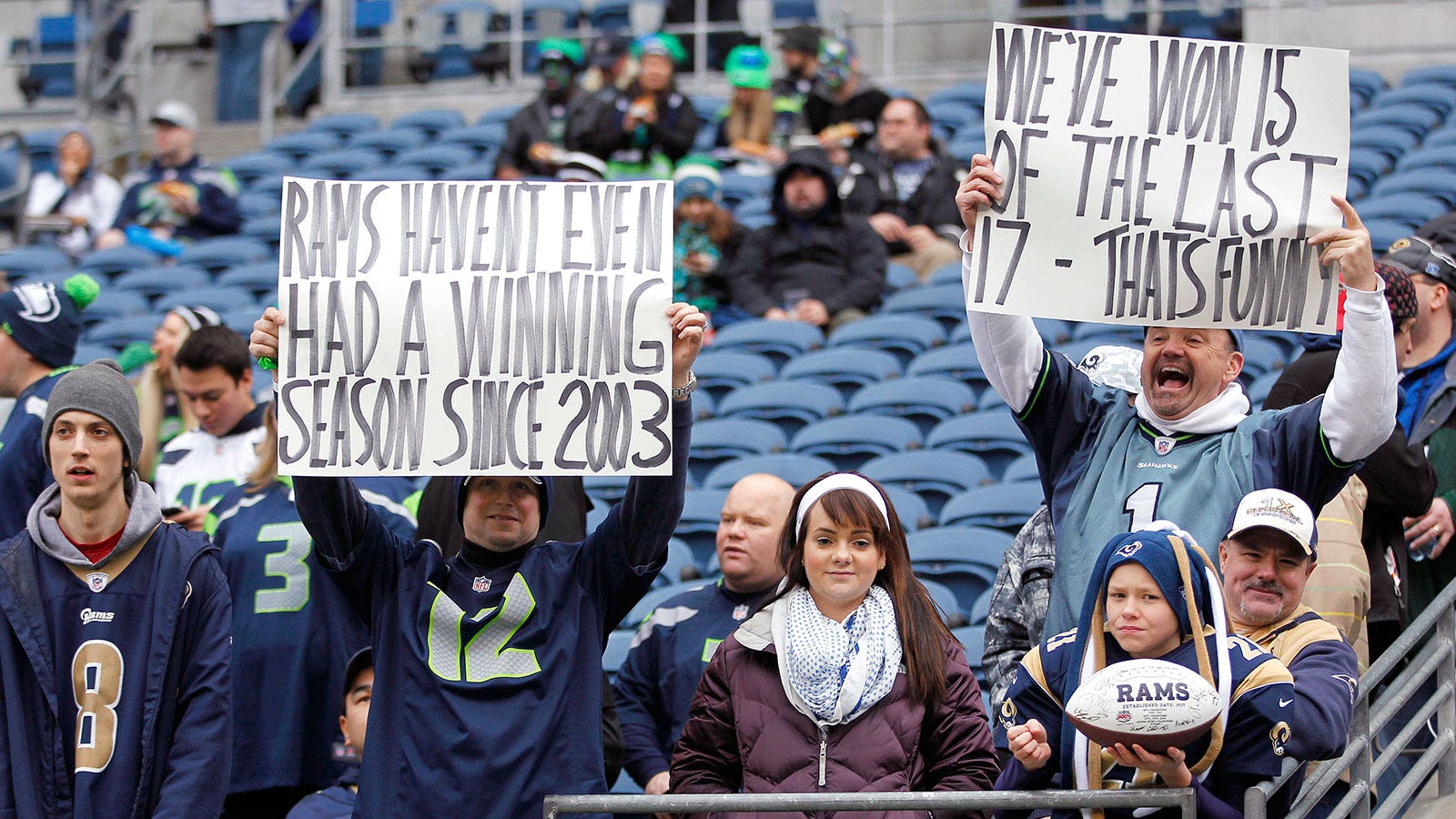 Classiest way to end a forgettable season: Justin Tuck, New York Giants. Nothing much has gone right in the Big Apple for Big Blue this year, but that's alright. These things happen. What's admirable is finishing strong and being positive on the way out. Kudos to you, Mr. Tuck. See you next year!
Awesome way to finish the season. Disappointed but very proud. We never quit and fought to the end. Fans you were always great. GOD Bless

— Justin Tuck (@JustinTuckNYG91) December 29, 2013
Douchiest guy being escorted off the field by two cops who look like mounties: This Cardinals fan. Why is he so angry? Maybe because he knows he's going to catch a beating once they get him into the tunnel. This is Arizona, folks. They don't mess around, so think twice before running on the field. I do love the hats the policemen are wearing. Solid fashion sense right there, eh?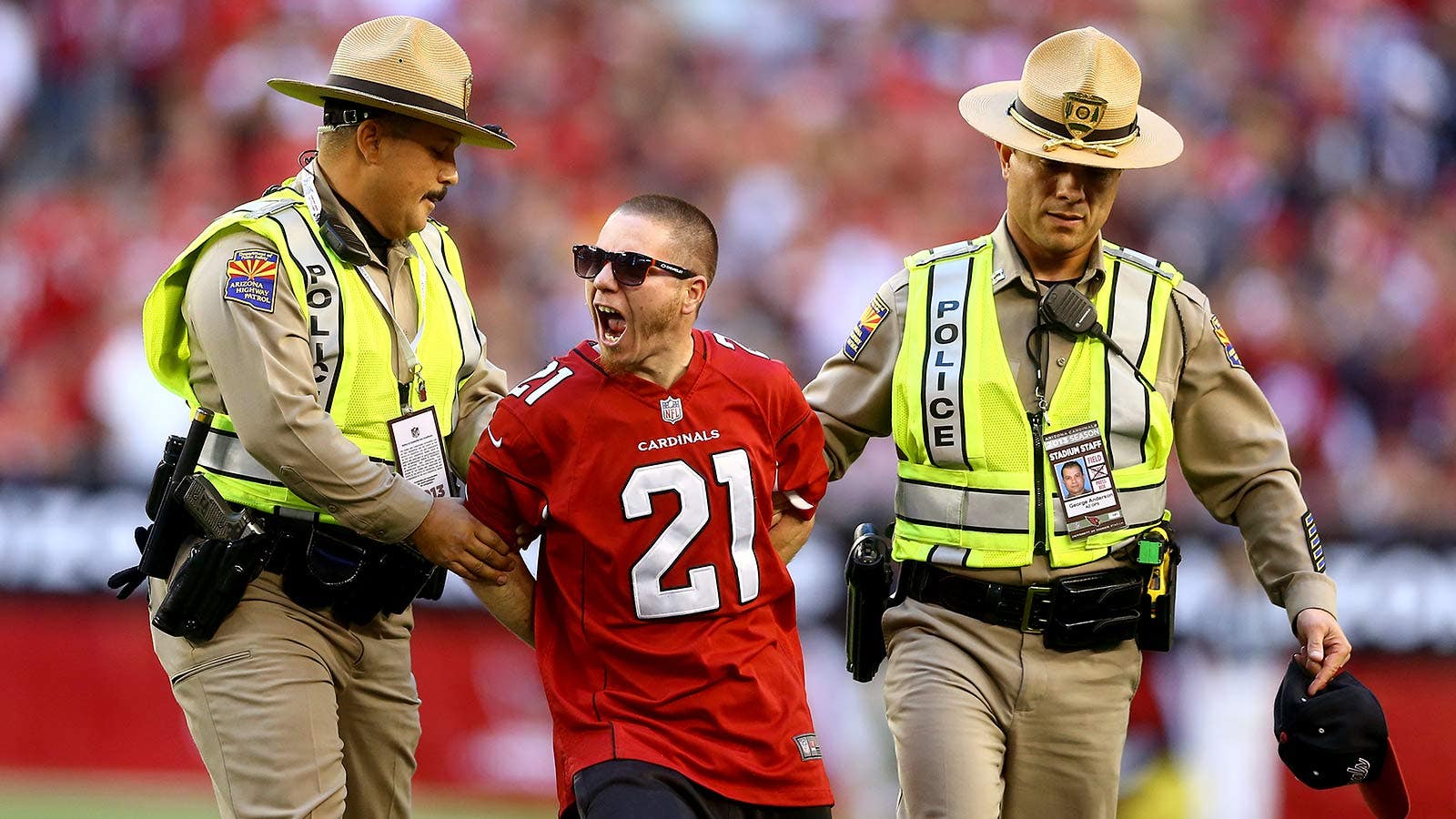 Best way to pay tribute to Key and Peele: Lance Moore, New Orleans Saints. I'm obsessed with that sketch comedy show and I was thrilled to see Moore bust out an excellent Hingle McCringleberry impression (Watch the sketch here). Remember, it's the third pump that always draws the flag. So it should come as no surprise that the Saints were tagged for a flag on this play.
Best job of living up to a male cliche: Gary Parrish, CBS. The college basketball writer is one of the best in the business. But he's also an unabashed NFL fan and even though he just had a baby boy, he's gonna watch some pigskin in the maternity ward. Excellent work, dude! Nothing but love for ya. Congrats on the new arrival.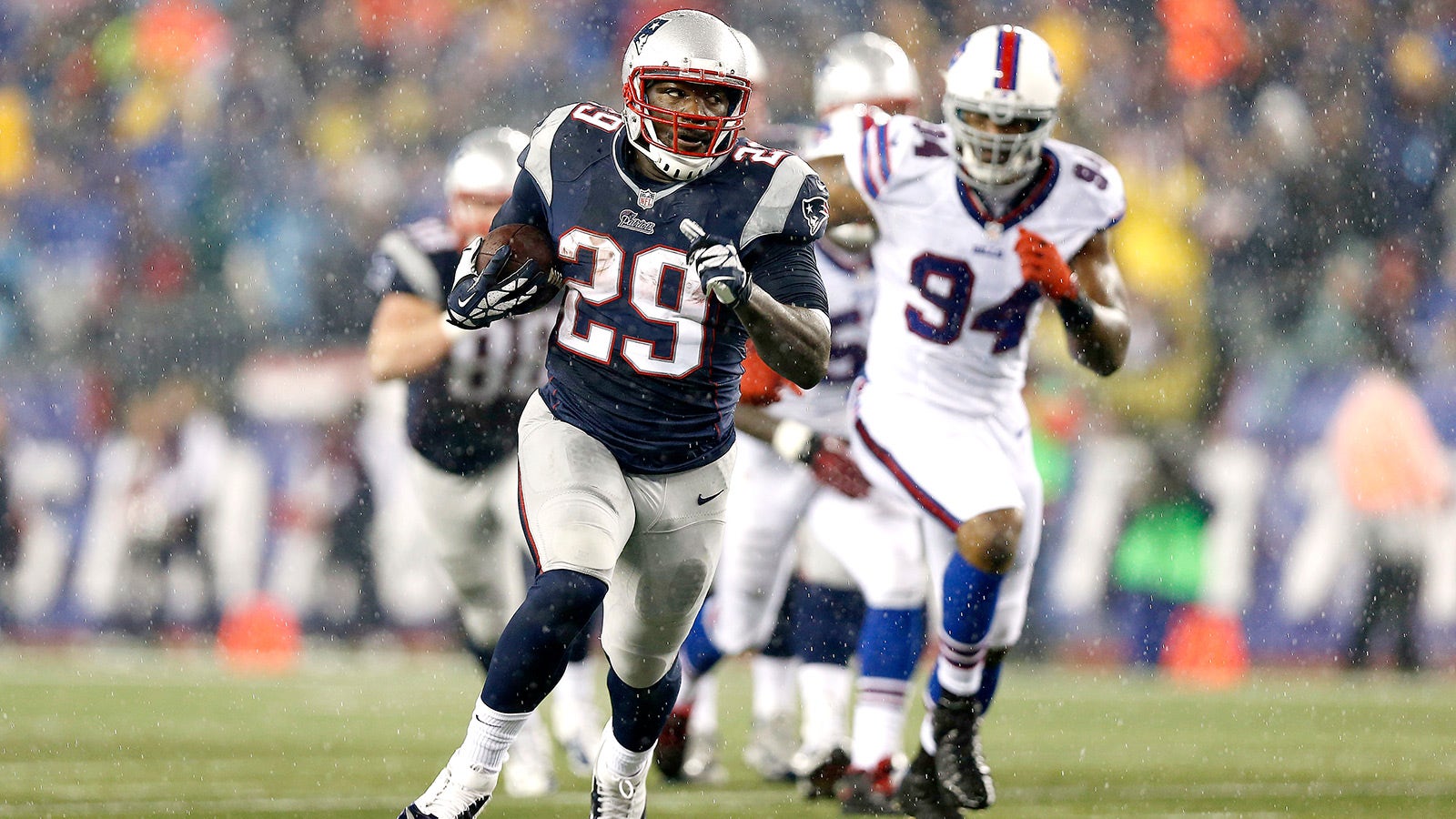 Most excellent tribute to a future Hall of Famer: Atlanta Falcons to Tony Gonzalez. The perennial All-Pro tight end has a spot waiting for him in Canton and the Falcons made sure to salute him at halftime of the last game of his illustrious career.
Getting my NFL Sunday Ticket on in the maternity ward. pic.twitter.com/VZLR3BGpHK

— Gary Parrish (@GaryParrishCBS) December 30, 2013
Another excellent tribute to Tony Gonzalez: Harry Douglas, Atlanta Falcons. The wide receiver is going to take every opportunity to get a picture taken with one amazing teammate.
Best tweet that calls out Cam Newton for a flop: Frank Caliendo. I'll let the comedian take it from here:
Best tweet from a professional baseball player about football: Logan Morrison, Seattle Mariners. The twitter raconteur is always an entertaining read. Take it away, LoMo!
Thanks for everything Tony pic.twitter.com/WRnhvLFtf6

— Harry Douglas (@HDouglas83) December 29, 2013
Swaggiest division in pro football: The AFC West. When the Chargers beat the Chiefs on Sunday afternoon, they became the third team from the division to reach the playoffs. Now that's no joke. Plus, it gave me an excuse to feature Eric Weddle and his epic beard.
"Nice flop by Cam Newton" – Lebron James

— Frank Caliendo (@FrankCaliendo) December 29, 2013
Would Peyton Manning have 75 touchdown passes if he was with the Bears? Those weapons are state of the art!

— Logan Morrison (@CupOfLoMo) December 29, 2013