Week 15 Awards: Bears fans prove shirts are for sissies
Most accurate display of Bears fandom: This group of bros in Cleveland. Bears fans travel well and many are willing to dispense with the shirts (and maybe even drop trou) to display their support of their favorite squad. Looking at this photo, you can see all the fan archetypes: the two big guys, the guy wearing the hat that looks like an old-school helmet and of course, the short guy. And most of them have beers. You gotta love it.
Best way to make a Patriots fan go WAAAAAHHHH!!!: This non-call in Miami. Now, I'm not going to sit here and say that the Dolphins didn't commit pass interference on New England tight end Michael Hoomanawanui, but the refs didn't throw a flag and that's that. A potential Patriots comeback victory was thwarted and I'm sure several angry bowls of chowder will be consumed in New England tonight. And I hope Patriots Nation isn't expecting sympathy from anyone. Nobody feels sorry for Patriots fans. I should know … I'm a Lakers fan.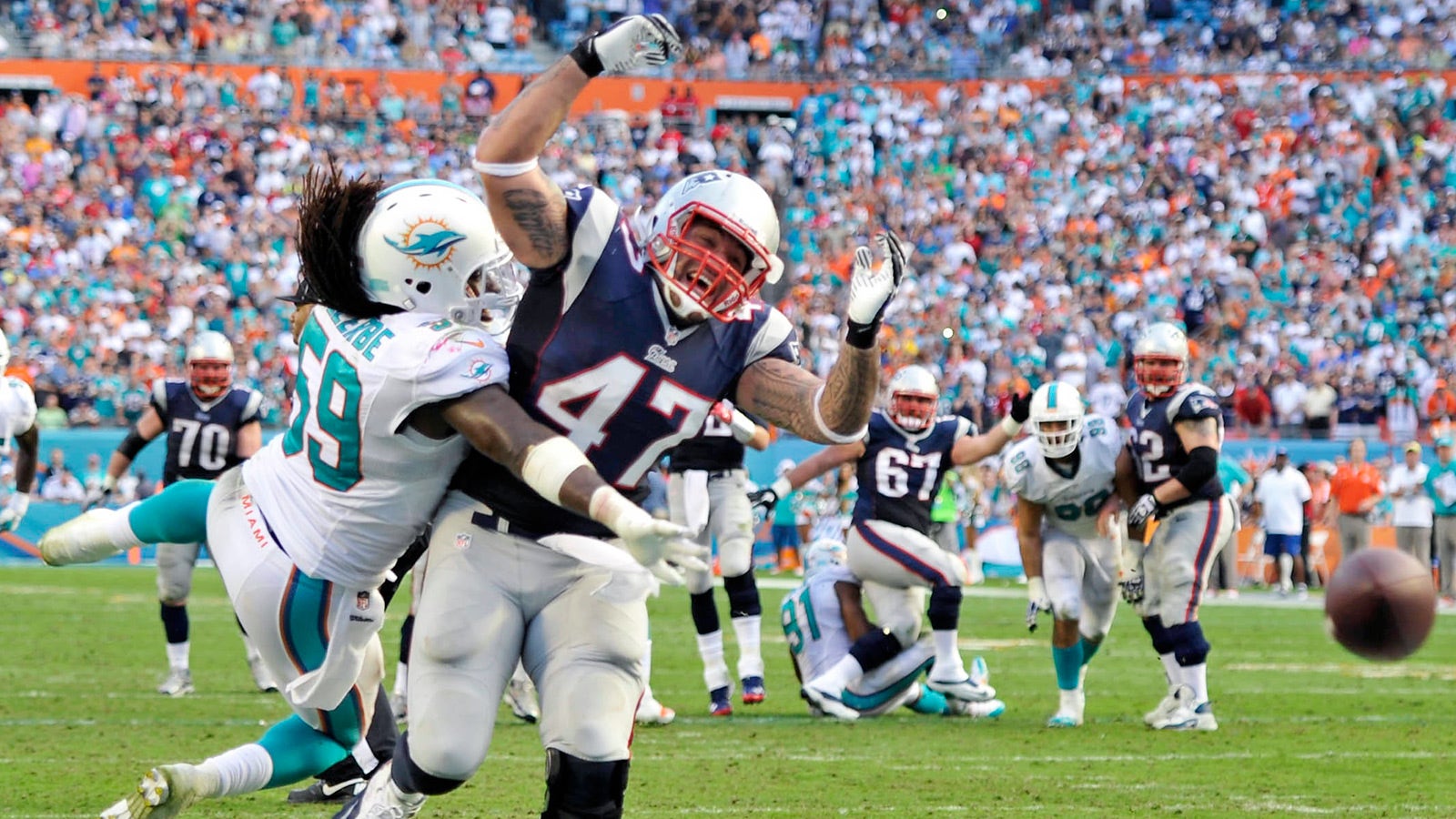 Worst job of riding an imaginary motorcyle: Cory Redding, Indianapolis Colts. The defensive end is just trying to get loose before his game against the Texans and the camera catches him at just the perfect time. Vroom, vroom!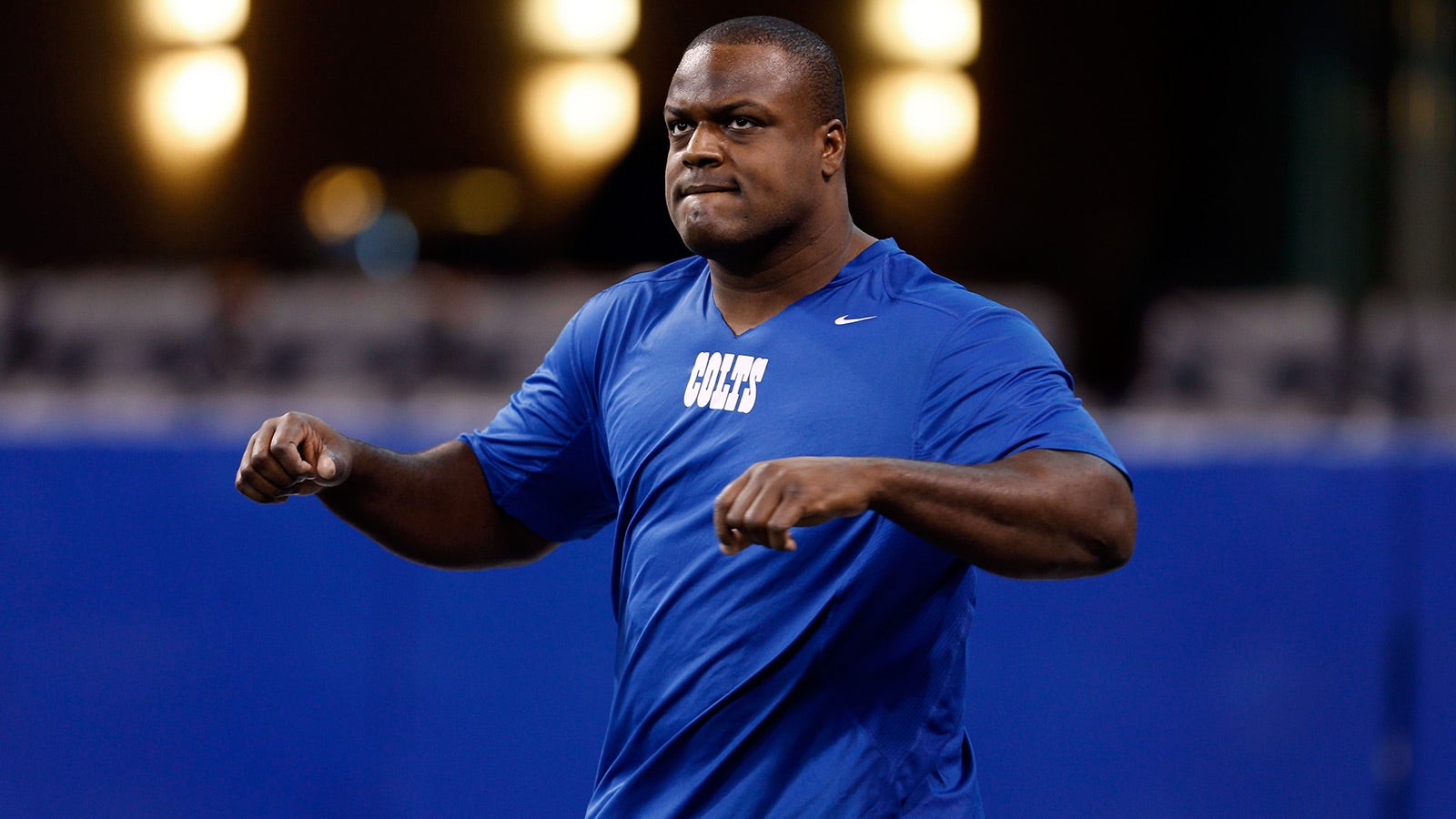 Best Joe Namath tweet of the day: I can do an entire awards piece just off his Twitter account. But this one deserves to be singled out because … I'm not really sure what he's trying to say.
How about that! Even without playin their best, I guess the Jets CAN stay in the game!

— Joe Namath (@RealJoeNamath) December 15, 2013
Best third-string running back who scored three touchdowns: Matt Asiata, Minnesota Vikings. Bonus points if you had heard of Asiata before Sunday. However, besides having a name that sounds like an airline, he managed to step in for Adrian Peterson and Toby Gerhart (both out with injuries) and reach the end zone three times. It is any surprise that the Vikings upset the Eagles? Nope.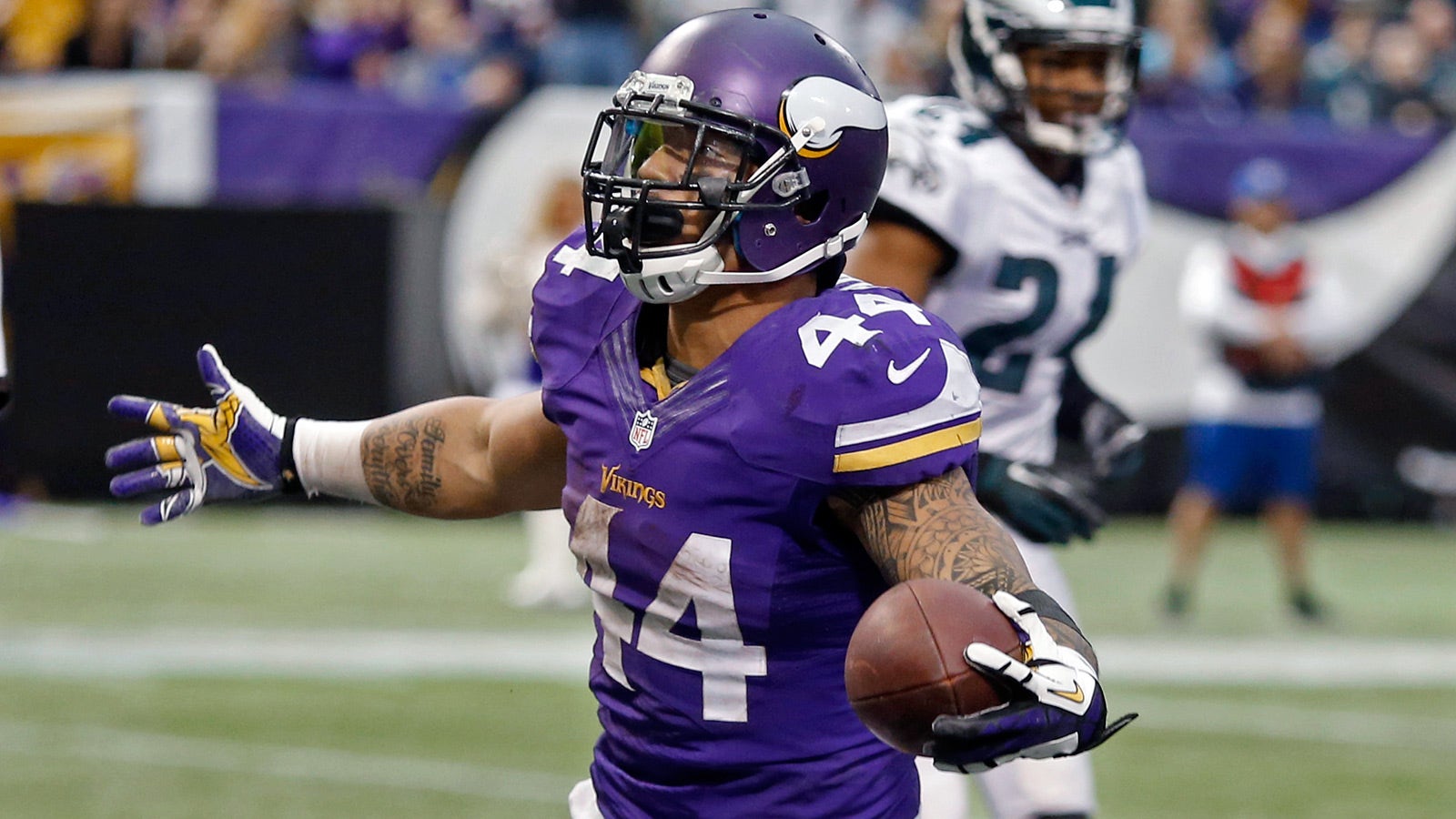 Best job of keeping toes toasty warm: Brandon Marshall, Chicago Bears. The wide receiver has had a lot of experience playing in cold weather over the years, but he really stepped it up on Sunday. These shoes are epic.
Worst trick kick return in history: Tampa Bay Buccaneers: Poor guys. They were just trying to keep pace with the powerful 49ers when disaster struck. Eric Page fielded the kickoff, tried to hand the ball to Russell Shepard, who then slipped and put the rock on the rug. Kendall Hunter scooped it up and dove into the end zone. Ballgame.
Most accurate and simple summation of one's performance: Case Keenum, Houston Texans. The quarterback threw for just 186 yards with two interceptions as his team got pounded 25-3 in Indianapolis. He made the following perfect statement after the game:
Case Keenum: "I was bad today." #Texans

— Tania Ganguli (@taniaganguli) December 15, 2013
Best way to ring in the holiday season: Santa Claus in Minnesota. Did you know Kris Kringle is a Vikings fan? Neither did I.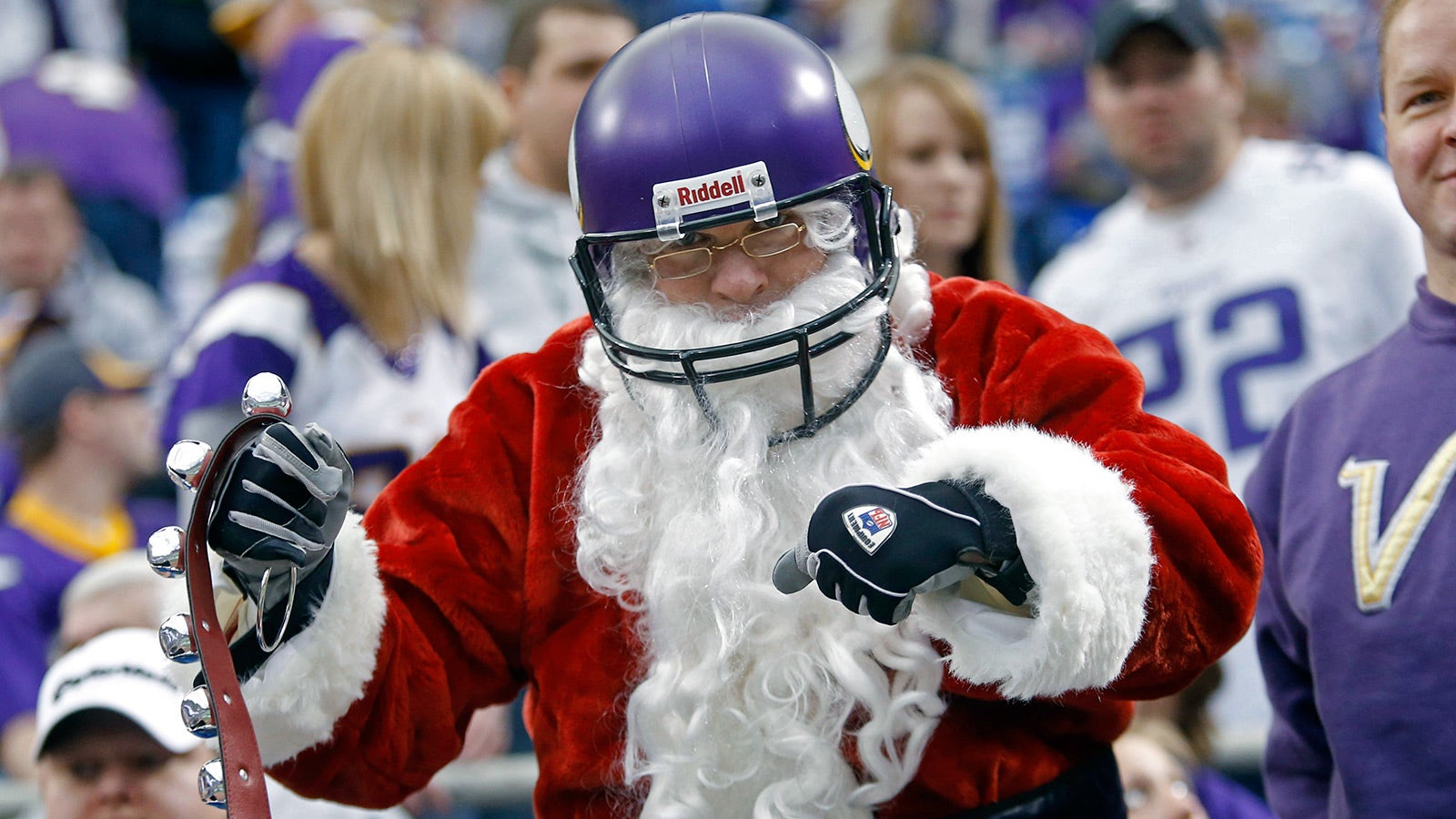 Worst way to return to a starting lineup: Jay Cutler, Chicago Bears. The quarterback probably wanted to make a positive impression after sitting on the sidelines with an injury for several weeks. I'm sure he didn't envision throwing a bad interception in the first quarter. But all is well, since he also threw three touchdown passes and led the Bears to a tough win. Hooray!
Worst person to throw five interceptions: Eli Manning, New York Giants. Not only did he come into Sunday's game against the Seahawks leading the league in picks, but he managed to pad his lead with a career-worst effort. Manning's five interceptions were the most he's thrown in a game in his career and what's worse, a fan told him he "sucks" as he was jogging off the field. Yuck.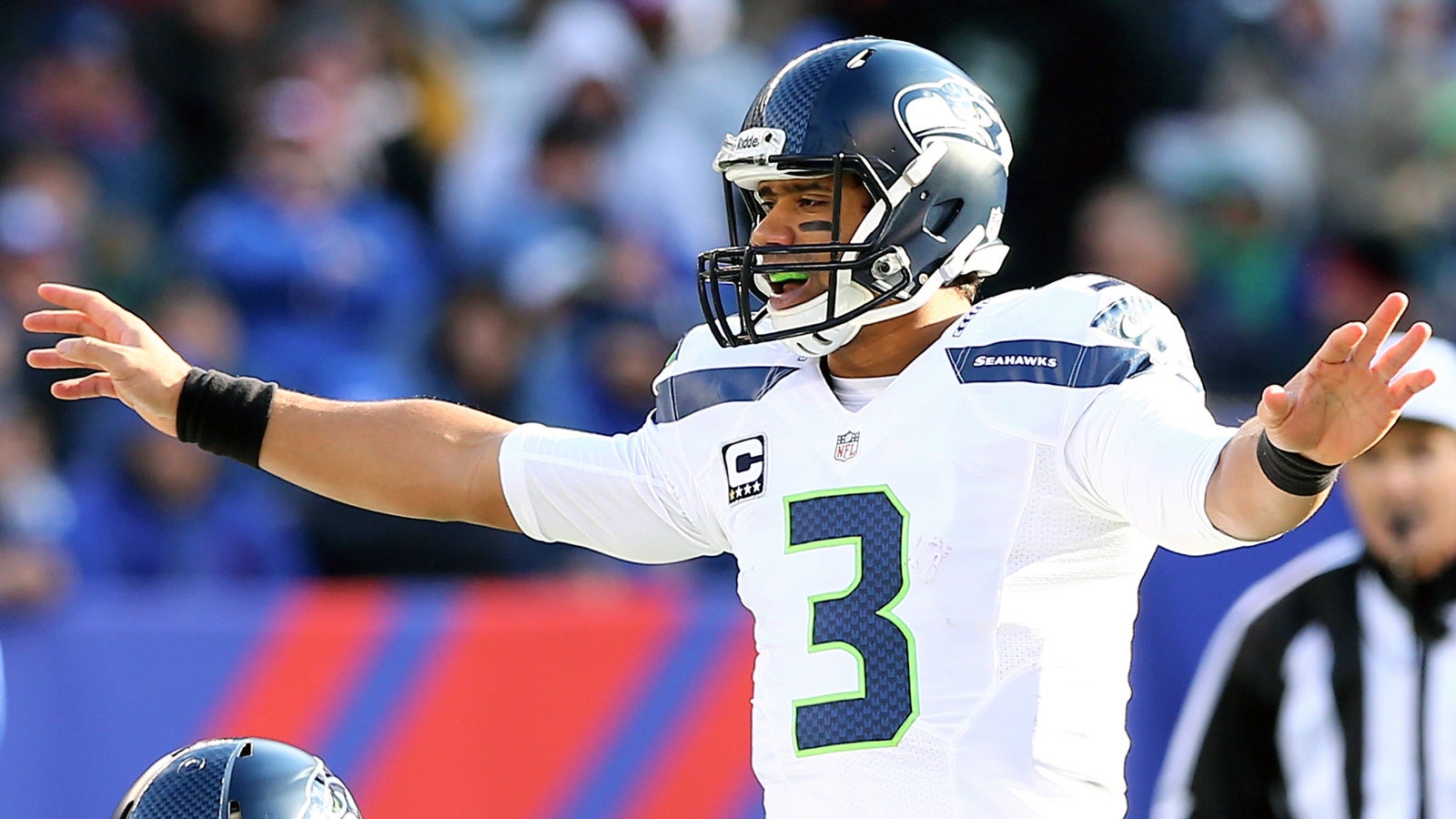 Most paranoid tweet from a Rams fan: Kathleen Madigan. The standup comedian is a big Rams fan, but even she was shocked to see her squad dominate the Saints 27-16. Don't worry, Kathy, nothing evil is afoot.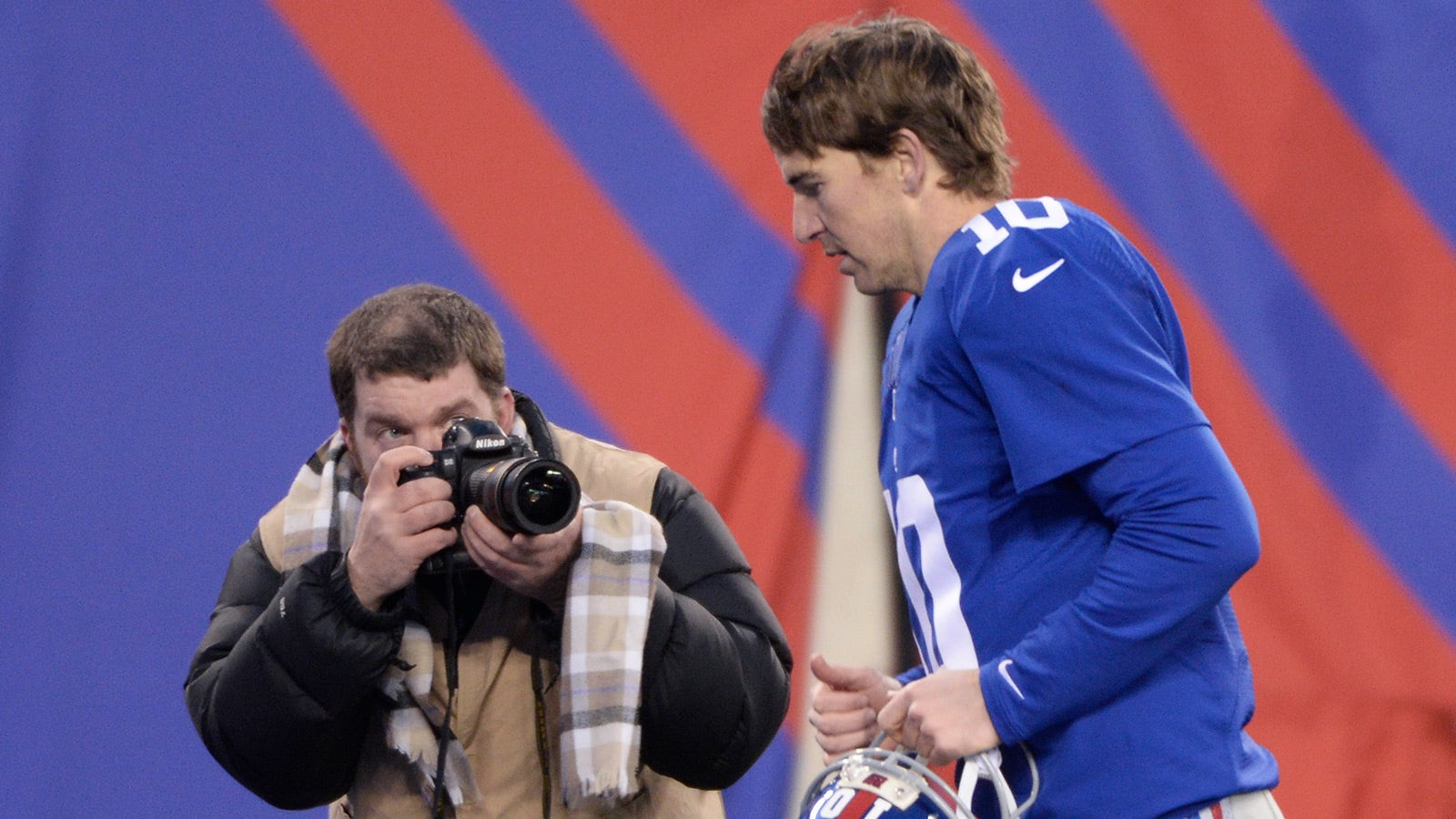 Best catch over a defender: Dez Bryant, Dallas Cowboys. Yes, the wide receiver left for the locker room before the game ended. I can't blame him for doing so after Big D found a way to blow a big lead and lose to the Packers. However, this touchdown catch is something to be admired. Look how he got both feet down as well. The guy is a stud.
Omg the Rams are destroying the Saints and we super suck. What sort of deal did we make w the king of darkness. I'm scared.

— Kathleen Madigan (@kathleenmadigan) December 15, 2013
Worst job of avoiding one hit and then getting knocked over anyway: This lady in St. Louis. I give her props for avoiding Zac Stacy when he came tumbling by. But she failed to keep her head on a swivel and got chopped at the legs. I think they should allow stadium personnel to keep look at something besides the crowd occasionally.
Best job of throwing everyone under the bus: Jason Garrett, Dallas Cowboys. Thanks, coach. Way to stand up for your guys … even if you are telling the truth.
Worst hit taken by a punter this week: Kevin Huber, Cincinnati Bengals. Man, that's awful. How hard was that hit? Huber broke his jaw. That's all you need to know.
Garrett said Romo checked to pass out of run on that last pick….said Callahan "calls the plays"….he taking everybody down with him, huh?

— Mike Hill (@ItsMikeHill) December 16, 2013
Worst tweet … ever: Tom Arnold. He's a comedian, so maybe he gets a pass. But still, too soon bro. Give poor Tony some time to grieve.
TOUCHDOWN MIAMI!!!!!

— Richie incognito (@68INCOGNITO) December 15, 2013
Peter O'Toole had a better day than Tony Romo.

— Tom Arnold (@TomArnold) December 16, 2013