Terrell Owens files lawsuit against former agent Drew Rosenhaus
By Tully Corcoran, FOXSports.com
Terrell Owens, who is broke, has careened past "reality TV show" broke and "obscure football league" broke right on down to "suing your former agent" broke.
Owens is suing Drew Rosenhaus for $6.5 million. He says Rosenhaus encouraged him to make take bad financial advice from a now-banned financial advisor. Most notably, Owens sunk a bunch of money into an Alabama casino project that flopped. He feels Rosenhaus and his brother, Jason Rosenhaus, are at fault, according to Yahoo! Sports.
The odds of this playing out in a courtroom and on the public record are low, although Owens does have a tendency to broadcast his complaints to the world.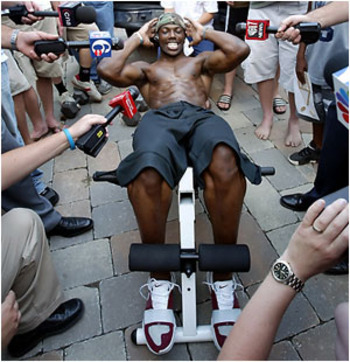 Owens also has never been afraid of playing the villain or causing chaos.
So maybe this one won't go quietly into the night, after all.