Mail-it-in Friday: Russell Wilson is the NFL's most overrated player?
We're about a quarter of the way through the NFL season.
Week 4 is here and things are starting to take shape. Some teams have flourished, others are still finding their identity and a few haven't lived up to their lofty expectations. Let's focus on that last group.
This week's Mail-it-in Friday topic? Who is the most overrated player in the NFL?
Let's get to work!
RAILING ON RUSSELL
I'm rather fond of Russell Wilson. I think he's mature beyond his years and is unflappable under pressure. Oh, by the way, he's just a fourth-year pro with one Super Bowl title and one more appearance under his belt. Sure, he's a tad robotic and some of his comments about Miracle Water made me raise my eyebrows, but whatever.
The last thing I would call him is overrated. But alas:
@RealSidSaraf Russell Wilson, easily

— 49ers Gab (@49ersGab) October 1, 2015
@RealSidSaraf @NFLonFOX Russel Wilson, good person, mediocre player. #FoxMailbag

— Steven Ray (@ffmedium) October 1, 2015
@RealSidSaraf @NFLonFOX Russell Wilson no doubt about it

— John David (@Johnacevedo_) October 1, 2015
Russell Wilson…. No question! https://t.co/owQLAMh2WT

— Nigel Mather (@NigelMather13) October 1, 2015
@RealSidSaraf @NFLonFOX Wilson

— Jordan Bleyle (@JBlies90) October 1, 2015
It's not just that they feel the Seattle Seahawks QB is overrated, it's their lack of doubt in stating such an opinion. It's the "no doubt about it," and "easily" comments that bother me.
Now, normally I would just deal with such barbs in the same way that my idol T-Sizzle would:
But then I saw this:
Gatormouth,
@RealSidSaraf @NFLonFOX Russell Wilson is the most overrated player in the #NFL take away lynch and defense 3 wins a season tops #foxmailbag

— Gatormouth (@Jonny_Black13) October 1, 2015
OH, HELL NO. I was about to respond with a comment that burned with the fire of a thousands stars, but I decided to let someone with facts handle this:
Sam,
@Jonny_Black13 @RealSidSaraf Wrong. Wilson is 7-2 with a QB rating of 100 in games where Lynch is limited to <50 rush yds. #FoxMailbag

— Sam HawkBadger (@hwkbgr) October 1, 2015
And someone else chimed in with support:
Daniel,
I almost left Daniel's comment out because I hate when people unleash strings of "hahahahaha" and "LOLOLOLOLOL" and "ROTFLMFAO" on social media along with their comments. And it's also rude to tell people to get off Twitter, no matter how much you disagree with what they're saying.
@Jonny_Black13 @RealSidSaraf @NFLonFOX hahaha Kaep on the Seahawks and they would be the same!? Hahahahahahahahahahahahaha! Get off twitter

— Daniel Hovanas (@DanielHovanas) October 1, 2015
Don't be a bully, Daniel. But I thank you for your support in this case.
Lonewolf,
No, it's two including myself. Two-and-a-half if you count Daniel's comment. And anyway, shut it! You're a 49ers fan and clearly biased!
Look at the mentions it's like one dude defending wussle Wilson lol #overrated https://t.co/wVv2UuRO7t

— lonewolf&cub (@golddog50) October 1, 2015
Crap, now I'm bullying people.
ANOTHER QB BEING SMACKED AROUND
Russell Wilson wasn't the only quarterback being raked over the coals this week. Check this out:
It seems Sam is on fire this week. He not only offered the final tweet in the above sequence, he even has a table:
Luck easily. https://t.co/gOOyNiLaDv

— Ricky. (@RickHayes15) October 1, 2015
@RealSidSaraf @NFLonFOX in the whole NFL, IDK, but Andrew Luck is definitely in the picture #FoxMailBag

— Justin B (@KingOfTheRyche) October 1, 2015
@RealSidSaraf @NFLonFOX Andrew Luck #FoxMailbag

— Coco (@catkidd) October 1, 2015
@RealSidSaraf Andrew Luck. It's not close. Lowest rated passer in the league, dead last in comp% among 1000+ att QBs since 2012. #FoxMailbag

— Sam HawkBadger (@hwkbgr) October 1, 2015
Again, I don't know where he got that from, and I'm not looking it up. But if he's actually below Mike Glennon and Jay Cutler, then I can't defend that.
@RealSidSaraf Andrew Luck is the #26 passer since '12 (min 500 atts). 26th!! #Overrated #FoxMailbag pic.twitter.com/OKB28pG4cZ

— Sam HawkBadger (@hwkbgr) October 1, 2015
I'm no Luck hater. I think the man is talented, has excellent facial hair game and has had to carry a franchise on his shoulders from Day 1 in the NFL. That's not easy. And yeah, the Colts are sitting at 1-2 at the moment, but he's coming off a season that saw him throw 40 touchdown passes.
Is he a lock for the Hall of Fame? No, I can't say that yet. But he's been in the playoffs every season. That has to count for something.
WHO ELSE IS OVERRATED?
Barry,
Is that a tad harsh? Yes, it is. DeMarco Murray ran for 1,845 yards in 2014. And yes, it was behind a great offensive line in Dallas, but Murray was spectacular in open space and always seemed to make the first man miss.
@RealSidSaraf @NFLonFOX #FoxMailbag I would have to say the most overrated would be @DeMarcoMurray, all seeing what a great OLINE does.

— Barry Croll (@RockNRollCroll) October 1, 2015
He had a lot to do with his big numbers last season, so don't sell him short.
That being said, he's gone from flying high to this in 2015:
You've seen the stat by now, but it bears repeating: DeMarco Murray has 21 carries for 11 yards this season and he missed Week 3 with an injury. Eli Manning has more rushing yards at this point and that's disgraceful.
I'm not going to call him overrated, because he's been great (when healthy) up until this point in his career. But he — and the Eagles offense as a whole — needs to get it together.
Full disclosure: I have a personal stake in this as Murray is currently on three of my four (way too many) fantasy teams this year.
Brian,
Hey, this isn't multiple choice! I hate when people give me more than one answer. I'm not going to even address your opinion, even if I agreed with it. That's your punishment.
@RealSidSaraf Colin @Kaepernick7, Mario Williams, and Tony Romo.

— Brian Hendricks (@12th_Man_Brian) October 1, 2015
Al,
I'm going to stand up for wide receivers. That's a tough gig because unlike most positions on the field, they're more or less dependent on someone else doing their job right.
@RealSidSaraf @NFLonFOX any diva WR #foxmailbag

— Al Ivy (@AlIvy9) October 1, 2015
First, they have to line up correctly, get past the man in their face at the line of scrimmage and find an open spot in the defense. That's hard enough. Then they have to hope that their quarterback sees them open. And even if the guy throwing the ball sees him, he still has to throw a proper pass that won't get knocked down or get him killed by some opportunistic defensive back.
Take Eric Decker, for instance. He spent two seasons playing with Peyton Manning in Denver and caught an average of 86 receptions per season and brought down 24 total touchdowns. Then he signed with the New York Jets and his production dipped to 74 catches and only five touchdowns in 2014.
Did his skills suddenly erode? No, he just went from playing with a quarterback who could produce to one — Geno Smith — who couldn't on a consistent basis. It has to be frustrating.
Mondo,
Speaking of fantasy, I'm so glad to I didn't take the bait with CJ Anderson. I couldn't believe he was being projected as a first-round pick.
Zack,
@RealSidSaraf @NFLonFOX cj Anderson! Can't run the ball this year!

— Mondo Music (@BalloutMusic) October 1, 2015
I would never call Ndamukong Suh overrated. One, his resume has been stellar before this season and also for the .5 percent chance he somehow sees this mailbag and tracks me down. I don't want any part of that.
However …
@RealSidSaraf @NFLonFOX #FoxMailbag Ndamukong Suh for sure. Showing his true colors after signing his huge contract.

— Zack Howell (@ZackHowell9) October 1, 2015
The Dolphins are 1-2 and just got trucked at home by the Bills. I'm not sayin' anything, but I'm just sayin'. The Dolphins DID spend a lot of money on Suh and right at the moment, he's not giving them their money's worth.
But in all fairness to Suh, I think he would say that himself (I hope).
Jason,
Allow me to channel my inner-grade school kid: He's better than you!
Shutup, monkey. Your job is to play the drums and laugh at my jokes. Don't you roll your eyes at me!
@RealSidSaraf @NFLonFOX Adrian Peterson is. Best runner, but he isn't even on the field most 3rd downs. He can't block or catch #FoxMailbag.

— Jason Wickstrom (@JasonWickstrom1) October 1, 2015
KD2K,
First of all, it's Eric Weddle. And second, you're completely wrong. Three-time Pro Bowler and two-time first team All-Pro. And he has this beard:
If anything, the man is underrated.
@RealSidSaraf @NFLonFOX Eric Weedle #overrated #FoxMailbag

— KD2K (@KDizz) October 1, 2015
TJ,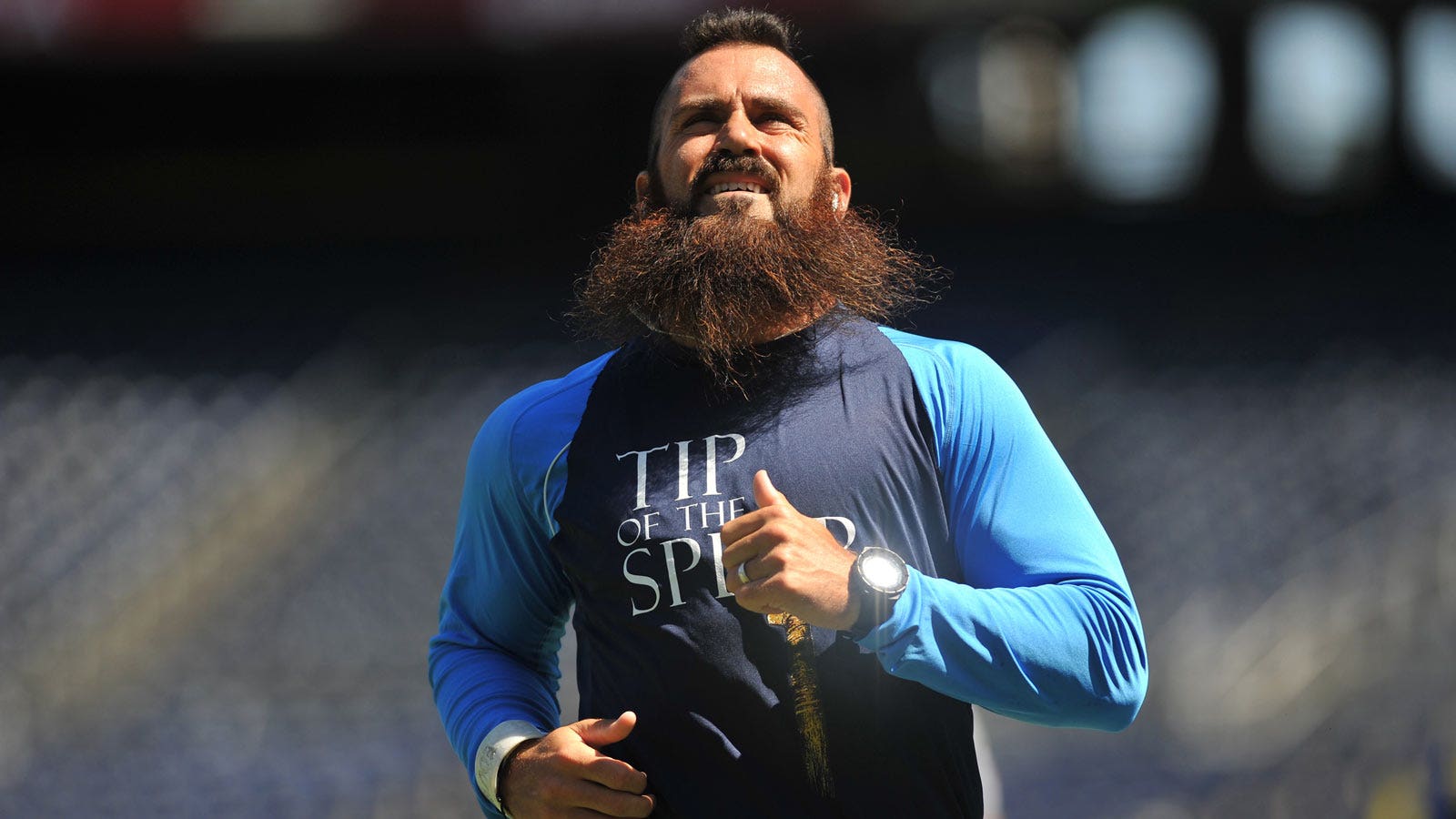 I was really high on Ryan Tannehill when he came into this league. Like need-an-intervention high on him.
I thought he had all the tools when he came out of Texas A&M and I didn't think the Dolphins reached when they took him with the No. 8 overall pick in the 2012 NFL Draft.
@RealSidSaraf @NFLonFOX Ummmm Ryan Tannenhill #FoxMailbag

— TJ Sica (@tjsica17) October 1, 2015
Needless to say, good ole Ryan hasn't backed up my tough talk. He hasn't been bad, but he hasn't been anywhere near what I've built him up to be.
Lonhogger,
Jairus Byrd, eh? Man, I wish there was some comedy there. He may well be overrated, but I wouldn't be the man to prove that.
So, let's move on.
The Future,
As a lifelong Lakers fan … that's a fair criticism at this point in his career. But if you made that statement six years ago, we'd scrap about this.
@RealSidSaraf @NFLonFOX #FoxMailbag…Jairus Bird

— Lenhogger (@JohnLenhoff) October 1, 2015
Dany,
No …. just, no.
Chris,
@RealSidSaraf @NFLonFOX Kobe Bryant ooops Wrong Sport.

— The Future (@IB_Da_Future) October 1, 2015
Does anyone really expect good things out of Kaepernick these days?
ONE LAST ANNOYING TWEET
@RealSidSaraf @NFLonFOX jj watt

— Dany (@dany51asdf) October 1, 2015
James,
Yes, that's fellow FOXSports.com NFL editor — and all-around bad person — James Parziale.
@RealSidSaraf @NFLonFOX Kaepernick

— Chris Sharp (@FCSHIrish) October 1, 2015
Listen here, ass: New York pizza isn't that good. There, I said it. Stop being such a snob.
@RealSidSaraf Russell Wilson, but also all non NYC-pizza. That's the real debate here.

— James Parziale (@JamesParziale) October 1, 2015