NFL Week 5: Off-the-cuff picks
By Andy Nesbitt, FOXSports.com
Here's pretty much what we know after four weeks of the season: The NFL is weird this year.
The Giants and Steelers have as many wins as my dogs. The NFC East is the NFC Least. The Packers are 1-2. The Chiefs are undefeated. Matt Schaub stinks. Josh Freeman is unemployed. Tom Brady basically has you playing wide receiver for him, and the Patriots are still unbeaten.
When you're picking games for a living and your check isn't guaranteed from week to week, this is not good. You start wishing self-confidence could be sold on Amazon.com (with prime shipping). You find yourself not even being able to pick what kind of toppings you want on your pizza. Pepperoni! No . . . Mushroom! No . . . Sausage! Whatever, just put cheese on it (hangs up phone)!
When times are tough and you don't know which way is up, you can do three things: Go see a psychic, drink heavily . . . or do both.
After doing a lot of the second option earlier this week, we trudged down the corner, handed Lady Fortuna a crisp $20 bill, and pleaded for help.
Lady Fortuna: "So, tell me. Why are you here?"
Me: "Well, I just paid you 20 bucks and you don't know? Aren't you supposed to be a mind reader?"
Lady Fortuna: "I can tell you're unwell."
Me: "That may be true, but that's not really why I'm here. I need help figuring out the NFL."
Lady Fortuna: "I see. I see. And the NFL is something about your past, right?"
Me: "What? The NFL is the biggest sport in the world. It's where gladiators put their lives on the line each week. Millions of fans hang on every play. Fans are so passionate they won't hesitate to fight each other in the stands! It's intense!"
Lady Fortuna: "Oh yes, the NFL. I know it well. So what do you need?"
Me: "Like Mike Singletary, I want winners! Can the Cowboys upset Peyton Manning and the Broncos?"
Lady Fortuna: "I'm seeing something about your childhood. Did you lose a lot of games as a kid?"
Me: "Yes, but that isn't WHY I'M HERE. Do you think the Seahawks will finally lose a game this week?"
Lady Fortuna: "You were very lonely as a child, weren't you?"
Me: "Yes, I was. Weren't most kids? But please focus. My job is on the line. Will Matt Schaub and the Texans rebound from a crushing loss and beat the 49ers in San Francisco?"
Lady Fortuna: "Hmmmmmm. Did your father travel a lot for work when you were young?"
Me: "Well, yes, he did. But please, that's not my issue right now. I really need to know if Jay Cutler and the Bears can hand the Saints their first loss of the season. This is a big one."
(A bell starts dinging)
Lady Fortuna: "I'm sorry, but your time is up. For another $20 I can give you all the information you need."
Me: "What would you do if you were me?"
Lady Fortuna: "I would give me another 20 bucks."
And with that sage advice, I quickly left and went back to my strict routine of self-medication.
Reader comments!
Time to look back at some of the best responses from last week's picks. Want to get in on the weekly discussion about football? Hit me up right here or leave a comment at the bottom of this post.
Paul Kuhns wrote: You are so far off on the Seahawks, while the O-line may be missing a few guys, Houston will feel a Texas style storm from the Legion of Boom! …… BTW, how can I get your job where my season-pick average is 56.5% and still have a job, I would have been fired immediately in the blue collar world if my work was that quality!
Me: I've always been told to admit when I was wrong and while I haven't always done that in my past, I'll do it now — I was wrong about the Seahawks. Well, I would have been right if Matt Schaub didn't pull a Matt Schaub and throw that awful pick-six . . . I'm getting off point here. I was wrong, let's leave it at that.
Bryson Thomas wrote: Who cares what the national pundits say? That's how they get their jobs. GO SEAHAWKS
Me: Congrats, Bryson, for leaving me totally confused. But yes, go Seahawks. Sure.
Sean Davis wrote: There is one more thing the 12th man hates more than people talking bad about our Seahawks is LOSERS LIKE SPANDY ANDY NESBUTT PREDICTICTING THE WRONG OUTCOME…GO HAWKS
Me: The one-two combo of Spandy Andy and Nesbutt has left me feeling really sad.
Chris Egan (from Ireland) wrote: I love this column every week but i have to say, they're called 'Roundabouts' not a 'Rotary.'
Me: Thank you, Chris. But here in the US of A we call a roundabout a rotary. I think it was one of the first things we changed after we chased those pesky Redcoats out of our country back in 17something. Though I do enjoy going out for pints.
On to the picks:
Denver at Dallas: Peyton Manning is playing like that kid on your little league baseball team who "developed" a lot earlier than everyone else and hit 400-foot home runs every time he stepped to the plate.  Broncos 38, Cowboys 17.
Baltimore at Miami: Newly acquired offensive tackle Eugene Monroe was so happy to leave the Jaguars he paid for his own flight to Baltimore and upon arrival said he was excited to finally make it to the NFL. Ravens 24, Dolphins 14.
New Orleans at Chicago: Here's how Jay Cutler feels about hearing over and over and over again how good Drew Brees and the Saints' offense has been so far: Bears 24, Saints 23.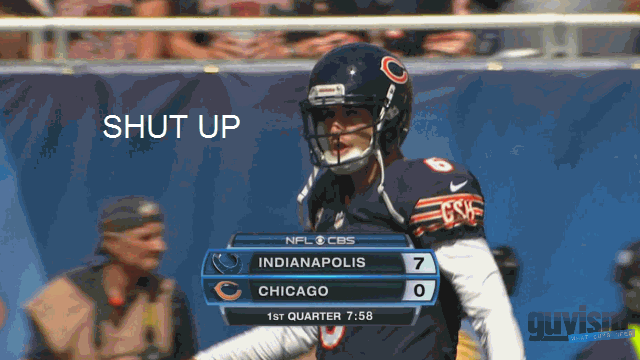 Detroit at Green Bay: Lions vice chairman Bill Ford called the Bears a bunch of "thugs" earlier this week. Apparently he has never been introduced to a certain employee of his named Ndamukong Suh. Packers 34, Lions 21.
Seattle at Indianapolis: Kudos to the undefeated Seahawks for doing the right thing this week and naming Matt Schaub an honorary captain against the Colts. Seahawks 33, Colts 27.
New England at Cincinnati: The Bengals were considered by many to be one of the best teams in football this year. And then the season started. Patriots 27, Bengals 24.
Philadelphia at New York Giants: Picking between these two teams is like trying to pick which girl to ask to the prom after all the good-looking ones have been scooped up. Giants 20, Eagles 14.
Jacksonville at St. Louis: How do you know when your team is really, really bad? Vegas makes you a double-digit underdog against the Rams.  Rams 23, Jaguars 9.
Kansas City at Tennessee: Raise your hand if before the season started you thought the Chiefs and Titans would be a combined 7-1 right now. You liars! Chiefs 23, Titans 20.
Carolina at Arizona: Just Googled "Does Larry Fitzgerald still play in the NFL?" and was mildly surprised by the results. Panthers 20, Cardinals 13.
Houston at San Francisco: Matt Schaub quit Twitter this week. Texans fans wished he quit football two weeks ago. 49ers 31, Texans 10.
San Diego at Oakland: Thanks to the MLB playoffs, this game won't start until 11:30 p.m. ET. And suddenly everyone wishes they lived on the East Coast. Raiders 23, Chargers 17.
New York Jets at Atlanta: Mark Sanchez's simple text message to Geno Smith after Geno had his own butt-fumble last week: "Thank you, LOL." Falcons 33, Jets 13.
Last week: 8-6
Season:  34-26