NFL Week 1 Awards: Adrian Peterson breaks his promise to us
Is there anything better than the first Sunday of the NFL season? No way. Week 1 gave us upsets, comedy … and the Cowboys, who can foul up a game in the funniest way possible.
Anyway, we've got a lot of hardware to hand out, so let's stop wasting time and get started.
1. First Annual Lying Liar-Pants Award: Adrian Peterson, Vikings
The Vikings did a lot of good things Sunday, starting the Mike Zimmer era off with a dominating win over the Rams. That's all fine and good, but Peterson promised us more, saying that he would take his first carry of 2014 to the house for a touchdown. Well, Sunday came and what happened? On first-and-10 from the Vikings 10-yard line, Adrian ripped off a 7-yard run. For those of you counting at home, that's 83 yards short of a touchdown. Boo this man!
2. Who the H— Is This Guy Award for Week 1: Allen Hurns, Jaguars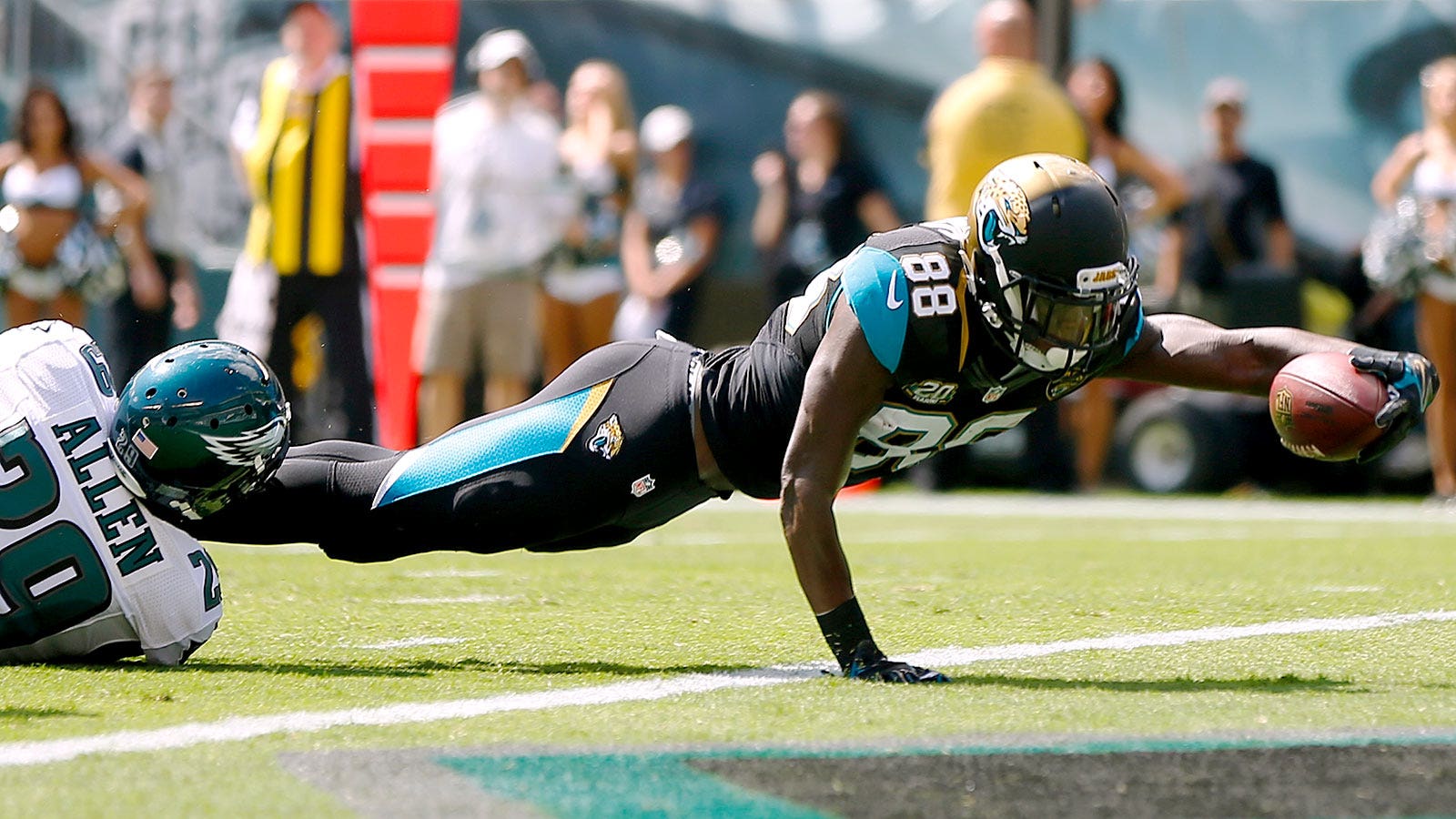 Maybe you're a football nerd and you know that Hurns came to Jacksonville as an undrafted free agent this year. Maybe you have a life and had no clue who he is. Get used to hearing his name. Hurns pulled down two touchdown grabs against the Eagles, and although his team is still the Jaguars and they ended up blowing a big lead and losing, Hurns made a name for himself. Before the game began, he was owned in just 0.6 percent of FOXSports.com fantasy leagues. Uhhh, yeah, expect that number to grow soon.
3. I Hate Marching Bands Award: Graham Gano, Panthers
People who love marching bands are usually in marching bands. Most everyone else views them as strangely dressed reasons to go get a beer. Gano found himself in the middle of the Bethune-Cookman marching band at halftime of the Panthers' game against the Buccaneers. Here he is just trying to practice kicking — because he's a kicker and kickers have literally nothing else to do — and some high-stepping trombone player is getting in the way. So, Gano did what anyone would have done in his situation.
That's right, a well-timed shove always helps. Marching bands … SMH.
4. I Really Love That I Can Throw To Gronk Again Award: Tom Brady, Patriots
Mr. Brady is a great quarterback no matter what. However, he seems even greater — and more handsome, if that makes sense — when he has a giant target to throw to in the end zone. Welcome back, Rob Gronkowski! Tommy Boy found Gronk for a first-half touchdown and proceeded to assault his tight end with a well-intentioned tough-guy celebration.
Alas for New England, the good times were short-lived, as the Patriots collapsed in the second half and lost to the Dolphins.
5. First Annual Mercury Award For Excellence in Footwear Flight: Lamar Miller, Dolphins
Shoes can come off in the heat of battle. It happens from time to time. What doesn't often happen is a shoe going into orbit, which is what seemed to happen to Miller's left cleat Sunday:
Good lord, look at that thing go! The best part is watching Miller get after the football while the shoe lands — with what I imagine to be a "plop" sound — lazily in the foreground. Epic.
6. A Really Funny Mashup of Antonio Brown's Kick and 'Coming To America' … Award
By now, you've probably seen the replay of Steelers receiver Brown kicking Browns punter Spencer Lanning in the face. And hopefully, you've seen the Eddie Murphy classic "Coming to America." (If you haven't, you suck … there, I said it.) Anyway, some bright soul out there decided to combine Brown's kick with one of the most memorable lines from the film. Check it out:
7. Joan Rivers Award For a Hilarious Comeback After Being Kicked in the Face: Spencer Lanning, Browns
Lanning was the one who took the boot to the dome Sunday, but don't think he sat around being bitter about it. In fact, he took to social media after the game to craft a truly humorous take on the kick. One that Joan Rivers — RIP to a legend — would have appreciated.
Wait, wait, wait… When did this happen?!? pic.twitter.com/SzU9wDVx23

— Spencer Lanning (@LanningSpencer) September 7, 2014
8. First Annual Clint Dempsey Award for Superior Bicycle Kicking: Maurice Jones-Drew, Raiders
It's still weird to say that MJD plays for Oakland, right? Anyway, the diminutive running back took a handoff from Derek Carr early in the third quarter and was met immediately by a clothesline from Jets linebacker Quinton Coples. The ball popped out of his hands and — before it hit the ground — made contact with his left foot and flew toward the heavens. Backward.
Luckily, Carr was there to pounce on the ball and save a turnover. Unluckily for the Raiders, they didn't win in New York.
9. Week 1 Cup Check Award: Tim Jennings, Bears
The NFL made a big deal about defensive holding this offseason, instructing refs to call the penalty closer in 2014. Well, when Buffalo's Robert Woods went up for a catch against the Bears on Sunday, defensive back Tim Jennings did this: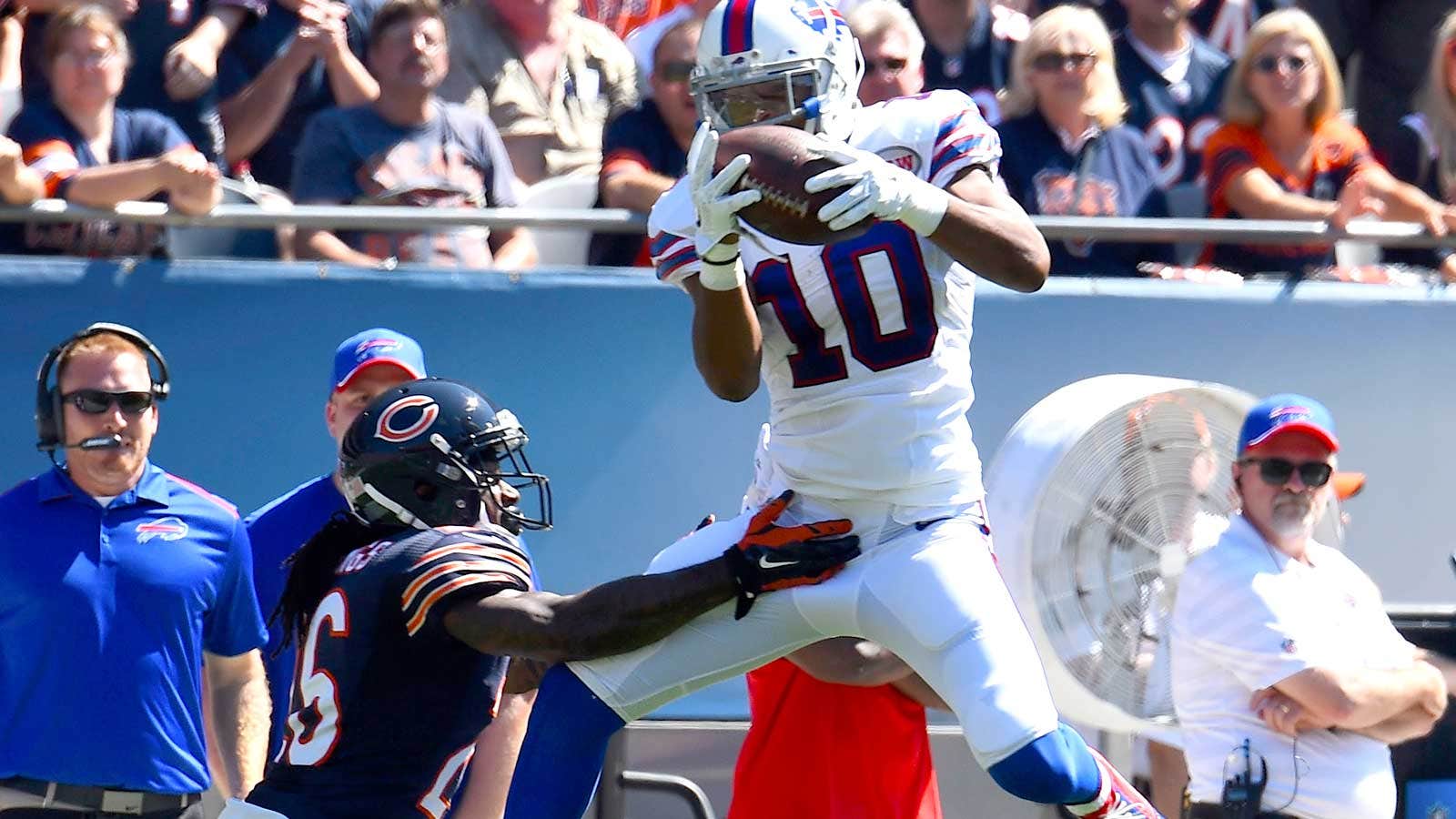 Yes, this is just a split-second shot and Jennings more than likely didn't intend to put his hand there. But come on, Tim, be a little more careful next time. By the way, karma struck Chicago down as Buffalo won in overtime.
10. Tommy DeVito Award For Misplaced Rage: Rob Ryan, Saints
The burly defensive coordinator is well known around the league for his signature hair and his fiery and fun personality. Sunday wasn't a good day for his crew as the Falcons moved the ball with ease and eventually won in overtime. Ryan was frustrated and took out his anger on:
That's right, his game plan. I understand his pain. I often mercilessly beat my tennis racket into the ground after my sixth consecutive double-fault. Actually, I'm kidding … I would never play tennis.
11. Dance of Joy Award for Week 1: Rex Ryan, Jets
Let's keep it in the family with this next piece of hardware. The Jets scored a touchdown against the Raiders on Sunday. and that gave Sexy Rexy an excuse to channel Balki and Cousin Larry — look it up — and bust out some awkward moves:
TOUCHDOWNS MAKE REX RYAN HAPPY

href="http://t.co/8nbqB6tgnh">http://t.co/8nbqB6tgnh

— SB Nation GIF (@SBNationGIF)

href="https://twitter.com/SBNationGIF/status/508702588972191744">September 7, 2014
Nobody does happiness like Rex. Love it.
12. This Week in Hugh Douglas
Mr. Douglas was a highly respected player for the Jets and Eagles. He's retired now, but he's active on social media and has a pretty funny Twitter account. In fact, each week we'll share what the big man is up to. Here's what happened on Sunday:
Damn you autocorrect !! Brees!!!!!

— Hugh Douglas (@Bighugh53)

href="https://twitter.com/Bighugh53/status/508704747558150144">September 7, 2014
Stupid smart phones thinking they know more than us! Just let us spell Drew Brees!!!! I know your pain, dude.
13. How to Keep Pacman From Eating You Award: Steve Smith, Ravens
Hey, Steve Smith is in Baltimore now! And he's still doing what he does best: catching passes and trucking fools. Sunday was no different as he pulled down a pass from Joe Flacco and — instead of trying to outrun Bengals DB Pacman Jones — decided to throw him to the ground instead:
Don't try to get in Steve's way. You'll get hurt.
14. Tony Romo Joke of the Week Award: Aaron Torres
It's like shooting fish in a barrel sometimes. With every Cowboys game that is littered with flubs — redundant? — jokes on social media come at a fast and furious pace. Well, after Big D laid a Big Stinkbomb in the first half against the 49ers, we got this offering from FOX Sports LIVE writer — and FS.com contributor — Aaron Torres.
The good news for Cowboys' fans is that Romo is only 34. He'll surely figure it out at some point

— Aaron Torres (@Aaron_Torres) September 7, 2014
Good stuff, my man!
15. 12th Man Award for Excellence in Traveling Fandom
It takes a dedicated fan base to take over an opponent's stadium. 49ers Nation acquitted itself well Sunday as the stands at Jerry World were filled with a sea of red:
The game is in Dallas right? pic.twitter.com/LZU3pmoG2i

— NFL Memes (@NFL_Memes) September 7, 2014
Nice job, people!
16. Ansel Adams Award for Superior Punt Block Photography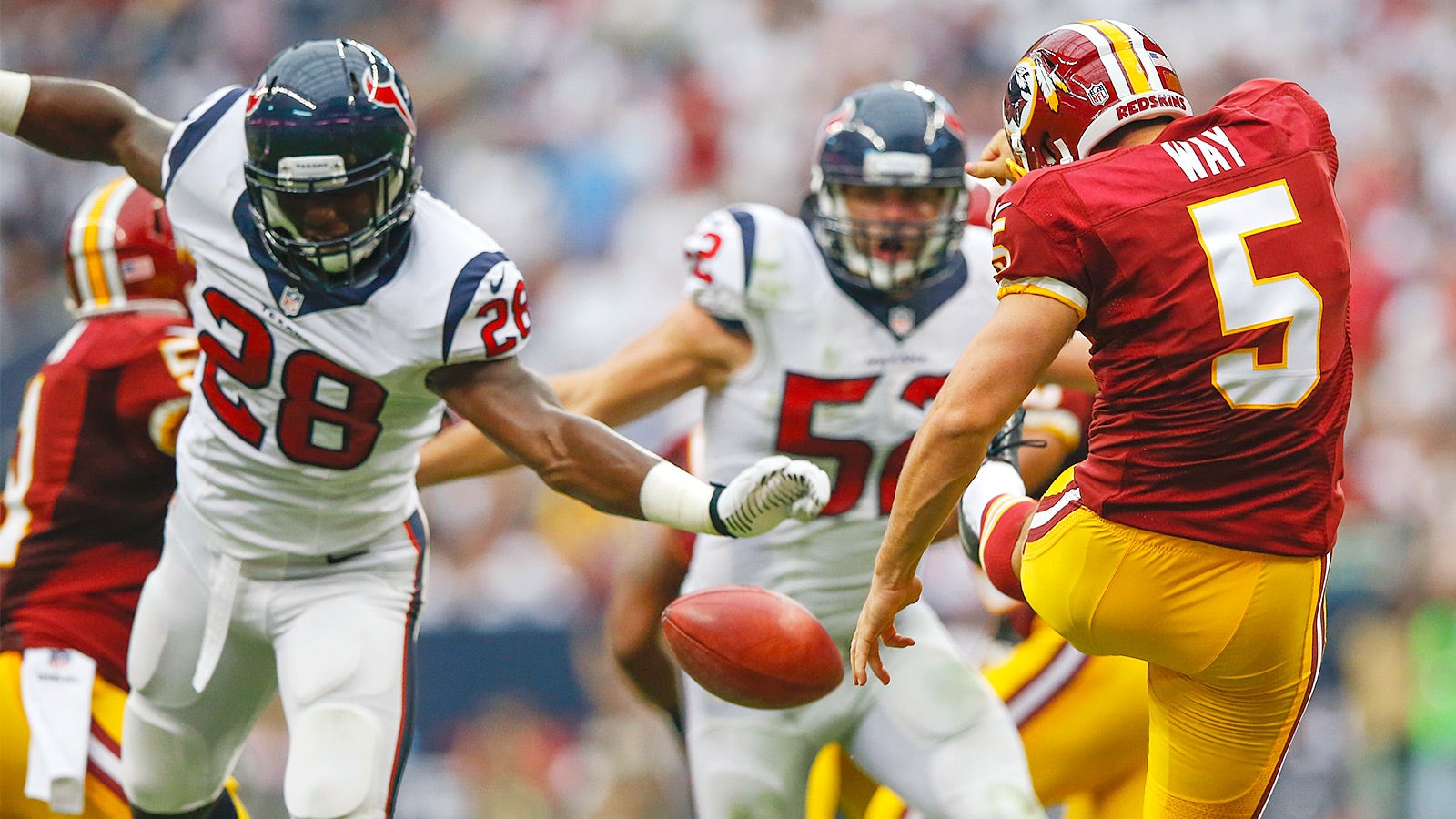 Houston's Alfred Blue blocked a punt Sunday, and it was captured with this shot:
It's so rare to capture one on film.
17. Most Adorable Helmet-Slam of the Week Award: Andrew Luck, Colts
Andrew was having a tough time in Denver on Sunday night. Mistakes, miscommunications, the whole nine yards. At one point in the second half, he just had enough.
18. Week 1 Award for Biggest Truth Bomb
If you don't follow Fantasy Douche on Twitter, you're missing out. This week, he captured what was running through the head of every NFL fan in the world:
Goddammit football is fun.

— Fantasy Douche (@FantasyDouche)

href="https://twitter.com/FantasyDouche/status/508699366836539392">September 7, 2014