NFL warns players that excessive celebrating won't be tolerated
Ross Jones, FOXSports.com
NFL officials forewarned players at both the Vikings and Panthers camps of the dangers of celebrations where one "spins" the ball following a big play or a touchdown. Oh, brother.
This season, players will be penalized 15 yards if an official determines he was trying to taunt an opponent, according to Pro Football Talk. Sure, this will definitely win over the fans.
Although this rule isn't new, officials "will be stricter about enforcing that rule this year than they were last year."
Several types of other celebratory acts will also no longer be allowed and will be penalized accordingly, PFT notes.
"These acts include but are not limited to: sack dances; home run swing; incredible hulk; spiking the ball; throwing or shoving the ball; pointing; pointing the ball; verbal taunting; military salute; standing over an opponent (prolonged and with provocation; or dancing."
Let's take a look at what is strictly prohibited:
Hey Bengals defense, good luck getting away with your Gangnam Style dance after a sack
You too, JPP
Just what the hell are you exactly doing here, Clay Matthews?
Really, Von Miller? SMH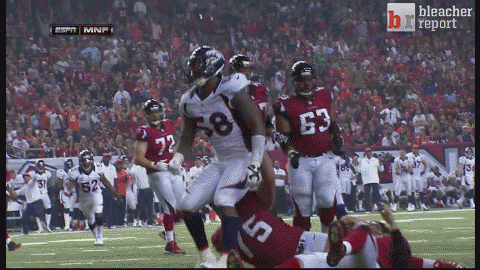 Alfred Morris, your tribute to your little league baseball team will not go over well with the refs
So, let me get this straight. The Mile High Salute is banned, but not the Lambeau Leap?
Mr. Kaepernick, you know spiking the ball is a big no-no
This one isn't illegal, but Michael Boley's celebration is very memorable
Well, there you have it. When you make a big play, flip the ball back to the ref and get lined up.
Questions? Comments? Send them to lacesoutmail@gmail.com and we might respond in our weekly mailbag!