Monday night mini-awards: Honoring the NFL's double feature
After the release and fallout of the Ray Rice elevator video dominated the news Monday morning and afternoon, the NFL turned at least some of its attention to the field at night, Week 1 ending with the now-traditional double-dip. The Lions, Giants, Cardinals and Chargers did their best to start off the season with a win (well, the Lions, Cardinals and Chargers did, at least), and in the process earned some hardware. So let's hand it out.
1. Unstoppable Force Award for Week 1: Calvin Johnson, Lions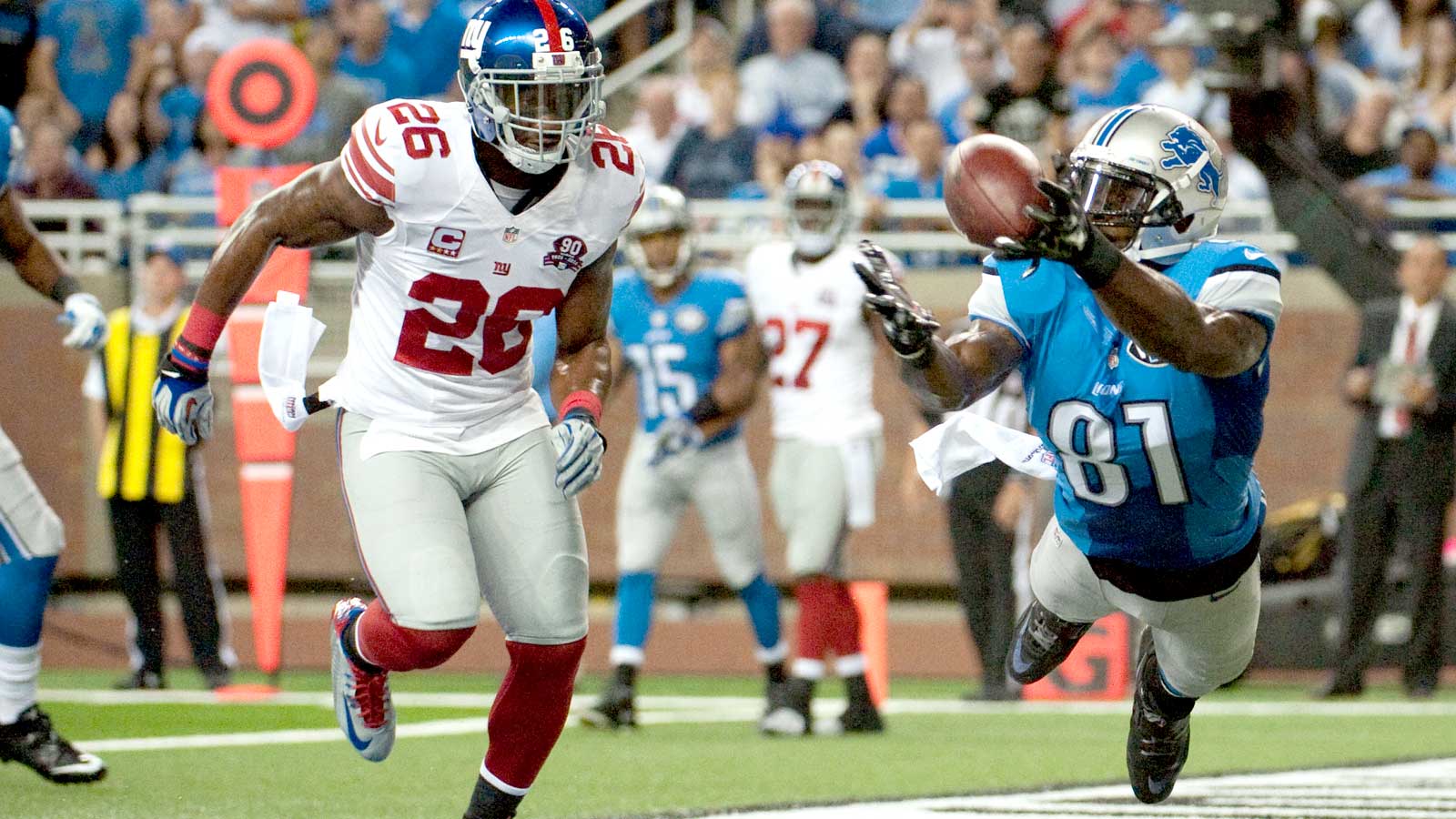 Megatron is the closest thing to automatic in today's NFL. After injuries plagued him through the last half of 2013, Johnson came out blazing on Monday. He caught seven passes for 164 yards with two touchdowns in the Lions' 35-14 win over the Giants. He also tied a team record with his 107th consecutive game with at least one reception. All you have to do is set it and forget it with him.
2. How the H*** Does an NFL Receiver Get This Open Award: Johnson
Much was made about the Giants and their offseason acquisitions in the secondary. Big Blue went out and added some nice names like Walter Thurmond (Seattle) and Dominique Rodgers-Cromartie (Denver) and the unit seemed primed to be the strong point of the defense. So, we're struggling to find a reason why Johnson was all alone here:
That has to be the easiest touchdown grab of Johnson's career. And just real bad defense.
3. Back to the Drawing Board Award: New York Giants' offense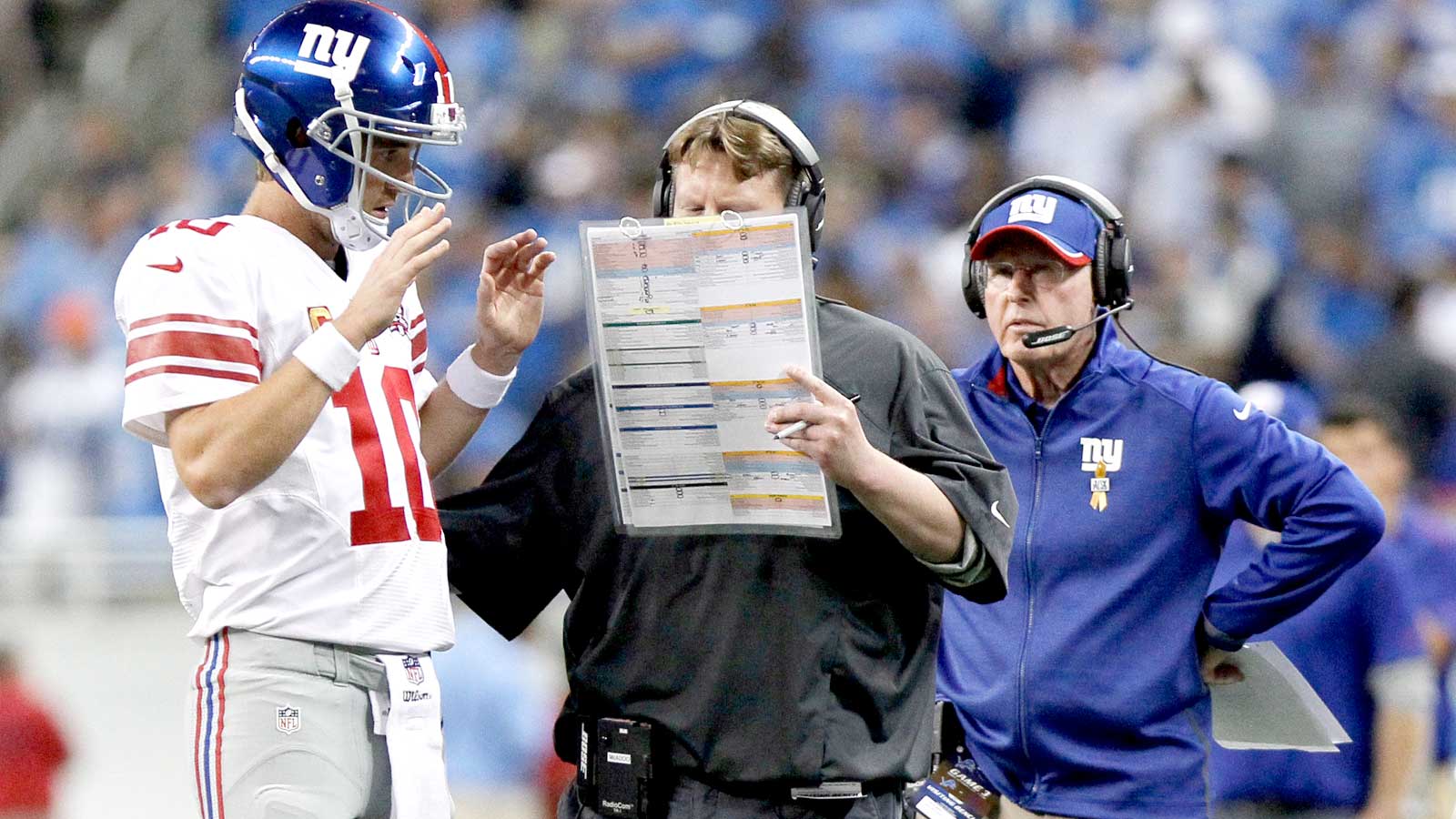 As bad as the new-look New York secondary looked, the new-look Giants offense wasn't any better. The G-Men got rid of Kevin Gilbride after last season and brought in Ben McAdoo — and his West Coast system — to take over as new offensive coordinator. Monday night's debut was . . . ugly. The Giants had just 197 total yards and were 3 of 13 on third downs. Much of the struggles can be blamed on a shoddy offensive line, which made even the most basic of plays a trying experience. McAdoo (shown behind the play card) and the Giants will have a short week to prepare for a matchup against the Cardinals at home on Sunday. Let's see if things change.
4. Saddest Quarterback in Michigan Award: Eli Manning, Giants
But it did give us a chance to display a sad Eli gif:
At least there's that.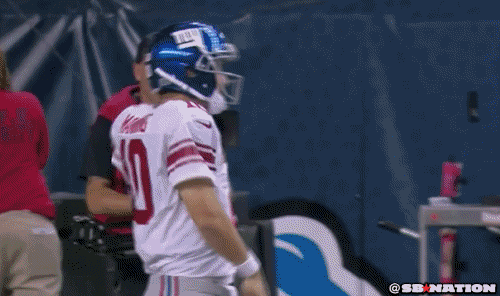 5. Sickest Interception of 2014 (thus far) Award: DeAndre Levy, Lions
Manning's loss was Levy's gain on Monday night. The linebacker twisted his body and in a display of natural talent and concentration, somehow managed to pull down this interception:
The play was reviewed, but the play stood. Watch it over and over. How did he do that?
6. Golden Rookie With the Coolest Name Award: Jeremiah Attaochu, Chargers
The first-year linebacker out of Georgia Tech showed why the Chargers made him a second-round pick in May's NFL Draft. He blocked a punt and had a strip-sack that led to 10 San Diego points. Now that's how you make a debut in this league. Bravo, sir!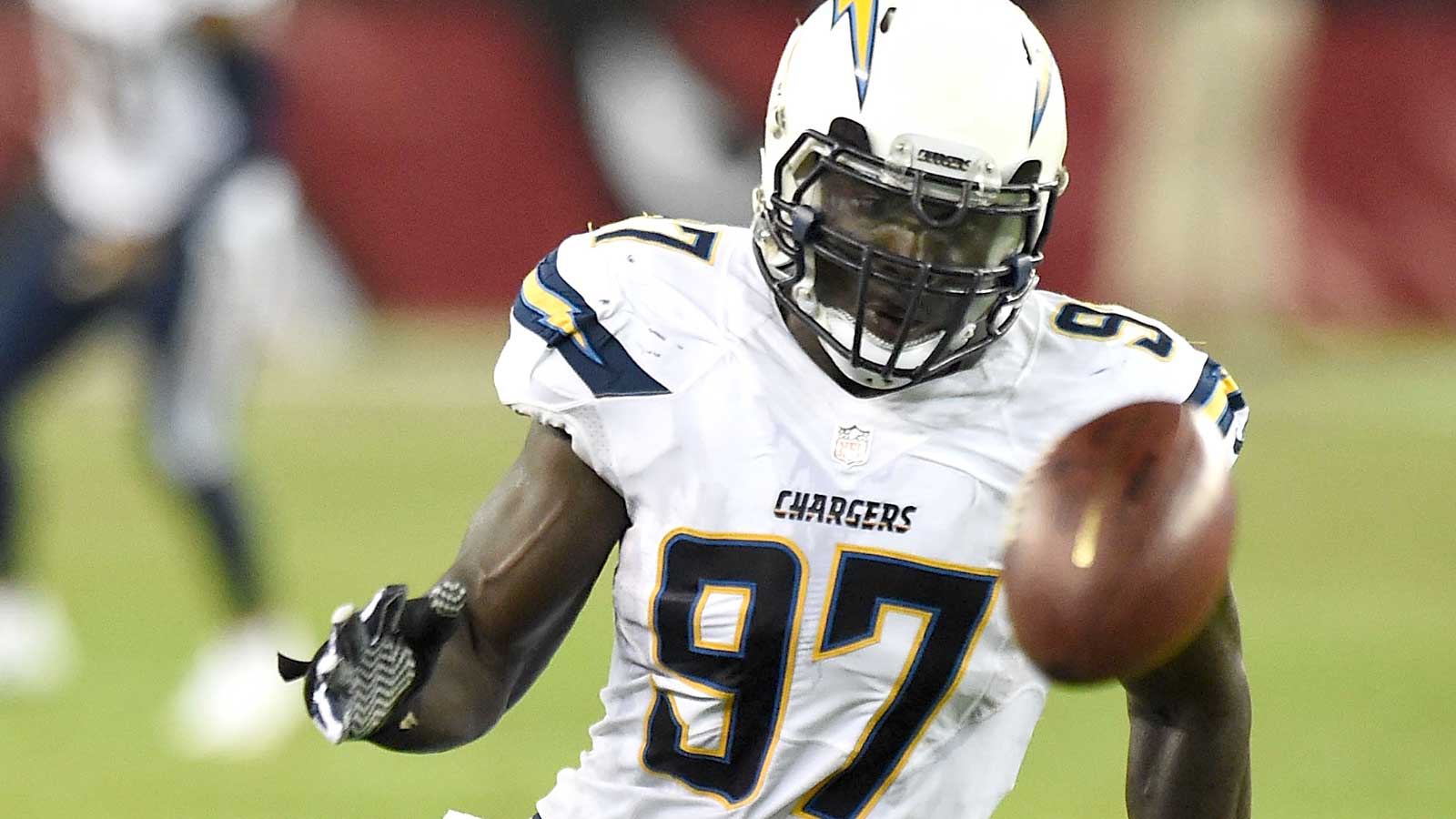 7. Just Due for a Living Legend Award: Kurt Warner
The retired quarterback (and possible future Hall of Famer) was inducted into the Cardinals' Ring of Honor at halftime on Monday night. He now joins the likes of such franchise greats Dan Dierdorf, Aeneas Williams, Pat Tillman and Dick "Night Train" Lane.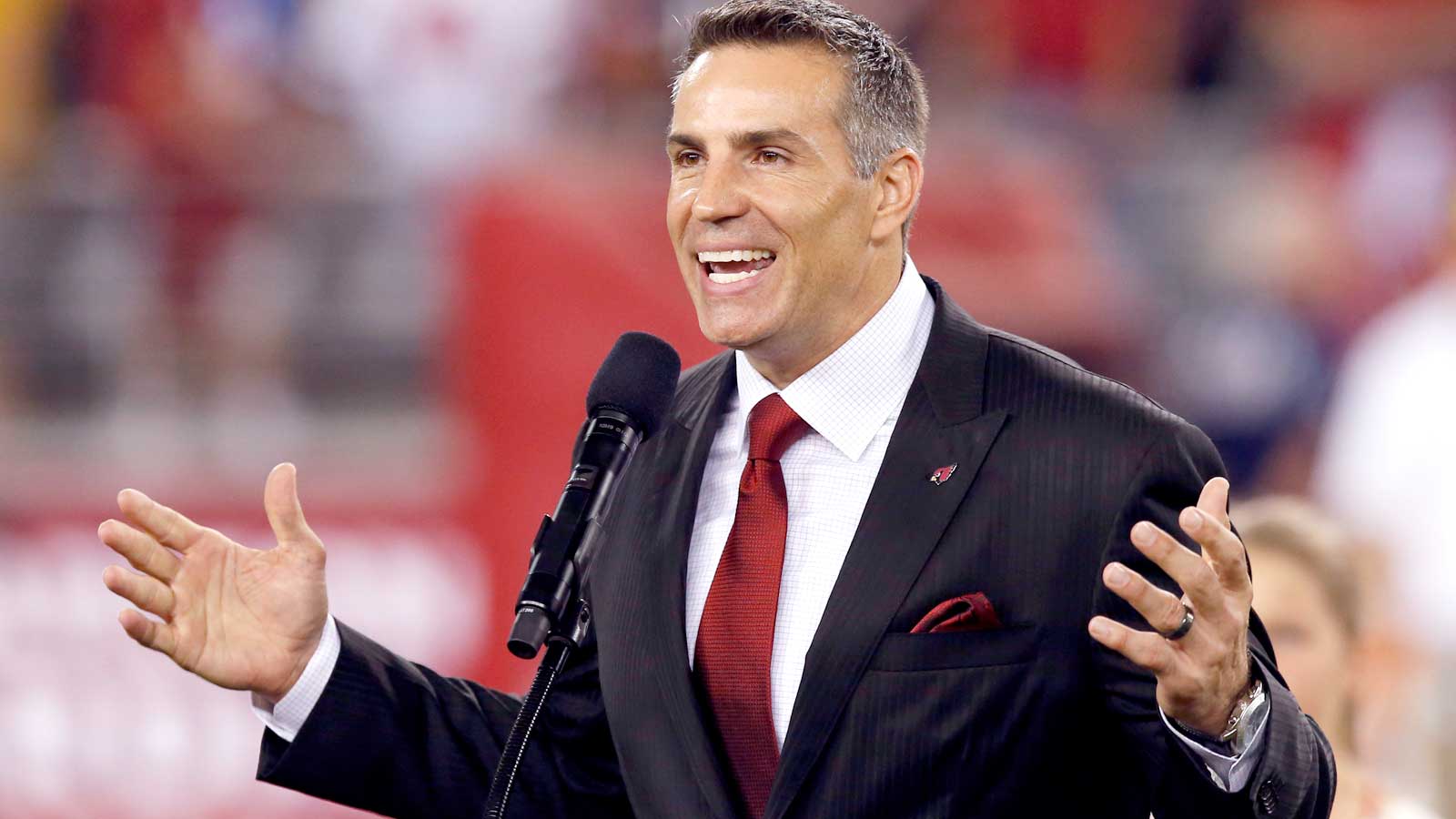 8. Peter Schrager Rookiegasm Award: John Brown, Cardinals
If you follow FOX Sports NFL reporter Peter Schrager, you'll know that he LOVES him some John Brown. In fact, Schrags tabbed the receiver out of little-known Pittsburg State to be the 2014 rookie of the year. That's some big expectations. Brown had just two catches on Monday night in his professional debut, but his second catch was this:
That's Brown catching a quick screen, making a nifty move and scoring the game-winning touchdown. Not bad, rook. Keep it coming.
9. He's Still Around and Still Getting it Done Award: Carson Palmer, Cardinals
It's been so fashionable to bash the veteran quarterback over the years. He's old, he's washed up, he's never been able to win the big game. Whatever. Palmer turned in a dandy of a performance in the 18-17 win over the Chargers, completing 24 of 37 passes for 304 yards and two touchdowns without an interception.
What's more, he ran for another 29 yards on the ground. That's right, the old man ran. Food for thought: The Chiefs' Jamaal Charles, considered among the top three running backs in the game, had just 19 rushing yards in his Week 1 game. For one week, at least, Palmer > Charles.
A lot of things go into making a successful play in the NFL. The Chargers needed everything to go right late in the fourth quarter while trying to get into range for a potential game-winning field goal. On fourth-and-2 with less than two minutes left in the game, this happened:
Ooof. Philip Rivers and the Bolts did manage to get a timeout called before the delay of game was called, but Rivers' pass after play resumed was tipped and fell incomplete, and San Diego left the Valley of the Sun with a painful defeat.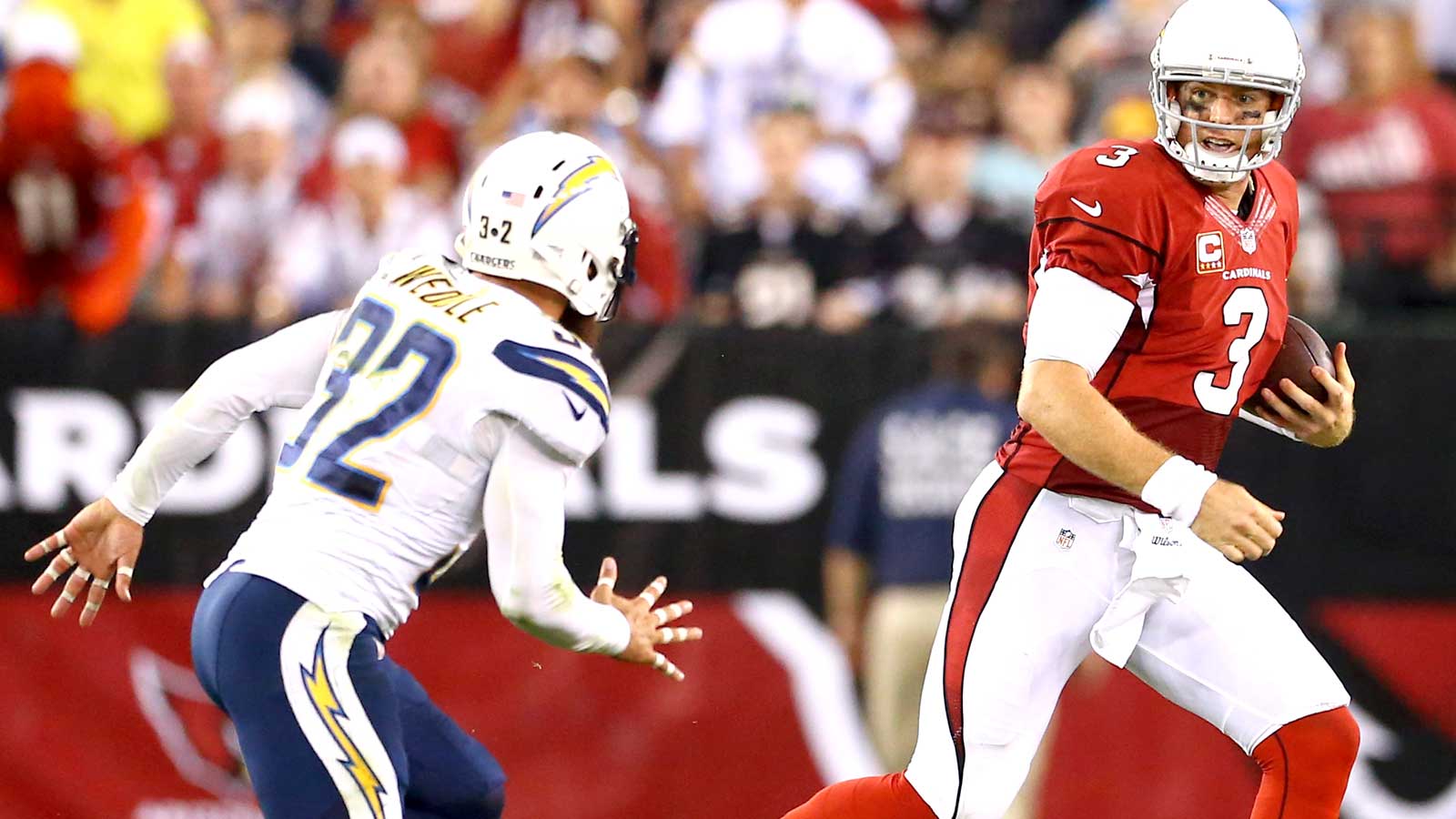 11. First Annual Award for Looking Like Guy Fieri With Blue Paint On: This guy
Good lord, this man must go full throttle all the time.