A Mail-it-in New Year: All of your hopes and dreams for 2015
We're back!
It's the first day of 2015 and we couldn't be more fired up. Hopefully all of you got after it on Wednesday, but managed to avoid ringing in the new year with a five-alarm hangover. But even if you failed and are sitting on the couch with a blanket around your shoulders and a bucket nearby, don't be sad. Wild-Card Weekend is just two days away, so let's celebrate with another batch of reader mail.
Remember, if you want your thoughts featured here, fire off an email to foxsportsnfl@gmail.com or tweet us using #FoxMailbag. Also, you can just tweet me @RealSidSaraf. OK, let's get to work.
FIRST, A REQUEST
Clovis wrote,
My name is Clovis and I live in Ft Worth Texas. Several years ago I was a manager at Ft worth Sports and won a signed football by Troy Aikman. Over the years the autographed football has faded but you can still make out his autographed on it. Could you ask Troy when he is in the area if he could please reach me so I could met him and have my football resigned by him.
Well, I can ask him, but it might be a bit difficult right now. There's this thing called the "NFL Playoffs" going on and I'm pretty sure Troy is busy with that. He might not have the time to meet you in a parking lot for some sketchy signing session.
Furthermore, why didn't you put the signed football in some kind of glass case? That would have preserved the autograph, just sayin'.
BLACK MONDAY REWIND
We're just a few days removed from the annual coach firing extravaganza. We asked you readers for your thoughts and as always, you didn't disappoint.
maseusmc28 wrote,
@RealSidSaraf @NFLonFOX horrible to poke fun at people getting fired

— Beat UT back to ATX (@maseusmc28) December 29, 2014
I would accept your criticism if I was actually poking fun at anyone. I don't derive any pleasure from someone losing their job … unless it's Ray Handley. He was awful.
I've said it before: I don't understand why anyone would want to be an NFL head coach. The hours are awful, the people you're in charge of (players) are usually an over-indulged bunch and you get WAY too much blame when things go south.
Can you honestly tell me that Rex Ryan should have been a playoff contender with that rag-tag bunch in New York? Good lord, the fact they won four games — and were in almost every game — this season is an accomplishment. Having consistent success in the NFL requires everyone to work perfectly in sync. You need ownership, talent evaluators, game-planners and — gasp! — players to work in perfect harmony.
Too often the coaches are the ones who pay the price when an organization turns into a dumpster fire. I'm not a fan of that.
Action Jackson wrote,
#foxmailbag how is it atl fired mike smith being one of the best coaches we've had since jim mora

— Action Jackson (@xxLRGmuda) December 29, 2014
My colleague Knox Bardeen over at FOX Sports South wrote a great piece on the Falcons' situation on Tuesday.
Apparently, the ATL was a house divided, which is strange because things looked just peachy if you watched "Hard Knocks" over the summer. But yes, Mike Smith and his coaching staff had a fundamental disagreement with general manager Thomas Dimitroff and owner Arthur Blank over how to build a defense.
Long story short, it appears Smith got his way and . . . well, you saw the results.
The Falcons were dead last against the pass and 21st against the run. That won't fly (word play!). Smith got a mulligan when things went hooey in 2013. He wasn't going to get another one. The NFL is a results business and even though Smith brought the Falcons back from the dead after the disastrous ending to the Michael Vick Era, his time just ran out.
Don't worry, he'll be fine. I'm sure he'll pop up somewhere. Coaches always do.
Mike wrote,
I've coached football for over 15 years, and played the game at many levels. With that said, I'm really getting sick and tired of hearing folks talk about the "fate" of Tom Coughlin. I think everyone should get off Couch Coughlin, and address the real problem; that non-athletic, weak, pitiful excuse for a quarterback, Eli Manning. People always bring up his Superbowl and MVP titles. First, the Superbowl rings are 100% the result of his supporting cast, NOT Eli Manning. Second, Eli will NEVER be Payton, regardless what people continue to fantasize about. His MVP title was a slap in the face to every member of the Giants' defensive unit. So let's leave Coach Coughlin where he is, untie his hands, and lose the loser Manning brother, and find the leader that the Giants offense has been needing for so long at the quarterback spot.
Life long Giants fan.
Sent from my Verizon Wireless 4G LTE DROID
I love that Mike sent this diatribe from his cell phone. I can just imagine him sitting in a sports bar furiously pounding away at the keys. "I'm 'bout to tattoo this Eli clown!"
Don't worry, Mike. The Giants decided to keep Coughlin for another season, so it seems your wishes have come true. But, unfortunately for you, it seems they're still pretty happy with Eli. The suffering continues. Sigh.
NEW YEAR'S WISHES
Now, that we've started another cycle of 365 days, I asked for your hopes and dreams for 2015. Here we go.
#CUTJOHNNY wrote,
@NFLonFOX @RealSidSaraf #FoxMailbag for the browns to cut johnny an find out franchise qb @browns

— #GOBUCKEYES (@MrcavsBball) December 30, 2014
Poor Browns fans. How many times have you asked the team to find a franchise quarterback? By all counts, it's 22 times since 1999. No franchise should go through that kind of suffering. Unless you're the Patriots. They've had it way too good for way too long. Dark times are coming for you, New England.
Anyway, back to Manziel. I'm with you. I'm done with him. I enjoyed the whole "money sign" thing and I loved watching his breakneck speed of football when he was tearing it up at Texas A&M.
But he's slowly circling the drain and last week's nonsense was the topper. Johnny, dude, you have a job. I enjoy partying as much as the next person, but when you start blowing off work appointments you need to check yourself.
There are people out there who say that Manziel is just a kid and people need to have patience with him. Screw that. He hasn't done enough for people to wait for him to grow up. He played in one game and he stunk out loud. What's more, I didn't appreciate his "I'm going to take things seriously from now on" garbage.
This is the NFL. If you didn't know to buckle down and learn your craft before this point, then I don't know what to do with you. Quite frankly, I'm amazed LeBron James even talks to Manziel. That guy has championship rings and MVP awards stacked up in his house.
What does Manziel have? Stacks of cash his Dad gave him? Pass. Cut him and find someone who isn't more concerned about which party he's going to after he gets done with the "annoying football practice" thing. /EndHotSportsTake
Andrew (a Chiefs fan) wrote,
@RealSidSaraf have a wr catch a TD

— Andrew DeWitt (@AndrewRDeWitt) December 30, 2014
No doubt. I can't believe the Chiefs actually achieved what seems impossible: They made it through an entire 16-game season without a wide receiver catching a touchdown pass.
Treasure this, Andrew. You're going to win at bar trivia with this statistic someday.
James wrote,
A thousand times yes. I would really love the 49ers to get their act together on offense. Simply because I have several friends and family who are diehard 49ers fans and I'm sick and tired of listening to them bellyache about it.
@NFLonFOX @RealSidSaraf #FoxMailbag for the niners to be able to produce on offense and be able to utilize their weapons

— James Nazzal (@rabman650) December 30, 2014
"Why won't they hand off to Frank Gore?! Waaah!"
"Why won't they use Kaepernick right?! Waaah!"
"Why does our stadium suck?! Waaah!"
"Why don't they fire Jim Harbaugh?! Waaaah!"
"Why did they fire Jim Harbaugh?! Waaah!"
"Why does Jim Harbaugh look so happy at Michigan?! Waaah!"
See what I'm dealing with? So, I'm begging Jed York and Trent Baalke to bring someone in who can get this thing off the ground. Someone who has a reputation for offensive innovation and doesn't seem to care about defense all that much.
Hey, this guy is available!
OK, maybe I went too far.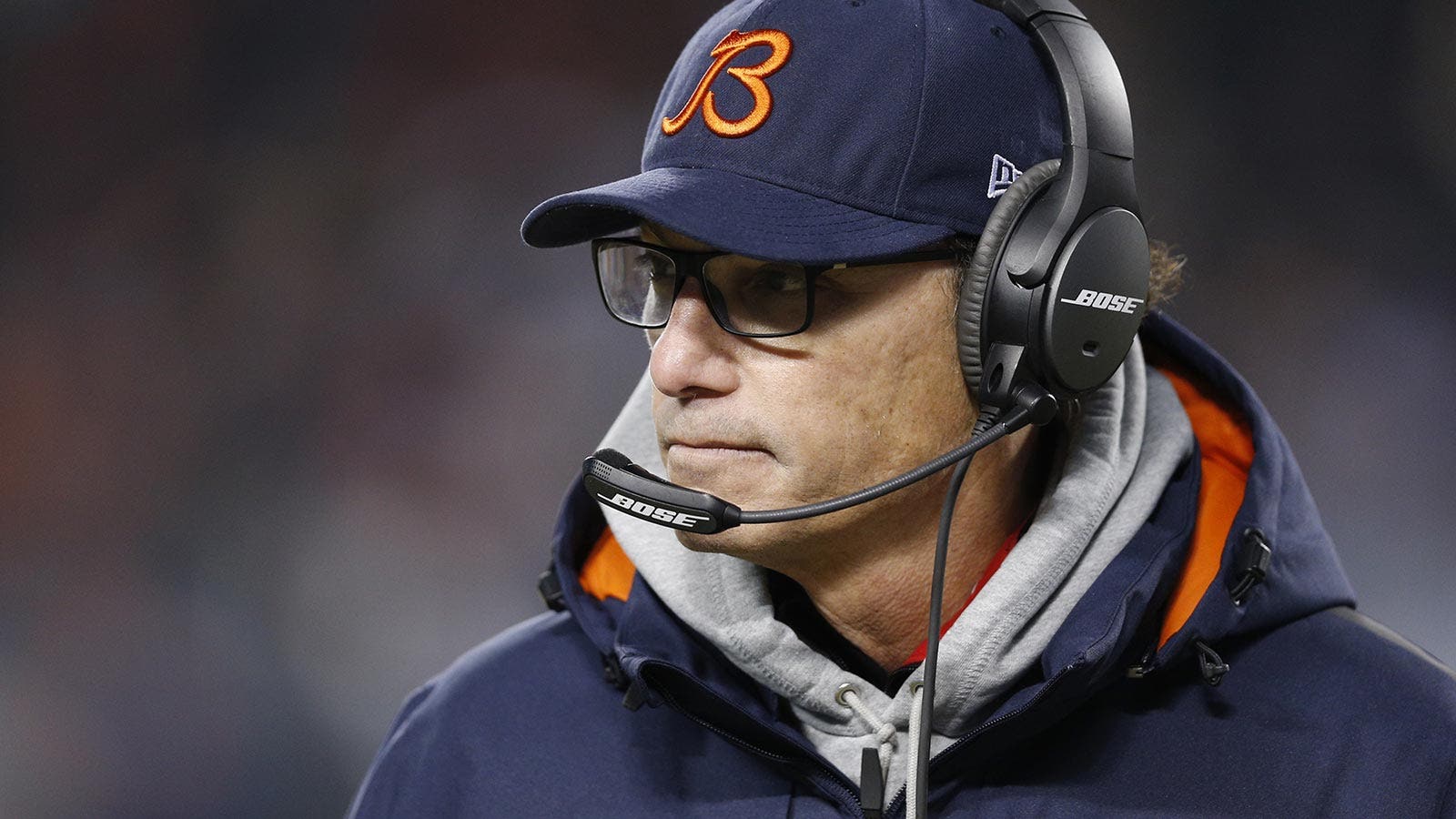 Buffalo wrote,
I don't know. The Bills had Kyle Orton in 2014 and still fell short of the postseason. If Orton Magic can't conjure up a playoff berth, what hope is there going forward?
@NFLonFOX @RealSidSaraf the Bills actually make the playoffs #foxmailbag

— Buffalo (@BuffaloWillRise) December 30, 2014
Isaiah wrote,
Welp, they've got the second pick in the draft, so at least one will be available.
@RealSidSaraf #foxmailbag @TennesseeTitans draft either Marcus Mariota or Jameis Winston

— Isaiah Peel (@peelsreel) December 30, 2014
If I had to pick one, I guess I'd go with Mariota. Despite all the blather about him being a "system quarterback" and yadda, yadda, I prefer the guy who doesn't make mistakes. And Mariota, in three years at Oregon, threw just 12 interceptions. That's ridiculous.
I'm not dogging on Jameis' skills. The guy can flat-out ball and hasn't lost a game (as of this writing) in two seasons at Florida State. I'm just concerned about the off-the-field stuff. I'm not going to rehash everything here, because we all know it.
Some people have said that Tennessee would be a good spot for him because he'd be "out of the national limelight," so to speak. I don't really buy that. There's no place to hide in today's world and Nashville isn't some cow town. I'm sure reporters and media will be able to swarm Titans headquarters and turn their training camp and everything after into a circus.
What's more, Jameis Winston found a way to get himself into trouble in Tallahassee. If he can screw up there, what makes you think he couldn't find trouble in a major city like Nashville?
That's not to say he will screw up on the next level. In fact, I'm pulling for him to get it together. But, there's no denying the risk. Hence, I'm going with Mariota here.
Lisa wrote,
Settle down, Lisa. Nobody likes a happy Seahawks fan. But good luck to you and the rest of you going forward. Let's have a great 2015!
@NFLonFOX @RealSidSaraf @Seahawks #SuperBowl_XLIX #OfCourse #Biensur #GoHawks #LOB #LegionOfBoom #12s !!!

— Lisa Whitley (@diegosheart) December 30, 2014