Mail-it-in Friday: Your NFL dreams and Deflategate hot takes
This is going to be fun.
We're back with another edition of Mail-it-in Friday and normally I'd be lamenting the fact that we're stuck in the dead week between the NFL conference championship games and the Super Bowl. In fact, I even posed an open-ended question to you dear readers so that we'd have something to talk about today.
Then, Deflategate (!!!!!) happened. People have been screaming to the heavens and the hot takes are flying around from all angles. Jackpot!
Remember, if you want your thoughts featured here, fire off an email to foxsportsnfl@gmail.com or tweet us using #FoxMailbag. You can also tweet me @RealSidSaraf. OK, let's get to work!
FIRST, YOUR NFL BUCKET LIST
I asked all of you to name the one thing you'd love to see in the NFL in your lifetime. As always, you brought the sizzle.
BKKNFL,
@NFLonFOX @nfl_uk @RealSidSaraf An NFL team based in London

— BKKNFL (@BKKNFL) January 20, 2015
Really? I've gotta be honest, I'm not jazzed about seeing an NFL team across the pond, even though it seems inevitable now. The league is putting on three games in London next season; take a look at the teams involved:
Are you getting up early to watch the Bills take on the Jaguars? No way, but I digress . . .
Even though the league says the reception in London for its International Series has been great, I truly feel the British mock our version of football. I have this image of people that look like the stars of "Lock, Stock and Two Smoking Barrels" sitting around the pubs and sneering at the NFL.
"Oy! Blimey, men don't wear shoulder pads! Crikey, spit spot, pass the pint . . ."
Hey, England, you want to make fun of us? You think rugby is a tougher game to play than real American football? You think your version of "The Office" is better? Well, here's what I say:
Emmett,
Now, THAT would be epic. Isn't is amazing that in 48 tries, not ONE Super Bowl has gone into overtime (oh, by the way, "England," our extra time isn't some big secret kept by a referee)? We're long overdue.
@NFLonFOX @RealSidSaraf A double overtime Super Bowl end on a Safety, or at least an Overtime Super Bowl. #FoxMailbag

— Emmett Gore (@TheGreenyTea) January 20, 2015
What if it happened this year? What if the Seahawks win the toss, drive down the field for a touchdown and Tom Brady never gets a chance to possess the ball? Here's a guarantee: The league office will freak out and change the overtime rules immediately. In fact, I wouldn't be surprised if they put it in writing that overtimes can't end unless Tom Brady gets a possession.
After all, whatever Prince Tom wants, he gets. Once upon a time, NFL defenders could actually tackle people. Now, because Brady got hit low once and got hurt, defenders have to aim for an area smaller than the thermal exhaust port on the Death Star. And if you even breathe on Tom, you're drawing a flag.
Seriously, Patriots fans, are you really THAT surprised when you guys draw hate?
Doug,
Now that would be something. Although it's "Super Bowl" not "Superbowl." Just sayin'.
@NFLonFOX @RealSidSaraf A Viking Superbowl Win

— Doug Kammeier (@IowaDoug) January 20, 2015
Mary,
Poor Minnesota. They're such warm and friendly people. When will their suffering end?
@NFLonFOX @RealSidSaraf vikings win a Super Bowl

— mary (@dante1955) January 20, 2015
Marshall,
Absolutely. I can totally see that happening. It's just a matter of time before the Jets . . .
@NFLonFOX @RealSidSaraf A Jets AFC Championship won at Metlife Stadium followed by a Jets Super Bowl victory.

— Marshall Siegel (@JETSFAN139) January 20, 2015
. . . sorry, dude, I'm really not laughing at you. The Jets are such a mess, it's difficult to see anything positive coming out of that organization. But hey, stranger things have happened, right? Right?
Robert,
Nice! Now, that's an idea I can get behind. The NFL Draft is the most boring event on television — even worse than the Oscars. At its core, it's just a bunch of people sitting in an auditorium and announcing a name every 10 minutes. Wouldn't it be more entertaining to Vegas it up a little bit? Add the Jabbawockeez! Thunder Down Under! Carrot Top!! Some "talent" from Olympic Gardens!
@NFLonFOX @RealSidSaraf Move the NFL draft to las Vegas NV

— Robert (@Confused2212) January 20, 2015
The sports books would go crazy. It's good for business.
The brilliant part of Robert's dream is that the draft is three days long, which is the perfect amount of time to spend in Las Vegas.
I don't understand people who can remain in that city for extended periods of time. My buddy Johnny Rosenstein — affectionately known as JoRo — will spend upwards of 8-10 days in Las Vegas and somehow, doesn't come home flat broke. Or dead.
There's only so much alcohol a human being can consume. Three days in Las Vegas is my limit. Any longer and I run the risk of coming home in a coffin.
Alrighty, let's move on!
LET'S GET BALLSY!
Here we go. I asked for you thoughts on Deflategate and the answers poured in. Grab your popcorn!
Joe,
Thanks, Joe. You made me do math. I hate you.
@RealSidSaraf @NFLonFOX #FoxMailbag yes 100000 and one game suspension per football next season

— Joe Hamilton (@JoeHamilton67) January 21, 2015
Sigh, OK for those of us counting at home, Joe's total punishment would be a $1.1 million fine and an 11-game suspension since 11 of the 12 footballs used by the Patriots were found to be under-inflated.
Don't you think those numbers seem a tad high? I think they're just a tad . . . inflated?
Lance,
Psst! Excuse me, Mr. Belichick? Lance thinks you're a tarnished coach. What's your take on that?
Figures. I don't think Bill Belichick cares what anyone thinks about him. And not in a fake way. I walk around saying I don't care what people think, but truth be told, I'm a walking pile of insecurity who desperately wants approval. I suck.
@RealSidSaraf #foxmailbag Billicheck will go down as a tarnished coach. Just too much dirt.

— Lance (@gatekeeper1269) January 21, 2015
However, I think Bill truly doesn't care. If people want to hate him, that's fine. No way it keeps him up at night . . . and I love him for that.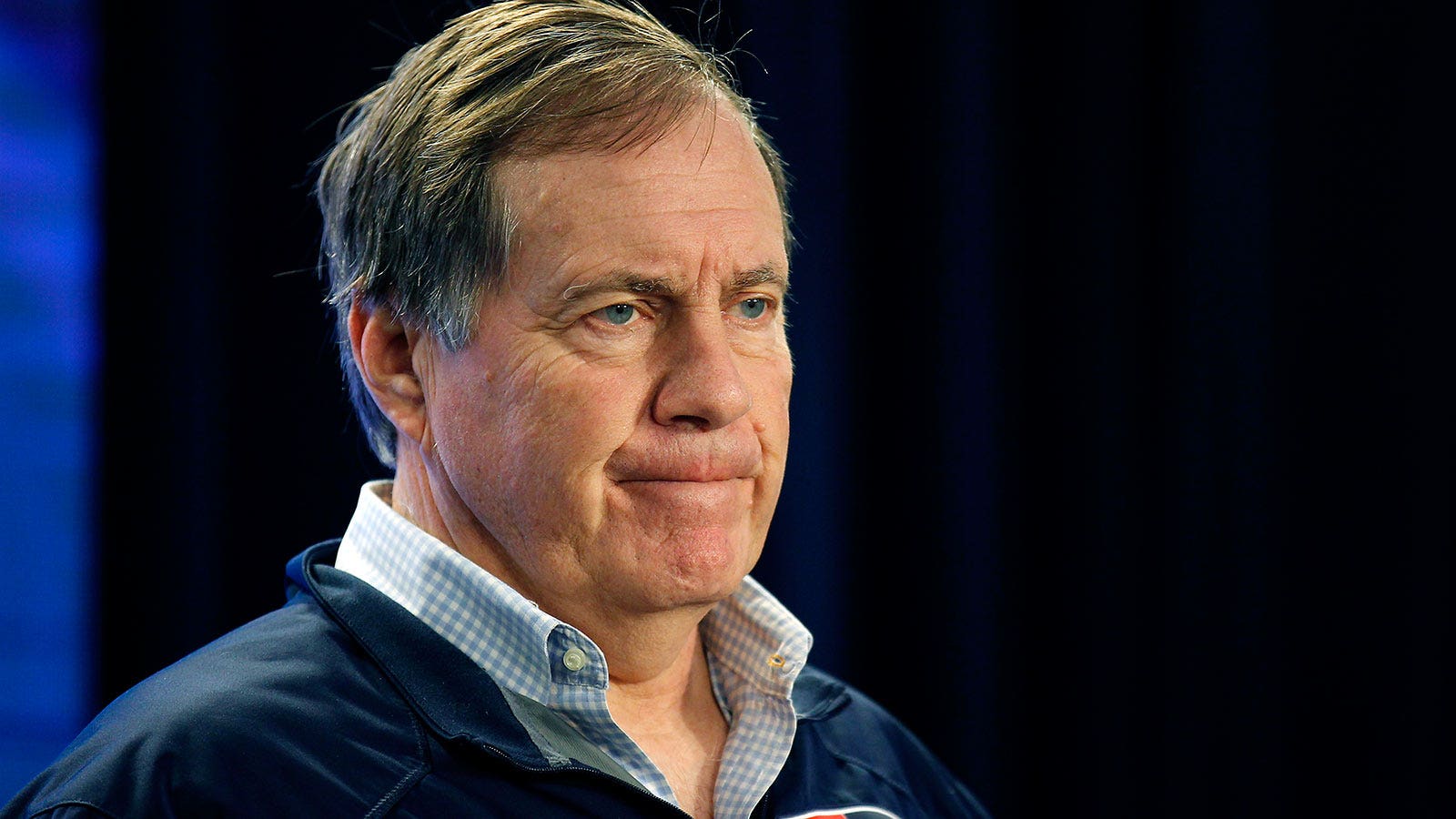 Do what you do, Bill. Everyone loves a villain.
The Mighty Feklahr,
Indeed. If the Colts didn't suck out loud against the Patriots — again — we wouldn't be talking about all of this.
If the Ravens didn't blow two 14-point leads against the Patriots in the divisional round, we wouldn't be talking about all of this. If the Ravens — who were in full Pout Mode after losing — didn't tip off the Colts to an issue of under-inflated balls, we wouldn't be talking about all of this.
@RealSidSaraf @NFLonFOX I think the Colts should be punished for enabling the Patriots to kill them 45-7. #FoxMailbag

— The Mighty Feklahr (@MightyFeklhr) January 21, 2015
This "controversy" has been born out of teams who couldn't find a way to beat New England and are now butt-hurt about it. It's stupid. Even if having under-inflated balls is against the rules, the Patriots played even better when the the balls in question (too much ball talk) were re-inflated after halftime.
So, in other words:
Skip,
Sigh. Like I said, there has been way too much ball talk lately.
Jerry,
@RealSidSaraf @NFLonFOX pic.twitter.com/heH5iWCE6Z

— Skip Gordon (@skip_gordon) January 21, 2015
Do I look like Bill Nye? This mailbag should be treated like a bar conversation: No religion, no politics . . . and no science, unless it's something an ape can understand.
Your question seems way too complicated. Someone get me a banana.
@RealSidSaraf @NFLonFOX tires deflate in cold weather will a ball ?

— JerryPat42 (@JerryPat42) January 21, 2015
TOM, BILL . . . AND THEIR BALLS
I'm asking the questions here, sir!
April,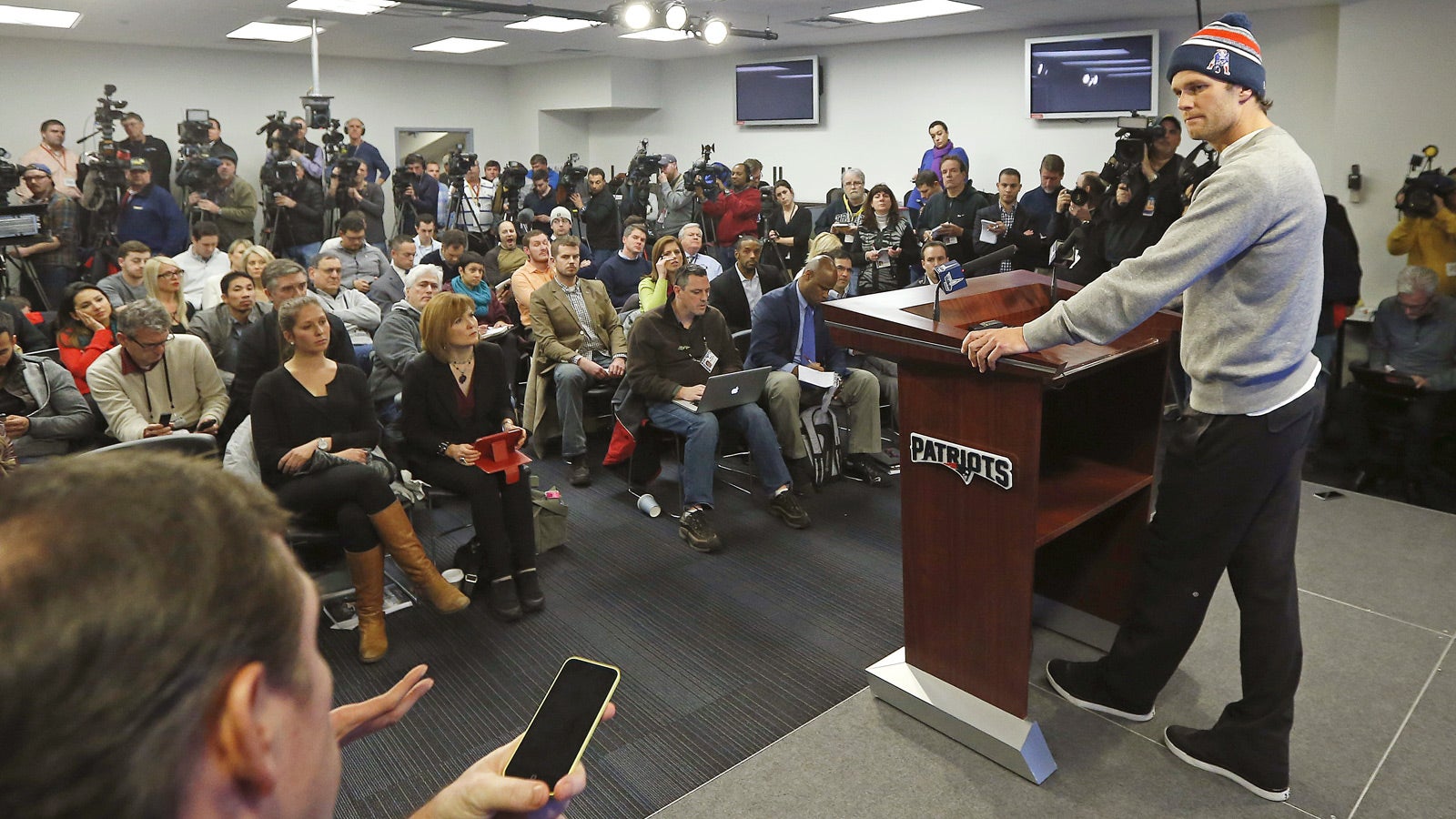 I completely agree with you. They looked like Boy Scouts up there. Honest and straight-forward. I loved it.
@RealSidSaraf @NFLonFOX #FoxMailbag do you Sid?

— NFLCelts (@NFLCelts) January 22, 2015
Homero,
I completely agree with you. They looked like skeezy lawyers up there. Dishonest and completely underhanded. I hated it.
@RealSidSaraf @NFLonFOX They did good Brady was a rock ..bill seemed little rattled but over all very good

— April Olvera (@alwaysbrady_12) January 22, 2015
Nick,
I'm not getting into a debate about ball weight. There's been way too much ball talk lately.
@RealSidSaraf @NFLonFOX LIES IS ALL I HEARD

— Homero (@homeroramos92) January 22, 2015
Kris,
Tom did play the clueless role during his press conference. For someone who pays so much attention to detail, it's odd that he would suddenly turn into:
@RealSidSaraf @NFLonFOX Tom Brady knows 12.5 is a "perfect fit for me," but can't tell the diff when the ball weighs a lot less than that?

— Nick Rice (@N_S_RICE) January 22, 2015
Beach Lover,
Here we go. The classic New England deflection. That's not going to work here. We're not talking about the Seahawks right now.
@RealSidSaraf @NFLonFOX Tom contradicted himself. Not noticing anything, but stated preferred weight-not knowing who handles equip? really?

— Kris (@Kzona9) January 22, 2015
We're talking about the Patriots and their apparent carelessness about ball weight. And don't do that other New England thing where you take criticism and use it to fuel your endless victim complex when it comes to sports.
The Celtics, Bruins, Red Sox, Patriots have all won championships since 2000. Even the Revolution (the other football) have come close. So, in the words:
@RealSidSaraf @NFLonFOX Let's talk about the number of Seahawk players caught using ped's

— Beach Lover (@AndyTheDude) January 22, 2015
Chad,
I couldn't agree with you more. My brain is full of balls right now. Wait, that came out wrong . . .
Scott,
Scott, I love you. You are my hero and you have come up with the best Tom Brady meme ever. Thank you, sir!
@RealSidSaraf @NFLonFOX BALLS BALLS BALLS BALLS BALLS BALLS BALLS BALLS BALLS BALLS BALLS BALLS! Old Balls, Touching Balls, Squeezing Balls

— Chad Healy (@CptCalibration) January 22, 2015
And thank God we're ending on a high note. Come back next week as we'll have a special Super Bowl edition of the mailbag.
@FOXSports @RealSidSaraf pic.twitter.com/JiVyAt9fwX

— Obsessed with Scott (@ScottMankins1) January 22, 2015