Mail-it-in Friday: Clowney's money and your thoughts about 2014
We're back!
We're just days away from Christmas and people are starting to fritter away the hours before their vacations begin. So, what better way to pass the time than with a batch of reader mail? This week, we're going with a theme. With the NFL season winding to a close, we asked you dear readers to sum up 2014. And like always, you didn't disappoint.
Remember, if you want your thoughts featured here, fire off an email to foxsportsnfl@gmail.com or tweet us using #FoxMailbag. You can also just tweet me @RealSidSaraf. OK, let's get to work.
CLOWN SHOW
Allen from Houston wrote,
What will Clowney get paid for 2014 season? If he does not play very well ie, not recovering from the micro-fracturer, will he be cut/released? Given this case what will he be paid for 2015?
Texans owner Bob McNair should kiss Roger Goodell's shoes every day for helping institute the rookie salary cap. Can you imagine the amount of dead money the team would have to pay if Clowney had signed one of those $100 million guaranteed deals of yore?
Jadeveon Clowney signed a four-year contract worth more than $22 million before this season, according to spotrac.com. Every penny is guaranteed, even though he played in just four games this season before landing on injured reserve. And in 2015, his pay increases. He will earn his $510K base salary, along with his prorated signing bonus of $3,629,636 and a roster bonus of $922,409.
That's a lot of money to collect while mending from microfracture surgery, a procedure so daunting that one fellow NFL player said Clowney is "screwed," and probably won't be the same player. Ouch. Believe me, the Texans are going to give Clowney every possible chance to recover and turn into something valuable on the field. They've invested far too much — and Clowney is way too talented — for the franchise to just give up.
That being said, this is a business and if the Texans come to the conclusion that Clowney won't pan out, they'll cut him and forget his name five minutes later. The NFL is brutal like that.
YOUR THOUGHTS ON 2014
OK, we asked. You answered. Here are your thoughts about this season.
Dee wrote,
@NFLonFOX One shade of Gray + Brady's cursing blue streak + a touch of Browner and you have the Pats canvas of success #Patriots #FoxMailbag

— Dee Unit (@BetDUnit) December 16, 2014
Yeah, literally one shade of Jonas Gray. I remember plucking him off the waiver wire when I got a tip that he was due for major carries against the Colts. I started him that week and looked like a genius when Gray scored four touchdowns.
Then, the clown missed a meeting and Bill Belichick decided to play career killer by completely ignoring him the rest of the way. I hate fantasy.
But yes, Dee, it's been quite the walk in the park for the Patriots in 2014. Tom Brady is allowed to swear like a sailor and all he does is shrug and blame TV cameras for focusing on him. I plan on using that excuse in the future. "Oh, I used foul language in a blog post? It's your fault for reading it."
Gronk is healthy, the defense looks better than it has in years and the competition in the AFC …. sucks. Book those Super Bowl tickets now.
Adam wrote,
@RealSidSaraf @NFLonFOX #FoxMailbag #Bears pic.twitter.com/6MRvwy4U21

— Adam Eichhorn (@AdamEichhorn) December 16, 2014
No doubt, dude. If any of you haven't had the misfortune of watching the Bears over the past month, you've missed some real crap football. There are so many holes on this team, it's hard to imagine anything will even get fixed by next season.
And yes, head coach Marc Trestman — the quiet, cerebral type — will probably get fired and the team will bring in someone with the exact opposite personality. But really ask yourself … will yelling and screaming really solve what's ailing this team?
Would Jay Cutler throw fewer interceptions if he went from this: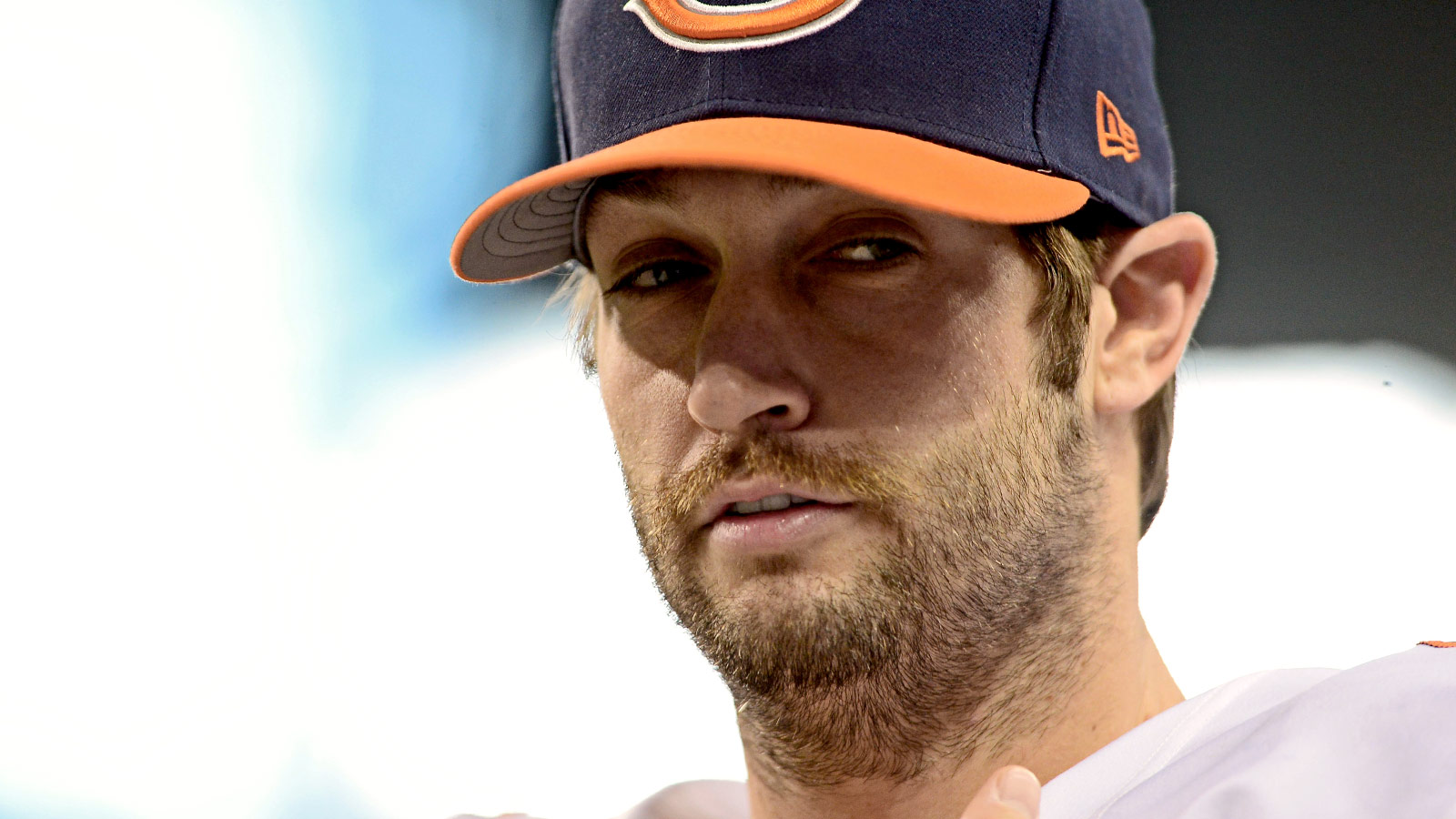 To this?
So, for those people wanting Cutler to "show us you care," … knock it off. It wouldn't make a difference.
Eric wrote,
@RealSidSaraf #FoxMailbag.The jets….umm…..picture drunk driving into a ravine, but with an ok D line

— Eric Krusznis (@EKtheman) December 16, 2014
I'm trying to picture this, but the only thing that pops into my head is this scene with Griffin Dunne from the movie "Johnny Dangerously."

Johnny Dangerously – Most realistic car crash ever by NickTrousers
By the way, forget "Birdman," this movie is Michael Keaton's best work.
Scott wrote,
@RealSidSaraf @NFLonFOX Broncos turn the most prolific passing QB of all-time into a decoy and it worked!

— Scott Kliesen (@skliesen) December 16, 2014
Either Peyton Manning is the world's best decoy or his right arm has the consistency of a noodle right now.
Against the Chargers last Sunday, Pey Pey made some throws that were just soft. There's no other way to describe it. Pat White throws harder than that. Something's wrong and the Broncos are doing whatever they can to make up for it.
However, they may have stumbled on to something. When Manning and the offense was tearing up the league with cartoon numbers last season, everything looked great on the surface. However, scoring at such a pace increases the amount of possessions in a game, which in turn puts a strain on your defense.
The Broncos are thinking Super Bowl this year and the path to that game will go through the Patriots. The best way to beat New England is to keep the ball out of Tom Brady's hands. You can do that by controlling the clock and relying on a strong running game, which is what the Broncos are currently doing. It works!
Does that mean I think the Broncos can beat the Patriots in the playoffs? Sure, in the same way that I think I CAN run a marathon. It won't happen, but theoretically I could with proper diet and exercise.
Appoints user wrote,
@RealSidSaraf @NFLonFOX Welcome to Six Flags AT&T Stadium! Ride our new Dallas Cowboys Rollercoaster of Emotional Turmoil. #FoxMailbag

— Nomme d'Utilisateur (@pasunharceleur) December 16, 2014
They've got a 10-4 record and are a great bet to win the NFC East. What more do you want?
But because they're the Cowboys, they still find ways to test everyone 's patience. How is this team 7-0 on the road at 3-4 at AT&T Stadium? Will Dallas be the first team in history to be happy if they don't have home-field advantage in the playoffs?
Gene wrote,
@RealSidSaraf @NFLonFOX Dallas Cowboys have overachieved this season

— Gene's the Man (@eugenevillarrea) December 16, 2014
Definitely not at home.
Jonathan wrote,
@RealSidSaraf @NFLonFOX #Lions pic.twitter.com/pl05Z2ZErv

— Jonathan Keplinger (@theoriginalkep) December 16, 2014
Let's recap: 10-4 record and currently in first place in the NFC North. Yup, you're right, but don't get cocky, the season isn't over yet.
A couple missteps, a bad penalty or two and the Lions will be playing golf in January. I've seen it happen. It's ugly.
Stephen wrote,
@RealSidSaraf @NFLonFOX Sole possession of NFC South 🙌, record: 6-8 😶😭

— Stephen Browning (@ThePontiacKid) December 16, 2014
What is this, picture time? Because I'm kinda enjoying all these visuals.
Don't get me started on the NFC South. I sat through the entire Saints-Bears stink-bomb on Monday night and the only takeaway I had was this: The Saints won and they still don't deserve to make the playoffs.
Chris wrote,
@RealSidSaraf @NFLonFOX My Saints are more bipolar than Carrie Mathison.

— Chris Mathers (@SavannahSaint) December 16, 2014
You know, that has some sizzle. The Saints are probably stinging from that royal screw-job a few years back, when they were forced to play a road playoff game against a 7-9 Seahawks team. You remember, it was the birth of Beast Mode, etc.
Karma should dictate that the Saints should finally get what's coming to them and that is a home playoff game against a team with a far better record. You know what? I take back what I said. The Saints do deserve to win the division.
(A different) Chris wrote,
@RealSidSaraf @NFLonFOX Two by 1000. MvP. #packersnation . Titletown is Back. #FoxMailBag

— Chris Lee (@SuperVendetta) December 16, 2014
As long as the Packers don't have to play the Bills again, right? #BillsMafia.
Jessica wrote,
@RealSidSaraf @NFLonFOX Still waiting for it to start? That pretty much sums it up. It is hard to be a Bucs fan.

— Jessica Giordano (@JessicaGiordano) December 16, 2014
I feel your pain. I once had season tickets to a Miami Dolphins team that went 1-15. I'm still not over it. All that money down the drain.
I still have Cleo Lemon nightmares every now and again.
LovelyBuckeye wrote,
On behalf of the #Eagles, I'd like to thank New Orleans for M. Jenkins and D. Sproles; to the Jets, you can have Sanchez back! #FoxMailbag

— LovelyBuckeye (@Lovelybuckeye) December 16, 2014
Sorry, no refunds.
LAST CALL
Since we went with a theme this week, let's just stick with that theme. Here's my favorite tweet of the week:
@RealSidSaraf @NFLonFOX 49ers getting screwed by bad officiating and the NFL'S Officiating needs to clean house after this season.

— Jeff Atwood (@SportsAtwood) December 16, 2014
I see. The 49ers' problems are all because of the referees. I'd say this is FOXSports.com NFL editor James Parziale — huge 49ers fan — tweeting me under an alias, but he's too dumb to think of that.
James and I almost came to blows on Sunday, if that is possible through AIM (yes, we still use that). He kept whining about the referees making sure the Seahawks won that game and I kept telling him that "Parziale" is a stupid last name. It was an ugly scene. We had to be virtually separated.
But James — contrary to me calling him dumb — is a bright guy. He knows the 49ers' problems run way deeper than a few errant penalties on Sundays. The organization is currently a dumpster fire and is about to run their most talented coach since Bill Walsh out of the building.
Jeff, you know the same. But, I agree with you, the NFL refs suck. I wouldn't lose sleep if all of them got canned at the end of the season.
Alrighty, folks! We're going dark next week, but we'll be back in time for the first week of the playoffs. Have a happy and safe holiday!