Championship Sunday Awards: The eyes are watching you
Best eyes from a Seahawks fan that in no way freaks me out: This guy. OK, it really does freak me out. I get it, those are contact lenses. But still, the whole bird thing sent chills up my spine. In a bad way. The only comparison I can make is Michael Jackson in the "Thriller" video. Eeek.
Best description of Richard Sherman's postgame interview: You probably saw the cornerback erupt like a volcano when FOX sideline reporter Erin Andrews pulled him aside just seconds after the Seahawks' dramatic win. Well, this wise man sums it up best:
The Richard Sherman interview pic.twitter.com/xa1ICEmOLt

— Real Tweets™ (@iKeepItTooReal) January 20, 2014
Best question from a comedian who isn't really a sports fan: Patton Oswalt. The standup comedian is a man I greatly admire, although sports isn't really his thing. He's more of a comic-book dude, which is cool. However, it doesn't matter if he isn't a sports fan, this tweet still made me laugh.
Is the name "Richard Sherman" trending because of sports happenings?

— Patton Oswalt (@pattonoswalt) January 20, 2014
Most depressing intention that never came true: LeGarrette Blount, New England Patriots. The running back tore up the Colts in the AFC Divisional Round and he had every intention of eating again on Sunday. You can see it below. However, he ended up with just five carries for 6 yards on the day. Yeesh, that's no good.
First Annual Sid Saraf I Don't Know What This is Award: This amazing piece of goodness. I'm sure exactly what this is supposed to be, but it really does accurately describe what happened in Denver on Sunday. Awesome.
First Annual Sid Saraf Killjoy of the Year Award: Security guy in Denver. I don't know why someone thought that the Broncos mascot beating on a drum had to be stopped, but here it is. Thanks, Buzz Killington.
This Week in Samuel L. Jackson: The actor and all-around badass was taking in some football on Championship Sunday and he was letting some loose language fly through social media. Well, someone complained and in turn, Jackson got mad.
Wait! Some Grown Ass man reported me to Who for offensive language?! The Twitter police? The Headmaster? WHO??!!

— Samuel L. Jackson (@SamuelLJackson) January 20, 2014
Saddest Patriots fan of the week: Katie Nolan. The "Crowd Goes Wild" co-host and big New England honk got a ticket for the game in Denver and left disappointed. But all isn't lost. She did what every depressed fan does during times like this.
I'm drunk at an Applebee's in Aurora if you're wondering how Pats fans cope with the loss.

— Katie Nolan (@katienolan) January 20, 2014
Best job of injecting oneself into the storyline: Iowa State University. Did you know that John Fox (head coach of the Broncos) and Pete Carroll (head coach of the Seahawks) are former Cyclones assistant coaches? What a world! Well, that university wanted to make sure everyone knew it and fired off this tweet:
Which former Iowa State assistant coach wins the Super Bowl? #Cyclones pic.twitter.com/SH9YSWx3QD

— Cyclone Football (@CycloneFB) January 20, 2014
Best job of knocking a player over by a man not in uniform: This guy on the 49ers sideline. Seahawks gunner Jeremy Lane was racing down the field trying to cover a punt, when he ran through the 49ers bench. Well, one guy, either a staffer or an inactive player, took the opportunity and knocked Lane on his butt. Sneaky, dude, real sneaky.
Coolest shoes from a Broncos player who didn't actually play: Von Miller, linebacker. The injured star wasn't in uniform for the AFC Championship Game, but that didn't stop him from rocking some epic shoes. That's a total custom job right there.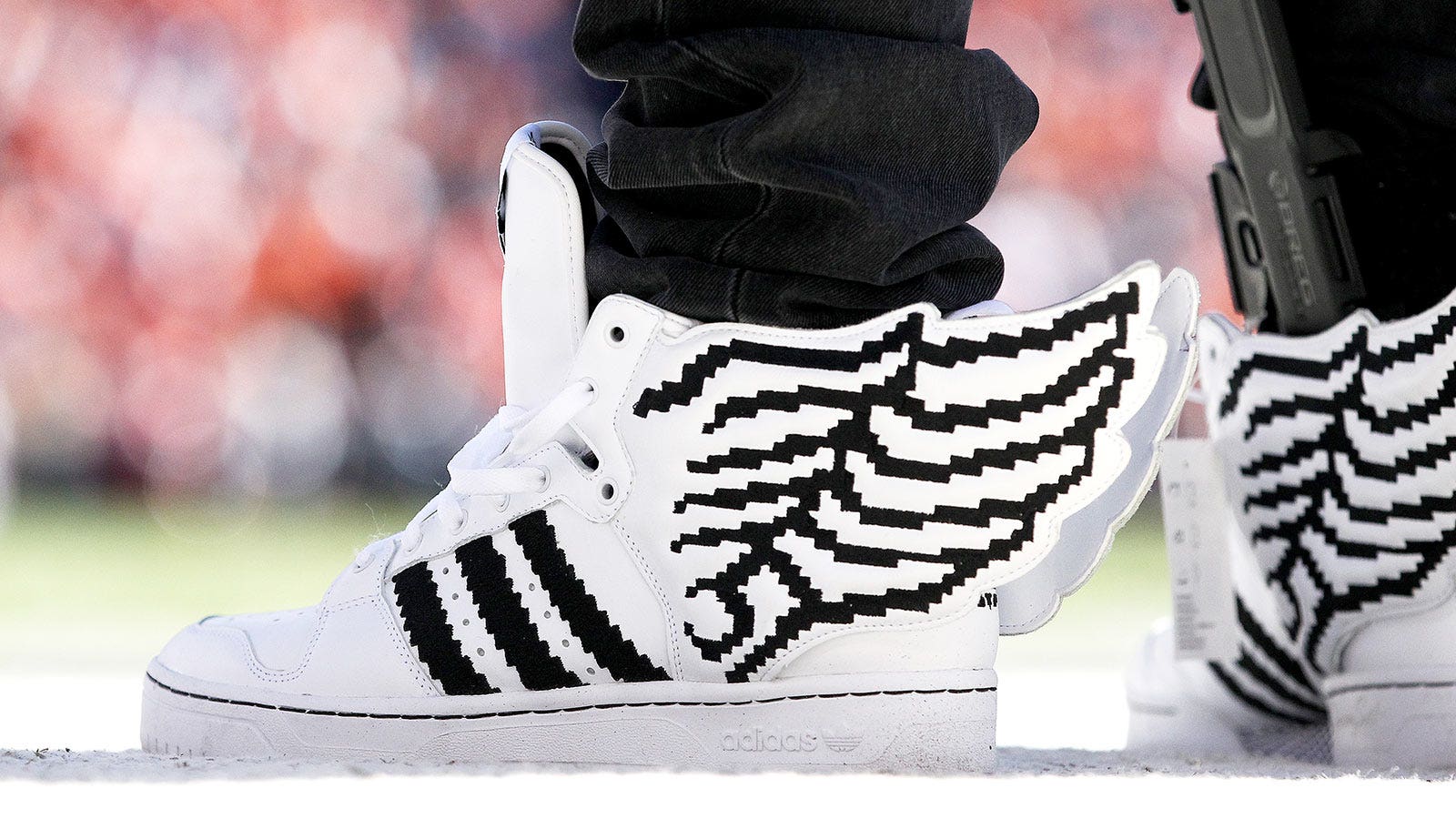 Best postgame moment between two coaches with a checkered history: Pete Carroll and Jim Harbaugh. Everyone knows that these two men have had their run-ins over the years, but after Carroll's Seahawks beat Harbaugh's 49ers, it was all class. The two met at midfield and shared a nice moment. There is respect there.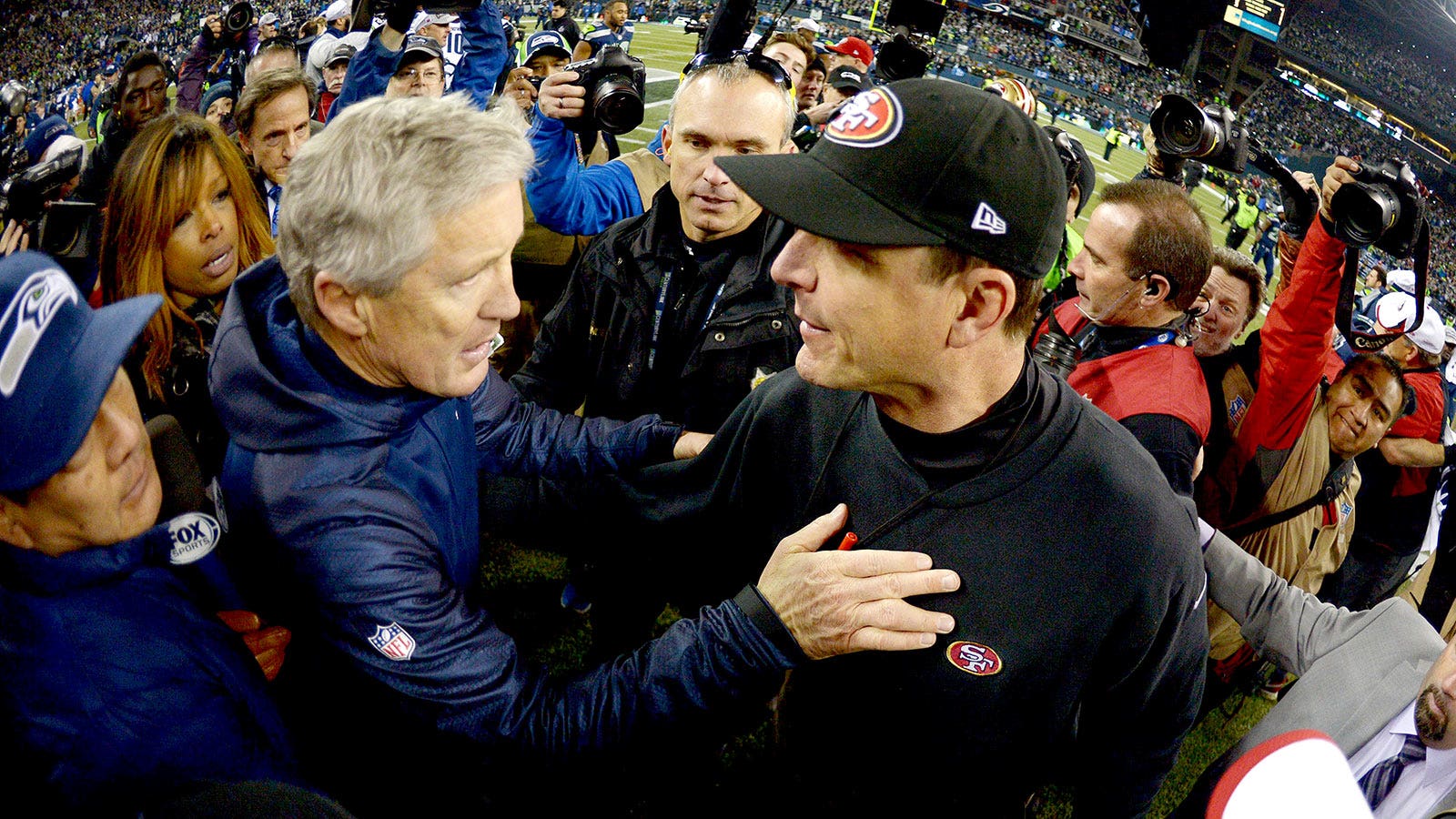 Worst moment of Championship Sunday: NaVorro Bowman's injury. The 49ers linebacker is a real warrior and the leg injury he suffered in the second half against the Seahawks was something most of us won't forget. Best wishes to you, Mr. Bowman, for a speedy recovery.