Mail-it-in Friday: Who is the LeBron James of the NFL?
Oh, it's so close.
The start of the NFL regular season is just days — DAYS!!! — away, and despite a recent rash of unfortunate injuries, the excitement level continues to build. However, as we study for our fantasy drafts and start making Sunday plans, there's something that needs to be discussed.
Kansas City Chiefs running back Jamaal Charles made news earlier this month when he declared himself to be the "LeBron of the NFL." Seems like a typically innocent and light-hearted comment you would normally find in a notebook story in the local paper. But then Minnesota Vikings running back Adrian Peterson decided he wouldn't take that lying down as he told a reporter:
"I'm the LeBron," Peterson said. "I can't knock Jamaal; he's a good friend of mine. But the one thing I always tell people is, 'If you don't think that you're the best, how will you ever become the best?' So I can't knock him, but I definitely have to say I'm the LeBron James."
Sorry, guys. We're not going to let you bestow the mythical title of "LeBron James of the NFL" on yourselves. That's bush league. We're going to settle this issue once and for all in this edition of Mail-it-in Friday.
Who do you think is the LeBron James of the NFL?
LET THE SILLINESS BEGIN
RIP,
@RealSidSaraf @NFLonFOX Gotta be JJ Watt! #FoxMailbag

— RIP Kenny Stabler (@Babz850) August 26, 2015
Yeah, yeah. J.J. Watt is Captain America. He's a gritty competitor, the hardest worker and a shining example for the country's youth.
I know this is because I'm truly a bad person, but he's getting on my nerves just a tad. He's too … perfect. Must he be so good at his job, humble AND handsome?
What the hell, J.J.? Want take it easy a bit? You're making the rest of us schlubs looks bad. It's not up to me to improve. You must be the one to meet us underachievers halfway.
Philip Rivers,
@RealSidSaraf @NFLonFOX Me!!! Why? Because I use more baby powder on my 8 kids than he does throwing into the air.

— Philip Rivers (@FauxPhilipRiver) August 26, 2015
I'm not trying to be impolite or unwelcoming, but I have my doubts that you're really Philip Rivers. Then again, I went to college and developed the ability to solve complex problems.
I also noticed your Twitter profile name is FauxPhilipRiver. That was also a big clue.
But that joke you made … seems like something the real Philip Rivers would say, so I don't know. Here's something I know for sure: The Real or Fake Philip Rivers would not qualify as the LeBron James of the NFL.
At least reach a Super Bowl, for Pete's sake.
Mason,
@RealSidSaraf @NFLonFOX so which player can't win the big one and sucks at his position though he tries to act good??? ROMO!!! #FoxMailbag

— Mason Obenoskey (@masonobenoskey) August 26, 2015
Oh, Mason. You really don't want this fight. Let's break down your comment.
LeBron can't win the big one? Wrong! He's done it twice.
Sucks at his position? Not even going to dignify that.
Tries to act good? See my previous answer.
By the way, the only one of your comments you could even apply to Tony Romo is "can't win the big one." I have no retort for that since he indeed hasn't won the big one yet.
Yet.
Akinwumi,
@RealSidSaraf @NFLonFOX none! no one in the nfl has gone to 5 straight championship games!

— Akinwumi j Oyebade (@oyebee) August 26, 2015
I would totally agree with you, except you're wrong. There is one player in NFL history who has appeared in five consecutive Super Bowls.
Feast your eyes on:
Who is that, you ask? That strapping young man is Gale Gilbert. During a four-year stretch in the 1990s, he was the backup quarterback for the Buffalo Bills teams that played — and lost — in four straight Super Bowls.
The year after that final defeat, he was a part of the San Diego Chargers squad that reached the Big Game only to be demolished by the Steve Young-led San Francisco 49ers.
Fun fact: Gale Gilbert's son is Garrett Gilbert, a current backup quarterback with the Detroit Lions.
And for the record, the elder or younger Gilbert can't compare to LeBron James.
Eric,
@RealSidSaraf @NFLonFOX Aaron Rodgers… You put the ball in his hands and you'll win 10 games automatically

— eric (@COFF1996) August 26, 2015
Unless he was on your fantasy team in 2013 and missed a bunch of games with a shoulder injury.
By the way, I still won the title that year. #HumbleBrag
K!d,
@RealSidSaraf @NFLonFOX marshawn lynch

— K!d N3EF (@88Neef) August 26, 2015
Good one! LBJ and Beast Mode are physical freaks of nature. But has LeBron ever made the Earth shake?
It could very well be that Lynch > James. Just sayin'.
Josh,
@RealSidSaraf @NFLonFOX Peyton Manning is LBJ and TB12 is Jordan #RingsMatter

— Josh (@JoshDoyle77) August 26, 2015
Can't argue with that logic. The only hole I would poke in your theory is that Michael Jordan never gakked two NBA Finals to a team that barely made the playoffs.
Seriously, Tom Brady, how in the world did you lose to the New York Giants twice?
Yung,
@RealSidSaraf @NFLonFOX it's @LarryFitzgerald because he is still one of the best… But he has a full head of hair😳

— YungJewfro (@sam_rosenthal_) August 26, 2015
I was about to say you're being a tad harsh about LeBron's hairline, but then I saw this photo: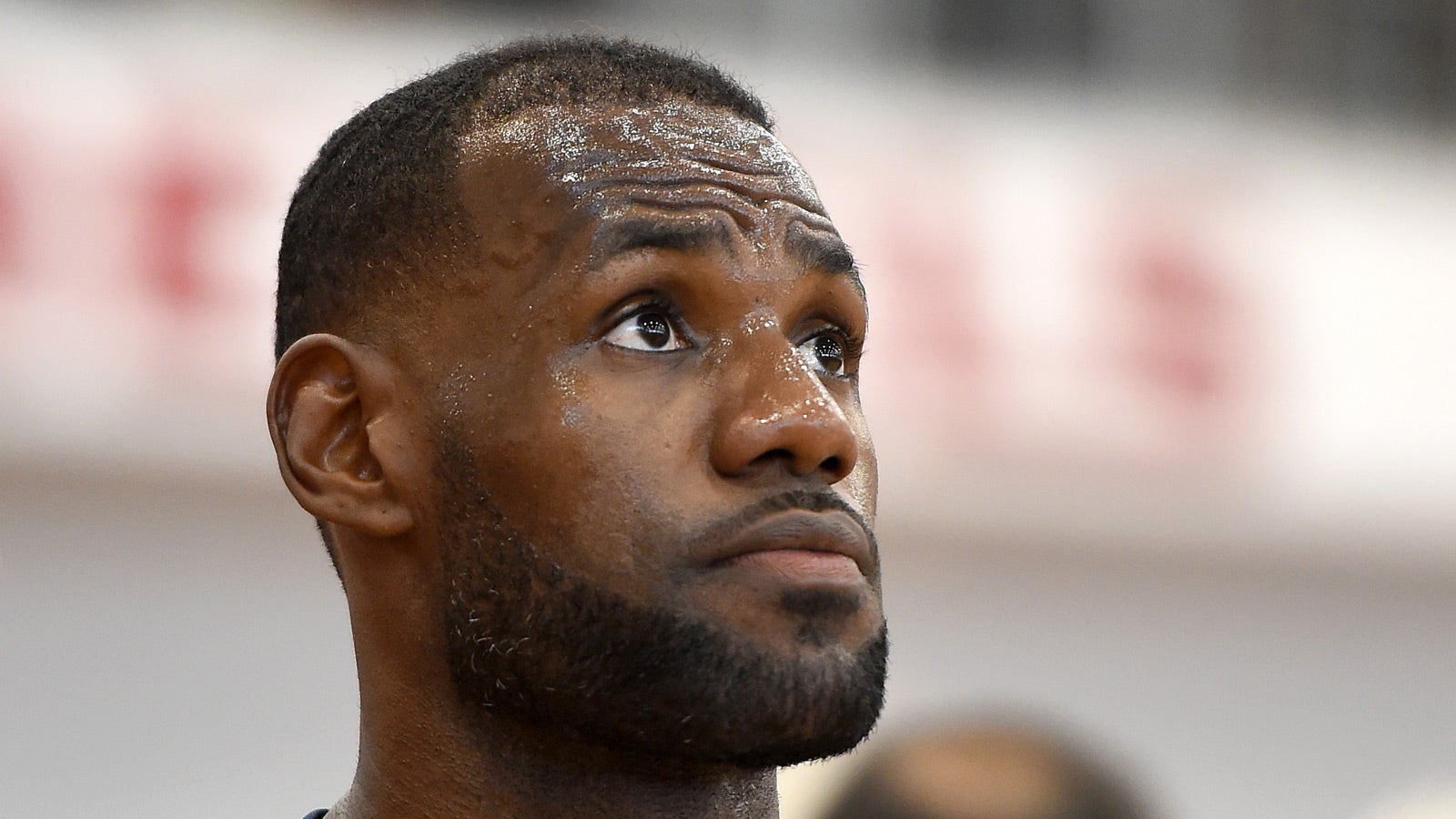 I don't know what's going on up there, but Larry Fitzgerald has him beat by a mile.
Samantha,
@RealSidSaraf @NFLonFOX Peyton Manning. We all know he is a talented player, but sadly the number of Championships don't match the legacy.

— Samantha Allen (@sallen_87) August 26, 2015
I have to agree. Peyton Manning most fits the bill when it comes to career resume.
Both players get undue heat for not winning "the big one" even though both are undeniably the most talented players in their respective sports.
When both players are on, there is nobody better. Unfortunately, in today's "win a championship or you suck" sports world we live in, that's never good enough.
Devin,
@RealSidSaraf @NFLonFOX #PeytonManning is the @KingJames of the #NFL. They both can't finish in the playoffs. #TellEmISaidThat

— Devin D-Mac McDonald (@Devin10237) August 26, 2015
Sorry, Peyton and LeBron. Devin is the one saying it, not me. I love and respect both of you.
Shaun,
@RealSidSaraf @NFLonFOX Cam Newton…

— Shaun (@Shaun_Zo) August 26, 2015
In terms of being naturally gifted athletes? Sure. In every other aspect? No, can't agree.
However, Cam does do a pretty good imitation of LeBron's signature celebration.
1 fake handoff. 1 @CameronNewton TD run. 1 salute to @KingJames 1 day's work. http://t.co/W6TOevG9iv

— NFL (@NFL) August 22, 2015
Maybe that's good enough for some people.
Jabz,
@RealSidSaraf @NFLonFOX Dez Bryant both are cry babies

— Jabz (@Detroit_fan52) August 26, 2015
Bitter Lions fan. You're gonna have to get over that playoff loss from last season. Live in the now!
Jon,
@RealSidSaraf @NFLonFOX it will be Jameis Winston in a few years.

— Jon the Don (@shanini813) August 26, 2015
Ehhhh. Let's let Jameis get out of his first preseason unscathed before we break out the anointing oil. He's done some good things thus far, but he still has a lot to prove.
Stal,
Brett. Swain.
Brett Swain https://t.co/M0chVJ4Y0F

— Stal (@Staldamal3) August 26, 2015
Thanks, Stal, for answering the question in a serious manner. Just goes to show there's one in every mailbag.
OK, folks! We've had enough silliness for one week. See you next time!