Youngsters help Houston Rockets remain unbeaten in preseason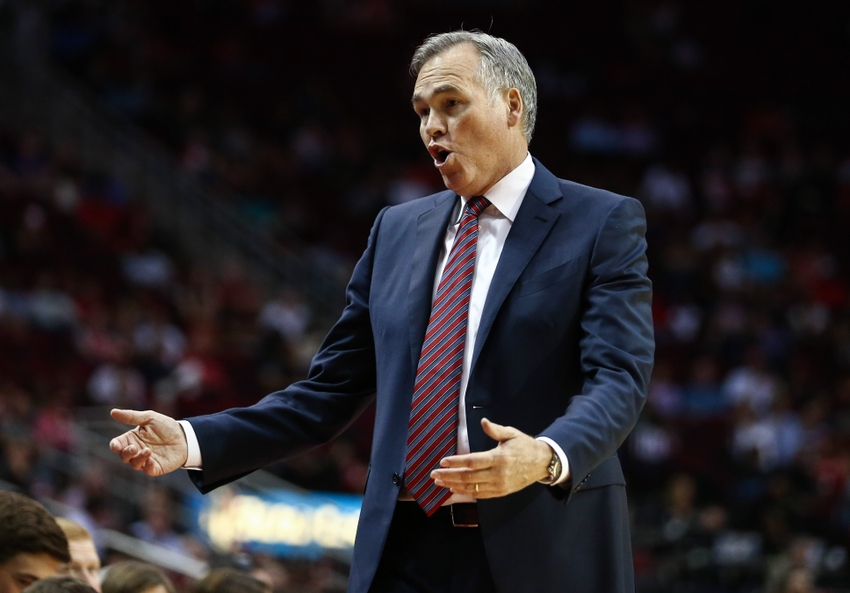 Houston Rockets second consecutive victory over the Pelicans moves them to 4-0 in preseason.
After 4 games in preseason play the Houston Rockets are unbeaten and are carving out specific trademarks.
116
104
First, it's obvious the Houston Rockets will be among the Associations top offenses. Houston is averaging 126.2 points per game which is tops in the Association.
Second James Harden while not replicating his previous double digit assist efforts in Game 4 clearly has no problems handling the point guard duties.
Next up in their return Stateside the Houston Rockets play the Memphis Grizzlies, Saturday, October 15.
Mike D'Antoni could have tipped his hat with the first signs of who has earned his respect beyond the core players. KJ McDaniels and Nene Hilario sure look like they'll be consistently the first guys off the bench along with whichever of Eric Gordon or Patrick Beverley don't start.  It's hard to argue this decision given McDaniels defensive prowess and offensive growth along with how fit Nene entered camp and his strong passing ability.
Starters Player Grades:
James Harden
Point Guard
B+
James Harden was extremely efficient in his 24 minutes posting 14 points, 6 rebounds, 8 assists and a steal. That said he missed all 3 point attempts going 0 for 6 with 5 turnovers. Clearly Harden has adjusted to his role of full time point guard, and looks to be on track to contend for the coveted M.V.P. again this season.
KJ McDaniels
Small Forward
B-
Perhaps the biggest statement made by Mike D'Antoni was demonstrated in this game. With Patrick Beverley not making the trip due to his injured knee the coach had Eric Gordon start in the first game versus the Pelicans. In the second outing it was McDaniels who got the green light to start. Whether this was a reward for solid play or D'Antoni tinkering with line-ups is uncertain. But, for those of us who've been pining to see regular minutes for the wing it's an extremely positive sign. Further this move may point to the fact McDaniels has moved ahead of counterpart Corey Brewer in D'Antoni's pecking order. Overall it wasn't the same offensive display KJ had through the first 3 games. In fairness however McDaniels would need to adjust playing with the top line. He did in 21 minutes grabbing 4 rebounds, dishing 2 assists and finished with a plus 10 differential.
Trevor Ariza
Small Forward
C+
Before you jump on the average rating remember what Ariza is on the floor to do: defend and hit threes. Trevor is definitely one of my favorite players, but this was an average game for him with 9 points, 4 rebounds, and 2 steals. That said, I'm also not worried as Ariza will build through to season start and be ready by that time.
Ryan Anderson
Power Forward
A
Considering Anderson took just 7 shots this was a more than serviceable effort. He finished with 11 points, 7 rebounds. a block and was a plus 8 in just 22 minutes. With each additional game Anderson plays the chemistry with Harden is growing. Of note, for those concerned D'Antoni might start Eric Gordon over Patrick Beverley there is an argument to do it because of the familiarity between the two former Pelicans. Conversely with Houston consistently scoring over 115 points it's also logical to develop solid defensive cohesiveness and habits which tends to side with Beverley getting the nod.
Like McDaniels this start for Nene was also a clear sign D'Antoni is testing the waters by using Nene as the starting center. With Anthony Davis twisting his ankle though D'Antoni was quick to take Hilario off the floor. In just 7 minutes Nene showed why he is of interest as the starter as he grabbed 2 rebounds, dished out 2 assists scored 2 points and was a plus 8. Moreover it was Nene's defense on Davis which caused him to hurry and resulted in a twisted ankle. Personally I think Capela should start to get the experience of playing starting centers. Ultimately it's who finishes the games that will be of more interest.
D'antoni
D'Antoni went to his youthful core for a good portion of the game with several stepping up and producing.  In addition to the 3 players highlighted Bobby Brown produced a solid effort (though his off court adventures didn't do the Houston Rockets any favors.
Sam Dekker
Small Forward
A
Impressive performance by the second year small forward. If D'Antoni can get this kind of production from Dekker on a consistent basis he'll earn his playing time. 14 points, 5 rebounds (3 offensive), 2 steals, hit 7 of 9 shots and was a plus 10.
Montrezl Harrell
Power Forward
A
It's clear Harrell will bring energy whenever he hits the court. What isn't clear is whether he can defend his position as he still looks lost at times 11 points, 6 rebounds (3 offensive boards), 1 assist and 2 blocks. If D'Antoni could get this type of production out of Harrell consistently against top bench players it would be hard to keep him off the court.
Kyle Wiltjer
Power Forward
A+
With Donatas Motiejunas still in a contract dispute with the Houston Rockets management may have discovered a plan B especially after this game. Kyle Wiltjer offers versatility in the forward spot and at 6'10" provides size and shooting. Both qualities the team is anxious to add. His ability to spread the floor and hit from deep is another big benefit. Wiltjer played 25 minutes (the most of all the reserves) scoring 15 points, grabbed 5 rebounds (1 offensive) along with a block. What made his time on the court most satisfying was his efficiency as he shot 6 of 13 from the field and 3 of 7 from deep. There are obvious issues defensively, but this is a kid who needs more exposure versus the pros and sure looks like a natural fit for the team's identity.
It could have been worse, but losing Anthony Davis to a twisted ankle as well as E'Twaun Moore leaving early to an unknown injury weren't ideal scenarios for Alvin Gentry.  It did offer an opportunity to get a better look at more of the training camp invites and reserves.
With Anthony Davis and E'Twaun Moore both leaving the game after sustaining njuries Alvin Gentry gave his reserves and training camp invitees more minutes. Quinn Cook took advantage of the extra time to make a case for himself. At 6'2″ he's on the small side but the kid can score (20 points) and showcased solid play making ability with 8 assists. Given Jrue Holiday (personal) and Tyreke Evans (injury) will miss significant time this showing might have moved up Cook's stock. His efficiency was especially impressive as Cook shot 7 for 9 from the field and was 3 for 5 from deep.
There were other notable performances on the opposing side including Langston Galloway and Cheick Diallo, Langston Galloway and Dante Cunningham.
On a side note I"m pulling for Diallo (pronounced Jello) to make it because I like him, but also because I can't wait to hear the announcers say his name.
Game Notes:
Houston Rockets jumped on the Pelicans early grabbing a 31-14 lead by the end of the first quarter and finished the half with a 59-34 lead. The Pelicans made a concerted effort in the fourth quarter to draw closer, but this one was over early.
As the Rockets now fly home for a date with Memphis on Saturday look for D'Antoni to continue tinkering with line-ups. Furthermore expect to see Kyle Wiltjer and other training camp invites get some additional minutes while the brain trust decides what they will do.
Clearly the main objective of the Rockets once back in America will be ironing out Donatas Motiejunas contract. Resolution is key to getting all the team on the court or moving forward to fill his roster spot.
Want your voice heard? Join the Space City Scoop team!
Tip off against the Grizzlies is 7PM CT or 8PM EST.
More from Space City Scoop
This article originally appeared on