Without Jeremy Lin, Brook Lopez Has Filled Leadership Void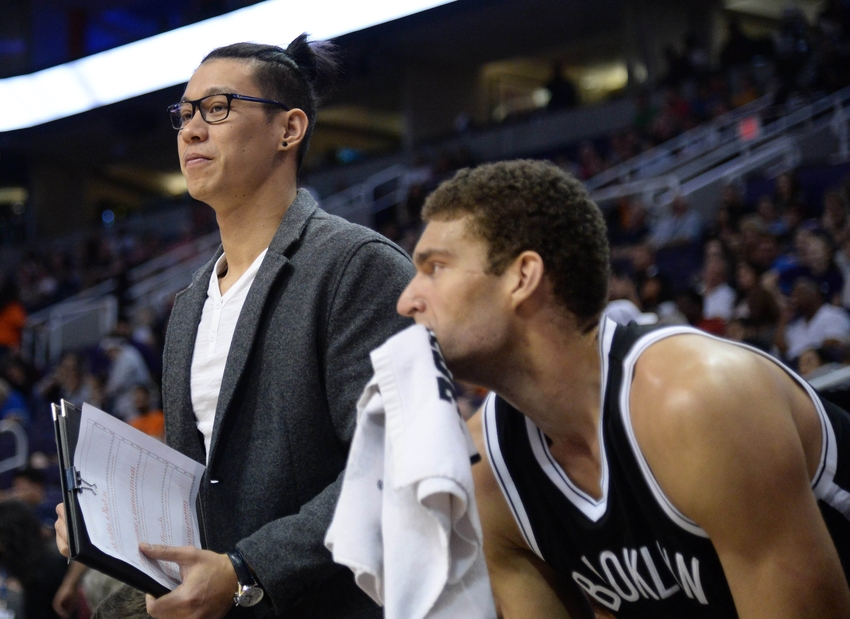 Leaders operate in one of two ways. It's either vocally or by example. The most effective leaders use both. Without Jeremy Lin, Brook Lopez has returned to being the sole leader of the Brooklyn Nets.
Unless LeBron James or Chris Paul find their way to the Brooklyn Nets, Brook Lopez will always be one of the leaders of the team. The organization has been a delicate environment before this year, and Lopez has seen people come and go. While that was happening, he's maintained a consistent level of play and has remained as the franchise's cornerstone.
Want your voice heard? Join the Nothin' But Nets team!
His continuous production means that his teammates can trust him to show up every night, and the guys who have spent time with him can attest to this.
The signing of Lin not only brought on a solid guard, but a great locker room guy who can take on a leadership role along with Lopez. However, neither guy has shown they can lead a team by themselves.
Having two is better than one. Unfortunately, when a team is playing as poorly as the Brooklyn Nets are, leadership is hard to see. Since Lin went down with his injury, the Nets are 2-6. To convey some optimism and lighten a poor situation, five of their losses came against good teams.
Most notable are the Los Angeles Clippers (arguably the NBA's best team), the Charlotte Hornets (a team that isn't dominant but will be in the playoff race) and the Oklahoma City Thunder (it's hard not to give credit to the one-man show that is Russell Westbrook).
More from Nothin' But Nets
Over Brooklyn's three most recent losses, Lopez has shown up. In less than 30 minutes per contest, Lopez has averaged 24.3 points and nailed 45.5 percent of his threes — in total, he's bucketed ten.
He is what the other Nets should aspire to play like. Although it hasn't happened, it's not entirely Lopez's fault that he hasn't raised the level of play from his peers. It's still early in the season; the Nets are still making adjustments and strengthening their chemistry.
However, Lin brings a different dynamic to the court. It's clear that he elevates the level of play of those around him when he's facilitating, and that's part of how he acts as a leader. When someone is struggling, Sean Kilpatrick, for example, Lin can do whatever's necessary to feed the ball in good spots for easy shots. He has that power because he's a ball dominant guard.
Off the court, however, it's a different story. Lin is brilliant — a Harvard guy who scored a perfect 800 on his advanced math SAT II subject test — and can teach the X' and O's to the younger guys on the team, especially the secondary ball handlers. When he watches film with Yogi Ferrell, Isaiah Whitehead, Kilpatrick, or anyone else, he can show them what they did wrong or what they didn't do.
It could be something simple, like making a bounce pass instead of a chest pass. It could be something more complex, such as making a skip pass to the opposite corner on drives because you know that your teammate is going to be left open as his man rotates to help.
Lopez can do much of the same with the bigs.
The most important thing they can do for all the first, second, and third-year players is to preach the importance of working to get better. Every guy in the NBA has potential, and the ones who become great don't let that go to waste.
Brooklyn is loaded with unproven players who aren't deep into their NBA journey. The only way this team is going to get better is if all the young guys embrace the grind and work to pull the team from the depths of mediocrity.
This article originally appeared on