With Jeremy Lamb Out, Marco Belinelli Could Secure a Bigger Role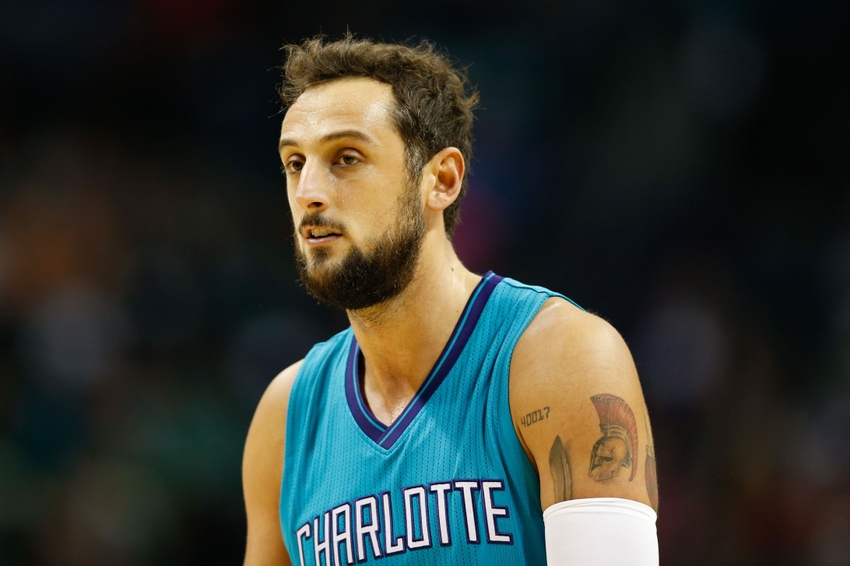 With Jeremy Lamb set to miss some time with a hamstring injury, Marco Belinelli will be the direct beneficiary of extra playing time and a bigger role.
The Charlotte Hornets' bench has taken a bit of a knock with Jeremy Lamb going down with a hamstring injury. He will only be out for one to two weeks but they will need players to step up and replace his offensive firepower with the second unit. Steve Clifford will likely rely on Marco Belinelli more.
The Italy international has been a key figure during the team's first three games but over the next two weeks, he should see increased minutes. If he plays well, Marco could also secure a larger role going forward this season. There were whispers about who would be Charlotte's sixth man heading into the year with both Lamb and Belinelli on the roster.
Marco could clear up that situation if he plays and shoots well over the course of the next few weeks. Jeremy has only averaged 13.7 minutes per game this season but before his injury, he had been gaining momentum. Lamb had scored 16 points in his only game with over 20 minutes of action.
More from Swarm and Sting
Belinelli has struggled a bit to start the regular season as he is only averaging 8.0 points per game in 26.1 minutes per game. He is only shooting 34.8% from the field and 25% from the three-point line. It has only been three games but this isn't the best of stars. With the added playing time that he is sure to receive, Marco could re-write the script.
It will be interesting to see who coach Clifford plays in the next few games as Treveon Graham could get his first game action this season. Even if Graham gets Lamb's minutes, Belinelli should still get around 30 minutes per game. The Hornets need someone to step up and replace Jeremy's 7.0 PPG that he's averaging this year.
Marco hasn't had a hot shooting start to the season and he definitely needs to play better going forward. Lamb should still get playing time when he returns from injury and if Belinelli continues to struggle, Jeremy could take over the sixth man role. The Italian needs to secure his spot in Steve Clifford's system.
It always takes time for players to adjust to their new teams and that seems to be the case with Marco. He is still learning the style of play and his shooting should improve as the year continues.
Hopefully, Belinelli can break out of his early-season slump with a bigger role. This is his time to shine and take full responsibility of being the shooting guard off the bench with Jeremy Lamb out. The Charlotte Hornets need his scoring ability to be successful this year.
This article originally appeared on