With Covington's Struggles, Timothe Luwawu-Cabarrot Deserves a Shot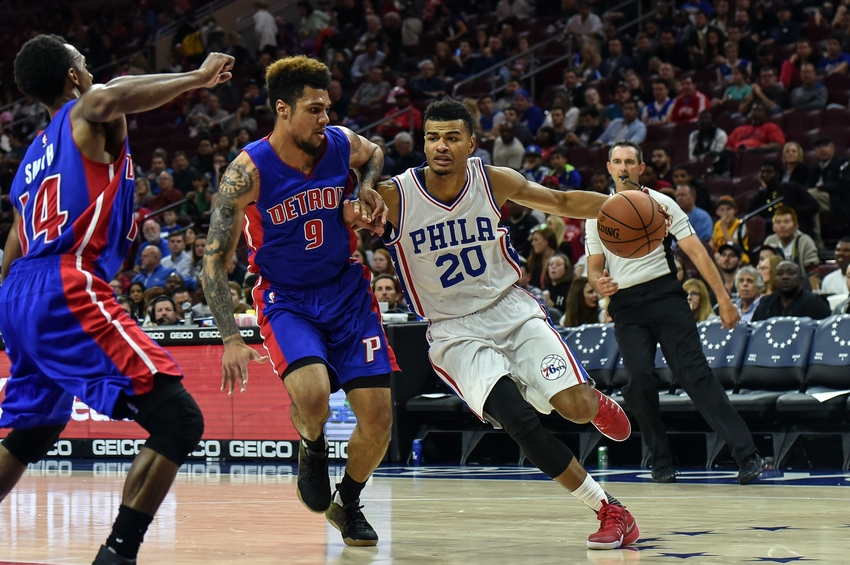 With Robert Covington struggling out of the gates, Timothe Luwawu-Cabarrot could find himself in a position to garner increased consideration for a legitimate role.
The Philadelphia 76ers are struggling in terms of wins and losses.  Despite their somewhat disappointing start, the team has seen a number of positives throughout their revamped rotation thus far. Joel Embiid has flashed legitimate star potential. Meanwhile Sergio Rodriguez looks set to provide the most apt point guard play the team has seen in recent years. There is one name, however, that has seemed to regress more notably than any other member of the rotation's core–Robert Covington.
Now, while there is no doubt in my mind as to whether or not Covington is the better player here, there is significant reason for Brett Brown and company to, at the very least, consider giving rookie Timothe Luwawu-Cabarrot of few extra minutes on the wing given the aforementioned slump Covington finds himself in.
TLC was nabbed 24th overall in the draft this offseason, in a selection that largely flew under the proverbial radar in lieu of Ben Simmons' extensively-hyped pickup at the top of the draft board. With that said, Luwawu is somebody I considered a top 10 prospect in a fairly weak class overall, and has the two-way chops of somebody who is capable of carrying a real role in Philly's rotation if he's given the opportunity to do so.
I want to be clear in pointing out that I do not suggest throwing Luwawu into the starting rotation, nor do I support him replacing Covington in any sense–but a bump in minutes, perhaps at the expense of a sliver of Covington's overarching playing time is something that should be considered.
Part of the reason for Covington's lacking production is the simple fact that he hasn't been utilized in the same manner he was last season. With Joel Embiid and Dario Saric taking a number of offensive possessions largely into their hands, Covington hasn't been inserted into the same featured role he was when the team was more deprived of talent around him.
Another factor, as pointed out by George Kondoleon of Section 215, is that Covington's shooting form from the perimeter hasn't been quite as consistent as it was in 2015-16. He's rushing shots, and his release doesn't seem to be as fluid as desired. Some of that may be due to early season rust, or perhaps the fact that he's still adjusting to an altered role.
With all that said, though, the fact of the matter is Covington hasn't been able to produce at the level he's capable of, even with improved guard play and other key pieces that still have opened up space for some good looks on the perimeter.
The Sixers, albeit improved, are still young and in the midst of a unique rebuild–one that Timothe Luwawu should be a part of. He doesn't possess the same size and length on the perimeter as Covington, but is a versatile defender and extremely entertaining athlete, something that makes him a feasible plug-in off the bench without losing much overall effectiveness from a team perspective on either side of the basketball.
Luwawu is a highly aggressive defender with the foot speed to cover any position on the perimeter and the awareness to find his way into passing lanes and turn lazy offense from the opposition into easy transition offense for the Sixers. He's someone who excelled in the open court during his time overseas with Mega Leks, and an extensive part of that was his aptness in forcing turnovers and pushing the pace as a result.
This is a Sixers team capable of running the floor when Joel Embiid is on the court, and the savvy passing of Sergio Rodriguez and TJ McConnell in reserve only reinforces some of the upside in putting a young athlete with Luwawu's explosiveness on the court.
TLC also showed improvements in the halfcourt during Summer League, with a spot-up 3-point shot that is worth trying out with Covington slumping, as well as noteworthy potential as a slashing given how quickly he's able to make cuts and find his way to the rim.
There aren't many athletes coming into this league as a rookie with the type of raw athleticism TLC brings to the wing, and his upside as a functional two-way piece on a team that is still building around their younger talents is worth a flier and some playing time when others struggle ahead of him in the rotation.
Jerami Grant's recent departure from the team should only help open up some more minutes at small forward as well, while any slight dip in production from the likes of Nik Stauskas or Hollis Thompson would be solid reasoning to put in a player who could a much more important role with the team long term in Luwawu-Cabarrot.
At some point Covington should be able to reverse his shooting woes as the season progresses, but the highly alarming nature of a 19% success rate from deep and some other noticable struggles upon the eye test should be enough to warrant some exploration of other potential options should those struggles continue.
It's time for Timothe Luwawu-Cabarrot to get some real playing time off the bench in the upcoming games, especially if we don't see any major improvements from Covington in the forefront of the rotation.
More from The Sixer Sense
This article originally appeared on