Will the Warriors' Andrew Bogut-less interior defense be their Achilles heel?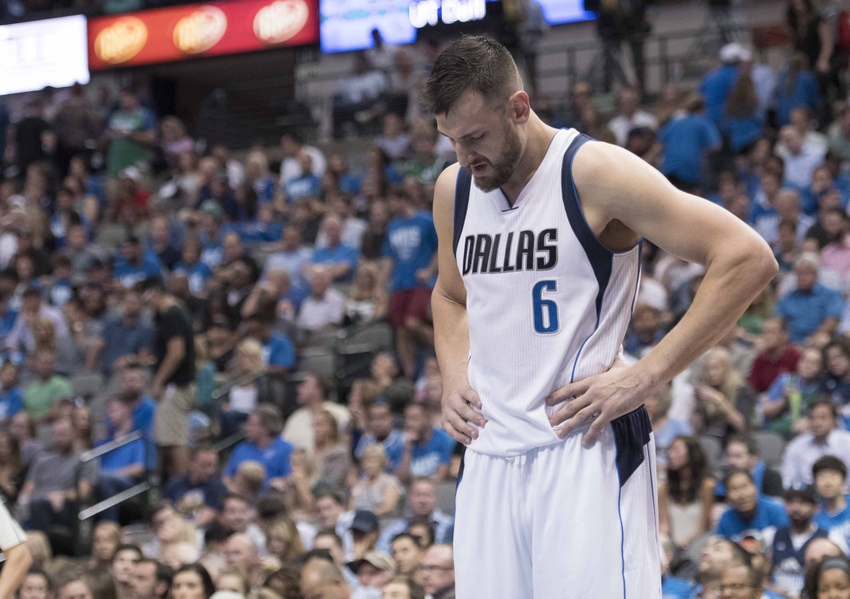 No one in 2016 still believes you're assured success in the NBA if you simply pack superstars into your roster like sardines via brute force. We've all been around too long and seen too much to fall for that myth. Elite talent is obviously a prerequisite for success, but it's not a guarantee.
We know the truth, which is that a range of different outcomes are possible when you try to compile an NBA superteam. You might find instant success, like the Celtics in 2007 who added Kevin Garnett and Ray Allen and won the title right away. You might get delayed gratification like the 2010 Heat, who added LeBron James and Chris Bosh and fought through a season of growing pains before winning in year two. You also might bust altogether — look no further than the Lakers, who have yet to win a single playoff game in the four years since they acquired Dwight Howard and Steve Nash. The point is, you just can't be sure. The odds are tilted in your favor, but it's hard to say just how far they're tilting, and disaster scenarios are always possible.
With the 2016 Golden State Warriors, who were already one of the best teams in basketball history before adding an MVP in his prime in Kevin Durant, I think many of us assumed that brute-force superstar accumulation would be enough. We have enough historical data to know better, but in this case the combination of stars was just too perfect, so we let ourselves fall for the con. Adding Durant to an existing nucleus of Stephen Curry, Klay Thompson and Draymond Green is just absurd. We assumed, with good reason, that the Warriors would be great from day one.
Read More: How Andrew Wiggins became a deadly 3-point shooter
For the most part, they have been. On one end of the floor, in fact, they're historically great. The Warriors' offensive rating of 117.9 points per 100 possessions is the best in NBA history. On the strength of that alone, they're an obvious title contender. The other end is where questions linger. The Warriors have spent much of this season teetering and tottering between the 10th- and 17th-best defense in the NBA; right now they're 11th at 104.8 points allowed per 100. That's still solid, but it's imperfect enough to raise questions about Golden State's vulnerability against the elite teams. It's often said that to be a real title threat, you need to be a top-10 team on both ends of the floor. That's not just an arbitrary rule; it's on the books because any team lower than that has clear weaknesses that playoff foes will be able to exploit.
In the Warriors' case, that weakness is inside. While they're a competent defensive team overall, they're in the bottom third of the NBA in rim protection, allowing opposing teams to shoot 63.2 percent from inside of three feet, according to Basketball-Reference shooting data — 22nd-lowest in the league. And when they don't protect the rim, they're also quite poor at closing out possessions with rebounds — at 74.6 percent, their success rate on the defensive glass is 27th in the league.
These issues are distressing but also entirely predictable. The Warriors created this problem for themselves when they gutted the non-star portion of their roster to make room for Durant this summer. Not counting Draymond Green, a 6-foot-7 switching machine who plays a little bit of all five positions, the Warriors basically said goodbye to their three best conventional big men this summer in Andrew Bogut, Marreese Speights and Festus Ezeli. Speights was never really a defensive guy, and it's hard to miss Ezeli if he can't get healthy this season anyway, but being without Bogut really hurts. The assumption was that Durant was worth it, and you can always cobble together a collection of passable rotation bigs on the cheap, but now we're seeing what "cheap" gets you.
Zaza Pachulia turns 33 in February, which makes him about nine months older than Bogut. Even in his prime, he was never a defensive stalwart; at this point, he's a clear liability. Quick young players with good handles, like Minnesota's Zach LaVine above, know they can go right at Pachulia and beat him off the dribble. When Pachulia plays it safe around the rim, the Warriors are easily beatable with eight-foot floaters in the lane; when he plays up and takes away that eight-footer, guys can blow right by him. Pachulia was never fleet of foot, and now he's absolutely too slow to defend in space against aggressive NBA offenses.
Warriors coach Steve Kerr knows this, which is why he's tried to limit Pachulia's minutes and pepper the depth chart with a few other options on a matchup-to-matchup basis. The problem is those other options haven't worked much better.
Kevon Looney, who's a bit undersized at 6-foot-9 but long and athletic, was the Warriors' first-round pick out of UCLA in 2015. Fans are intrigued by his potential to be a Draymondesque defender in space, with the requisite strength to be stout around the basket as well, but the truth is he just isn't there yet. Looney is 20 and has played 152 career NBA minutes. He plays hard, but he doesn't quite have the instincts to keep up at the pro level. Look at what happens above as the Warriors switch a 4-5 pick-and-roll between Michael Beasley and Miles Plumlee — all it takes is a simple spin move for Beasley to shake his way free of Looney and get to the cup. JaVale McGee might be older than Looney at 28, but he basically has the same problem. David West (36) and Anderson Varejao (34) were solid defenders in their primes, but it's getting tougher for them to keep up.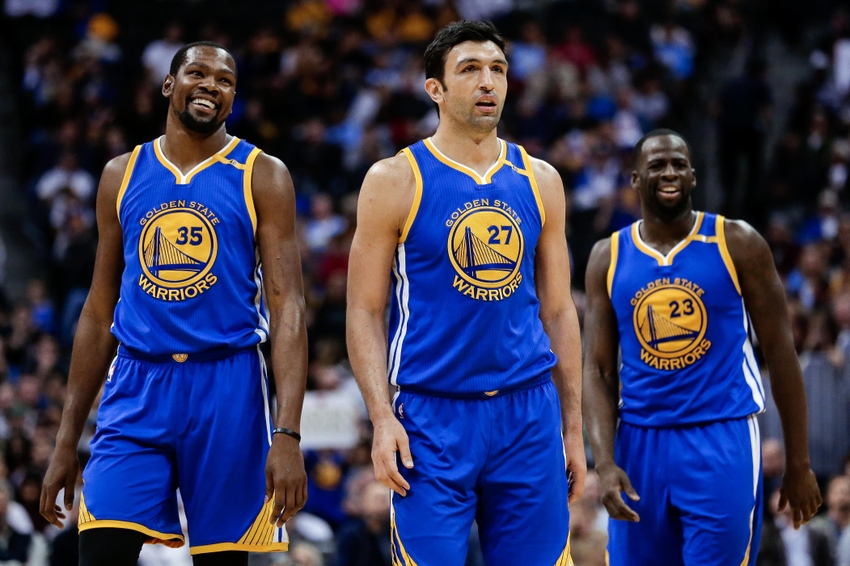 Kerr can keep tinkering with the rotation to his heart's content, but it's hard to imagine him finding anything with the roster he's been given. With Bogut or Ezeli on the floor a year ago, neither of the plays above would have happened; now, you see a couple of them seep through each game. That doesn't feel like terribly much when you're dropping 120 points every night and running teams off the floor, but it does represent a small weakness. The Warriors last year weren't like this. They were a little fearsome; a little nasty. They were a double-edged sword — on one end of the floor they were a finesse team that moved and created open jump shots, while on the other end they punched you in the mouth. Bogut was much of the reason for the latter. That's important, it's underrated and it's not easy to replace with guys off the free-agent scrap heap.
Incidentally, Bogut is still doing his thing for the Dallas Mavericks, who absorbed him into their cap space on July 6, two days after the Warriors landed Durant. The Mavs might be one of the worst teams in the league this year at 3-13, but their defense isn't the main problem — they're merely mediocre on that end, allowing 108.0 points per 100 possessions, 21st in the league. That figure plummets to 95.1 when Bogut is on the floor, per NBA.com; it's 111.4 when he's off, a comically large difference. Going by ESPN's Real Plus-Minus metric, Bogut is the second-best defensive player in the entire league this season. He's still a dominant defensive big man, and he's still got a good amount of nastiness in him, too.
This isn't pretty, but it's exactly the element the Warriors could really use right now, and sadly they gave it up to get Kevin Durant. Does that mean they were wrong? It's hard to say, because after all we're talking about Kevin freaking Durant, but it's noteworthy that the question is even worth asking.
From Bogut's perspective, this season is a shame because he's clearly still a very useful NBA player, and at 31, he's running the risk of wasting away the few quality years he has left on a bad team. It would be nice to see him get another chance at contributing for a title contender, but it's looking like that will have to wait a year at the very least. (Bogut is a free agent this summer.) For the Warriors? Not having the inside presence they once did is going to make life a little difficult.
Listen: What finally brought the NBA and the ABA together?
Just a little. They're obviously one of the two best teams in the NBA — at 15-2, their record is second to none, and while the Clippers have been better in terms of point differential all season, that gap is rapidly closing. In a month, they may well have established themselves once again as clear title favorites. But the Warriors' weakness in the middle is still a problem, and it's quite possibly one that elite West opponents can pick apart in May. Remember that this team very nearly lost in the Conference Finals last year to Oklahoma City, who carved out a major advantage on the strength of Steven Adams and Enes Kanter up front. What happens when the Warriors run into another formidable foe next spring with a strong front line — be it L.A., San Antonio or Utah, all of whom pose a threat to win by going big?
Statistically, the Warriors look just as good as they were a year ago. Whether the most important matchups will break just as well in their favor, however, remains an open question. That alone means they'll deserve a critical eye this season. We all know the Warriors' superteam will be great, but which kind of great? Is it immediate greatness like those '07-08 Celtics, or delayed greatness like the Heatles that's in the cards? We still need to find out.
This article originally appeared on