Will Festus Ezeli Ever Play a Minute for the Trail Blazers?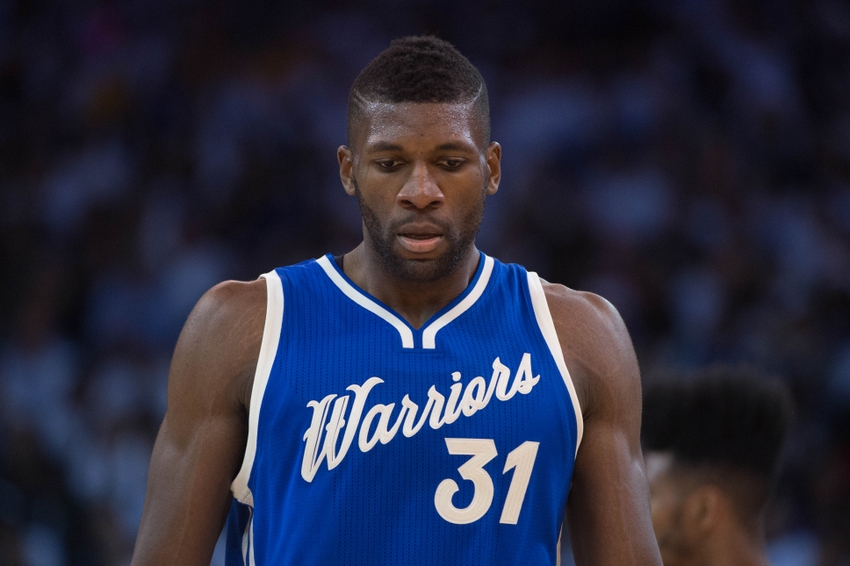 Festus Ezeli continues to rehab his knee, but Portland fans shouldn't hold their breath
Back in August, it seemed like the bargain of the off season. When 30 year old Timofey Mozgov warrants 64 million dollars, everything seems like a bargain. Why not take a relatively cheap flyer on a potentially elite rim protector?
Festus Ezeli has been plagued by injuries throughout his basketball career and last year was no different. While Golden State put together their historic 73-win season, Ezeli largely watched from the sideline. But when Festus is healthy, it's pretty clear he can protect the rim.
Portland Loses Third Straight
Despite already having a couple solid centers on the roster, General Manager Neil Olshey made it clear that getting a defensive minded center was a priority. Two years for around $16 million is a bargain for an NBA contributor – if he contributes. (To be fair, Olshey structured the deal as a team-option for the second year)
Ezeli skipped the Olympics and rehabbed his knee in hopes of being ready for the season opener. When word came out about a knee injection, fans put their guard up. It's a city that's been burned too many times before. The injection's purpose of "pain relief and improved functionality" doesn't sit well.
Still, Ezeli's return to practice before the season opener meant progress. Unfortunately, word slowly got out that his knee continues to swell and that Ezeli experienced a setback during practice. Murmurs around the league trickled out about the actual severeness of his knee. Just this week, the former Vanderbilt Commodore is seeking another opinion.
It all raises the question posed by the title of the article: will Festus Ezeli ever play a minute for the Portland Trail Blazers?
If the knee doesn't heal properly, it's safe to say Ezeli will be cut loose after the season. Each day that passes – it looks more likely that he will never make it to the court for Portland. Even though the Trail Blazers only spent around 8 million dollars on Ezeli this year, the money might as well have been spent to clean up the riots downtown. (Too soon?)
More from Rip City Project
This article originally appeared on