Wiggins, Towns Is The NBA's New Dynamic Duo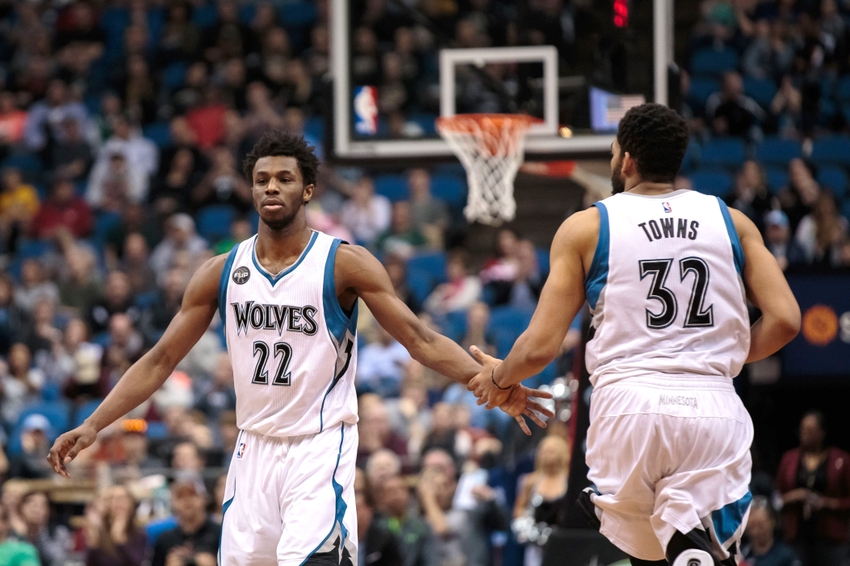 The Minnesota Timberwolves' Andrew Wiggins and Karl-Anthony Towns is the NBA's newest dynamic duo
Yes, I realize Shaq was the most dominant big man to ever play basketball. Yes, I realize Kobe Bryant is a five-time league champion and a top 10 player of all-time. So, how could you possibly put Andrew Wiggins and Karl Anthony Towns in that kind of comparison already?!
Before Shaq was Shaq and before Kobe was Kobe, no one saw what their future held. Kobe was the 13th pick in the 1996 draft. His rookie year he came off the bench most of the year, averaging 7.6 points per game.
In comparison, Wiggins was the first overall pick and went on to average 17 points per game, starting every game the Timberwolves played. Wiggins went on to win NBA Rookie of the Year award.
More from Sir Charles In Charge
Shaq was a little more NBA ready out of college. He was drafted No. 1 overall in the 1992 draft. The moment he stepped onto an NBA floor he was dominant. Averaging 23 and 14, Shaq ran away with the Rookie of the Year award. In comparison, Karl-Anthony Towns was drafted No. 1 overall in his draft, averaging 18 and 10 his rookie year (also running away with the ROY award).
However, there is one big difference with the comparison to Shaq & Kobe: Wiggins and KAT had each other since day one. Shaq was drafted to the Orlando Magic where he spent his first four years, before going to L.A. in 1996, which was Kobe's first year.
In their young careers, Wiggins & KAT have played just one full year together. That year (last season), KAT had his monster rookie year of 18 & 10 while Wiggins chipped in with 21 points, forcing the league to legitimately talk about how bright the future looked in Minnesota for years to come.
While watching Andrew Wiggins grow in his 3rd year in the league, there's obvious glimpses of the Black Mamba shining through. Like all students of the game, you study the great ones that played before you to emulate their game. Kobe admitted to slaving away at Michael Jordan film, studying his fade away jumper, learning his footwork during a triple threat jab step, and finding tendencies he can tie into his own game.
This memorable night during Kobe's farewell tour, he passed the torch to the next in line.
Just like Kobe admitted to watching MJ, Wiggins told Kobe after that shot trotting back on defense, "I stole that fadeway from you, man".
A few nights ago, as the T-wolves beat the Lakers, Andrew Wiggins set his career-high with 47 points. Shooting 14 of 21 from the field, Wiggins keeps proving night in and night out he belongs as a top-tier wing in this league. Wiggins leads the league in 3-point percentage, shooting at a 56 percent clip. Let me say that again. He leads the league.
Shooting was what every pro scout said would hold him back from being an NBA all-star. He is proving that he can turn his biggest weaknesses into a strength.
Karl-Anthony Towns' game is not as comparable to Shaq's. Everyone and their mother knew what he was going to do, but no one on this planet could stop it. Having a 7-foot-1, 345 pound frame helps with backing down anyone and putting them in the rim whenever you want. KAT however, has a different skill set.
At 7-foot-0 and exactly 100 lbs lighter than Shaq, Towns is able to stretch the floor and be a perimeter threat. So far this season, he is shooting 75 percent from the foul line and hitting 40 percent of his threes.
This forces opposing centers to come out and guard KAT on the perimeter. With the current trend of hybrid players being able to play multiple positions, Towns is considered to be a top 5 guy in the league you want to build a team around.
The Future
Whats the first thing that enters your mind when you think of Shaq & Kobe? My first thing is winning. Success. Dominance. Not letting anyone come in their way of doing whatever they wanted. Followed by hatred. No matter how badly the two didn't see eye to eye off the basketball court, on it they held each other accountable. From 2000 (their 5th season together) to 2003, they won back to-back-to back NBA titles together.
Wiggins & Towns have a long (and I mean miles and miles) way to go in the success department. This starts with merely making the playoffs in the west. The way this year is going, its not crazy to think they could get to that step this April.
These two get along great in the early stages of their career, and its obvious with Thibs at the helm that their team chemistry is not a problem. It's easy to see similarities in these two dynamic duos early in their careers, but having years of success and even years of winning championships has to come with the territory of this comparison.
Without success, there is absolutely zero similarities in the two.
Is five years too soon to think that the new dynamic duo can have a legitimate shot at winning an NBA title? Just like Shaq & Kobe, no one knows what the future holds for these two. No one knows "what could be".
This article originally appeared on