Why You Shouldn't Panic About Paul George Not Extending His Contact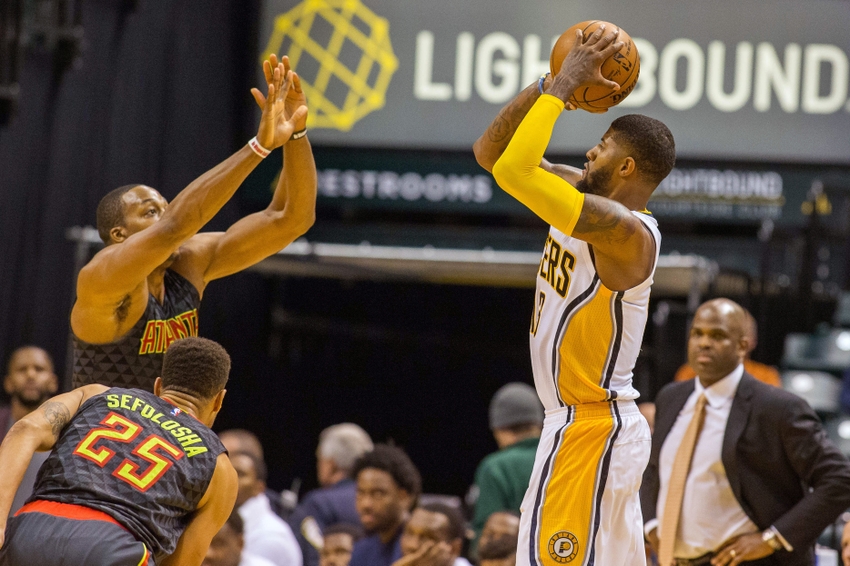 Marc Stein said Paul George isn't interested in extending his contract with the Indiana Pacers.
On the Lowe Post podcast, Marc Stein told Zack Lowe that Paul George has no interest in extending his contract with the Indiana Pacers.
Time to panic?
Not quite.
While Stein said that PG isn't taking an extension, it really isn't stating what is already public knowledge. Lowe also started on the podcast that Bird will likely ride the situation out to the bitter end, whether Paul George stays or not.
"I can't say that I've heard that the Pacers would entertain anything, but if other teams are asking [me] the question, I think you can safely assume they are calling the Pacers."
Indiana doesn't need to move Paul George this season or even next, but team are going to at least ask Bird if he is willing to part with the franchise's best player.
But there are a few numbers to keep in mind as you worry about Paul George leaving Indiana.
5 and 7.5%
Under the current collective bargaining agreement., those are two numbers that give the Pacers a financial trump card on any other franchise. 
Only the Pacers can offer Paul George a five-year contract. And only the Pacers can offer Paul George 7.5% annual raises.
If Paul George was a free agent right now and wanted to sign with another team, he could only sign for four years at most with annual raises of 4%.
The collective difference is tens of millions of dollars.
But another important thing to remember is that there is a new CBA coming up. Therefore, the precise numbers — 7.5% vs. 4% and five vs. four — could change. 
Even if the new agreement changes the details, however, it is unlikely to alter the concept of financially penalizing players who leave their current team for greener pastures. 
The previous lockout and bitter labor battle were at least in part a product of players like Carmelo Anthony and Chris Paul leaving smaller markets to join the largest two markets in the country. So to help out the little guys — the Denvers, the New Orleanses, the Indianas — they reworked CBA made it so that, if players want to leave, they still can — but at a large financial cost in terms of guaranteed money. 
Some players leave anyway. Kevin Durant just did. And Paul George might as well.
But even if the CBA does see some significant changes in the summer of 2017, one thing probably won't change: When Paul George does become a free agent, he will still have a large financial incentive to stay in Indiana.
Lowe says that he has heard Bird is likely to let that reality, and an improving team, be his pitch to Paul George. He said many people around the league believe The Legend would be willing to take the risk that PG walks away for nothing in free agency, in the summer of 2018, before trading him away.
Again, this is all more than 18 months away. So much can change in the interim. But, for now, that's the situation.
Whether it is business or basketball reasons, the news only tells us that Paul George and his agent are being smart about the future.
More from 8 Points, 9 Seconds
This article originally appeared on