Why the win over the New York Knicks means plenty for the Detroit Pistons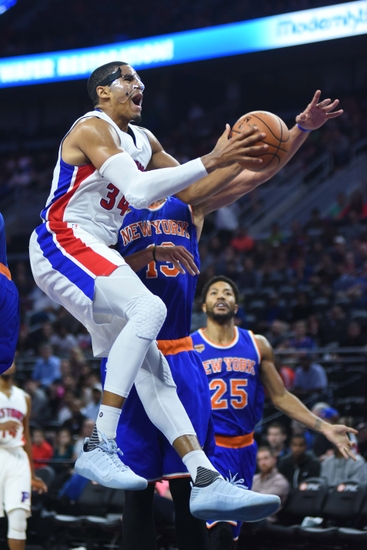 The Detroit Pistons won their third straight game of the season against the New York Knicks a couple nights back. As the game merely proves as an early-season win, there is more to its meaning than most recognize.
The Detroit Pistons began the season 0-1 against the Toronto Raptors back on October 26: losing 109 to 91. Afterwards, fear and uncertainty plagued Piston fans. Had Detroit improved during the off-season? Was last year a fluke? Could they compete without Reggie Jackson? Was Detroit's bench still one of the worst units in the league? And then some.
A week since, and the Pistons are now 3-2 with wins over the Orlando Magic, Milwaukee Bucks, and New York Knicks.
Among those three wins, the most notable of Detroit's is the win over New York.
The New York Knicks tremendously improved over the off-season. They traded for former Chicago Bulls star, Derrick Rose, added a much needed center and shooting guard in Joakim Noah and Courtney Lee, and signed former Piston Brandon Jennings, to serve as Rose's back up. All this plus Carmelo Anthony and Kristaps Porzingis and the Knicks are now a "super-team," according to Rose.
Though, Detroit handled the "super-team" with ease.
And with Detroit dominating the Knicks as well as the Magic and Bucks, fears plaguing Detroit fans after Toronto are relieved.
Yes, the Pistons lost to the Brooklyn Nets, who were one of the worst teams last year; though, when your star center doesn't perform and the Nets shoot above 50%, winning is difficult.
As for the New York Knicks, NBA fans know New York is no slouch. They aren't an Orlando or Milwaukee where a Detroit win is expected (or a Brooklyn team on a normal day), but a team with three All-Stars.
The Knicks are a team fully capable of entering the playoffs next April as a six, seven, or eighth seed. And, if performing well enough, seed lower.
When it comes down to it, the New York Knicks are a good team. The Detroit Pistons disposing of them with ease proves they are better than good.
The Pistons are rather a rising great team who are on the cusp of being elite. Before then, though, Detroit needs to rebound from a poor loss to Toronto and prove the Nets loss was a fluke by performing well against one of the elites. Such opportunity is possible on November 7th against the Los Angeles Clippers.
This article originally appeared on