Why The Milwaukee Bucks Now Belong To Giannis Antetokounmpo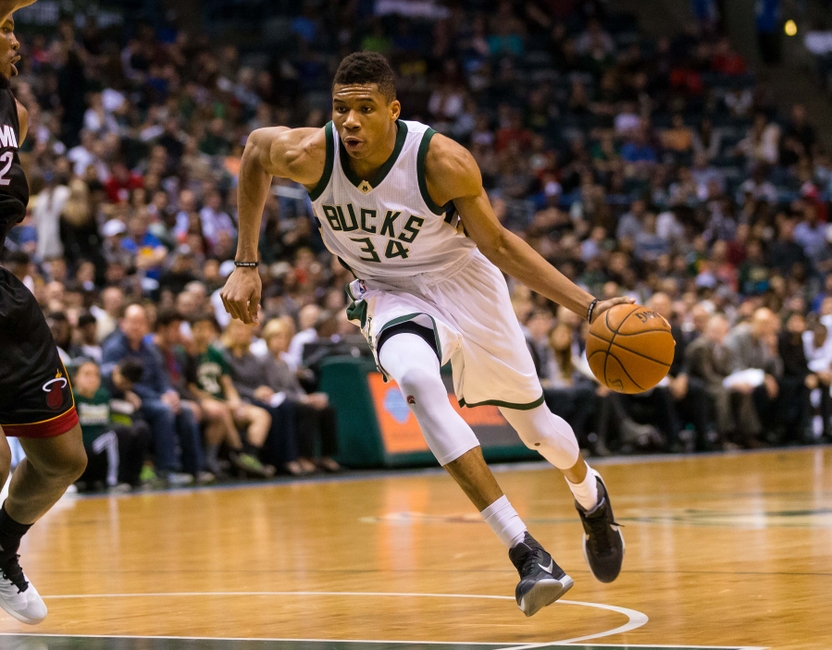 By locking up Giannis Antetokounmpo to a sizeable extension, the Milwaukee Bucks are showing great strides towards being relevant once again.
Over the last couple of years, the Milwaukee Bucks have been a team many have seen to be "on the rise."
But after making the playoffs as the sixth seed during the 2014-15 season, they regressed considerably last year – finishing with a 33-49 record and 12th overall in the Eastern Conference.
While it's concerning the Bucks had such a dismal season in 2015-16, many around the league are expecting them to come back strong this year.
Head coach Jason Kidd has been a big proponent of "positionless basketball" ever since he took over in 2014.
He values versatile players who can shoot, rebound, pass and defend at an above-average rate. This is something that Kidd did well during his own career, and a big reason why he played in the league for 19 seasons.
It's fair to say that Giannis Antetokounmpo is easily one of his favorite players. Antetokounmpo, also known by his nickname "The Greek Freak," is a 6-foot-11, 21-year-old phenom with the ability to play every position on the floor except for center.
Kidd was so confident in Antetokounmpo's abilities that he played the almost 7-footer at the point guard spot for large stretches of last season.
Because of the strong trust Kidd has in him, Antetokounmpo put together his best season last year, averaging 16.9 points, 7.7 rebounds, 4.3 assists, 1.4 blocks, and 1.2 steals per game.
He also shot better than 50 percent from the field, often using his terrific length and quickness to effect the game on both sides of the floor.
This is why the Bucks decided to show their loyalty to Antetokounmpo, inking him to a four-year, $100 million contract on Monday. While at first this might seem like a gigantic contract for a young player on an unproven team, this is actually a super high-value move for the Bucks.
This summer was full of ridiculously over-the-top, massive deals that initially caught many NBA fans off guard.
But this extension isn't one of them.
Antetokounmpo might still be a couple years away from being a top-tier talent in the league, but he's well on his way. His skill set is perfectly tailored for today's NBA and it's obvious that he has a lot of confidence in his game.
While he still needs to work on his jumper, specifically his three-ball, the potential he has is downright scary. There is no reason to believe he won't eventually develop a perimeter shot in time.
With this contract, the Bucks are making it clear that this is his team. This is a squad already stacked with young talent. Players like Michael Carter-Williams, Khris Middleton, Jabari Parker and Greg Monroe all certainly impressive players.
But by giving Antetokounmpo $100 million, these guys need to begin following his lead.
In a weak Eastern Conference, the Bucks certainly have the pieces to finish with a top four record. A lot of it will ultimately come down to health and Kidd's lineups and how he communicates with his young core.
For a long time, it has been virtually impossible for the Bucks to attract premiere talent to the frigid city of Milwaukee. Let's face it, you never hear the Bucks as being a popular landing spot for the game's best available players.
Which is why their decision to invest early and show their dedication to their young prospects, like Antetokounmpo, is the right way to go.
Now that he's part of the nine-figure club, Antetokounmpo has a huge responsibility to live up to expectations. It starts with winning games again and bringing the Bucks from "a team with potential" to one with championship aspirations.
It won't happen overnight, but make no mistake about it – with this move, the Bucks are in fantastic shape moving forward.
This article originally appeared on