Why the Dallas Mavericks Rough Start May Not Be a Problem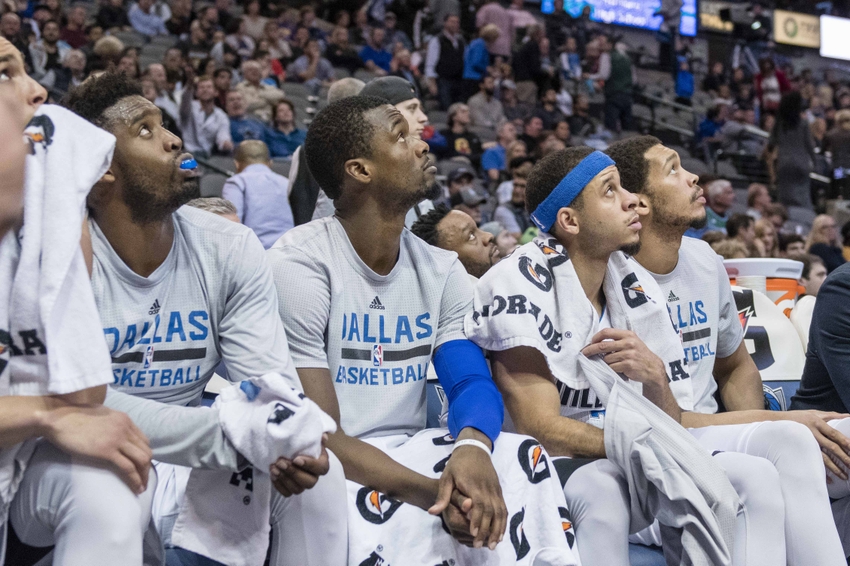 The Dallas Mavericks have begun the season on a bad note, falling to 2-11 due to numerous injuries. Despite the poor record, could this be a positive?
When the 2016-17 season started, not many people would've guessed that the Mavs would be 2-11 and the worst team in the NBA. I even predicted the Mavericks would end up as the fourth seed in the Western Conference at one point, which is laughable now. The beginning of this season has been terrible, and MFFLs everywhere are upset and disappointed.
This reaction is perfectly understandable and appropriate, yet I am choosing to take a different angle. Despite the abysmal record and multitude of injuries, I think this horrible situation may be just what the doctor ordered. Here are three reasons why this situation is exactly what the Dallas Mavericks needed.
Young Players Are Getting Valuable Experience
In past years, Dallas had relied upon the consistent and crafty play of veterans to supply bench play. Players like Raymond Felton, David Lee, and JJ Barea carried the Mavs bench unit last season. However, this offseason Mark Cuban made some changes. The Mavericks second unit is littered with youth. Names like Dorian Finney-Smith, Seth Curry, Justin Anderson, Dwight Powell, Salah Mejri, and Jonathan Gibson fill out the roster.
While most fans were happy to see the trend change, some foresaw what was to come. With youth comes a lack of experience and the new faces simply haven't been ready to carry the load after being asked to fill roles they were never expected to fill. Injuries to Devin Harris, J.J. Barea, Deron Williams, and Dirk Nowitzki have thrust the Mavs young bench into a new role.
Despite their early struggles, this is the exact kind of experience that they needed. Curry, who hasn't been a natural point guard most of his career, is now running the offense any time Jonathan Gibson isn't in the game. Gibson has had to carry a hefty amount of the scoring load, and has helped with the productivity of the Mavs offense with his penetration abilities.
Salah Mejri has played for extended slots and anchored the defense. Dorian Finney-Smith wouldn't have seen the court all year perhaps, but was asked to step up after all the Mavs injuries. Now he is supplying some stellar defensive play in the starting lineup and has carved out a permanent role for himself.
The Mavs young bench is being fast tracked into learning how to provide for their team and finding their niche on the court. Dallas will be better for it later in the season.
When Dallas signed Barnes to a max contract, many fans had doubt that he could earn that paycheck. He was never asked to be the focal point of a team, and rumor had it that he would struggle to fill that role.
13 games into the season, the Black Falcon has silenced the naysayers. Barnes is averaging 20.8 points on 46% shooting , plus is adding 6 rebounds per game. With Dirk Nowitzki being sidelined for 10 games this season, Barnes has been tasked with carrying the load.
Without D-Will, JJ Barea, and Dirk the Black Falcon has been the first look offensively nearly every time down the floor. He hasn't performed quite well enough to earn the Mavs some more wins, but he has done a solid job leading this Dallas squad to some very winnable contests. The longer that he is asked to put the team on his back, the lighter they will feel day in day out. The Mavs injury problem has been a blessing in disguise, as Barnes is learning on the fly how to carry a team.
The Crucible of Sucking Creates Growth
Diamonds are made under pressure, warriors are created from pain, and sometimes team chemistry and growth comes from sucking. Every loss the Mavs take and every mistake they make are filled with lessons to be learned, and this young team has plenty more lessons that need to be taught.
Though times are dark now for the Dallas Mavericks, this period of time could prove the turning point in which they figure out how to win. While it is hard to be optimistic with the current situation, I will maintain faith that it will turn around.
This Mavs squad has the grid, fortitude, and persistence to grow from this and become a good team again. Lets just hope it's sooner rather than later.
More from The Smoking Cuban
This article originally appeared on