Why Not Pull The Trigger On A Tyus Jones Trade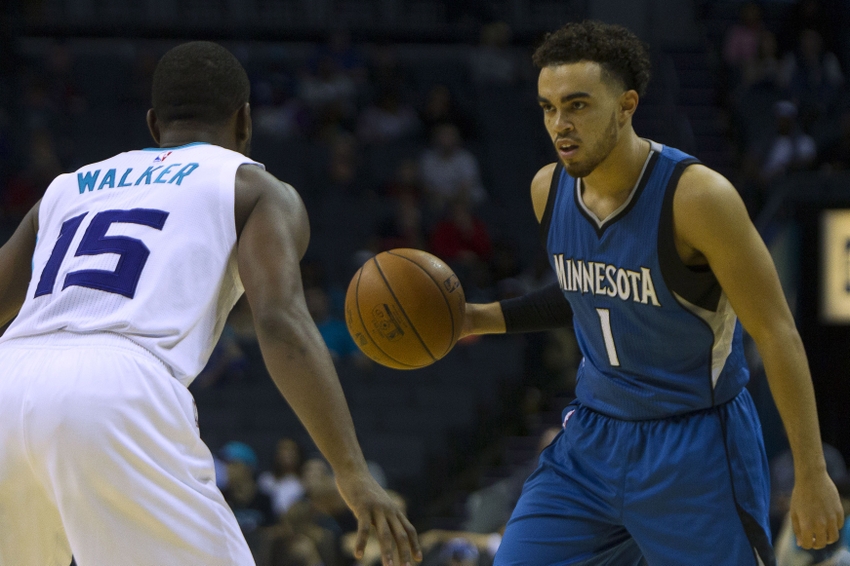 The Cleveland Cavaliers need a second point guard and, after last night, should know that they should acquire Tyus Jones as soon as possible.
The Cleveland Cavaliers need a backup point guard and, according to ESPN's Zach Lowe, have been in talks with the Minnesota Timberwolves regarding a swap of Iman Shumpert for an unknown player. Most suspect that unknown player to be Ricky Rubio, yet every report from the Timberwolves camp indicates a reluctance to part with Rubio.The only two point guards left on their roster are rookie Kris Dunn and Tyus Jones. Dunn, the fifth overall pick in this year's draft, isn't going anywhere for what the Cavs are offering.
Even if he's a consolation prize, Jones  is a great pickup for Cleveland.
First, for there to be a player capable of running the offense so that Kyrie Irving and LeBron James to rest. Second, for there to be a player to put James in scoring position rather than James always focusing on facilitating, which makes the team and him predictable. Last but not last, for there to be a player capable of being an impact defender and play beside the Cavs main four offensive threats.
Against the Brooklyn Nets, Jones has a team-high seven assists and looked every bit like a Ricky Rubio or James himself as he drove towards the rim and whipped the ball to shooters with an underhand pass. In addition, Jones found Towns in
In addition, Jones found Towns in position to score a couple of times as the Timberwolves big man rolled towards the rim or spotted-up at the elbow. This is the type of play that will allow him to thrive as the Cavs backup point guard. The Cavs have a number of shooters in their rotation (J.R. Smith, Mike Dunleavy Jr., Richard Jefferson and Channing Frye). That doesn't include Irving and Kevin Love.
Against the Orlando Magic, Jones showed a great understanding of where to get players, including Wiggins and game-high scorer Zach Lavine the ball as well as be effective in transition.
With his play over the past two games, Jones shows ways he can help get James involved. In the pick-and-roll, James is dangerous as a "roll man" but Irving doesn't have great timing when he tries to fit a pass to the roll man. It's one of the reasons Tristan Thompson was more effective with Matthew Dellavedova last year than Irving.
Jones can also use the pick-and-roll to get James open shots in the midrange or along the baseline. Those are two areas where James is traditionally a very solid shooter.
Jones can get the ball to both Irving and James in transition, where they're exceptional finishers around the rim.
At the end of the day, Jones is a true floor general who will get all of his teammates involved. The Cavs need that so that they don't make the offense so predictable. Right now, the offense is almost completely dependent on James' drive-and-kicks to get all the shooters involved.
In picturing Jones playing beside Irving, Lavine, is an ideal comparison for Irving offensively. Defensively, as the Cleveland Cavaliers watch Irving struggle guarding quicker guards, a position change could be the solution to Irving's defensive issues.
While matched up with a big and aggressive combo guard in Isaiah Whitehead, Jones had a masterful defensive performance. He racked up five steals from his awareness both on-ball and off-ball. He also helped managed to help hold Whitehead to 6 points, Randy Foye to 3 points and Sean Kilpatrick to 14 points (his lowest point total of the season).
The Magic's point guards had more success scoring against Jones, as Elfrid Payton and D.J. Augustin combined for 28 points. However, Jones' defensive activity was still outstanding all game. It should also be noted that both Payton and Augustin were former top-10 picks in the NBA draft.
In the Cavs' last game, Dennis Schroder scored more than all the Nets point guards combined. The 28 points Schroder scored are as much as Payton and Augustin combined.
It might not seem like a great trade because Tyus Jones isn't a household name. Unless you're a fan of Duke University, that is. At Duke, Jones was the 2015 NCAA Men's Basketball Tournament's "Most Outstanding Player".
Do you think the Cleveland Cavaliers should make a trade for Tyus Jones? Who else would you take from the Timberwolves in this trade (to make the salaries work)? Let us know in the comments section or Twitter @KJG_NBA.
More from King James Gospel
This article originally appeared on