Why Not Looking at Jamal Murray Could Be the 76ers' Largest Regret
While Ben Simmons may be the best selection in ideal conditions, there's still the potential for Jamal Murray to be the biggest miss of the Philadelphia 76ers' 2016 offseason.
In the weeks leading up to the 2016 NBA Draft, only two names were truly mentioned in the conversation regarding who the Philadelphia 76ers should select with the first overall pick — Ben Simmons and Brandon Ingram. With that said, however, there is on name in particular that likely should have warranted some more legitimate consideration and, in turn, has the potential to become one of the more disappointing misses of the team's hectic first offseason under Bryan Colangelo. That name is Jamal Murray.
My disclaimer here is that, under ideal circumstances, Ben Simmons was the better overall selection, despite being lower on my draft board and not having the most ideal team fit for the immediate future. If his scoring develops and his injury doesn't cause any prolonged complications, he could be the ideal modernized point forward that spearheads a completely revamped roster as they continue their hopeful accession towards relevancy.
There is reason to believe, however, that Murray could end up developing into a player that is more productive, both in the short and long term, and he possesses the upside of player who could have had a much more suitable role in the midst of a frontcourt-heavy logjam in Philly.
Murray is an immediate fix to some of Philly's biggest problems.
Murray's appeal from the Sixers' perspective is rooted in just how well he fits the mold of somebody who is capable of solving some of the Sixers' most pressing rotational concerns. He's capable of manning either guard position, with a sharpshooters mentality from deep and an aptitude in playmaking that coincides seamlessly alongside it on the offensive side of the ball.
The Sixers have been dreadful in regards to their floor spacing for years now during the Sam Hinkie-instituded rebuild, with their glut of big men and lack of sustainable, long term guard depth leaving much to be desired on the perimeter.
Even when they've had bright spots on the outside, such as Michael Carter-Williams' Rookie of the Year campaign or Ish Smith's breakout 2015-16 performance, they still have lacked a guard who can truly be relied on as a knockdown shooter from deep. Nik Stauskas, who they brought in specifically to address that problem, has floundered as an inconsistent option on a near-nightly basis.
Murray gives the Sixers not only an aggressive scorer, but an incredibly apt perimeter shooter. He consistently showcased himself as one of the most prolific outside scorers in college basketball during his season with Kentucky, both off the ball alongside Tyler Ulis and off the dribble when asked to carry the load. He shot 40 percent from beyond the arc on nearly 8 attempts per game last year, a notable percentage for somebody as young as Murray was.
Simmons, while he does insert some improved ball movement into the offense, doesn't quite provide the same floor spacing that Murray does. He's incapable of scoring outside of 15 feet with any real consistency at the moment, and makes the majority of his contributions as somebody who is capable of finding open teammates for baskets–something that doesn't help as much when there aren't any viable scoring option placed behind the 3-point arc.
Murray's scoring instincts are well beyond that of any 18-year-old we've seen in recent years, and that alone makes him somebody the Sixers genuinely should have looked at in more detail. He understands how to read defenses and find avenues of production at a level that some veterans don't always attain, and his ability to hit shots with proficiency from almost any area of the court helps negate some of the disadvantages stemming from his less-than-stellar athletic profile.
The team still doesn't have a legitimate point guard for the future.
Yes, yes, Ben Simmons is fully capable of leading the offense. I'm not denying that whatsoever. With that said, however, having some sort of stable option in the backcourt is key to almost any team's success. Look at one of Simmons' most oft-mentioned comparisons, LeBron James.
The King still has Kyrie Irving to lean on, both as a scorer and a secondary creator, despite being the main cog offensively from the three spot. We've seen similar sets with Blake Griffin taking the ball on the perimeter and Chris Paul working off of him from time to time in Los Angeles, or Paul Millsap doing so with Jeff Teague in recent seasons with Atlanta.
Having a four man capable of running the offense like Simmons is an incredibly bonus, but having some form of a reliable counterpart in the backcourt is something ever team needs, and something the Sixers currently lack moving forwards. Sergio Rodriguez and Jerryd Bayless are fine stopgaps, but their production beyond a handful of seasons will be minimal in relation to actually moving the team's competitive status in the right direction.
Murray would have given the Sixers that reliable option on the outside, as somebody I consider to be the clear top option amongst guards in the 2016 rookie class. Not only are his aforementioned scoring instincts beyond impressive, but he has an extremely high basketball I.Q. and a solid grasp on facilitating from the point guard position that he wasn't always able to show alongside Tyler Ulis with the Wildcats. He played the point with the Canadian National Team during his high school days, and was still smart with the basketball despite his aggressive on-ball mentality with Kentucky.
Simply put, Murray fills a perimeter gap in the rotation that will still exist with Simmons, despite the unique role the first overall selection encompasses. Many fans are pointing towards next year's guard-heavy draft class as an avenue towards fixing that, and with good reason, but there is still a noteworthy amount of uncertainty given that we still haven't seen those guards in college action yet.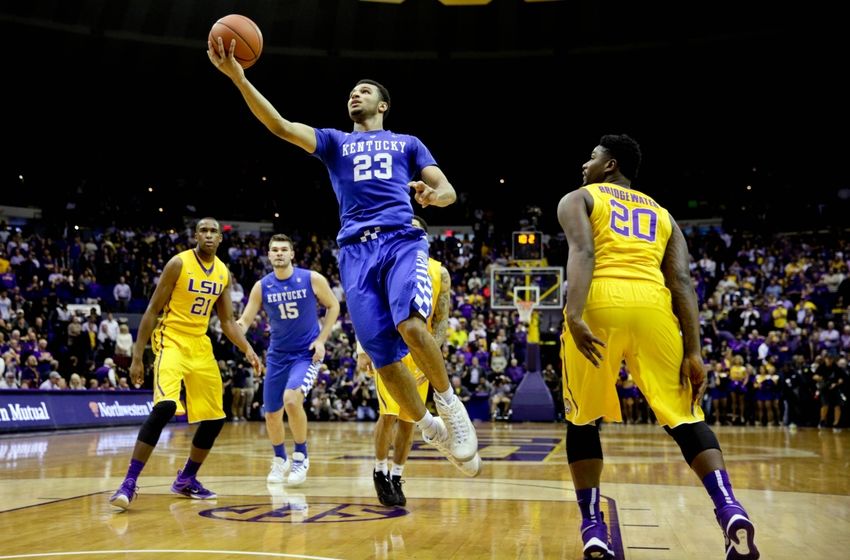 Murray fits today's NBA, and could simply be a better player.
This comes back to me having Murray ranked as the better overall prospect coming in, albeit I was among the only people to make that proverbial leap of faith.
There's a legitimate chance that Murray, all-in-all, is just a better player than Simmons. That, in and of itself, could make him more of a miss than a willful overlook when we look back on this offseason if that does end up being the case — especially in today's NBA.
Murray is a devilish scorer for opposing teams to deal with. He can man either guard spot effectively, and shoots the ball at a level that makes him extremely difficult to defend — especially when paired alongside stronger interior presences, something the Sixers would have little trouble providing. He's mobile with the ball in his hands, and can run off of screens as a creator or find space for himself to score with incredible ease on several occasions.
He has a knack for finding holes in the defense and exploiting them more so with his clever positioning on the floor rather than his outright athletic tools, but is able to get where he needs to be and find ways to finish off plays regardless.
This is a league that is becoming increasingly driven towards perimeter scoring, and Murray embodies that movement well. He's the type of change-of-pace, well-timed scoring threat that could thrive in today's league, and his above-average basketball I.Q. makes that type of development seem only more attainable as he continues to progress.
He doesn't wield the greatest defensive attributes and he certainly won't win matchups based on speed or power alone, but he has a level of skill that seems to transcend a lot of those negatives. He'll have his growing pains, sure, but Murray has the making of somebody who could be a special offensive player in this league.
There's simply reason to believe he could make the Sixers a tad regretful in the years to come. Sixer fans simply have to remain mindful of the possibility, despite the immense optimism that is, rightfully so, surrounding Simmons' future.
More from The Sixer Sense
This article originally appeared on