Why Klay Thompson Would Actually Fit With The Celtics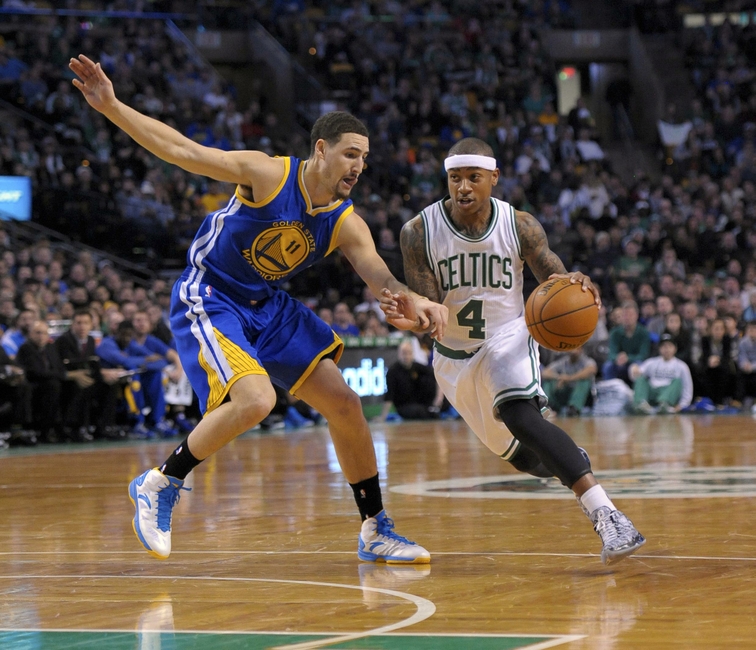 Even though Klay Thompson isn't being shopped at the moment, trading for him would actually make sense for the Boston Celtics
Klay Thompson is a lethal three-point shooter who is also one of the best two-way guards in the league. With the addition of Kevin Durant in the Bay Area, it's pretty safe to say that Klay Thompson has moved down the totem pole.
Even though the rumors that the Warriors were shopping Thompson were quickly shot down, making a move for him would actually make a lot of sense for the Celtics.
Danny Ainge and the Boston Celtics are listening and always ready to make a move. So the question is, what would they have to give up to get Thompson (in this hypothetical scenario)?
More from Sir Charles In Charge
What would it take to get Thompson to Boston?
My guess, it would be some sort of combination of the three players listed below.
Avery Bradley
Jae Crowder
Tyler Zeller
Avery Bradley would immediately fill the void left on the defensive side of the ball for Golden State. On the offensive side of the ball, Bradley is no slouch. He's averaging 18 points per game this season and shooting 41.2 percent from three-point land.
Jae Crowder is a 6-foot-6 small forward who plays as hard as anyone in the league. Crowder has come a long way since he arrived in Boston. If Crowder winds up a Warrior, he would add to the bench depth which was seemingly depleted this past offseason.
Tyler Zeller runs the floor as well as any big man in the NBA. With Steve Kerr's uptempo offense, Zeller would be a nice piece off the bench for them. The 7-foot big man would also help the depleted depth off the bench, especially at the power forward/center position.
Why It Works
Although Klay Thompson is off to a slow start this season with the Warriors, it's unlikely that they'd be willing to cut ties with arguably the best shooting guard in the league.
If this trade was to happen, the Boston Celtics would finally have a deadly outside shooter, which they have been craving since the departure of Ray Allen. Not only is Thompson a long-range threat, he is a great defender and can score the ball as well as anyone in the league.
Having a player such as Thompson would take more pressure off Isaiah Thomas and as he would have someone else who can create their own shot at will.
Can you imagine a Celtics big three of Isaiah Thomas, Klay Thompson and Al Horford?  With that trio, the Celtics would be able to run with anyone in the league.
While it may be hard to believe a trade of this magnitude would come to fruition, never count Danny Ainge out.
This article originally appeared on