Why Has 76ers Management Been Silent Regarding Ben Simmons Injury?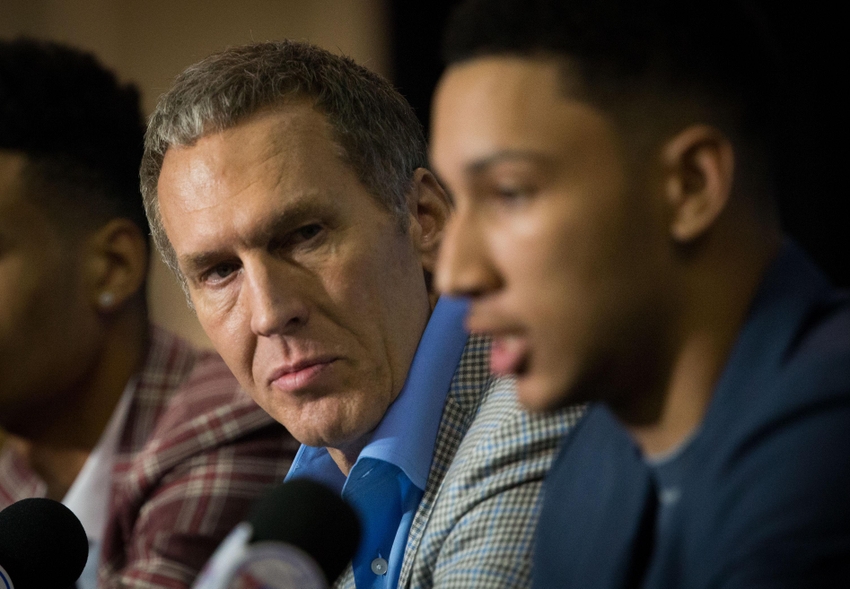 The Philadelphia 76ers are 4-14, they've been entertaining to watch, and Ben Simmons is still recovering from a broken foot. Throughout his recovery process, why has the team remained so quiet?
Two months ago, on September 30, Philadelphia 76ers 2016 top draft pick Ben Simmons stepped on a teammates foot and subsequently broke the hearts of Sixers fans, while training in Galloway, New Jersey with the team at Stockton College.
As reports of the injury started to surface, fans were desperate to hear positive news. Some may have made deals with the devil, asking Lucifer to 'Just make it an ankle sprain,' not the dreaded Jones Fracture. Well, just because it's 2016 and it's Philadelphia sports we're talking about, it was the 5th-metetarsal fracture that was feared. Once again, process trusters called up Beelzebub, offering a soul for a 2016-17 start date.
Deals with the devil aside (ironically, the Jersey Devil is "from" Galloway Township), when can Philadelphia 76ers fans expect to see the six-foot, ten-inch point-forward from Australia?
Something to Believe In
I don't know how much stock you can put into a Twitter like, but you certainly cannot underestimate a starving Sixers fan. In peak-process fashion, 76ers fans jumped all over this tweet from Bleacher Report's Drew Corrigan:
GUYS. GUYS. HELLO. pic.twitter.com/K3m7twOg0Y

— Drew Corrigan (@Dcorrigan50) November 27, 2016
After seeing this interaction, we're all staring down the barrel of two parallel universes. In one world, we're all watching the Sixers play the entire season without their star rookie, much like they did with Nerlens Noel sidelined, and Joel Embiid, who missed his first and second seasons, twice rehabbing his multi-million-dollar foot. In another planet, we're welcoming back the Melbourne-raised prodigy with imminent, Philadelphia-flavored M-V-P chants during his first two minutes.
Outcome aside, why has the team remained so quiet about Simmons' injury?
More from The Sixer Sense
This argument may fall into the used laundry pile of aforementioned starving Sixers fan mumblings, but could the lack of discussions from the team actually be a good thing? We've speculated that this time away from NBA competition could lead to an upgrade to Ben Simmons shot. But that is just speculation, not answers.
Of course, we want answers, which never seemed to come from former General Manager, Sam Hinkie. In retrospect, that rubbed so many people the wrong way. But, shouldn't the team know by now that if something was actually wrong, words should be formed via press release or verbal noises, to satisfy one's desire to know what the hell is going on?
Writer's Note: I will be doing extra praying tonight after typing "Devil," "Lucifer," "Beelzebub," and "Hell," while writing about the Sixers. Welcome to our lives, world.
Does it all add up?
So, is it alright for optimists to put three and three together? First, we received the three-to-four month timeline, described by ESPN's Jeff Goodman after the injury took place. Next, we have the favoriting of the Tweet by Simmons. Then finally, there is the team's unwillingness to talk about the situation. Is that silence a sensation of comfort, or fear?
76ers fans have been in close contact with that familiar fear, which all stemmed from Andrew Bynum's porcelain patellas. But, as a wise man once said (me), with fear comes opportunity.
Ben Simmons' absence could be viewed as a blessing for current members of the Sixers, searching for an opportunity with the team, moving forward, or with another franchise. Being that every minute on the floor is an audition, players who are on the final year of their contracts, such as Ersan Ilyasova, Sergio Rodriguez, Hollis Thompson, and T.J. McConnell are all attempting to write their next pay check and create more opportunities for their careers. Wherever they end up next season, these minutes can literally be valuable.
Even for Sixers' rookie, Timothe Luwawu-Cabarrot, his 65 minutes so far in the regular season may have never taken place if Simmons was healthy (obviously, Jerryd Bayless' wrist injury factored into this as well). For a first-year player, every minute is an incomparable learning experience.
For every unfortunate injury, an opportunity is born, and even though the 76ers may have been silent with the Simmons updates to this point, NBA circles will be far from quiet when the number-one overall pick returns to game action in Philadelphia.
This article originally appeared on