Why Deyonta Davis deserves more playing time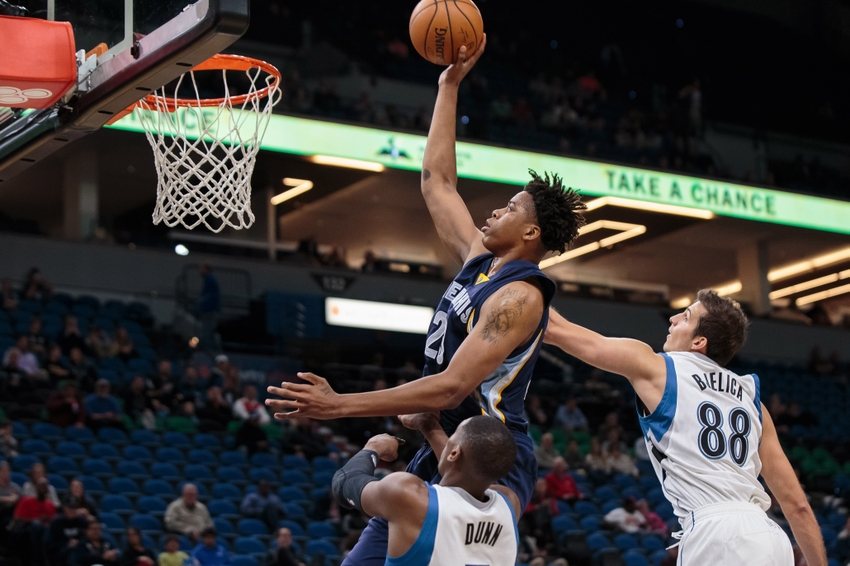 Rookie Deyonta Davis has the potential to be a star player in this league. The Memphis Grizzlies need to give him reps now to accelerate his development.
For the first time in years, the Memphis Grizzlies finally have young talent to be excited about. 2016 draft picks Wade Baldwin and Deyonta Davis have the tantalizing potential to be a stud duo for the Grizzlies going forward. In addition, 2015 first-round pick Jarell Martin has shown flashes of brilliance on both ends of the court. While fans have seen ample playing time from Baldwin and Martin, Deyonta Davis needs to receive more playing time.
Health
The main narrative for the Grizzlies this season is health. While Mike Conley and Chandler Parsons underwent season-ending injuries, first and second string centers Marc Gasol and Brandan Wright's seasons were cut short, too.
This season they must utilize these players wisely, because their impact on the court and in the checkbooks. Without them, the Memphis Grizzlies won't make the playoffs. To manage their minutes, Fizdale would be wise to play Deyonta Davis more.
Getting the rookie big man more playing time now could benefit in the long-run. If Gasol and Wright were to go down, they wouldn't sacrifice rim protection by playing Zach Randolph, Jarell Martin and JaMychal Green at the 5 position. Furthermore, the Grizzlies won't have to give up young talent or assets to rent a veteran center.
Ability to immediately contribute
Deyonta Davis has played five games thus far; however, he received under 10 minutes in four of those contests. In the one game where he played over 10 minutes, he was a stud on the court. Davis scored 17 points (on 7-of-8 from the field), grabbed 6 rebounds and swatted 2 shots.
When given ample playing time, Deyonta Davis proved to be a capable rim protector, even as a rookie, and a consistent above-the-rim threat in the half-court.
Fizz on Deyonta Davis vs. T'wolves: "Every chance he gets out there, i want to see him flying around. I don't care if he's screwing up."

— Clay Bailey (@claybailey9) November 2, 2016
If Deyonta Davis puts up performances like that by just "flying around," it'd be great to see him receive at least 15-20 minutes a game. There would be growing pains, like what we're seeing with Wade Baldwin; however, he'd bring a different dynamic to the game.
Change of pace
Lineups with Zach Randolph at the 5 position have been great offensively but tragic defensively. This season, Randolph has a career low defensive box plus/minus of -2.3.
Adding Deyonta Davis could add a different element to the offense. Because of his superb athleticism and ability to protect the rim, the Grizzlies could mask a run-'n'-gun team with a rim-running center. Rookie point guards Wade Baldwin and Andrew Harrison may benefit from a faster offense. Now that Chandler Parsons is back, James Ennis slides down to the bench, adding a versatile wing who can defend, run the floor and shoot the three ball. All of the sudden, a Baldwin (or Harrison, whichever side you choose)/Carter/Ennis/Martin/Davis lineup could run up-and-down the court with teams while defending at an above-average level.
More to come
Deyonta Davis has the ability to be a legitimate difference-maker in this league. His ability to hit the mid-range jumper, finish around the rim and protect the rim resembles a young Serge Ibaka. If the Memphis Grizzlies could give him some minutes this season, he could blossom a lot sooner than people expect.
More from Beale Street Bears
This article originally appeared on