Why Cutting Both Jarrett Jack and Will Bynum is Suspect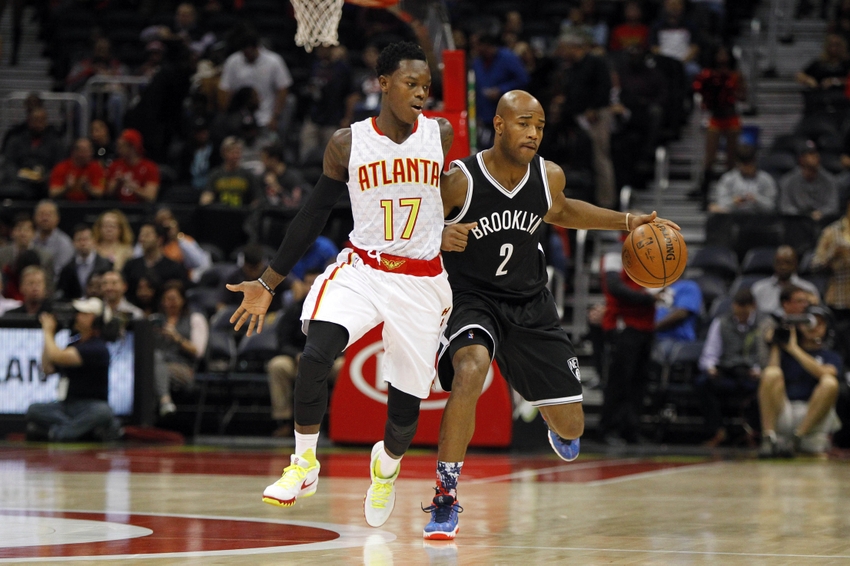 The Atlanta Hawks aren't deep at the point guard position. Prior to the regular season, they cut Jarrett Jack and Will Bynum. Were these good moves?
At this time we all are riding high after the perfect start to the Atlanta Hawks season. Not to deliberately take anything away from that, but a couple pre-season roster decisions could come back to rear their ugly head as the Hawks 2016-17 campaign progresses forward.
On October 20th, Atlanta waived reserve point guard Jarrett Jack, and overnight decided it was in their best interest to waive Will Bynum as well. Apparently the motivation behind those moves was directly related to the concern regarding the depth in the front court after learning that Tiago
Splitter would be missing the first four weeks of the season because of a hamstring injury. If Splitter was indeed healthy, then it is widely believed that one of either Edy Tavares or Mike Muscala would have instead been on the chopping block.
To go into the season with only two true point guards is really a resounding vote of confidence in favor of the career star across seas and NBA rookie Malcolm Delaney. The Hawks team of scouts have been watching Delaney the past few summers perform at a high level in Europe and made him a top priority in free agency.
He was inked to a two-year, $5 million contract over this past summer. If you are expecting me to start talking down on his game in this portion of the article then you are in for a total state of shock.
Pushing all the chips to the middle of the table betting on Delaney isn't at all a problem here. I think he is a fabulous player and he has even shown that in the Hawks 2-0 start. At 6'3″ he has the type of ball handling skills that could make the likes of Kyrie Irving or Jamal Crawford jealous if they actually watched his exploits.
He will only help coach Budenholzer stretch the floor as he just isn't going to have a 3-point percentage any lower than 35 percent. He can run an offense impressively and the game flows seamlessly when he is running the point.
The issue with waiving Jack and Bynum is that if there is a significant injury or even a nick or a bruise, the team becomes very vulnerable. Now as bad and frustrating as Splitter has been during his very limited amount of production for the Hawks, releasing him and his $8 million salary wasn't ever an option.
They just can't do that. But to maintain until his hamstring injury heals by around Thanksgiving Day with only a reserve frontcourt of Mike Muscala, Kris Humphries and Mike Scott would have been much more favorable than the outrageously thin depth at point guard they currently have.
Delaney has been viewed as the back-up point guard for quite some time. The attention paid to the position of point guard has been questionable all the way back to last years trade deadline really. Is there a viable reason to trade a young, decent player like Shelvin Mack for the ghost of Kirk Hinrich? You can imagine how I could rant and rave further about, ahem, similar moves, but that's another story for a different day.
It was actually learned during the exhibition games that Jarrett Jack would not have been ready for the start of the season coming off a serious tear of his ACL nearly one year ago. That may have contributed to the decision to release him.
In the case of Will Bynum though, it seems like having at least some veteran presence at the position would have earned him a spot on the final 15-man roster. Bynum, a former Georgia Tech Yellow Jacket like Jack, would absolutely not have been dead weight. He has always overcome obstacles to have a prosperous career in the NBA. His career high of 20 assists for the Detroit Pistons is the most ever since Isaiah Thomas in 1985. He would not of course have made the Hawks world beaters on his own, but he would however have been a nice insurance policy.
Mike Budenholzer, we have to assume has a plan for the grand scheme of the games most important position. The Hawks more than likely will pick up a 3rd point guard more sooner than later. For the time being, the combo of Dennis Schroeder and Malcolm Delaney will have to stay healthy and continue to lead the charge.
Peachtreehoops.com helped contribute to this report
More from Soaring Down South
This article originally appeared on