Why Can't Jahlil Okafor Translate His Low Post Game Into Rebounding?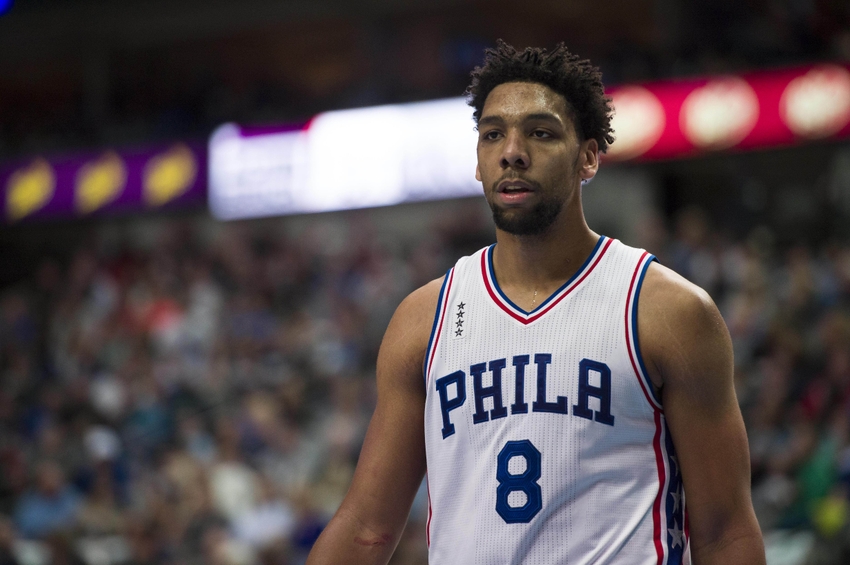 Philadelphia 76ers center, Jahlil Okafor, has shown the ability to be a bully in the low post on offense, but why hasn't he been able to translate those skills in the paint into becoming a better rebounder?
Was Jahlil Okafor worthy of being the third overall pick in the 2015 NBA Draft? This is a question that has been, and is still in the process of tearing Philadelphia 76ers fans apart. Yes, he has shown elite low post talent from time to time, but that has been about it so far.
The mystery
Right now, Jahlil Okafor just isn't a good rebounder. But why? His footwork on offense may be his most unique attribute. His willingness to lower his shoulder on offense and move a defender back in the paint has been evident. So, why can't he combine the quick feet with body strength, and become elite at boxing out?
All elite rebounders in the NBA are exceptional in the following four categories:
More from The Sixer Sense
Positioning
Balance
Reaction Time
Strength/Athleticism
How Does Okafor Utilize These Four Skill Sets With the Ball On Offense? Observations:
Positioning – When Okafor receives the ball, quite often, he's too far away from the basket. Defenders are easily able to move him out towards the 3-point line, which has to drive head coach, Brett Brown, crazy. By the time he receives the ball, the shot clock is already running on empty because he's spent a large portion of the possession fighting for position. Even with this said, he is still able to make something happen with a drive to the hoop or a one-handed baby hook.
Balance – This is where he may face up, palm the ball, set his feet into a pivot, and survey the defense in front of him. Another four seconds tick off the clock, and now he has a decision to make. If he doesn't find his center of gravity (balance), then this will often lead to a forced shot, or a bail-out pass, because the defense will have enough time to keep a body close and in front of him. Thankfully, his balance and coordination allows him to do this:
Reaction Time – Once his center of gravity is obtained, and the potential lanes to the hoop are mapped out, the next step is figuring out what to do with the ball. This is where Okafor needs to prove that in the NBA, like he did at Duke University, he's able to draw attention and send a crisp kick-out pass to the open man after drawing the double team. Obviously, the necessity to pass is nullified if he has a clear lane to the hoop.
Strength/Athleticism – Quality NBA offenses know how to finish, and if Okafor has a clear lane ahead of him, the defense plays man-to-man, and he is given a first step, most of the time that's an easy two points for the 6-foot, 11-inch center (as seen in the video above). Even if he does't have a lane, he sill has the capability of making something out of nothing.
How Does Okafor Utilize These Four Skill Sets When Trying to Rebound? Observations:
Positioning – Often times, you'll see Okafor spectating on the glass. Instead of finding his spot on the floor to put him in the best position to gather in a missed shot, he'll concede the paint and seemingly hope the rebound comes to him or that one of his teammates is able to get after the glass
Balance – What good is balance if you're not in position? Nonetheless, when Jahlil does happen to have position, it seems as if he allows the opposition to easily knock him off his footing, quickly turning good placement on the floor into a disadvantage.
Reaction Time – This is possibly the most frustrating part about watching Okafor "attempt" to rebound the basketball. Just like his positioning, he watches the miss instead of reacting to where it's going to land. That precious split second that he spends spectating the ball's bounce off of the rim is all the other team needs in order to body him away from the ball.
Strength/Athleticism – The previous category was frustrating, and this is the most concerning. None of us want to admit that he's just not athletic enough to become a good rebounder, but it's an inconvenient possibility that it's the case. Is he too tired to run down a ball, or is he not quick enough to get that aforementioned positioning?
Why Can't Jahlil Okafor Translate His Low-Post Offense to Rebounding  Success?
Okafor has a rare set of light feet on offense, allowing him to spin around defenders and lay the ball in with ease, but why isn't he able to swirl around a box out and get up for a board?
As seen above, he is capable of bumping a defender, nearly into the camera row (in this case, it's Rudy Gobert, one of the best defensive centers in the NBA), which gives him space to go up for a dunk, but he rarely ever moves a player out of the paint for a rebound. All 265 lbs. of the former Duke Blue Devil comes in handy when it comes to scoring in the paint, but it just isn't coming together on the glass.
Why We Should Be Scared
After Friday night's loss to the Chicago Bulls, Jahlil Okafor is averaging 3.3 rebounds per game in 21.2 minutes, even though he recently vowed to become a better rebounder. Maybe you've heard the old saying, "Numbers never lie, but people do." Does the Sixers' center want to become an elite rebounder? Does he want to put the work in off the court to gain the necessary athleticism to chase down a loose floor board? Is he ever going to learn to box out?
Why Should Should Remain Positive, But Still A Little Scared
He has the ability to display those four qualities on offense. We've seen it on countless occasions. This is the same guy that dominated Karl-Anthony Towns (highlights above) twice in the 2015-16 season, which was his rookie year. But, those facets just haven't translated yet when it comes to rebounding the basketball.
Rebounding is all about effort, and maybe he just does't care enough to master that craft, even though it seems as if he has to tools necessary in becoming at least average off the glass.
At least the Sixers have 24 minutes of Joel Embiid.
This article originally appeared on