Whole again, Orlando Magic ready to improve and grow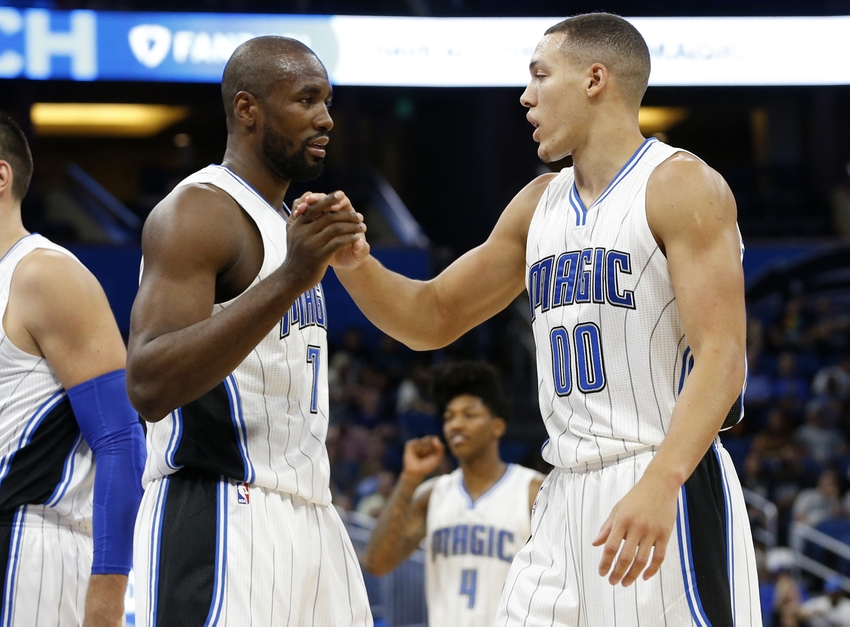 The Orlando Magic were finally at full strength as they took the floor at the Amway Center. The Magic though had some ups and downs as they continue to grow.

95

89
Serge Ibaka was a bit antsy. It was clear as much.
The star forward the Orlando Magic acquired on draft night in a blockbuster deal was quick to everything.
He overplayed his rotations and committed some fouls. Serge Ibaka did not look like a defensive backstop or stalwart. Offense seemed even worse. Whenever he caught the ball he seemed determined to shoot it. He was not keeping the ball moving.
Ibaka was trying to do too much returning from the knee soreness that knocked him out of a week of training camp. It was clear there was a ton of rust and probably a sense of nervousness.
His second stint in the second quarter and especially the start of the third quarter were different for him.
Ibaka all of a sudden became a much tougher defender. He held his ground and kept his feet as LaMarcus Aldridge tried his array of post moves. He became patient on offense, sinking a smooth jumper or ducking into the lane on a pick-and-roll switch for a post lay in.
Yes, Ibaka's stat line was a relatively meager seven points and three rebounds with one blocked shot. But that did not completely describe his impact or how much better he played in the second half. This was the Ibaka the Magic will need in the second half, a menace and a threat in the paint and someone who can lock down even the best post players in the league.
The Magic are hoping for this kind of progression throughout the roster as the preseason continues. The Magic's 95-89 loss to the San Antonio Spurs was full of those moments of a false start followed by a steady improvement. The hope is that it carries forward into the next game.
Wednesday's game at the Amway Center, with Elfrid Payton, Serge Ibaka and Aaron Gordon all returning from injury and playing their first game, was something of a reset for the Magic. They showed flashes of what they could be, but were still clearly in their infancy.
There is plenty of work to do.
"Patience is key," Aaron Gordon said. "I'm very certain, I know what I want. I know what I need to do for our team. In time, day by day, as long as I'm present, everything will come."
Next Magic Game
Full Schedule
10/14

Indiana Pacers
Gordon showed how far the team has to go in his play alone. He finished with just six points on 3-for-10 shooting. He had 10 rebounds, as he was good at getting to the paint and securing the glass. But his offense was rough to say the least. He was a bit wild trying to attack the basket and it was clear he was still learning some of his reads in the offense.
Defensively, Gordon was not particularly sharp either. That is a likely side product of still recovering from a sprained ankle that had him sidelined for nearly a month.
Elfrid Payton too struggled in his first game. He committed five turnovers and made just one of his five shots. His shot was certainly off and he struggled to get the Magic into their sets on many occasions. But he too got better and more comfortable.
Everyone just needed to settle down some. And as the Magic learn how to play with each other more, their play should improve and continue to improve.
"I thought it was a lot better today," Evan Fournier said. "We finally had the whole squad together. Obviously we can do some stuff better like turnovers, come back on defense, but these kind of things take time. Spacing, the passing game, that really takes time to build chemistry. It was really better."
More from Orlando Magic Daily
With these preseason games, it really is about getting progressively better ramping up to the regular season. The Magic still have two weeks and four games to be ready for the Oct. 26 opener against the Miami Heat.
There were certainly positive moments for the Magic throughout the game. But the team has a long way to go.
Coach Frank Vogel said the progression of this team will be an ongoing process. That has been an ongoing refrain throughout camp. The goal is simply to continue to get better.
The sooner that happens the better, of course. But there are still adjustments and growth that needs to happen to get there.
"I would like it done yesterday," Vogel said. "Obviously we want it to happen as quickly as possible. These things take time. When a guy misses a lot of time, especially Aaron who missed four or five weeks, it's going to take a while to get his legs under him and play a new role. All that stuff takes time."
Time is not too much of a concern at the moment for the Magic. There are two weeks and four games to go before the games start counting. That time will run quickly.
But the Magic are taking these games and each practice one at a time with the hope of getting better and improving each time out.
The first two games, as Jeff Green put it, the team went out and played. With all the guys back, the Magic really began to showcase their identity and their talent.
Orlando began showing that and taking those steps Wednesday.
"We have to continue to work and continue to get better," Jeff Green said. "We will get better. We will be a great team. It takes some time. But it felt good to get everybody out there on the floor healthy. The rhythm and the chemistry will continue to grow."
Whether they take the next step will come through practice Thursday and then the next game Friday against the Indiana Pacers. Only then, can the team see if it has progressed and started forming the habits it will take to succeed.
This article originally appeared on