Who should the Toronto Raptors trade for?
Mustafa Noor/FanSided via Raptors Rapture

Fansided
Should the Raptors get more aggressive in the trade market? Our writer says Yes, and offers up a few worthwhile trade candidates.
John Donne wrote "Therefore never send to know for whom the bell tolls; it tolls for thee". The Toronto Raptors should take heed as the clock is ticking on their championship aspirations. Kyle Lowry, arguably their best player will be a free agent this summer and there is no guarantee he will return. Kyle Lowry turns 31 in March and will demand a five-year max deal, so he will be 36 at the end of the deal. For an average NBA player, once they pass the age of 34, win shares per 48 minutes become negative . This means that they are not helping the team win games. At this point, Lowry's contract will be a burden for the Raptors. So if they are to win a championship it needs to be in the next 2-3 years. This will not happen without a trade.
We need a true power forward
The Toronto Raptors are a top three squad in the east and have an excellent chance to make the eastern conference finals again. The most glaring issue is at power forward, where the current starting PF is Patrick Patterson. He has struggled offensively averaging 7 points a game for his career which isn't enough for a starting PF on a contending team. The other possibility is rookie Pascal Siakam who has been productive of the bench. Yet, it is unlikely Coach Casey will trust a rookie against Lebron and the Cavaliers. Recently, Coach Casey has played Lucas Nogueira at PF with promising results. He has played very well with Kyle Lowry in the pick and roll. Lowry is shooting 44% from three point range, so defences have to respect that, leaving Nogueira with an open shot. He has made strides on the defensive end and is improving as a rim protector.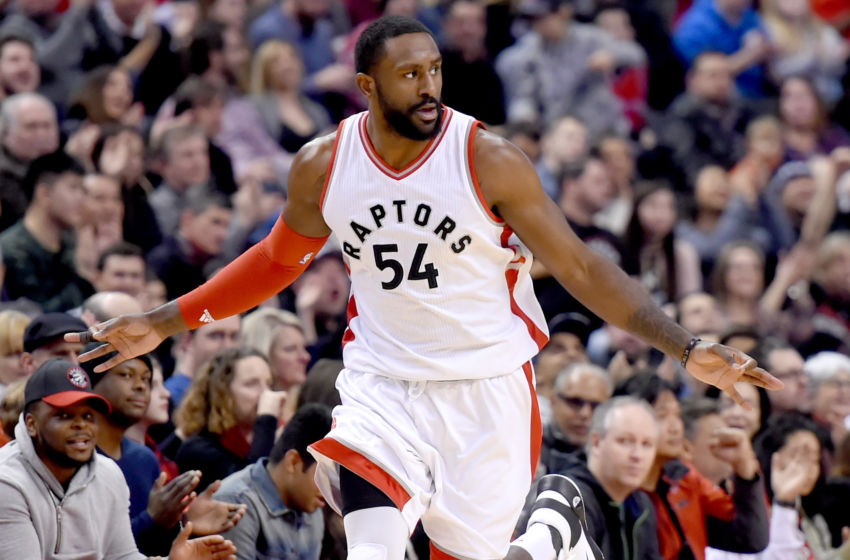 General Managers detest losing a player for free and there are a couple of players who could be traded before the deadline.
Serge Ibaka- The best case scenario. At his peak Ibaka is a defensive game changer with a gift for blocking shots. He is attempting more shots than ever and is shooting 38% from 3. The Orlando magic has a glut of big men and needs to move some to acquire wing players. The Raptors can help them with this. A Terence Ross and Delon Wright package could be enough for a trade to work.
Paul Millsap – He's the obvious answer to the Power Forward situation, a name which has been constantly linked with the Raptors. He can complement the shooting of the Raptors backcourt and is a true two-way player. Brian Windhorst reported on ESPN Radio of a potential Paul Millsap trade to Toronto: "I was talking to an executive just yesterday about a potential Toronto-Atlanta trade and he was like, 'If they can get two assets out of it, then Atlanta would have done a good job.' The two assets are Patrick Patterson and Terrence Ross." This was true until the Atlanta Hawks announced they are no longer shopping him.
Nikola Mirotic- He has disappointed this year in Chicago, where he's currently shooting 31% from 3, down from 39% last year. He is a true stretch 4 and can offer the three-point shooting the Raptors need. He is a very streaky shooter but it is likely his slump is due to the mess that Chicago is in. Mirotic is the only true shooting threat, meaning he is often tightly guarded when he shoots. Mirotic is owed 5.7 million this year making him the cheapest of all three options.
Raptors want to win, now
To trade for any of these players before the trade deadline is to send a signal to the league that you are ready to legitimately win a championship this year. Yet, the Raptors will have to give up a lot for a player who might not necessarily decide to return next year. This solves nothing, except for the fact you have traded your valuable assets away and still have the same issue at Power Forward. Yet, at some point Raptors General Manager Masai Ujiri has to decide. Does he want to win a championship or admit that Toronto can never win against the Cavaliers? Be Bold Masai Ujiri, opportunities like this rarely come around twice, trade for Serge Ibaka and put the Raptors over the top.
More from Raptors Rapture
This article originally appeared on