What to be Thankful for About Each Sixers Player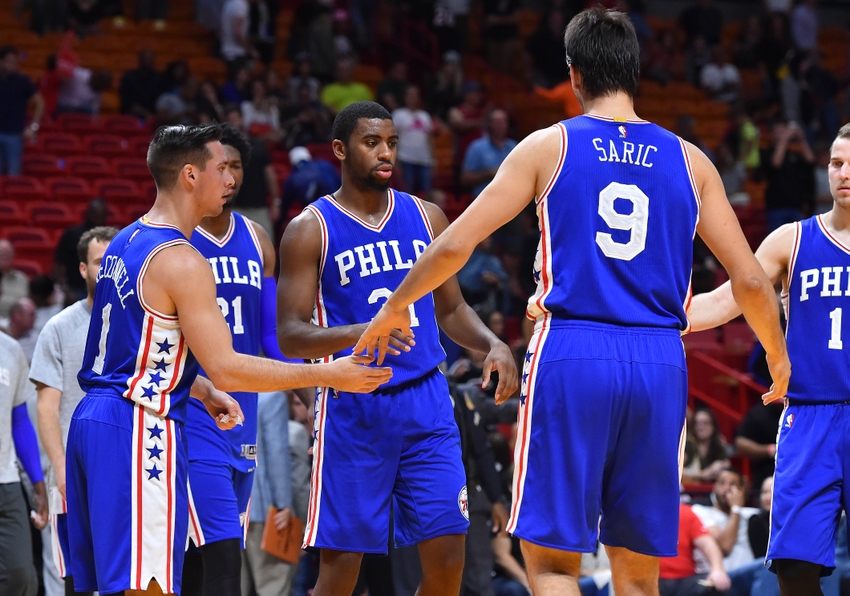 The Philadelphia 76ers are having an overall positive season so far, based on preseason expectations. Here's what to be thankful for regarding each player.
From all of us here at The Sixer Sense, happy Thanksgiving! We hope you're having a great day enjoying good food, good company, and of course, sitting in peace with how well the Philadelphia 76ers have been playing lately. We're honored that with part of your day, we somehow managed to slip into your schedule.
For Turkey day, I decided to run down all 15 players on the roster, as well as head coach Brett Brown, and name one main reason we should be thankful for them.
Brett Brown
More from The Sixer Sense
Let's give thanks that Brett Brown is still even with this team mentally and physically. Brown and the Sixers had a rough start to the season, and it looked as if it would be a long year again with Brown not being given enough talent to win many games. That narrative has since changed with a group of wins from the Sixers, but the roster still isn't great. It's pretty incredibly that Brown hasn't really snapped at the media or completely gone crazy yet. Props to you, Brett.
Timothe Luwawu-Cabarrot has been sent down to the Delaware 87ers a few times for quick stints with the team. He's been willing to go down and learn, and taken advantage of the playing time he has been given both in the NBA and the D-League. We should give thanks that TLC is open to learning anywhere the Sixers place him.
Through 15 games, Covington's offense has bene nothing to smile about. His shot defense statistically is still not good, but he's been good at defending the ball, deflecting it, and sticking with his defenders.
He's still here? Let's be thankful that Hollis, in his limited minutes, actually seems to be showing some pretty decent progress. Who knows, he could be a solid backup moving forward. He's also the longest-tenured Sixers player on this roster, and the only piece that has really been around for the entire rebuild.
With the turn-off of both Jahlil Okafor and Nerlens Noel as options behind Joel Embiid because of the log-jam they cause, Richaun Holmes actually seems like a decent option. His solid developments as a rebounder and defender are encouraging. His passion whenever he is on the floor is also great, and if the Sixers could get good value by trading both Okafor and Noel, I would completely be open to that and resting the backup role on Holmes moving forward.
Nerlens Noel
Let's be thankful that Noel is blunt and clear about his feelings and intentions of his future with the Sixers.
Joel Embiid
Okay, what isn't there to be thankful about when it comes to Embiid? This rookie center has done it all, from tearing it up in the post to hitting 3-pointers, to blocking shots, he's the full package. Sixers fans used to be divided over Nerlens Noel and Okafor, but the emergence of Embiid and the positive play from him has made it clear that he's the center to build around.
Jahlil Okafor
The main bright spot to joy at this Thanksgiving is that Okafor is not a center going on Twitter tirades against the team that he plays for, and not going out of the state for weeks to rehab a minor injury.
Rodriguez and his great transition from European basketball to the NBA has been something to marvel at. It could be argued that with Jerryd Bayless starting this season injured, the Sixers would have one one or two fewer games so far without Rodriguez doing his thing. Rodriguez has passed the ball well and also scored when he has to. His ability to see what is best for the offense at any given point is unmatchable.
Saric, on almost any other rebuilding team, would be the clear bright spot as far as young players are concerned. It's absolutely incredible that Saric is the second best rookie on this team, and although he's not on a level of Embiid, we should be thankful that he's still pretty darn good, despite the tough transition he has made this year.
T.J. McConnell still has not given up on his dream of being a long-term professional basketball player, and in the minimal minutes he has seen, he still has yet to give up, or even say anything that has a touch of negativity. I guess what we should take away is that McConnell is a really positive guy that is truly thankful for the opportunity to play for the Sixers, even if it will likely come to an end soon.
Jerryd Bayless
Jerryd Bayless, although he has been holding onto his wrist after every other play so far, is finally back on the floor and has played his first few games in the NBA. We can be thankful that he hasn't screwed anything up… yet.
Sauce Castillo is perhaps the player we should be most thankful for this season. After a rough first two seasons, Stauskas seems to finally be hitting his groove from all over the floor. His good play started with him gaining confidence by driving to the hoop, and has since spread to all areas of the floor. We're finally seeing the sharpshooter we hoped to see in previous seasons awaken within Nik, and that's really exciting.
Gerald Henderson has been an excellent compliment to the starting lineup with Sergio Rodriguez and Joel Embiid. Henderson is always moving, and all over the floor. He is constantly open for nice looks from Sergio, and has had a couple insane alley-oops this season that make you want to jump right out of your seat. One of the alley-oops was the first basket of the year for the Sixers, live on national television.
The Sixers should be thankful that Ben Simmons, despite not being able to play just yet, is still immersed with the Sixers. His constant tweets of pictures of Sauce when Nik Stauskas is doing well, as well as his playful banter with Embiid on Twitter, show he's one of the guys, and that he's already gelling with this group. It's going to be incredible to see him step on a court this season.
Ersan Ilyasova's biggest positive note is that he was a big value for this season in return for Jerami Grant. While it was sad to see Grant go, that's what the process was all about — building players up to their full potential and keeping them, or waiting until you can trade them for maximum value. Grant for Ilyasova was much more than most people expected to get for Grant.
Let us know what you're thankful for regarding the Sixers below in the comments, or Tweet to @SixerSense with the hashtag #ThankfulSixersFans
This article originally appeared on