What they're saying about Timberwolves' Garnett's retirement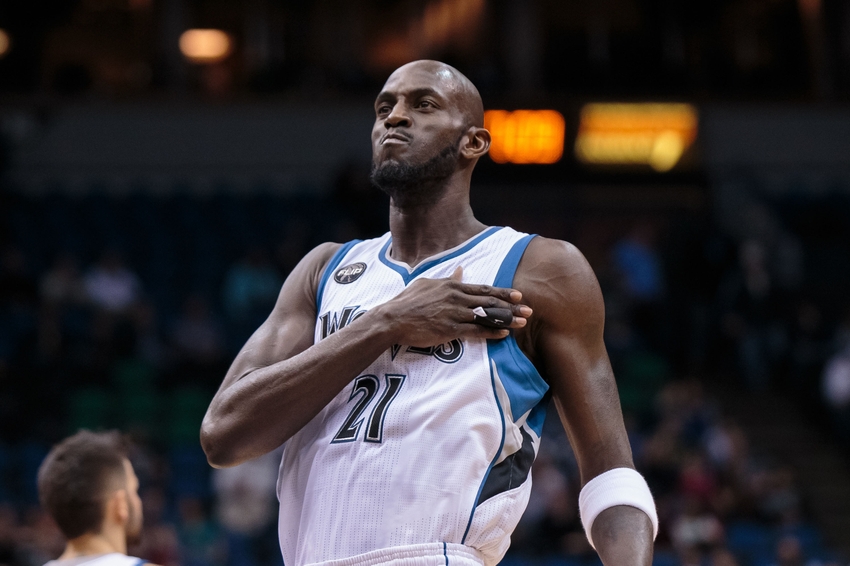 In the wake of Kevin Garnett's retirement, reactions and retrospective pieces on the Timberwolves legend are emerging from around the NBA world.
Kevin Garnett is a surefire Hall-of-Famer, and will be inducted alongside Kobe Bryant and Tim Duncan in the near future. And anytime that a legend hangs 'em up, there are seemingly dozens of fantastic career retrospectives and diaries of fond memories littering the NBA landscape.
Garnett played the majority of his career (13 + of 21 seasons) in Minnesota, and 14 of the 28 seasons in Timberwolves franchise history included Kevin Garnett on the roster.
That means that the player and the organization are forever intertwined, and for a franchise as seemingly perennially moribound as the Timberwolves, Garnett is such an important figure with whom to be intrinsically linked.
There is an entire generation of NBA fans, yours truly included, that simply do not remember an NBA without Garnett's scowling mug patrolling the hardwood. He started playing when he was just 19 years old, and turned 40 just after completing what turned out to be his final season and four months prior to officially retiring.
That means that there's a ton of career — and a ton of influence — to cover. And the NBA blogosphere isn't about to let us down.
Let's take a quick spin through the first 18 hours or so since Garnett's retirement was announced and check out what the internet has had to say about KG.
First came Garnett's own announcement, posted on Instagram and embedded below.
A video posted by Kevin Garnett (@tic_pix) on
Touching, certainly. And no doubt encouraging to Wolves fans that he kept the message short and more or less Wolves-centric, given the somewhat questionable circumstances surrounding his buyout and retirement.
Next, Chris Mannix of Yahoo's The Vertical penned a concise piece that summarized Garnett's career nicely bu didn't include much new information, save for this interesting tidbit:
Garnett was a mentor for Minnesota's young stars last season, but privately team officials would tell you: It wasn't the same. Karl-Anthony Towns, Andrew Wiggins and Zach LaVine grew up revering Garnett, but there's only so much influence words can have from a player who can no longer step on the floor to reinforce them. Yet the lessons linger. In an interview with ESPN's Jackie MacMullan last year, Garnett said a repeated message to the young Timberwolves was to not let ego fracture them, like it did Garnett and Marbury. Indeed, two decades after building the foundation of a successful era in Minnesota, Garnett has had a hand molding those that will shape the next one.
If Garnett was going to impart one sage-like piece of wisdom on his young teammates from a year ago, the 'ego fracture' warning is just that.
Elsewhere, the folks at go90sports put together this short tribute video for KG. It's well done, although there's maybe a bit too much in the way of Celtics/Nets footage. But we're bias in that regard, I suppose.
FanSided's own Nylon Calculus took a lengthy deep-dive into Garnett's career. If you have a solid chunk of time, please read the article in it's entirety and enjoy the variety of video clips included.
The piece looks at each and every segment of KG's career, from the young years to the playoff futility to the MVP/Western Conference Finals year, to the downfall of the KG-led Wolves, the trade to the Celtics, the NBA title, and the final phases with the Nets and Round Two in Minnesota.
More from Dunking with Wolves
The last piece we'll highlight at this point is Kevin Pelton of ESPN Insider stacking-up Garnett against the other two legends retiring this off-season, Tim Duncan and Kobe Bryant.
Duncan and Garnett butted heads for years, with the Spurs and their quiet star often besting the Timberwolves and the fiery Garnett. Duncan ultimately played more minutes at center while KG stayed at power forward, but their career ran nearly concurrently but with drastically different results.
No doubt, the Spurs organization has always been far superior to that of the Timberwolves, and Pelton more or less acknowledges that undeniable fact.
Here's a brief excerpt from both the intro and conclusion. If you have ESPN Insider, head on over and read the whole thing.
While Garnett's career won't likely put him in the discussion of the top 10 players of all time with Bryant and Duncan — he finished 21st in ESPN's All-Time #NBArank earlier this year, while Duncan finished eighth and Bryant 12th — his performance in the regular season stacks up favorably.

In fact, a case can be made that Garnett would be at the same level as Duncan and Bryant if not for the weak supporting cast Garnett played with in his prime with the Minnesota Timberwolves.

…

Because playoff success is equally weighted with regular-season performance (also captured by awards) in championships added, Garnett (1.7) finishes 18th in NBA history, behind Bryant (2.33, 11th) and Duncan (2.78, sixth). But it's not entirely because of his own performance.
Pelton focuses on Garnett's lack of supporting cast and acknowledges that the relative overall lack of playoff success hurts his historical standing.
He also notes that Garnett's peak, the 2003-04 Most Valuable Player season that also saw Minnesota reach the Western Conference Finals, was higher than either Duncan or Bryant. The minutes caught up to KG faster, however, and his decline came sharply, while Duncan remained effective in his own way up until his final playoff run.
It's a great read and a fun comparison of three of the top-20 players to ever set foot on an NBA floor.
There will no doubt be a continuous trickle of Garnett pieces over the next few days, and we'll be on top of bringing you each and every one of them.
Please stay tuned for that, plus the first No Frills Wolves Podcast of the 2016-17 season and the continuing of our player previews as we head towards media day on Monday.
This article originally appeared on