What the Thunder would look like without Russell Westbrook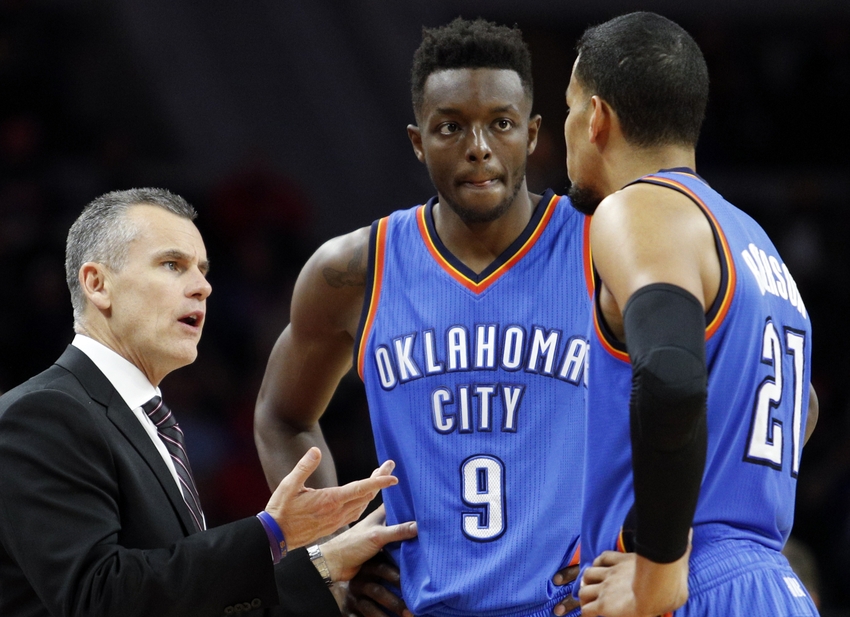 Every Thunder fan should be concerned about what this team would look like without Russell Westbrook.  With him, they are a borderline Championship team. Without him?  That is the question.
Who Starts at Point Guard?
There is no way to replace the heart, drive and skill that Russell Westbrook brings to the point guard position.  However, there have been times in the past and present that he has dominated the ball to the detriment of his teammates.  Some have even said that his ball domination is what drove Kevin Durant into the arms of Stephen Curry.
Whoever started at the point guard position, in a Westbrook-less world, must be able to move the ball.  With Steven Adams, Domantas Sabonis, Andre Roberson and Victor Oladipo in the starting lineup, offense will be dependent on the scheme.  Therefore, the point guard will have to know and be able to execute the entire Billy Donovan offense.
Want your voice heard? Join the Thunderous Intentions team!
Could Semaj Christon facilitate the offense well enough to bring out the best in the team?  His inexperience will be the largest hurdle for him to overcome.  He was a Second Round pick in 2014 and is averaging 13 minutes a game in this, his only season in the NBA.
Statistically, he hasn't been greatly effective in his time on the court.  With only eight free throw attempts all year, he is either incapable or unwilling to take the ball to the basket. Furthermore, he is only shooting 20% from the 3-point line on fifteen attempts.  In other words, he is a mid-range jump shooter with above average passing skills (2.5 assists per game).  He could facilitate an offense, but would be shut down easily by most starting NBA guards.
While Christon may be worthy of more rotational minutes, the answer to the point guard situation would either come from elsewhere on the team or via a trade.
Anthony Morrow, Starting Point Guard
Anthony Morrow has played over 500 games in the NBA averaging nine points in about twenty-two minutes per game.  While those numbers don't scream "starting point guard" Morrow's recent output has made him an interesting choice.  In the seventeen games in which Morrow has played this season, the Thunder have won ten of them.
A look inside those ten wins reveal a telling story about Morrow's effect on this team. The team loses when he plays less than sixteen minutes per game.  In games he plays above sixteen minutes, the team wins and his scoring average jumps three points above his season average to over nine points per game.
On the down side, Morrow is a below average defender when in isolation and only averages one assist per game for his career.  Yet, the Thunder without Westbrook would need offense more than defense.
Morrow would bring more aggressiveness to the point guard position than Christon. And Oladipo or Roberson can check any guard in the league.
He does average a few rebounds per game and has a solid build (6'5″ and 210 pounds) to use against smaller guards.  When Morrow does draw fouls he is nearly a 90% free throw shooter and can thus be kept on the floor in end game situations.  As a career 42% three-point shooter, Morrow can catch fire and keep the defense much more honest than Semaj Christon, making him a great choice for starting point guard.
Victor Oladipo, Starting Point Guard
Thunder fans know Victor Oladipo as Russell Westbrook's newest sidekick who has been known to put foes on posters.  Inside the numbers, Oladipo looks to be the best choice to start at point guard in a sad world where Russell Westbrook doesn't exist.
With a similar build to Anthony Morrow, Oladipo has averaged over thirty-three minutes per game in his three-year career.  At 6'4 and 210, he is very athletic and has career averages of nearly four assists per game.  The assist numbers and experience playing thirty-plus minutes make him a perfect fit as a point guard on an offensively challenged team.
Truthfully, Oladipo is more of a hybrid guard but his skills make him the smartest choice to run this "Russ-less" team.
Oladipo For the Win
Russell Westbrook has shown that this Thunder team needs a well-rounded guard who can stuff a stat sheet like a fat Holiday Turkey.  While Oladipo won't ever be the stat-stuffer Russ is, he will nonetheless be what this team would need without Westbrook.
As a rebounder, Oladipo averages four per game in his career and is averaging six rebounds in his last three games.
Add the rebounding and assist numbers into his sixteen points per game this season and you have your starting point guard.
He is athletic enough to drive and a streaky shooter that will always keep defenders honest.  Hopefully, Thunder fans will never have to worry about Westbrook not being on the floor.  Yet, if that happens, Victor Oladipo is the best option to be this teams point guard.
With Oladipo as the Starting Point Guard, who would start at Shooting Guard? Does the team go big inside? Do they add another shooter? What would the team look like?
If Victor Oladipo is the Point Guard, the rest of the starting lineup could be organized in many different ways.  Roberson at Shooting Guard?  Singler at Small Forward?
Go Big?
With Oladipo as your 6'4 point guard, the team would have a great opportunity to go big in a world without Russell Westbrook.  Making the team bigger would include moving Andre Roberson into the shooting guard position.  At 6'7 and already a Defensive Player of the Year candidate, Roberson can guard almost anyone and being at the 2-guard position won't change that.
The small forward position is where things could get drastically interesting.  While Domantas Sabonis is 6'11, he is only averaging three rebounds per game while shooting 43% from the 3-point line.  Putting him at small forward would be a nightmare for opposing defenses and allow him to stay outside to score more points.
If Sabonis is the small forward and going big is the purpose, then Enes Kanter could start at power forward.  Kanter is 6'11 as well, but averages almost six rebounds and a block per game.  Offensively, Kanter gives you plenty of meat in the paint and almost thirteen points per game.
An inside combo of Steven Adams and Kanter would pummel opposing teams as they came inside and the long arms of Sabonis would change passing lanes entirely.  With this setup, shooting will be an issue.  Oladipo and Sabonis can shoot, but opposing defenses will pack the middle unless someone like Morrow or Kyle Singler are added to the mix.
Ultimately, a big lineup may not be the best permanent option, but in small or medium doses would disrupt the plans of any Thunder opponent.
Victor Oladipo leads a Thunder team who is without Westbrook.  Outside of that fact, the lineup and rotation would be a process of trial and error in a very frustrating season.
Aligning the Co-Stars
There are three absolute locks who must be in any Thunder lineup, with or without Russell Westbrook: Victor Oladipo, Andre Roberson and Steven Adams.  These three provide continuity, defense and athleticism that would give OKC hope in every game they played.
Beyond these three, the emergence of Anthony Morrow over the last ten games makes him the best candidate to replace Oladipo in the shooting guard position.  The two guards are the same size and could become a match-up nightmare in the right scheme.
Keeping Roberson as a versatile forward  maintains him on the wing, running the floor and being a menace to the opposing teams best guard or forward.  Sabonis needs to be a better rebounder, but his shooting keeps him on the floor without a doubt.
There are three absolute locks who must be in any Thunder lineup, with or without Westbrook: Victor Oladipo, Andre Roberson and Steven Adams.
Back to Reality
More from Thunderous Intentions
The heart of this team without Russell Westbrook is Steven Adams.  His tenacity and passion for his teammates is infectious.  Averaging eleven points and eight rebounds per game along with a steal and a block make Adams a thunderous anchor.  The fact that the Thunder locked in Adams this summer show that they know how real his impact is on this team.
In reality, Russell Westbrook is healthy and on a historical streak so far this season.
There is an outside possibility that Russell Westbrook is a robot; if he isn't and he continues to play this hard at this pace, an injury is inevitable.  In a perfect world, Westbrook keeps this pace up and helps the Thunder knock the Golden State Warriors out of the playoffs.
Unfortunately, this isn't a perfect world and Russell Westbrook isn't indestructible.  The Thunder must protect him at all costs or be prepared to live life without Westbrook. And, for as much as I can opine on what the Thunder would look like without Mr. Triple-Double, let's hope that's a problem the team never has to solve.
This article originally appeared on