What should the Orlando Magic do with Mario Hezonja?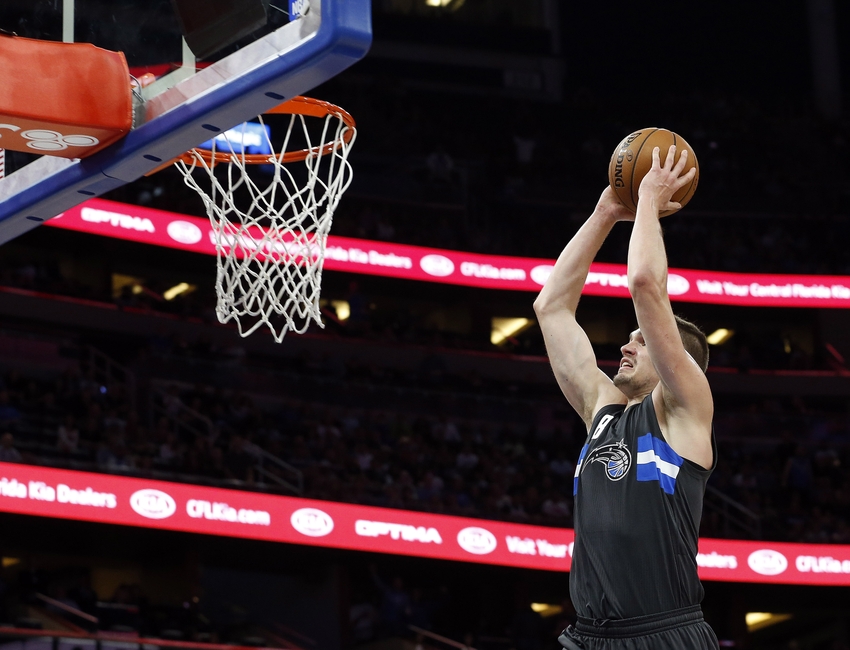 Mario Hezonja has barely been on the floor in the past week. Should he continue riding the pine? Or spend some time in the D-League to re-group?
Early on this season, Mario Hezonja has had a rough go of things. And there does not seem to be an end in sight.
Questions about Hezonja's ability to play in the NBA are arising and, as the Orlando Magic are searching for an offensive spark, Hezonja has not been good enough to even sniff meaningful minutes.
So far this season, Hezonja looks lost.
The defensive issues that were apparent last season are still showing, and his offensive game has taken a massive hit. Hezonja is shooting 30 percent from the floor and a putrid 17 percent from behind the 3-point line.
Hezonja entered the league billed as an offensive masterpiece.
The Magic's offense has not been pretty this year. The team sits in dead last in points per game with 92.3. They also have a league-worst 40.8 percent team field goal percentage.
During the offseason, there were real concerns about Orlando's offense. The team was relying on young players like Hezonja to take big steps in their development. That has not been the case with Hezonja as he has clearly regressed.
With the Magic desperate for a playoff berth, the team does not seem to want to have to deal with the headache of Hezonja's growing pains. Since the day he was drafted, everyone knew he was a long-term project. This is not something the Magic can have right now as they are trying to scratch and claw their way to the postseason.
With the postseason pressures, Hezonja's poor performance has put the Magic in a very tough spot. What could Orlando do with the young player?
There are plenty of Magic fans who feel Hezonja deserves playing time. But the truth is, Hezonja could hurt this team's chance on a nightly basis if they keep going to him as a main rotational piece. At least right now.
As Orlando is searching for some spark off the bench, there are plenty of other options rather than Hezonja.
Jodie Meeks is working his way back from a major foot injury. The second option is C.J. Wilcox. Wilcox does not seem to be in Orlando future plans, but this team does not appear to be looking towards the future. He has some talent and a nice shooting stroke, it may be a reach, but it's not out of the question.
The last and most likely option is Damjan Rudez. For the past few games, Damjan Rudez has taken all of Hezonja's minutes, keeping Aaron Gordon at the 3. Rudez has played the role of a stretch forward for Orlando and has been pretty good.
The Magic can decide to bring Hezonja along slowly and give him very limited minutes by going to these players instead of the young Croatian.
And possibly do even more to make sure he gets some game time.
There have been suggestions from around the web of sending Hezonja to the D-League to get him some playing time.
This does not make much sense. Hezonja was a top-five pick and this could destroy his confidence. Of course, he would probably average 30 points per game at Erie, but what good does that do?
For the sake of argument, the D-League could allow for Hezonja to figure things out mechanically. There may be a hitch in his shot or something the coaches want him to change. If that is the case, seeing some big minutes during an actual game could be a big help. Or it could re-enforce those mistakes without the Magic's staff there to correct them.
In reality, sending a top-five pick down to the D-League is never a good sign. It could signify the beginning of the end to a young career.
Keeping him on the main roster may very well be the best way to go.
Hezonja has swagger and confidence that could push him through this slump. Hezonja has had a game or two this season where he looked very impressive. There is a small chance Hezonja can take a complete 180 on the season.
Orlando Magic Grades: Orlando Magic 95, Dallas Mavericks 87
The Magic invested a lot in the future. It would be crazy to throw it away just to be an 8-seed.
Hezonja is going to make mistakes, but he could also provide a spark Orlando needs to get this offense moving in the right direction.
Hezonja is full of talent. He has a nice shooting stroke and some very good offensive qualities that could help the Magic this season. With that being said, the shooting slump he has been in is not in the Magic's best interest if they want to win now.
But Hezonja remains one of the few players the Magic should try to develop. They cannot give up on him.
There are going to be plays and even entire games where Hezonja looks bad. Orlando just has to weigh that against their other options.
One more chance is not going to make or break Orlando's season, but it could save Hezonja's career.
Is it time to panic? Not quite.
But those worries are starting to appear. Hezonja needs minutes to regain confidence to become the outside threat that Orlando desperately needs. Or else his career in the NBA could be surprisingly short.
More from Orlando Magic Daily
This article originally appeared on