What Makes The Los Angeles Clippers' Devastating Defense Tick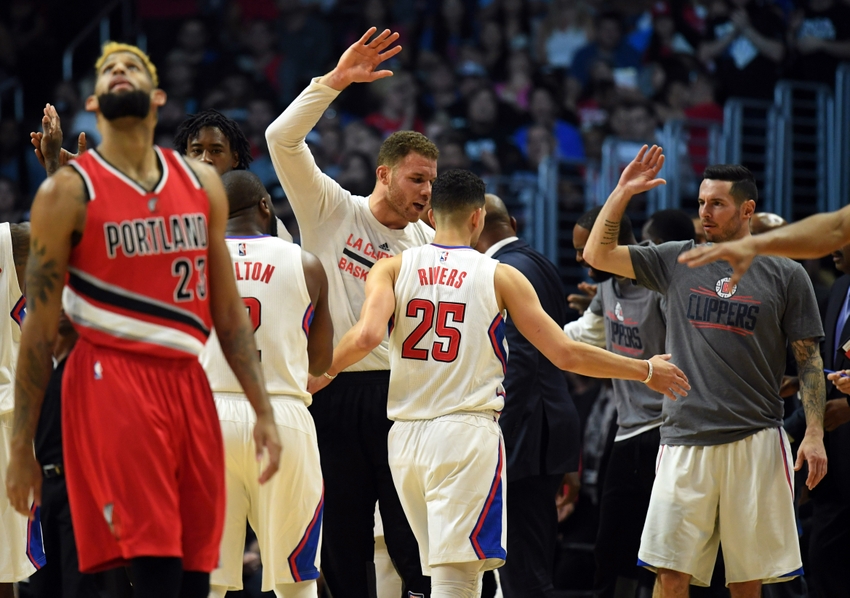 The Los Angeles Clippers have jumped out to an impressive 7-1 start thanks in large part to their devastating defense. What has made it so good thus far?
The Los Angeles Clippers were universally expected to be an excellent team this season. Most people projected them either second or third in the Western Conference, which is pretty damn good.
The Clippers are always going to be competitive with Chris Paul and Blake Griffin on the floor, but they've taken a surprising leap forward at this early point in the season and are off to a 7-1 start.
The Clippers haven't just been beating teams this season, they've been utterly vanquishing them. They've essentially won their last two games in the first quarter of each and led by more than 40 points in both of those games.
They led the Detroit Pistons by a 33-15 margin after one quarter on Monday night, and on Wednesday they led the Portland Trail Blazers 36-16 after one. These are both likely playoff teams and the Clippers had them both more than doubled up in the second half of each game.
Before torching the Pistons and Blazers, the Clippers traveled to play the San Antonio Spurs. The Spurs put up more of a fight but still fell at their home AT&T Center by a wide 116-94 margin. In that game, too, the Clippers had a 39-24 at the end of the first quarter.
This Los Angeles Clippers squad gets on top of you right off the tip, they ground and pound you and don't let you up for air until there's nothing left to fight for.
The numbers bear out this complete dominance. While the Clippers have just the 11th best offensive rating in the NBA at 105.4 points per 100 possessions, their defensive rating is best in the league by a wide margin.
They're surrendering just 89.3 points per 100 possessions, good for a plus-16.1 net rating.
That defensive rating is 6.1 points better than the second-place team, the Charlotte Hornets, and that 6.1-point gap is about the same difference between the Hornets and the Utah Jazz, rated 10th defensively.
The last three games have been a whole other level of domination. Mind you, this stretch is against the Spurs, Blazers and Pistons. Over those three games, the Clippers are outscoring those opponents 117.8-89.6 per 100 possessions. That's a plus-28.2 net rating.
This is against playoff teams, one of which was the Spurs at the AT&T Center in San Antonio.
So we've clearly established the Clipper defense is formidable. The question is, why are they so locked in? How are they doing what they are doing?
As with most questions pertaining to the Clippers over the last six seasons, the answers largely come back to Chris Paul. As the offensive focal point, he takes better care of the ball than most point guards.
When your point guard takes care of the ball and doesn't make mistakes, it's hard for your opponent to get out and run on you. When your opponent can't get transition baskets against you and has to earn every bucket, your defense will benefit.
Paul has a very low turnover rate of 10.7, meaning he turns the ball over just 10.7 times per 100 possessions. The Clippers have surrendered just 0.948 points per possession when their opponents get out in transition.
That's the fourth-best rate in the NBA. When the opposing offenses have to set up in the halfcourt against the Clippers, the scoring rate plummets. They've allowed just 592 points in 750 possessions. That's a rate of just 0.754 points per possession, and that's best in the league.
So if you have to be able to run against the Clippers to score reliably, but getting fast break opportunities is so unlikely against them, and you have to figure out where to attack in the halfcourt, where do you start?
Once again, we have to address Chris Paul, because he is absolutely not the place you start if you want to attack this defense effectively. Paul is perhaps the most defensively disruptive point guard in the NBA.
He leads the league with 3.3 steals per game, a category in which he's led the league six times.
If you would like recent proof of Paul's on-ball defensive domination, let's take a look at some recent point guards who have had to deal with him.
Focusing exclusively on this three-game stretch, Patrick Mills for the Spurs shot 1-for-7 from the floor for four points and was minus-25 in 25 minutes. Ish Smith of the Pistons was 1-for-9 from the floor for two points and was minus-24 in 23 minutes.
Damian Lillard of the Blazers went 1-for-10 from the floor for eight points, and he was minus-32 in 28 minutes.
These three starting point guards have shot 3-for-26 for 14 points and combined for minus-81 in 76 minutes.
With this disruptive force at the point, it makes it more difficult to either run a cohesive pick-and-roll or isolation.
Against the pick-and-roll, the Los Angeles Clippers have yielded just 133 points in 180 possessions, good for a fifth-best league-wide rate of .739 points per possession.
With Paul or the almost-equally disruptive J.J. Redick and Luc Mbah a Moute typically guarding the ball handler, the Clippers have the ability to quickly switch and rotate to prevent easy rolls to the basket or kick outs for spot up three-pointers.
When guarding the ball handler, Paul is surrendering just 0.642 points per possession while Redick is allowing 0.722 and Mbah a Moute is allowing a sparkling 0.515 points per possession.
Teams don't run a lot of isos against the Clippers, and for good reason. They're giving up a mere 38 points in 57 possessions. They face isolations just 6.6 percent of the time.
Teams also don't try to post up much on the Los Angeles Clippers. Blake Griffin and DeAndre Jordan are not particularly welcoming in the post. In fact, DeAndre Jordan has only been attacked in the post 14 times this season, allowing eight points.
So, you can't iso against this team, you can't post them up, and God have mercy on you if you try to run a pick-and-roll while the Clippers' starting unit is on the floor.
Naturally, this leads us to the obvious conclusion that only elite-talented teams have any hope of scoring dependably against the Clippers if they maintain this kind of defensive cohesion and intensity.
This article originally appeared on